Peanut Butter Fruit Sushi is a fresh take on PB & J's that your kids will love for a fun after-school snack.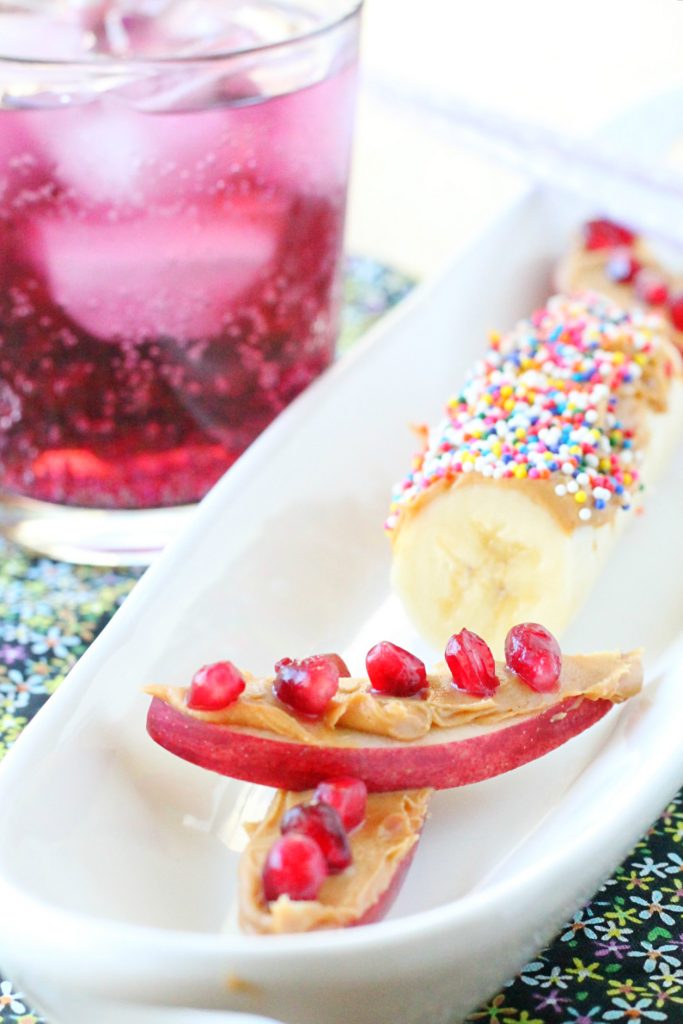 You know what's weird? Because I blog and develop recipes for a living I sometimes draw a total blank on stocking my pantry for just our basic needs. I work with food so much that my brain short-circuits sometimes. Add the holidays, the kids being home for vacation and traveling to see family and I came home to a practically empty fridge and pantry the other day.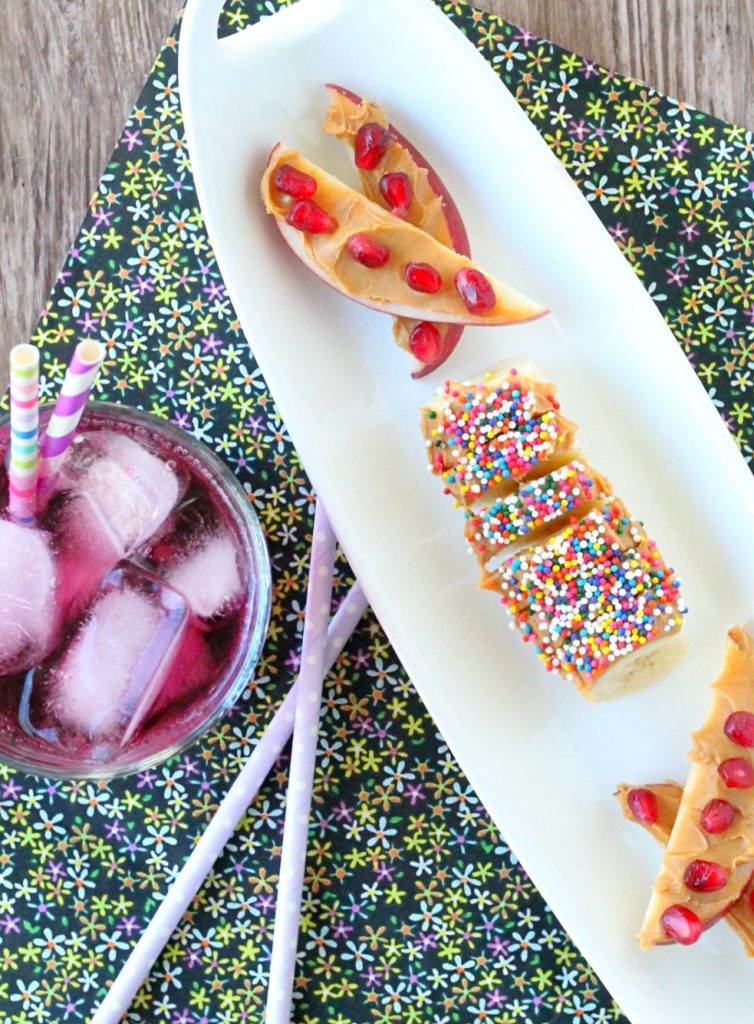 So here's what I came up with. I've been seeing versions of fruit sushi on Pinterest but I hadn't tried it with my own kids yet. They went crazy for it! I used banana and apple slices spread with Peter Pan Peanut Butter, sprinkles and pomegranate seeds for garnish, and the new Grape Raspberry flavor of Sparkling ICE to drink. My daughter and I love the ICE's. Fruity, fizzy and zero-calories!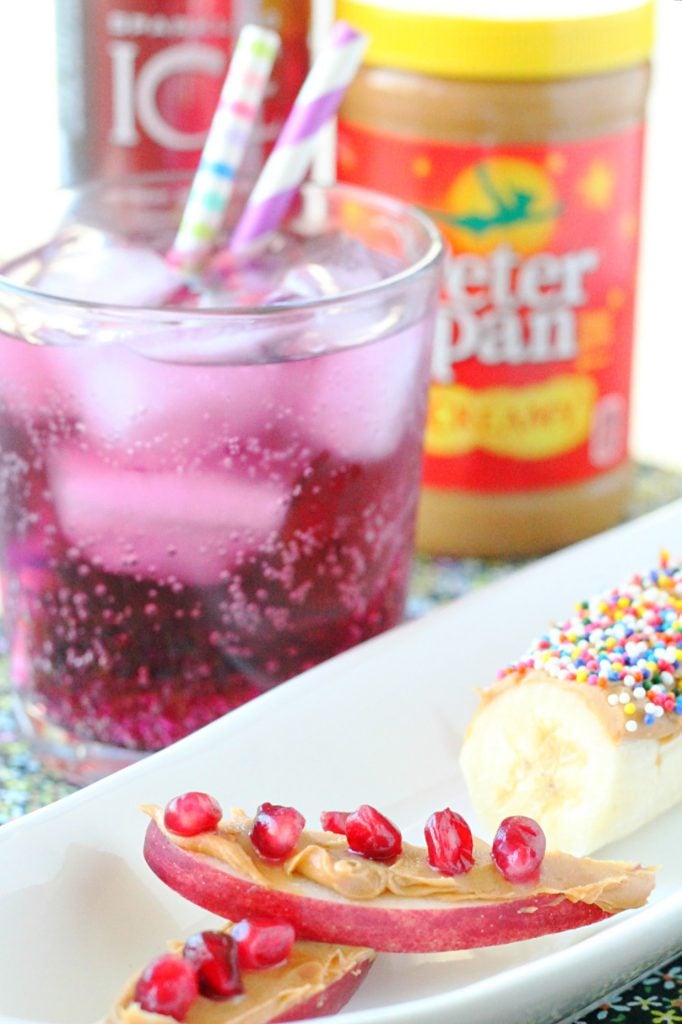 For as much as I enjoy having our kids home for some fun like ice skating, movies on the big screen and staying in our jammies later than normal, I am also excited about back to school. How about you? With Peter Pan Peanut Butter (Original, Naturals and/or Simply Ground) and Sparkling ICE you'll have an A+ snack ready for them in the form of my Peanut Butter Fruit Sushi.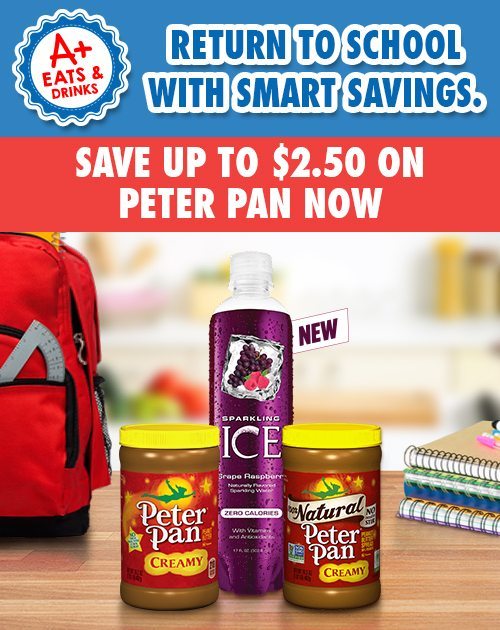 And Kroger wants to help you out with restocking your pantry with coupons for Peter Pan plus a chance to win this fun prize pack…
A+ Eats, Return to School Sweepstakes

Shop now at any of the Kroger family of stores: King Soopers, Owens, Dillons, City Market, QFC, JayC, Food4Less, Bakers, Frys, Ralphs, Gerbes, Payless, Smiths, Fred Meyer and Foods Co.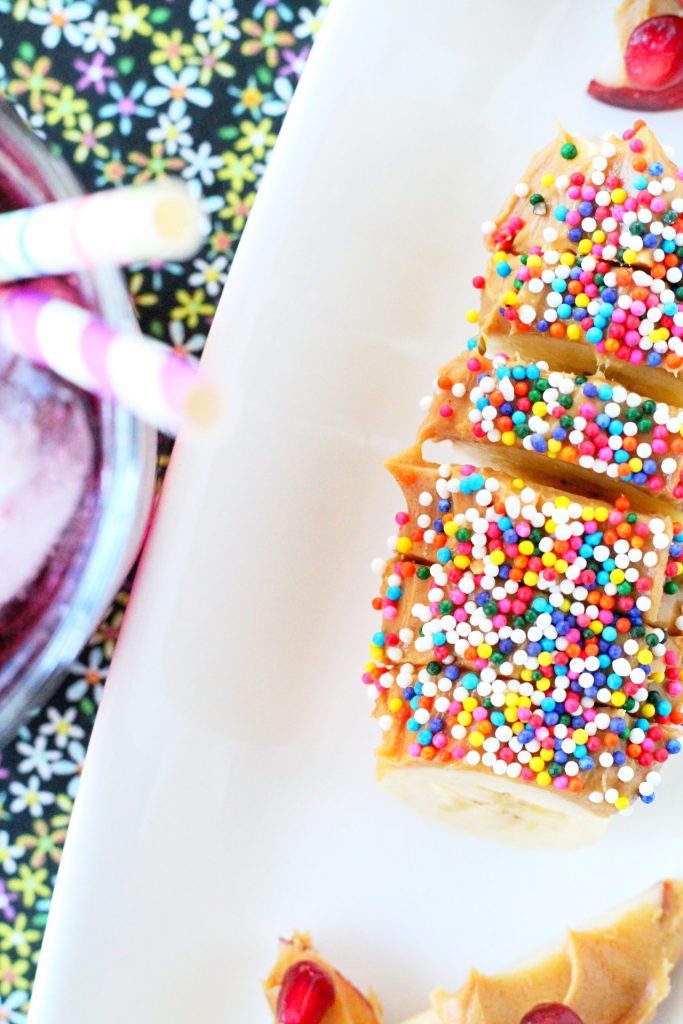 Thanks for supporting the brands that make my blog possible. This post sponsored by Mirum. All opinions are mine alone. #APlusEatsandDrinks
Peanut Butter Fruit Sushi
Ingredients
Bananas

Apples

Peter Pan Peanut Butter

Pomegranate Seeds

Sprinkles
Instructions
Peel bananas and spread a thick layer of peanut butter on the top half. Top the peanut butter with sprinkles and slice the bananas to resemble sushi rolls.

Wash and slice the apples. Spread each apple slice with peanut butter and top the peanut butter with pomegranate seeds.

Serve immediately.