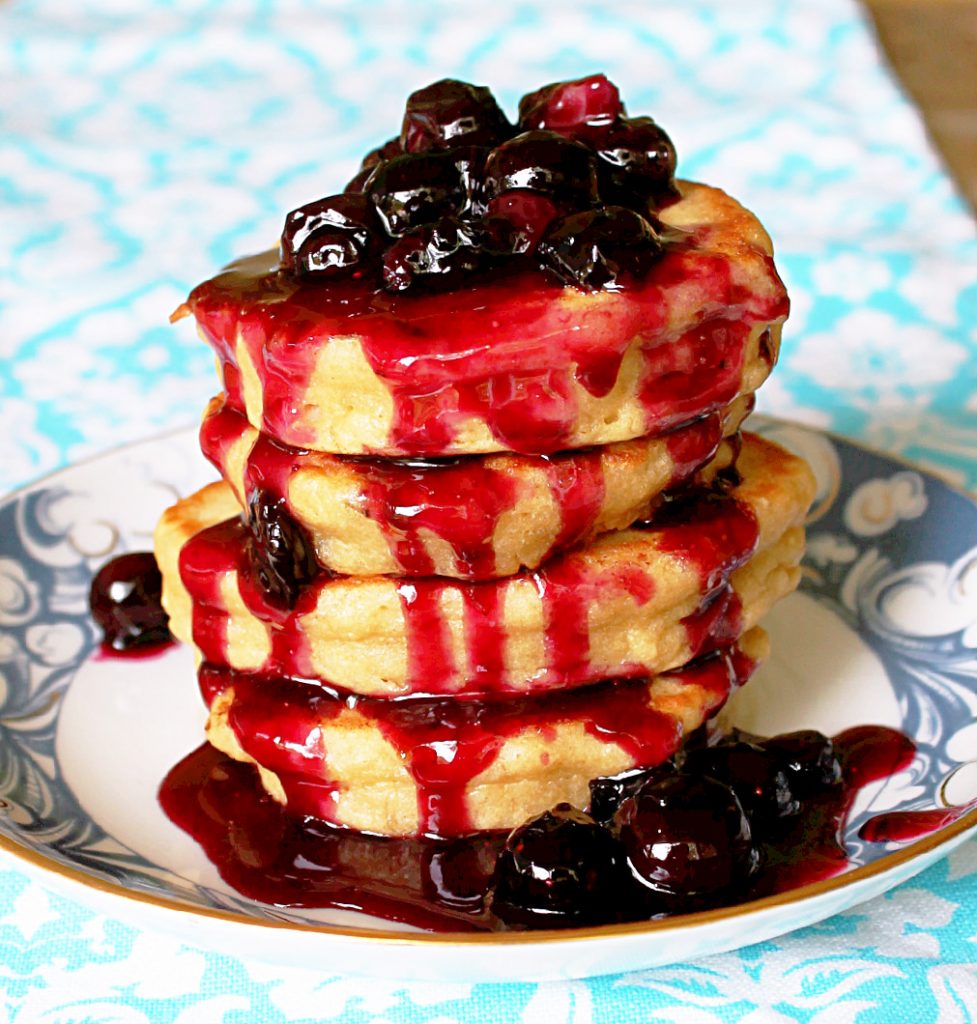 This was a breakfast for dinner kind of night. It's not always a last resort for me or my family. We'd happily eat BFD every night if we had to, but in general it happens after a very long week, on a super-busy night, or when there's not much else in the house except for some eggs, flour and maybe some fruit in the freezer.
This particular pancake and sauce combo happened because I was lazily looking at Pinterest on my phone though realizing it was time for me to fix a meal. I happened on a recipe for banana bread pancakes that looked scrumptious, but upon reading many negative blog reader comments at the bottom of the post kept on searching. I settled on Ina Garten's recipe, though I decided to experiment with different flours and to caramelize the bananas based on another reader's comment suggestion. I had both white-whole wheat and bread flours on-hand, so I decided to use half and half in the recipe. I'm not a food scientist, but I think it's the flour combination that made these pancakes rise so spectacularly. You could certainly use all-purpose flour, but I don't think it will yield the same mile-high results… just so you know.
The sauce could not have been quicker or more simple. Another recipe from Annie's Eats (who got the original from David Lebovitz) that I'll be making from now on. This sauce would also be an awesome topping for an ice cream sundae, as a milkshake blended together with vanilla ice cream, or as a mix-in with plain Greek yogurt. If you've just picked a bunch of fresh blueberries (as I know many in Cincinnati have been doing recently) you'll want to make a batch or two of this sauce!
Mile-High Caramelized Banana Pancakes
2013-07-19 20:50:32
Ingredients
2-3 small bananas, peeled and diced
2 T. unsalted butter
2 T. dark brown sugar
pinch of cinnamon
1 c. white whole wheat flour
1 c. bread flour
2 t. baking powder
1 t. salt
3/4 c. milk
1/2 c. sour cream (not low fat)
2 eggs
1 t. vanilla
Instructions
In small skillet over medium heat, melt butter and add bananas. Saute for about 3-4 minutes, stirring occasionally. Add the brown sugar and cinnamon and cook for 1 additional minute. Remove from heat.
Meanwhile, whisk together the flours, baking powder and salt. In a separate bowl, whisk together the milk, sour cream, eggs and vanilla.
Add the wet ingredients to the dry ingredients and stir to combine. Fold in the caramelized bananas with a spatula until well incorporated into the pancake batter.
Heat a griddle to 375 degrees. Drop 1/4 cup of batter onto hot, buttered griddle for each pancake. Allow to cook on one side until edges begin to look cooked and you can start to see some bubbles in the middle (it's very thick batter so the bubbles will be hard to see). Turn each pancake and continue to cook on the other side until the middle of each pancake feels firm to the touch.
Serve pancakes with fresh blueberry sauce. See additional recipe...
Adapted from Ina Garten
Foodtastic Mom https://www.foodtasticmom.com/
Fresh Blueberry Sauce
2013-07-19 20:54:40
Ingredients
3 c. fresh blueberries, washed
6 T. sugar
2 1/4 t. cornstarch
2 T. water
1 T. fresh lemon juice
Instructions
Add the blueberries and sugar to a large saucepan and cook over medium-high heat, stirring occasionally, until blueberries begin to release their juices.
In a small bowl, whisk together the cornstarch, water and lemon juice. Add the mixture to the cooking blueberries. Bring sauce to a boil and cook for one minute more.
Remove sauce from heat and serve warm over the Mile-High Caramelized Banana Pancakes. Or store the sauce covered in the refrigerator for other uses.
Adapted from Annie's Eats (from David Lebovitz)
Foodtastic Mom https://www.foodtasticmom.com/