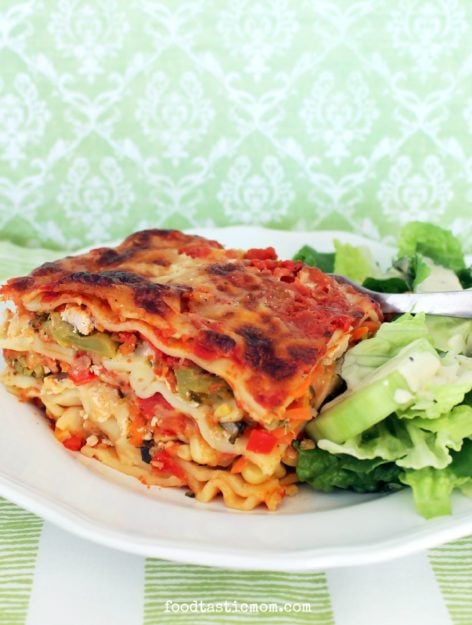 Currently Red Gold Tomatoes is in the midst of throwing a Lasagna Party. From now through February 5th, they are promoting their "All In One" Lasagna recipe using traditional lasagna noodles with no boiling required and a simple sauce made with one large can of crushed tomatoes and two smaller cans of diced tomatoes with basil, garlic and oregano.
Red Gold is a Midwestern company, based in our neighbor state of Indiana, so when they contacted me to ask if they could send me a free Lasagna Party Kit I was pretty excited! The tomatoes, noodles and spatula came with some suggestions for variations on their base recipe. I had some 98% fat free, free-range, ground turkey in the freezer and thought it would go great with a version of their recipe for Fresh Harvest Lasagna.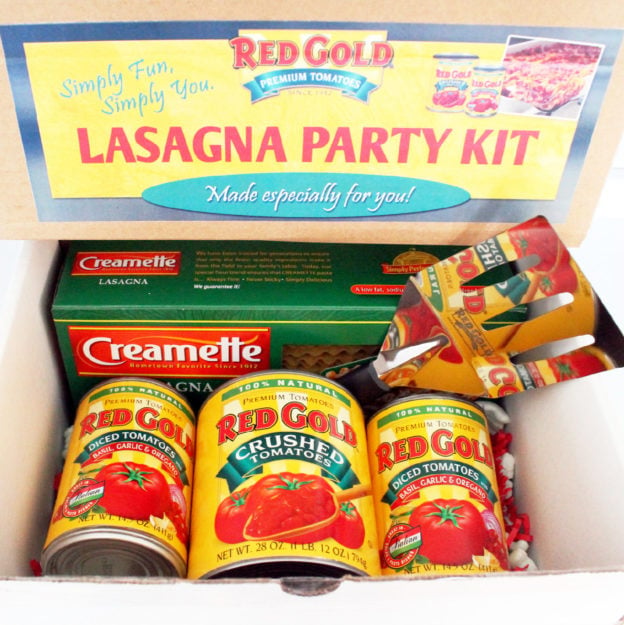 This lasagna doesn't pretend to sneak a few veggies in underneath the tomato sauce. It's chock full of a whole garden's bounty of them! Colorful and super-flavorful, I added another midwestern summer staple to go along with the tomatoes and basil… sweet corn. This is not at all pretending to be an Italian lasagna, though I love those too. It's more along the lines of a simple, Midwestern casserole… comforting and easy to put together on a cold winter's night.
In addition to the corn, this lasagna contains a whole rainbow of goodness. Red onion, carrots, zucchini, red pepper and broccoli. Because the turkey is so lean, I browned some butter to start the cooking, adding another layer of flavor to the pot. Some fresh lemon juice and fresh chopped basil are stirred in at the end to make it all taste bright and happy.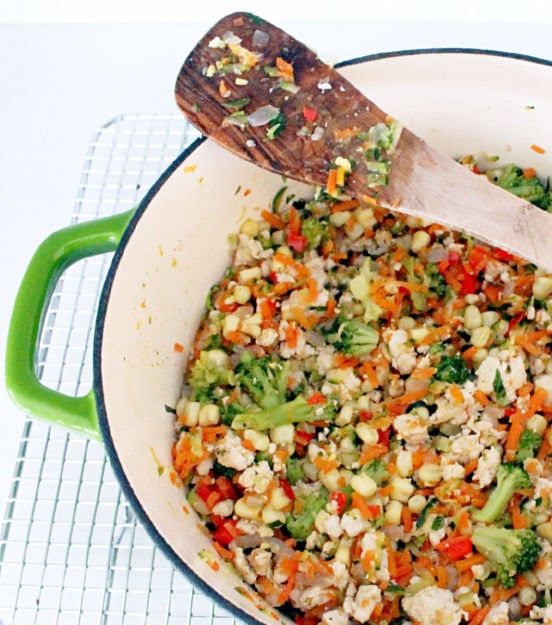 My mom always put cottage cheese in our lasagnas growing up, and I liked it, so I went that route instead of using ricotta cheese. And really, despite the copious amounts of non-hidden vegetables, both our children gobbled this up for dinner. As my son Caleb said the next day when I served it to him again as leftovers, the veggies are cooked, meaning he "doesn't have to listen to their crunch." Hey, whatever works, right?
This is a delicious and easy meal that will most definitely make repeat performances on our dinner table.
Midwestern Garden Turkey Lasagna with Red Gold Tomatoes
Ingredients
1

can

28 oz. Red Gold Crushed Tomatoes

2

cans

14.5 oz. Red Gold Diced Tomatoes with Basil, Garlic and Oregano

1/2

c.

cold water

1

t.

Italian seasoning

pinch

of salt

1

16 oz. box lasagna noodles, traditional, uncooked

4

T.

unsalted butter

1

lb.

98 - 99% fat free ground turkey

1

red onion

minced

1

bag shredded carrots

3

small zucchini

grated

1

red pepper

diced

1/2

bag frozen sweet corn

1/2

bag frozen broccoli florets

juice of 1/2 lemon

1/4

c.

fresh basil

minced

1

15 oz. carton full-fat cottage cheese

3

c.

mozzarella cheese

shredded

1/2

c.

Parmesan cheese

grated
Instructions
Preheat oven to 350 degrees.

Heat butter in large stock pot over medium heat until it begins to brown. Add the ground turkey, breaking up meat with a wooden spoon until it is just cooked through. Use a slotted spoon to remove turkey to a bowl and tent with foil.

To the remaining butter and browned bits in the pot, add the onion and cook for 5 minutes, stirring occasionally. Add the carrots and stir well. Cover the pot and allow to cook for 7 more minutes. Remove lid and add the rest of the vegetables. Increase heat to medium-high and saute for about 8 more minutes, stirring occasionally until the veggies are softening. Return the turkey to the pot and cook for about 2 minutes more. Stir in the lemon juice and chopped fresh basil and remove the pot from the heat.

Spray a very large, deep casserole dish with cooking spray. Mine was 15 x 12 inches.

In one bowl, whisk together the three cans of tomatoes, water, seasoning and salt to make the sauce.

Spread 1 1/2 cups of the sauce on the bottom of the dish. Arrange 1/3 of uncooked noodles on top of sauce, overlapping slightly. Top with 1/2 of the cottage cheese, 1 cup of mozzarella, 1/2 of the garden vegetable and turkey mixture and 1 cup of sauce. Again, arrange 1/3 of the uncooked noodles as the middle layer, and top with the other 1/2 of the cottage cheese, 1 cup of mozzarella, the other half of the veggie and turkey mixture and another cup of sauce. Top with remaining third of noodles and the remaining sauce. Reserve the final cup of mozzarella and 1/2 cup of Parmesan until lasagna is mostly baked.

Cover dish tightly with foil and bake on center rack of oven for 1 1/2 hours. Remove foil and sprinkle the top of the lasagna with remaining cheeses. Increase oven temperature to 450 degrees and bake for about 15 more minutes, or until cheese is browning and bubbly on top.

Allow cooked lasagna to rest on the counter for about 15 minutes before slicing and serving.