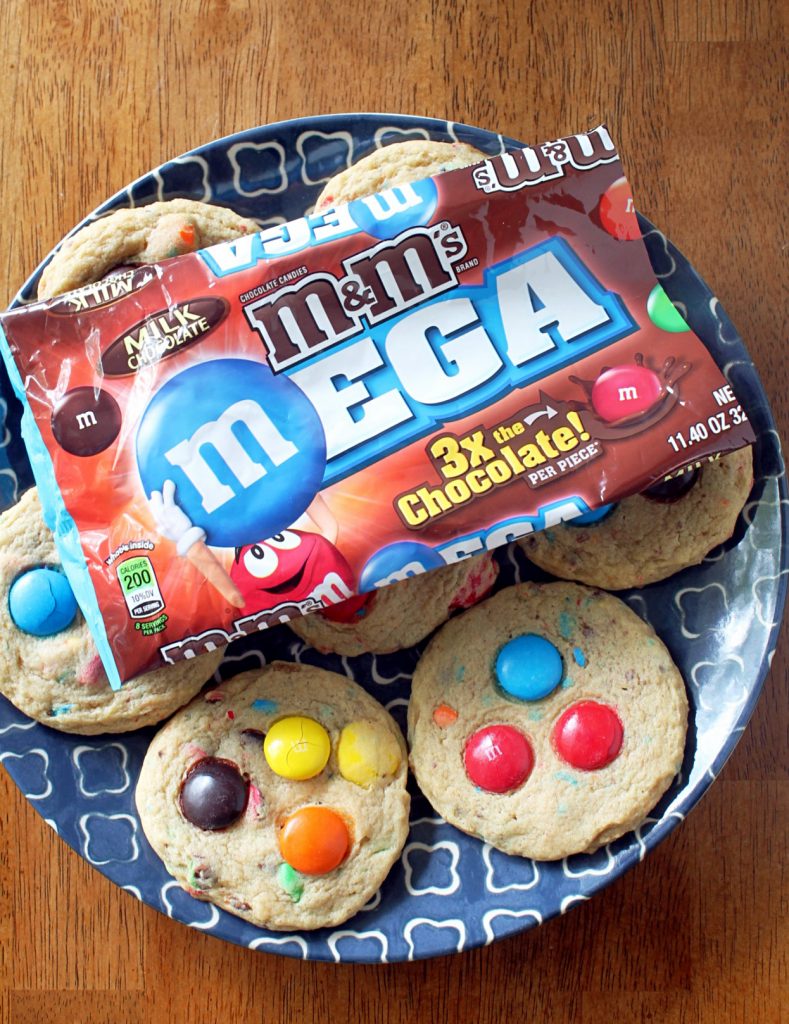 As soon as our neighbor found these new Mega M&M's at the store and shared some with my children, they were begging me to make cookies with them. Bigger is better, especially when it comes to chocolate, right? These monster-sized M&M cookies are for certain kid-friendly and therefore perfect for September and Pediatric Cancer Awareness Month.
OXO helps out in a big way each year with their #OXOGoodCookies campaign. For every stickered item sold, OXO will donate 25 cents in support of pediatric cancer research as part of its $100,000 pledge to Cookies for Kids' Cancer. Just look for the green stickers!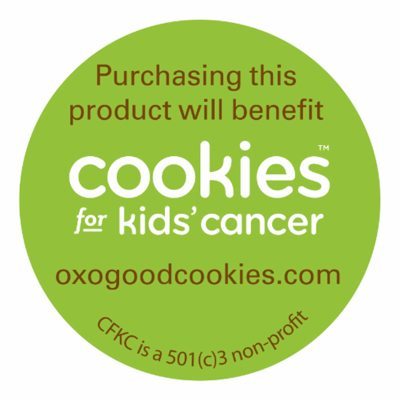 I certainly didn't need to be convinced to help do a small part in spreading awareness for both the Cookies for Kids' Cancer organization and OXO's part in raising money for pediatric cancer research. We are blessed with two healthy children (who love cookies). That is reason enough. And as far as OXO products go, they are some of my absolute favorites. In fact, I don't bake cookies, muffins, scones or even pancakes without using their cookie scoops. I own all three sizes!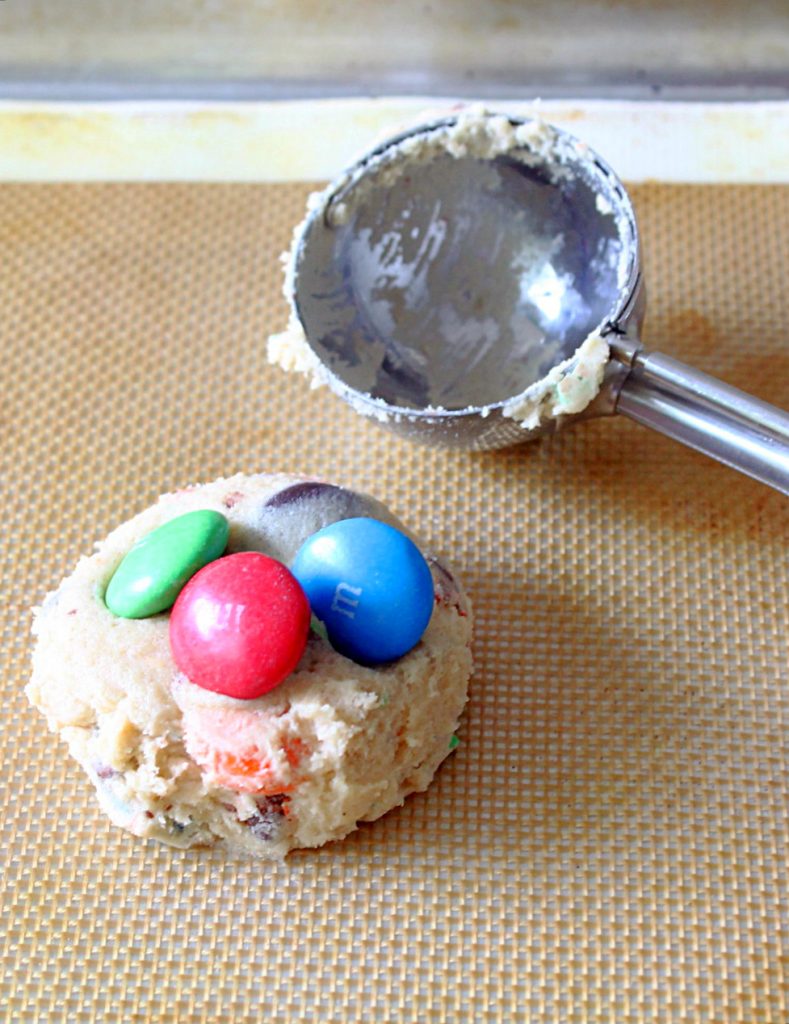 To fit plenty of these new mega m&m's into each cookie, I used the OXO large cookie scoop which has a 3 tablespoon capacity. I simply scooped the dough, lightly pressed them so the tops were flat and placed three additional mega m&m's on top of each cookie. They are packed full of chocolate goodness and still suprisingly soft in texture. I have Averie Cooks' cookie recipe to thank for that… it includes a little cornstarch. As she says, the cornstarch in the dough "helps create softbatch-style cookies that are so soft, moist, and supple, without turning cakey." She is right!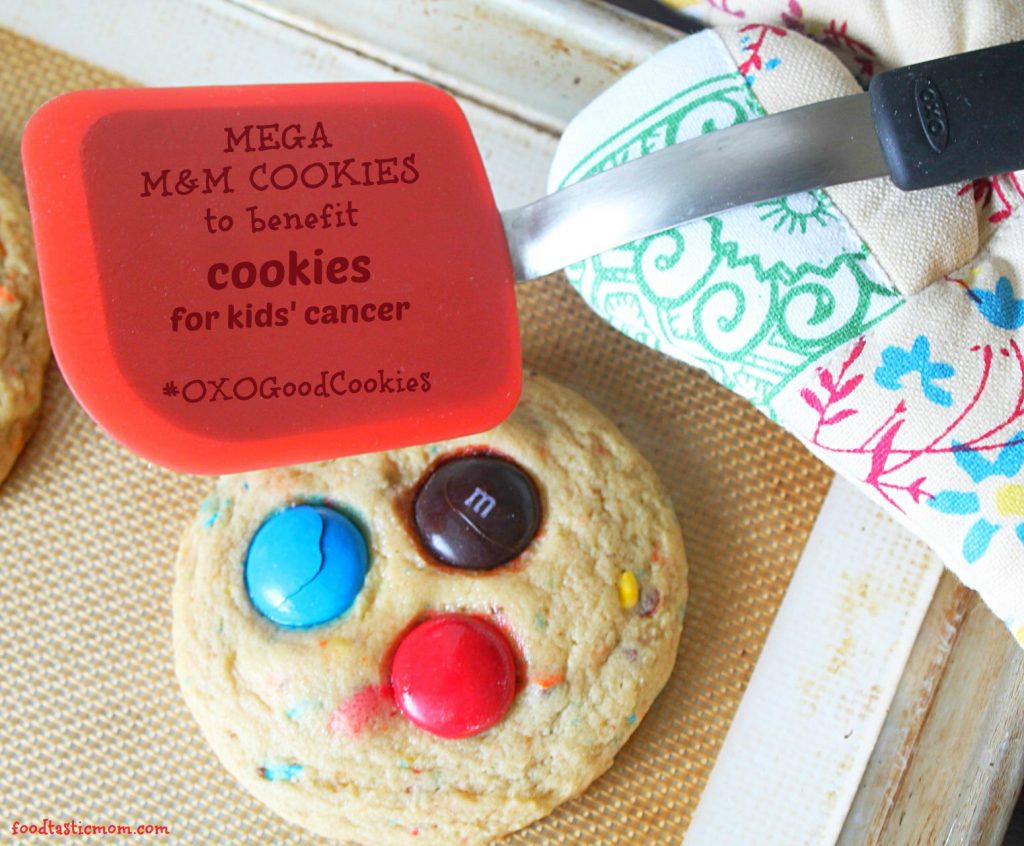 OXO can further help you get your cookie on this month to really help raise awareness and be a Good Cookie. Visit their Pinterest board HERE for a link to all participating bloggers and their cookie recipes in this #OXOGoodCookie campaign.
Visit HERE for a guide to all the baking products that are specially marked at participating retailers this month.
And visit HERE for a Store Locator to find your nearest OXO retailer.
In the meantime, get started by baking up a batch of these Mega M&M Cookies for your kids, your neighbors or your friends and put a big smile on their faces today!
Mega M&M Cookies
Ingredients
1 1/2

sticks unsalted butter

softened

3/4

c.

light brown sugar

1/4

c.

granulated sugar

1

large egg

1

t.

vanilla extract

2

c.

all-purpose flour

2

t.

cornstarch

1

t.

baking soda

1

t.

salt

1

bag Mega M&M's

11.4 oz.
Instructions
Preheat oven to 350 degrees.

Line two baking sheets with silicone baking mats or parchment paper.

In the bowl of a stand mixer, beat together the butter and both sugars for about 1 minute. Add egg and vanilla, scrape down bowl and beat for an additional 30 seconds.

In a clean bowl, whisk together the flour, cornstarch, baking soda and salt.

Add the flour mixture to the butter mixture and mix on low speed until flour is just combined.

Set aside 45 mega m&m's. Add the rest of the m&m's to the cookie dough. Mix on low speed until m&m's are mixed into the dough.

Using a large OXO cookie scoop (3 tablespoon capacity), scoop 6 cookies onto each baking sheet. Lightly flatten the tops of the scoops with the palm of your hand and place three m&m's on top of each unbaked cookie.

Bake for 10 minutes, rotating pans halfway through baking time.

Allow cookies to cool on pan for at least 10 minutes before removing to cooling rack to finish cooling. Makes 15 cookies.