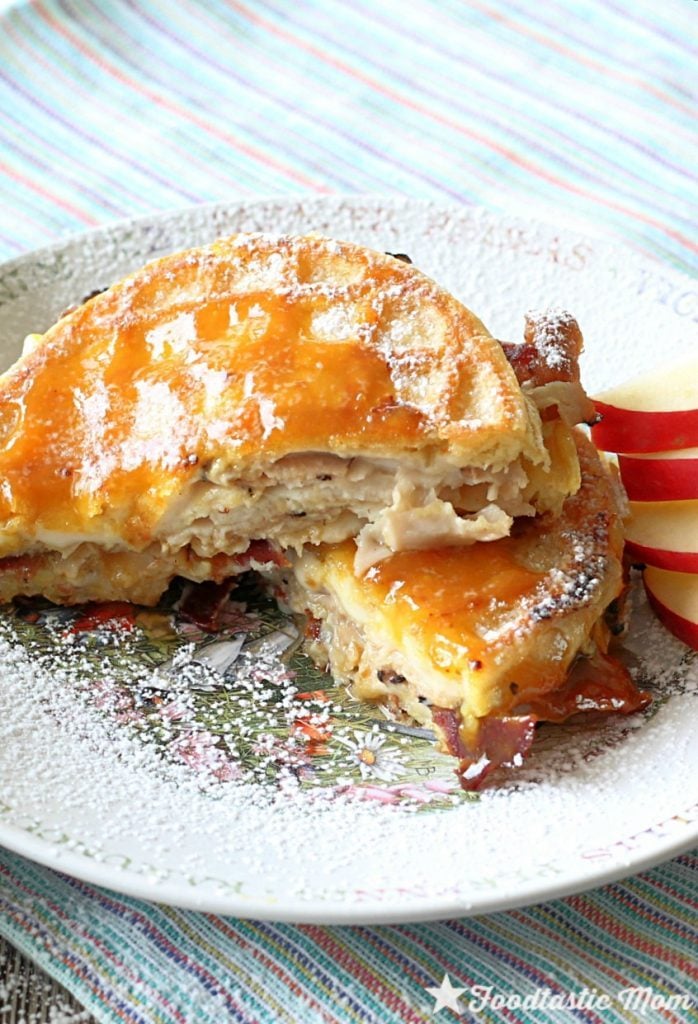 Did you know that this Sunday, April 12th is National Grilled Cheese Day? I usually never post a recipe before a national food holiday because it's just too much to keep up with. The only other day I've posted for is National Pancake Day and that's because it just happens to fall on my birthday every year… September 26th. (now you have to get me a present, lol)
When I saw Foodie Crush create a grilled Monte Cristo on waffles a while back, I was hooked and wanted to make something similar. The key with my version is not the brand of waffle, though be sure and toast your frozen waffles before assembling your sandwich, but the flavor and type of meat and cheese combination. But let me back up for a minute…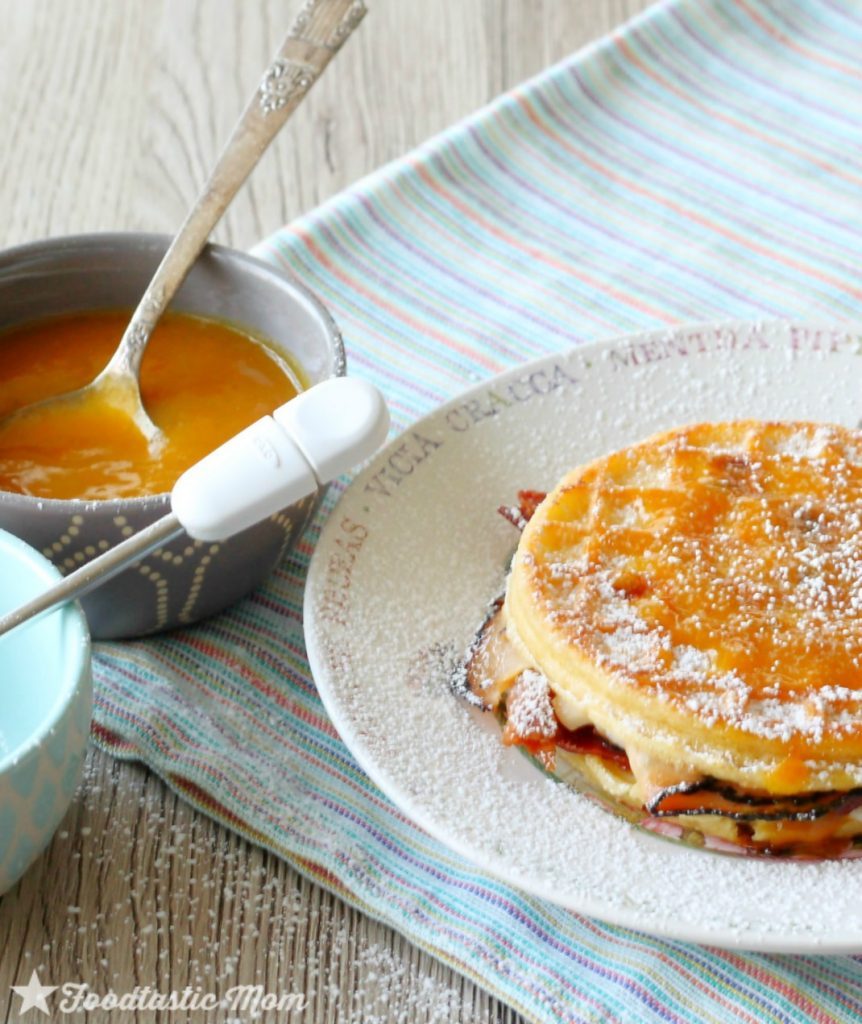 A traditional Monte Cristo counts raspberry jam as one of its key ingredients. I didn't have raspberry jam at home, but I did have apricot. I started thinking about the waffles as bread and decided that a sauce using maple and apricot would be perfect. So at the grocery, I took a while to pick what I thought would be the most harmonious combination of flavors and chose Boar's Head maple roasted chicken breast plus sharp (white) American cheese slices. I like the way American cheese melts and the chicken by itself is SO yummy! And since this sandwich is walking the line between breakfast and lunch I decided to add bacon too. Because… BACON. So yeah, this grilled cheese… you gotta try it at home!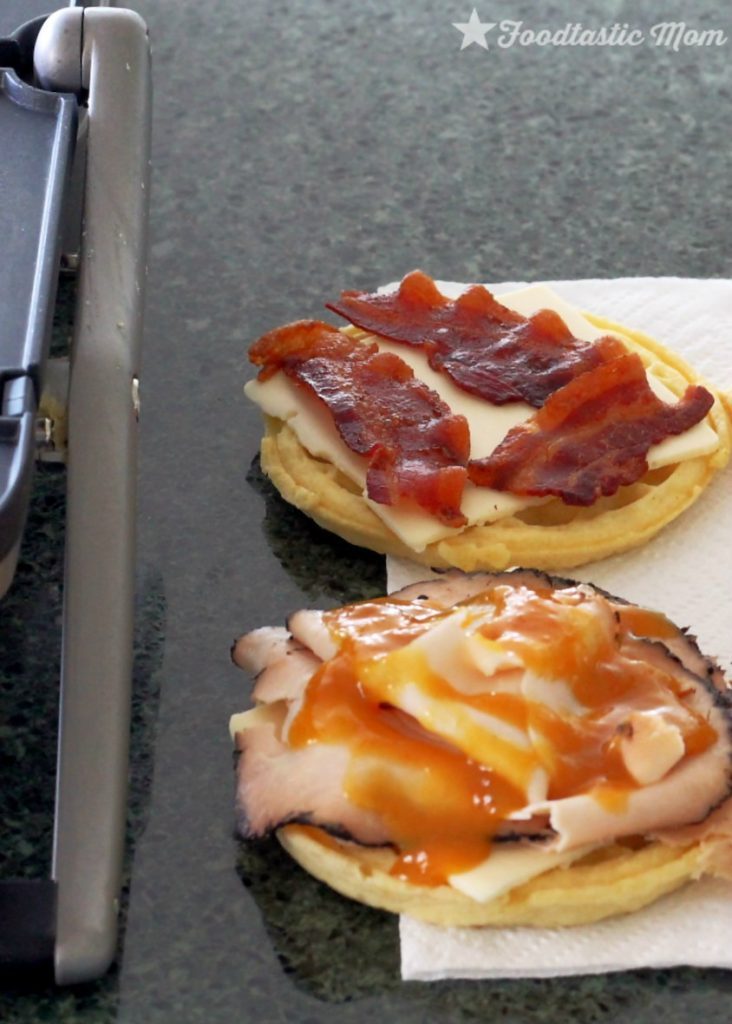 But I'll admit to an ulterior motive with this post too and that is to also make you aware of how Panera Bread is celebrating National Grilled Cheese Day on April 12th. I'm a huge Panera fan and it helps that we have one just at the end of our residential street. I walk there quite often!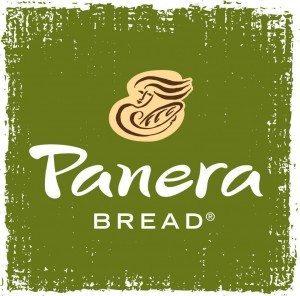 So I was happy to spread the word that Panera will be giving $3 OFF any grilled cheese sandwich purchase, this Sunday, April 3rd! Choose from the all-time American classic Grilled Cheese sandwich, get cheesy with the Fontina Grilled Cheese, or feel young with the Kids Grilled Cheese.
Classic Grilled Cheese Sandwich
Organic sliced American cheese grilled on our freshly baked All-Natural White Bread.
Fontina Grilled Cheese Sandwich
Vermont white cheddar, fontina, reduced-fat chive & onion cream cheese spread and a four cheese Italian blend grilled on our freshly baked, thick sliced All-Natural White Bread.
Kids Grilled Cheese Sandwich
A kid-friendly classic made with organic American cheese grilled on our All-Natural White Bread.
I don't ever need an excuse to visit my Panera, but I'll use the $3 off to entice my family to visit on Sunday anyway. What's your favorite thing to order at Panera? Mine currently is one of their new broth bowls. And what's your favorite type of grilled cheese? Try my Maple Monte Cristo and see if it doesn't become a favorite…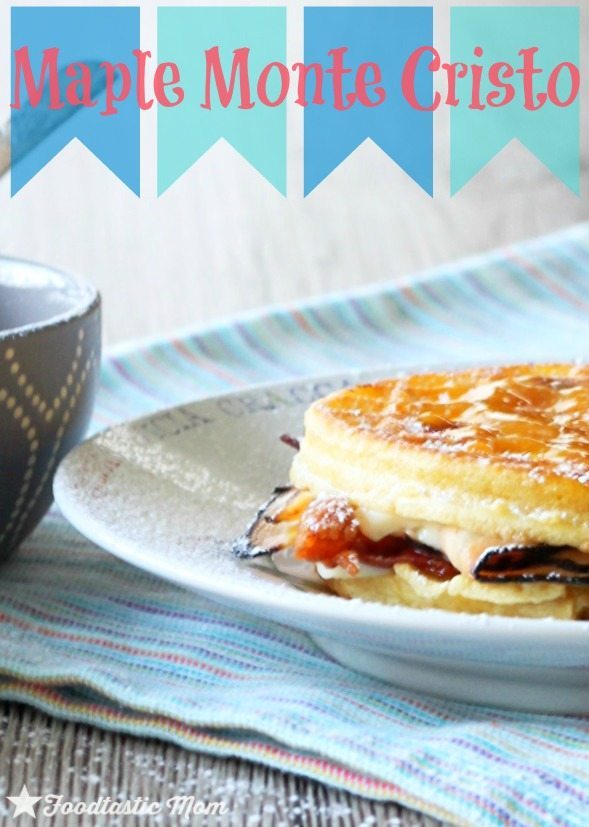 Maple Monte Cristo
Ingredients
8

frozen waffles

1/2

lb.

deli sliced maple roasted chicken breast

I used Boar's Head

1/2

lb.

deli sliced Sharp American cheese

Boar's Head

8

slices

bacon

cooked

1

T.

yellow mustard

1

T.

pure maple syrup

3

T.

apricot preserves

4

T.

salted butter

powdered sugar
Instructions
Whisk together the mustard, maple syrup and preserves. Set aside.

Preheat a non-stick electric grill (or use a grill pan on the stove).

Toast the waffles so they aren't frozen anymore and are crisp.

Divide the meat and cheese and place on four waffles. Top each of four halves with about a tablespoon of the apricot sauce and two slices of bacon. Top each of the halves with another waffle.

Melt butter where you'll place each sandwich on the griddle. Before flipping the sandwiches, melt a little butter so the other side will be grilled in butter.

Serve hot topped with powdered sugar, and a little extra apricot sauce (if desired).