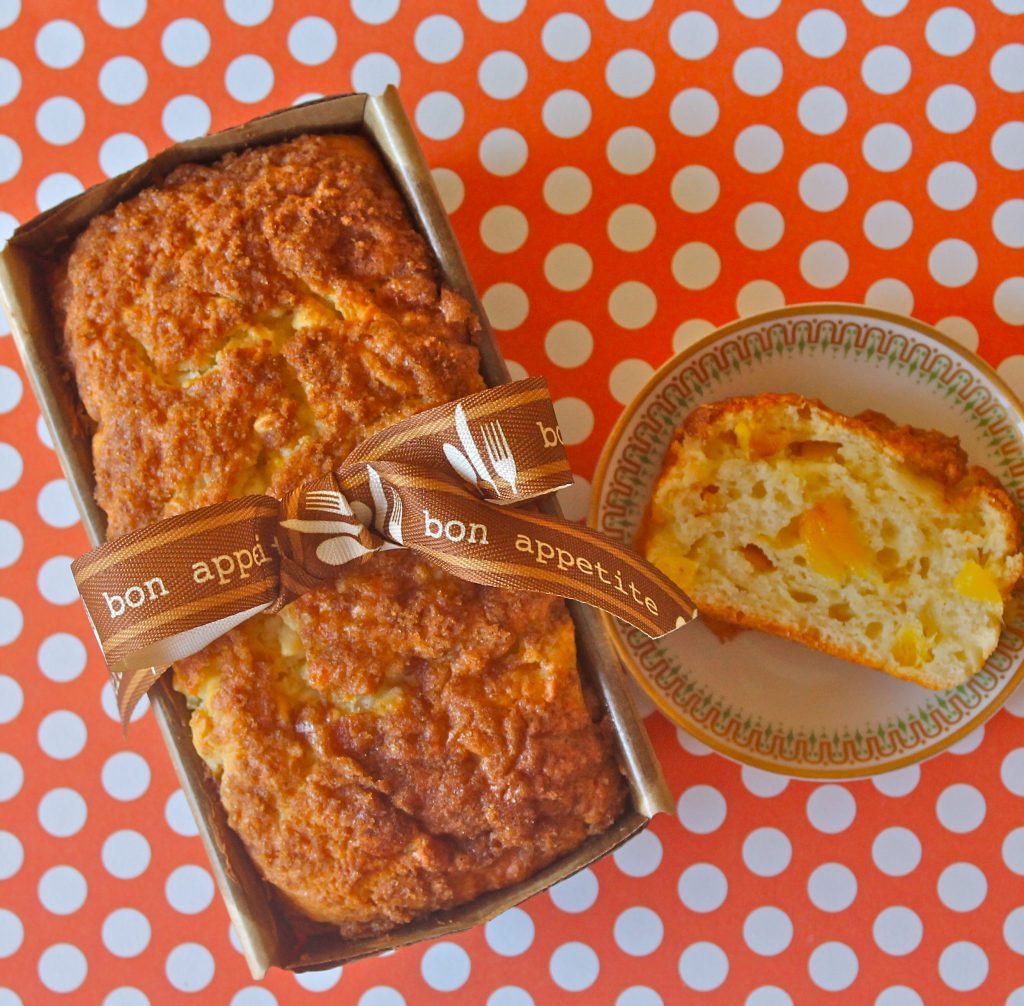 If you need some sunshine in your life, make this bread. It's happy. I was more than happy to eat and gift it. I made it into mini loaves, so I had plenty to go around. I used these great paper loaf pans I found for a steal at HomeGoods. If you don't have a HomeGoods near your house, you can also find them here at Sur La Table.
Unless you live in some exotic, tropical locale (in which case I'd be insanely jealous of you) mangoes are not in season, like ever. I did find some beautiful, organic ones though at my local grocery. Now I am not one for kitchen gadgets that serve only one purpose, but I have to say, my OXO mango splitter is a rare exception. Mangos are stubborn to prepare, especially trying to get the fruit away from the enormous pit in the middle, without turning the mango into a mushy mess. Problem solved with this clever gadget… I highly recommend it!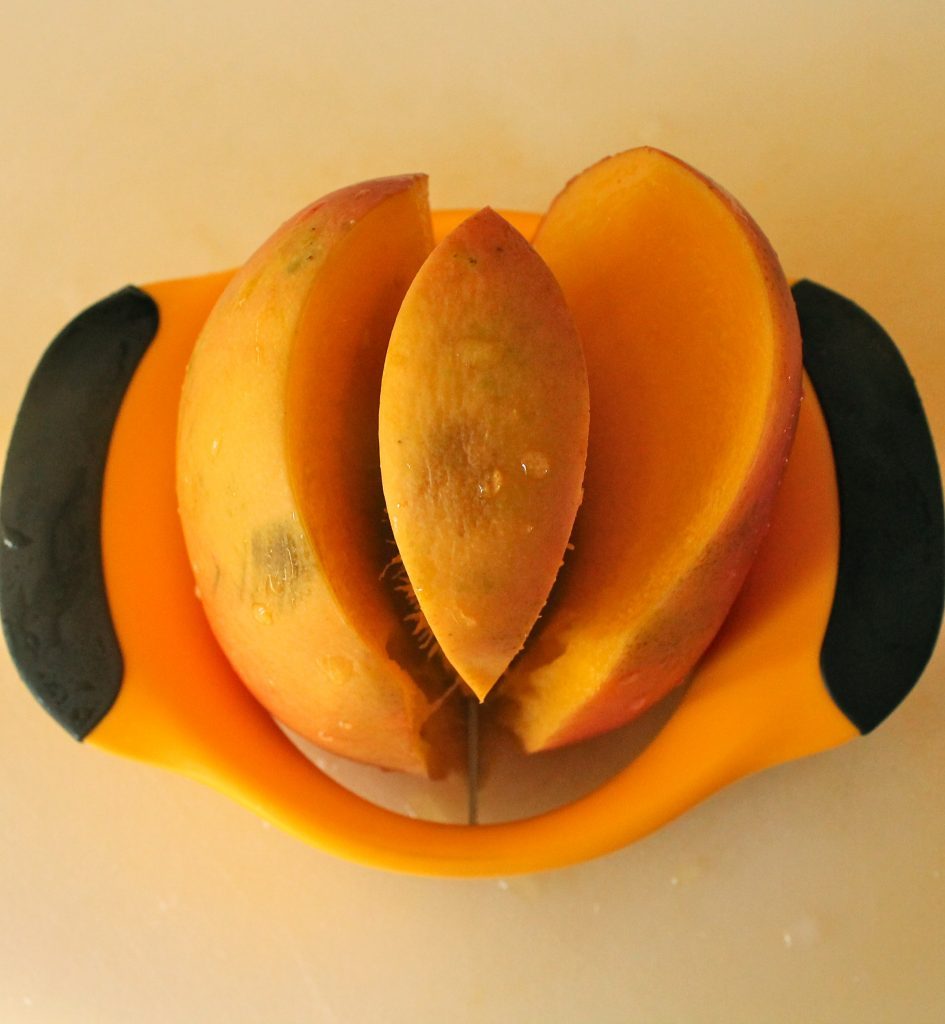 This recipe is truly a standout, and I found it over at Confections of a Foodie Bride. The only changes I made were to leave out the almond extract, because I'm personally not a fan of it, and to add this cinnamon streusel topping from my Really Good Pumpkin Bread because I thought the two would really work well together.
The original recipe makes 15 muffins and bakes at 400 degrees to start, finishing at 375 degrees, for a total of around 20 minutes. Click on the blog link for the original recipe and if you are interested in making muffins. Here, I'm providing instructions to make five mini loaves… each loaf being about the equivalent of three muffins.  But don't worry, it's our secret if you polish off a loaf in one sitting, as I may (or may not) have done myself.
Mango White Chocolate Bread with Cinnamon Crunch Topping
for the topping
5 T. packed light brown sugar
1 T. all-purpose flour
1 T. butter, softened
1 t. cinnamon
1/8 t. salt
for the breads
3 c. all-purpose flour
1 T. baking powder
1/2 t. baking soda
1/2 t. salt
10 T. unsalted butter, cubed and softened
3/4 c. sugar
2 large eggs
1 t. vanilla
1 1/2 c. plain fat-free Greek yogurt
1 c. diced mango, peeled
1 c. Ghiradelli white chocolate chips
For the topping
Using a pastry blender, mix all ingredients together in bowl until well combined and topping resembles wet sand. Store in fridge until ready to use.
For the breads
Preheat oven to 375 degrees.
In a medium-sized bowl, whisk together the flour, baking powder and soda and salt.
In a large bowl, beat the softened butter and sugar with a hand mixer on medium-high speed until light and fluffy, about 2 minutes. Add vanilla and eggs, one at a time, beating after each addition.
Using a spatula, mix in one third of the flour mixture until just incorporated. Mix in half the Greek yogurt. Follow by second third of flour, rest of Greek yogurt, and end with rest of flour mixture. Batter will be very, very thick. Add the diced mango and white chocolate chips and fold into batter until just combined.
Divide batter among five mini loaf pans.  If using the paper ones, you need to place them on a cookie sheet to bake. Spread batter evenly in pans and top with the cinnamon streusel.
Bake for 32-38 minutes (depending on your oven) or until the breads spring back when lightly pressed with your index finger and/or a toothpick inserted into the center comes out clean.
Allow to cool before wrapping in plastic wrap for gifting.