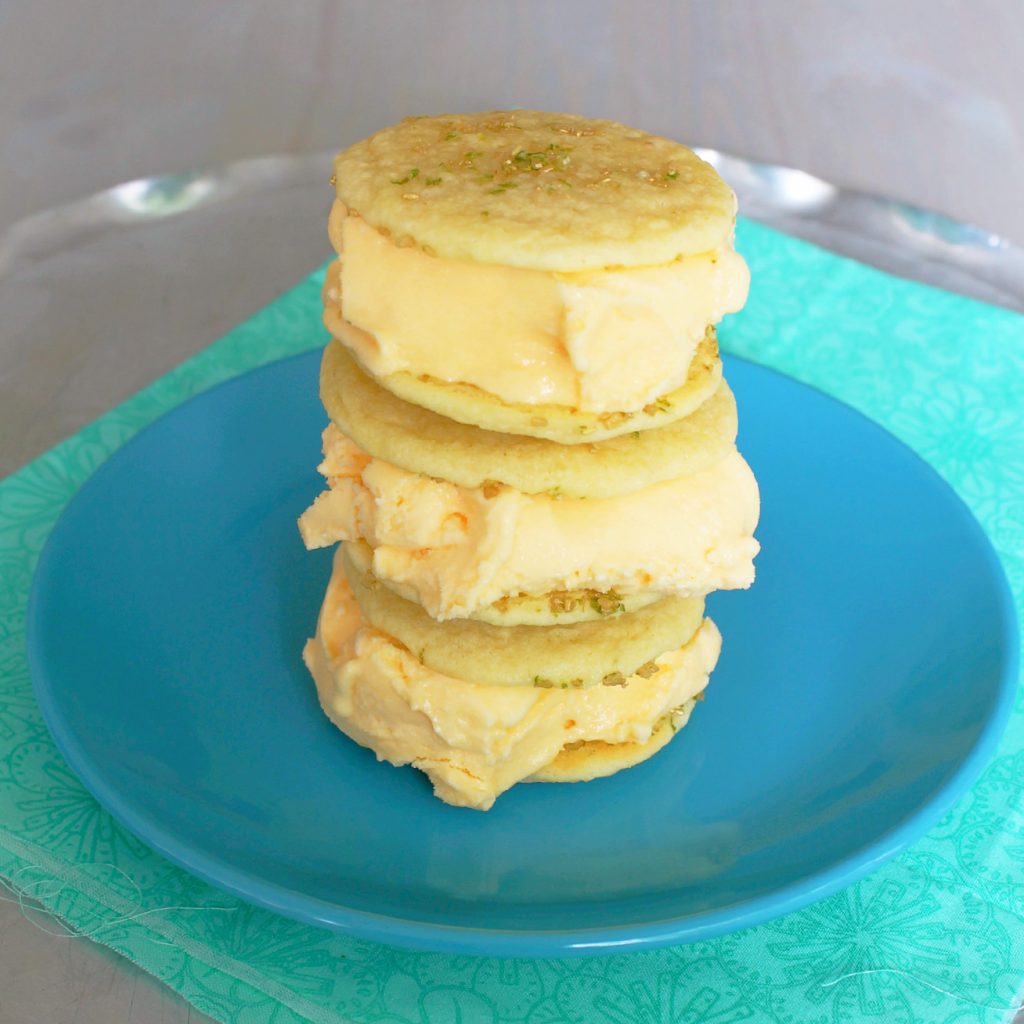 Let me begin by saying these babies do not contain alcohol, although you'd never know it because they do taste remarkably like a Mango Margarita (in ice cream awesomeness, that is). I'd been planning to make these for a while after I found the original recipe through Cooking Light and our dinner of Chicken Zucchini Tortilla Lasagna seemed to be calling their name.
I actually had intended to stick to the original recipe, though when I went to purchase lime sorbet there was none to be found. After wandering the ice cream isle a bit, I settled on mango sorbet instead. Then as I was reading through the original cookie recipe, I realized that it was remarkably similar to my grandma's recipe for snickerdoodles, and HER recipe would not require me to roll the cookie dough in a log and chill it for several hours before baking. So, my grandma can now be credited for these margarita cookies… hopefully she is looking down smiling instead of rolling her eyes at this!
These are a little bit of a process to create, I'll be honest. The recipe requires mixing one pint of mango sorbet and one pint of vanilla ice cream. I did this the night before and stored it in one of my glass Pyrex containers that is fitted with a rubber lid. When I was ready to assemble the sandwiches, it was easy to let it thaw for just a little bit (if you wait too long, the ice cream gets entirely too soft to assemble all 12 sandwiches without having to stick the ice cream back in the freezer… yes, I'm speaking from experience). Anyway, I was able to cut the ice cream in 12 equal pieces, making it relatively easy to scoop and place between the cookies. It looked like this…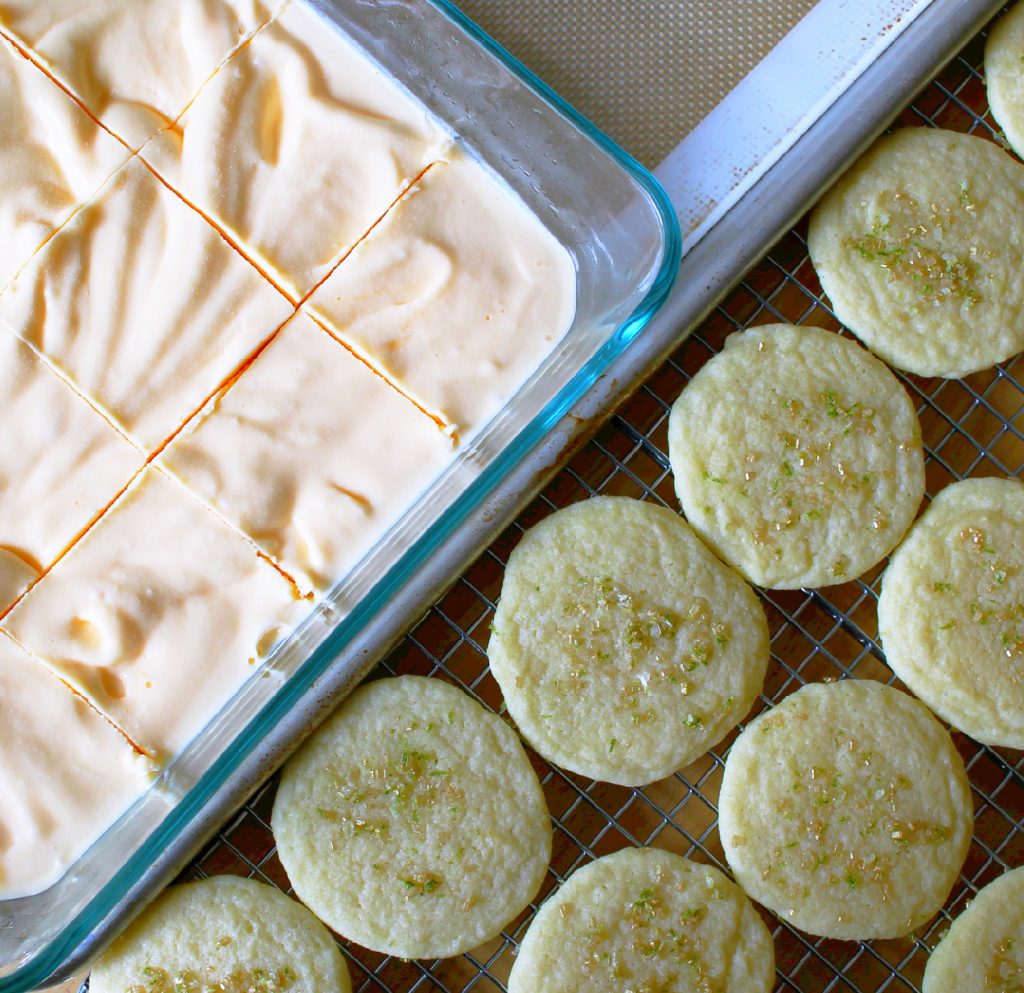 After assembling, it's necessary to place the sandwiches on a sheet pan in the freezer and let them chill for a couple of hours so they are easy to handle. Then for serving/storing purposes, I wrap each sandwich in wax paper and secure with some cute washi tape. The wrapping is not the neatest, but it's part of their charm.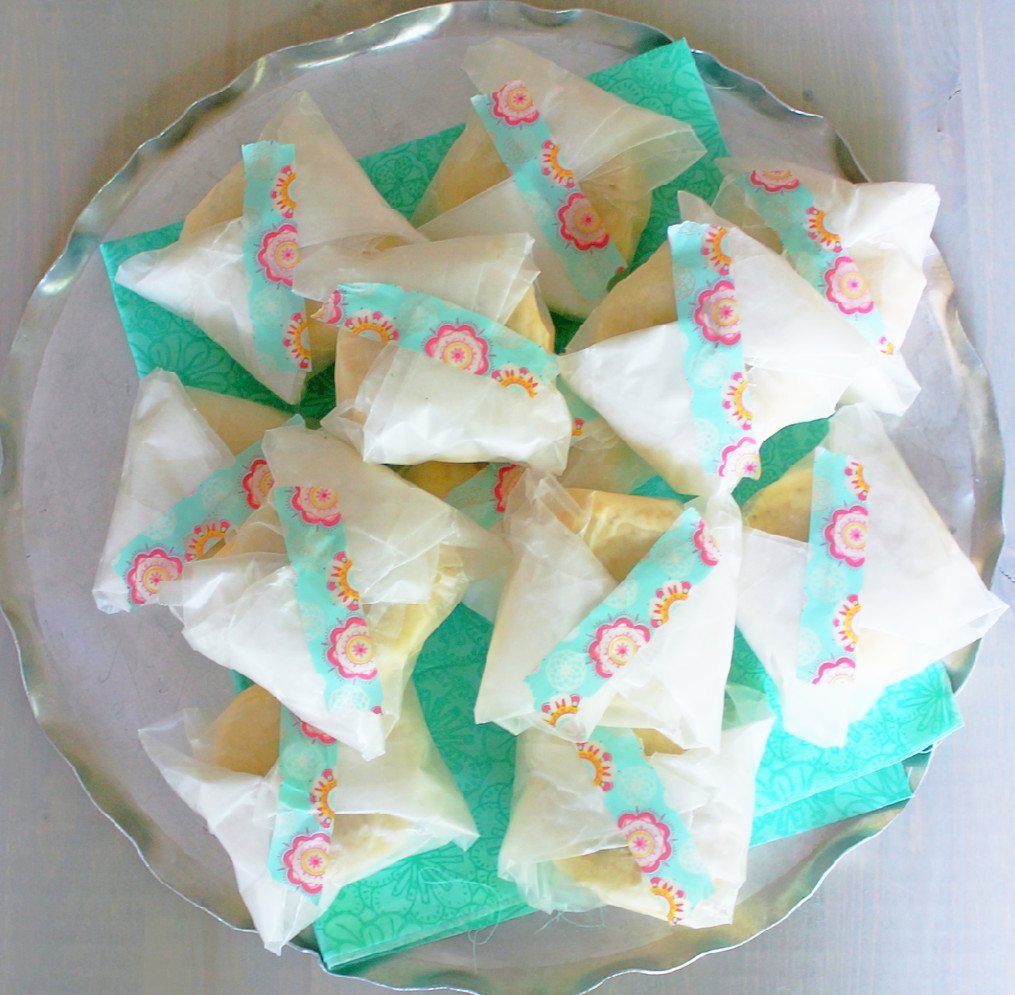 For my husband's sake, I should also assure you the salt/sugar/lime zest mixture is not required on top of the cookies, and it is a bit intense. Personally, that's why I loved these so much… the salt made these authentically like a margarita for me. But if you're used to your drink without a salt rim, by all means, leave it off. Happy Eating!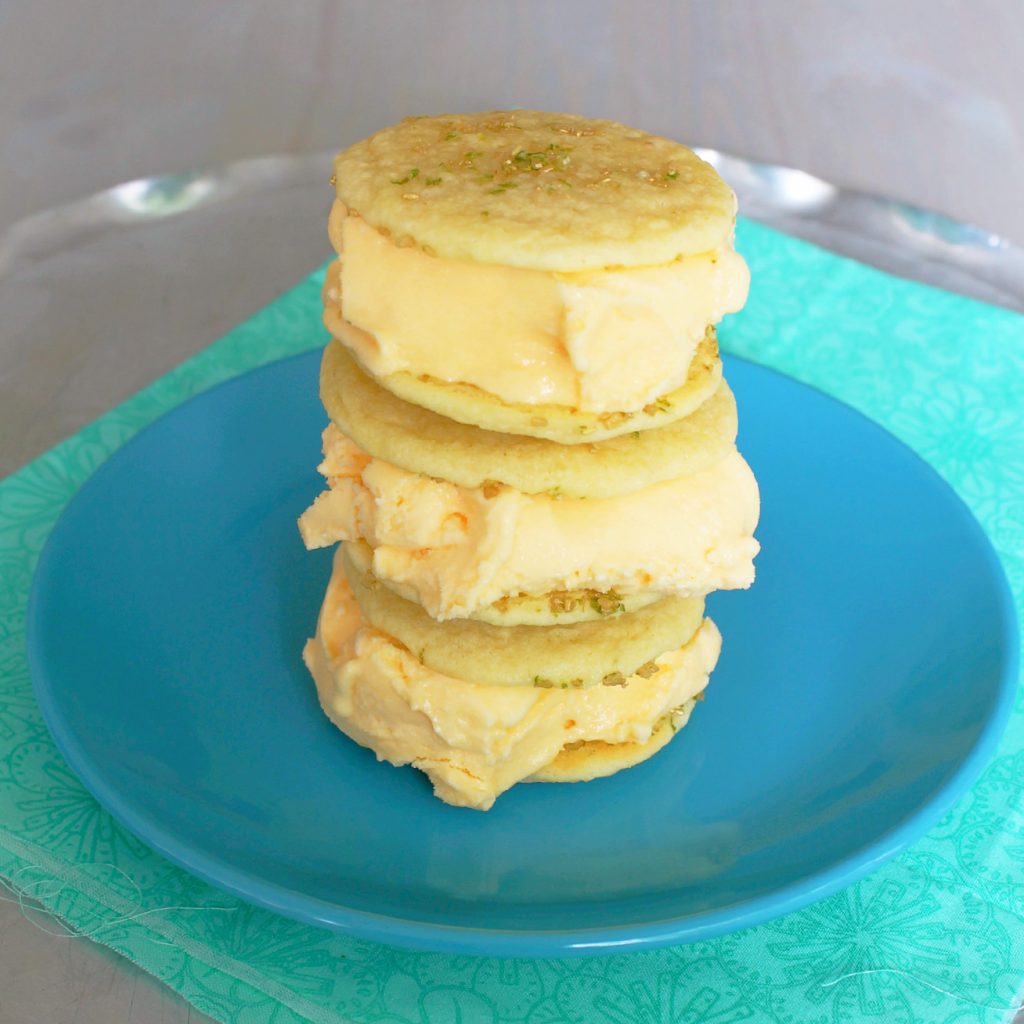 Mango Margarita Ice Cream Sandwiches
2013-08-01 19:21:04
Serves 12
Ingredients
1 c. sugar
1 stick unsalted butter, softened
zest of one lime
juice of one lime
1 egg
1 t. vanilla
1 3/4 c. all-purpose flour
1 t. cream of tartar
1/2 t. baking soda
1/2 t. salt
1 pint mango sorbet
1 pint vanilla ice cream
1 T. coarse sugar
1 t. Maldon sea salt flakes
zest of one lime
Instructions
Before you are planning to make your cookies, allow the pints of sorbet and ice cream to soften a bit, then mix them thoroughly in a container. Store in the freezer, sealed tightly, until ready to use.
Preheat oven to 350 degrees.
In the bowl of your stand mixer, combine the butter, sugar, lime zest and juice. Beat on high for about 2 minutes until very light and fluffy. Add the egg and vanilla and beat for one minute more.
In a separate bowl, whisk together the flour, cream of tartar, baking soda and salt. Slowly add the flour mixture to the butter mixture and beat on medium in the stand mixer until well combined.
Store the bowl of cookie dough in the refrigerator for about 20 minutes.
Meanwhile, combine the coarse sugar, sea salt and lime zest in a small bowl for sprinkling.
Remove the dough from the refrigerator and divide evenly, scooping about 1 rounded teaspoonful of dough per cookie onto sheet pans lined with parchment paper or silicone baking mats. The recipe will make 24 cookies.
Sprinkle the top of each cookie with a small amount of the sugar, salt and lime zest mixture.
Bake cookies for 10 minutes, rotating pans halfway through baking time. The cookies will look a bit underdone. Allow to cool for at least 10 minutes on pans, then remove them to cooling racks to finish completely cooling.
Evenly scoop your mango sorbet and vanilla ice cream mixture in between each of 12 ice cream sandwiches. Place sandwiches on a sheet pan to freeze for at least 2 hours before wrapping each sandwich in wax paper to store.
Adapted from Margarita Ice Cream Sandwiches
Foodtastic Mom https://www.foodtasticmom.com/