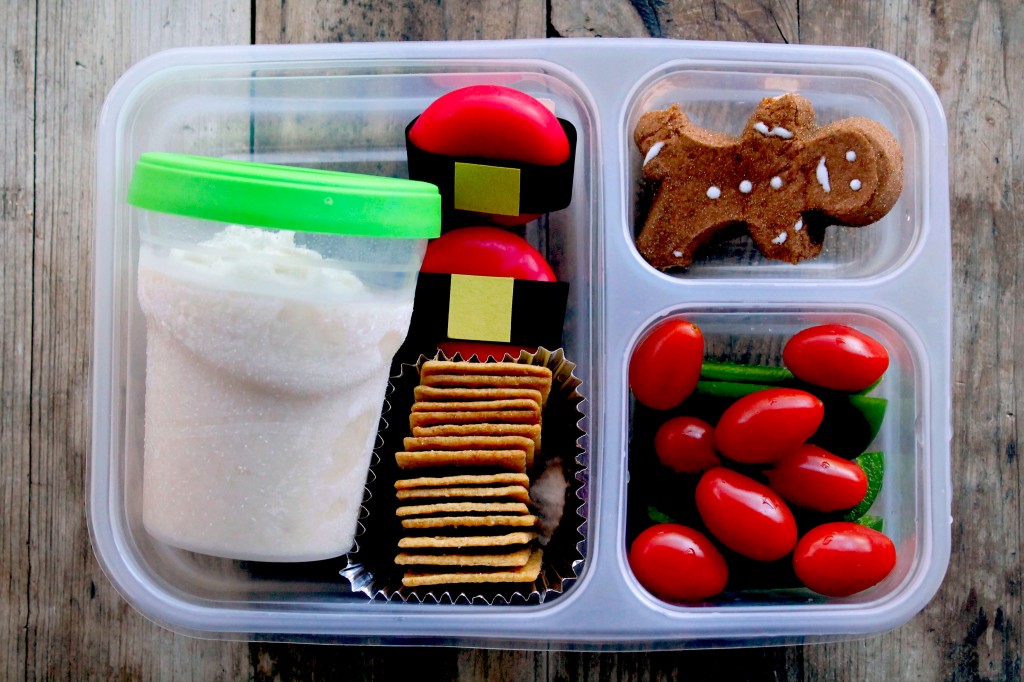 If you live in my neck of the woods (Cincinnati, Ohio) you are aware of the truly amazing international grocery store that is Jungle Jim's. I subscribe to them on Facebook and the other day they posted a picture of their huge collection of Holiday Peeps. My wheels started turning as to what I could use them for, and so here is an idea for your child's lunch leading up to Christmas.
Let's start with the smoothie on the left. My children happen to love eggnog, and Horizon Organic makes one that is lowfat with natural ingredients. To make, I combined one banana with 1/2 cup eggnog and a pinch of cinnamon. I blended it using my stick blender, then poured it into this 8 oz. Ball plastic freezer jar (purchased from Kroger) and put it in the freezer overnight. It will thaw and be ready for Caleb to enjoy by lunch time. And the Gingerman Peep (which is gingerbread flavored, by the way) seemed like a perfect match for this Wintery smoothie!
I cannot take credit for this idea of freezing smoothies for a child's lunch. I pin a ton of lunch ideas from Jill Dubien's blog Meet the Dubiens. Her bento-style lunches are so creative and her photos are beautiful, so click on the link and check out her site.
As for the Santa-belt Babybel cheeses, I cannot take credit for that idea either. It came from this blog, Cute Food for Kids where she also has an idea for a Babybel Santa head that is super cute.
The crackers to go with the cheese are Wheat Thins and the grape tomatoes and green peppers add festive red and green. As I said in my Halloween lunch post, I'm not one to plan ahead and spend a ton of time on one lunch. This one really was super fast. I made the smoothie the night before and spent less than 10 minutes assembling the rest AND taking the picture in the morning. I also wrote on Caleb's napkin, "Run, run, fast as you can… you can't catch me, I'm the Gingerbread Man!" He's only seven after all, I don't have much time left to be so fun without embarrassing him!