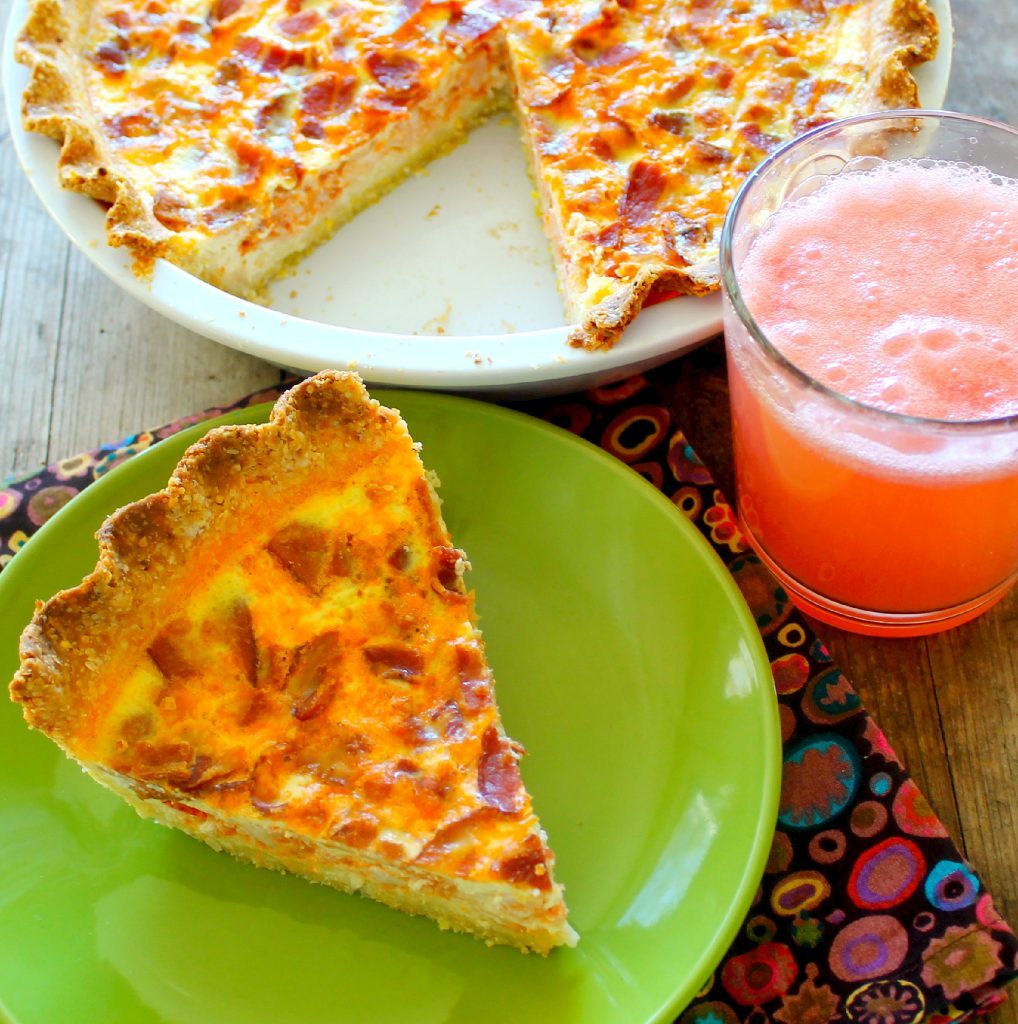 Lobster and seafood in general are usually treats I allow the experts in restaurants to fix for me. But Jungle Jim's had Maine lobster tail on sale for $6.99/pound recently, so I decided to be adventurous. I highly recommend their Eastgate location's new seafood department, by the way. The gentleman who waited on me was extremely knowledgeable in telling me how to cook the lobster, and he even shared how to make lobster butter with the shells (a recipe I'll be sharing in a later post).
I had originally thought I'd make simple lobster rolls, but then I ran across a recipe inspired by Julia Child for lobster quiche and I was sold. The recipe I'm sharing here is a combination of several (which I will credit below the recipe), as I decided I wanted to try a cornmeal crust with this. If you remember back in my post for Pumpkin S'more Cookie Pie, I'm a bit afraid of making pie crust from scratch, based on some past failures. I will say though that this crust with cornmeal seemed more forgiving, and rolling it out between two sheets of parchment paper made it seem relatively easy and kept the crust in one nice piece.
And, since this dish seems to be worthy of a holiday or special occasion, I decided to make this simple Grapefruit Mimosa I found here. It's just a combo of fresh ruby red grapefruit juice and Prosecco (which is sparkling Italian wine). For the glass pictured above, I combined the fresh juice from 1 1/2 grapefruits with about 1/4 c. of Prosecco. It tasted lovely with the quiche and was a nice change from a standard mimosa with orange juice and champagne.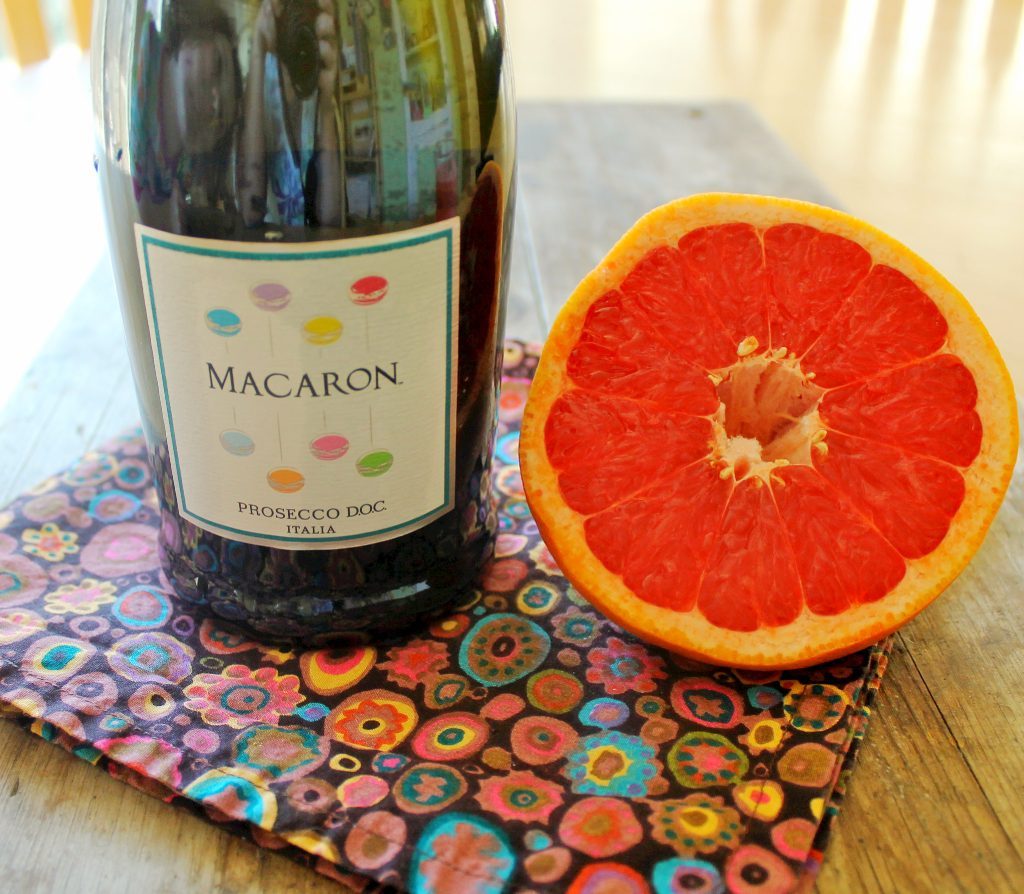 Lobster Bacon Quiche with Cornmeal Crust
for the crust
1 cup unbleached all purpose flour
3/4 cup fine-grind whole grain cornmeal
1/2 teaspoon salt
1/4 cup (1/2 stick) chilled unsalted butter, cut into 1/2-inch cubes
3 tablespoons chilled solid vegetable shortening (preferably with no trans fats), diced
1/4 – 1/3 c. ice water
Whisk together the flour, cornmeal and salt. *Although the recipe called for fine-grind cornmeal, I was only able to find medium-grind. I liked the taste. I think the only difference was I needed to use more water to hold the crust together.*
Using a pastry blender, cut the butter and shortening into the flour mixture until it is the texture of wet sand, with only pea-sized lumps throughout. Add the water and mix, 1/4 cup to start. More as needed for the dough to stick together.
Dump onto a smooth surface and loosely form into a disk. Wrap tightly with plastic wrap and refrigerate for 30 minutes. Place the dough disc between two large sheets of parchment paper and roll into a 12-inch circle. Remove top sheet of parchment and center onto 9-inch glass pie dish. Gently press into bottom of pie dish, then very carefully remove the other piece of parchment paper.
I made crust two days ahead, covered loosely with plastic wrap and stored in the refrigerator.
for the quiche
6 sliced of bacon, cooked crisp and crumbled
2 T. unsalted butter
2 shallots, minced
1 T. tomato paste
2 T. white wine
1 1/2 c. cooked lobster meat
1 c. swiss cheese, shredded
3 large eggs
1 c. half n half
1/2 t. salt
1/8 t. black pepper
1/8 t. ground nutmeg
Preheat oven to 375 degrees.
*For the lobster, I had three tails that I grilled. I placed each on a sheet of heavy foil, split the top of each tail down the middle, cutting the shells with a pair of kitchen shears. I gently pulled apart each shell and drizzled a little melted butter on the uncooked meat. I wrapped them and set each foil packet on my grill (medium high heat) to steam, which only took about 5 minutes. I watched them closely, opened packets to check for bright red color of shells, then removed from grill to cool and carefully picked out the cooked lobster meat from the shells. If I can do this, I think anyone can!*
Heat the 2 T. butter over medium heat and saute shallots for about 5 minutes. Add tomato paste and cook for 2 minutes more, making sure everything is well combined. Add white wine and allow to simmer for 1 minute more. Remove from heat, allow to cool for a bit and then mix in the cooked lobster.
Beat together the eggs, half n half, salt, pepper and nutmeg.
To assemble quiche, evenly spread the shredded swiss cheese onto the bottom of the crust. Follow with the lobster, shallot and tomato paste mixture. Gently pour the egg mixture into the loaded crust, and sprinkle evenly with the cooked bacon.
Bake quiche for 30-35 minutes until crust and top are nicely browned and center is still a bit jiggly.
Recipe combined from this collection
Julia Child's Shrimp or Lobster or Crab Quiche
Bacon Lobster Quiche
Corn and Bacon Pie