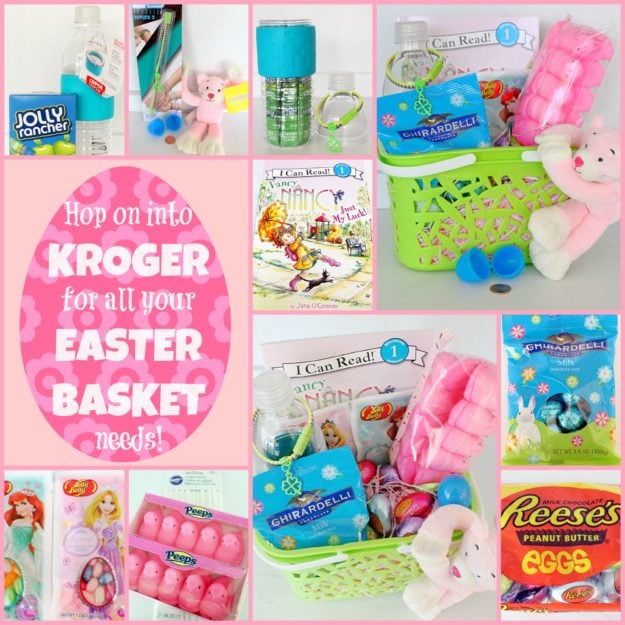 Kroger is headquartered in my city of Cincinnati, Ohio and one of the largest Kroger Marketplace grocery stores in Ohio happens to be located less than one mile from my front door. We bike there in nice weather now that we have sidewalks on our street. It is beyond convenient, and while I always shop with a list, feeding our family and running my blog means I'm shopping there at least twice per week.
So when Sitewire contacted me on behalf of the Kroger Co. to participate in their #EasterBasketHop, I was beyond excited to participate. For full disclosure, that means I received a $25 Kroger gift card to help in purchasing the items I needed for my daughter's Easter basket this year (she's 7 years old and in the 1st grade) and I will receive an additional $100 Kroger gift card as payment for my post. And I was so happy with my finds, that I've purchased my son's basket at Kroger this year as well, even though it was not required.
I've never done anything too elaborate for our kids' Easter gifts. It's always been one basket or container each. In the past, I've found "baskets" they could use again and besides some candy, I generally include a book and a water bottle. The water bottle tradition has grown from necessity. We are big water drinkers in our family and each of us carries a reusable bottle. Now while my husband and I seem to use the same one year after year, the same cannot be said of our active, somewhat prone to messes, grade-schoolers. Their bottles get left places and Easter seems to come along at just the right time to get them a fun new bottle.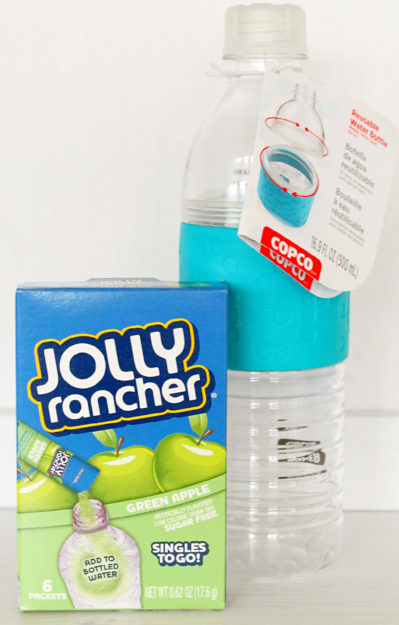 I was really excited to find this look-alike plastic water bottle from Copco. The kids' now are at the age where they want the disposable bottles, and this one looks like one! But it's BPA-free and actually unscrews in half so you could add normal-sized ice cubes to the bottle of water. Both of my kids enjoy flavored water add-ins, but I don't buy them often. So these Jolly Rancher powders are actually a treat worthy of a gift.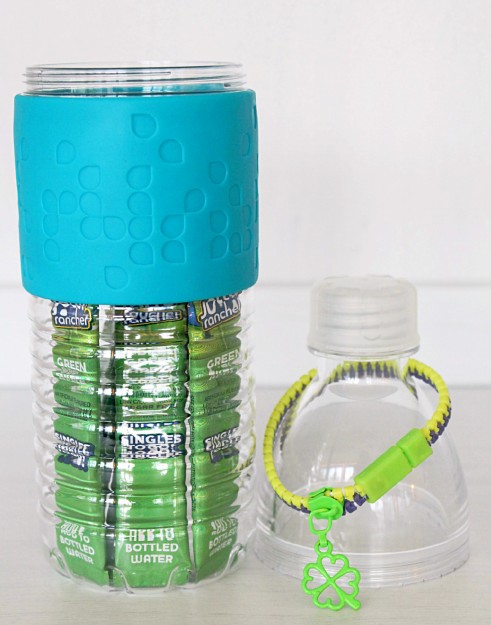 When I began my shopping, I started with this book and I must say I got really lucky in what I found to go along with it. Hannah, my daughter, already owns an Easter-themed Fancy Nancy book, but she didn't own this one. And while it's clear it was a St. Patrick's Day-themed book, the story is sweet and has a good message for any time of the year.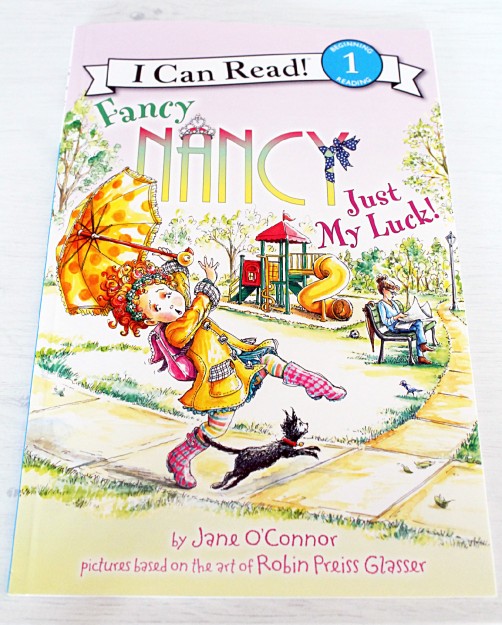 I like finding a few little things that appear in the story, and I was able to find this little stuffed cat AND this bracelet with a four-leaf clover charm at my Kroger in the Easter aisle. Now, I'm not promising that at your Kroger you could go and purchase this exact same collection. But start with any book your child would enjoy and use your imagination to find a few things to go along with the story. A lucky penny is also mentioned in this Fancy Nancy book, so a shiny new penny in a little plastic egg rounds out the story book collection. Kroger literally has something for everyone!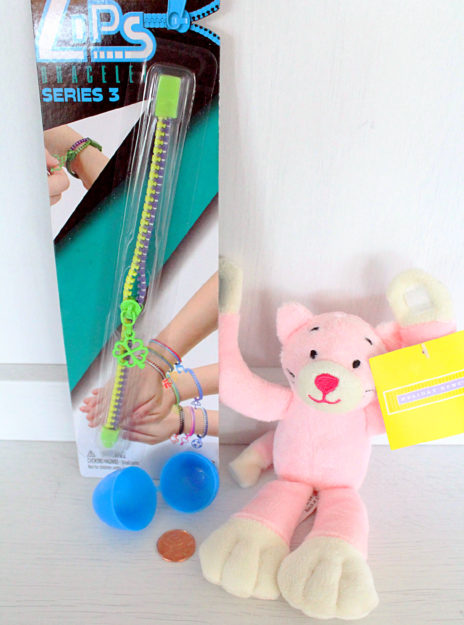 To round out her basket this year, I purchased a variety of candy, in part to show the options available. I'd seen the idea for making Peeps pops on Pinterest, so in addition to a box of Peeps, I purchased a bag of Wilton cookie sticks at Kroger. I'll always find uses for the rest of the sticks later. I simply threaded the Peeps onto the sticks, then cut and taped some Ziploc bags together to seal. The bags can be found at Kroger, although I already had plenty at home. The washi tape and string used to tie the Peeps pop were items I already had in my craft box at home.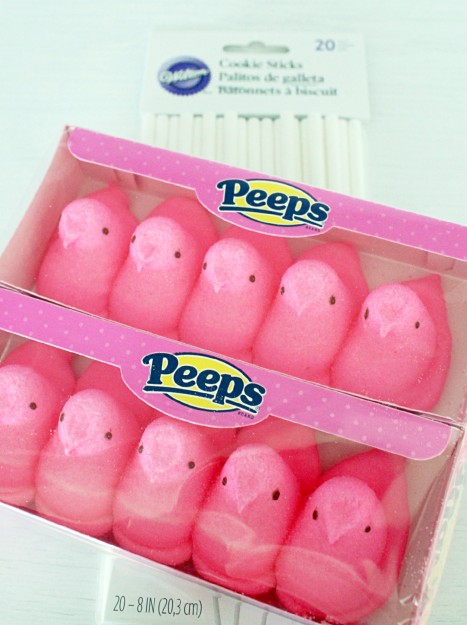 Hannah loves princesses AND jelly beans, so these little Disney-themed bags of Jelly Bellies were an obvious choice.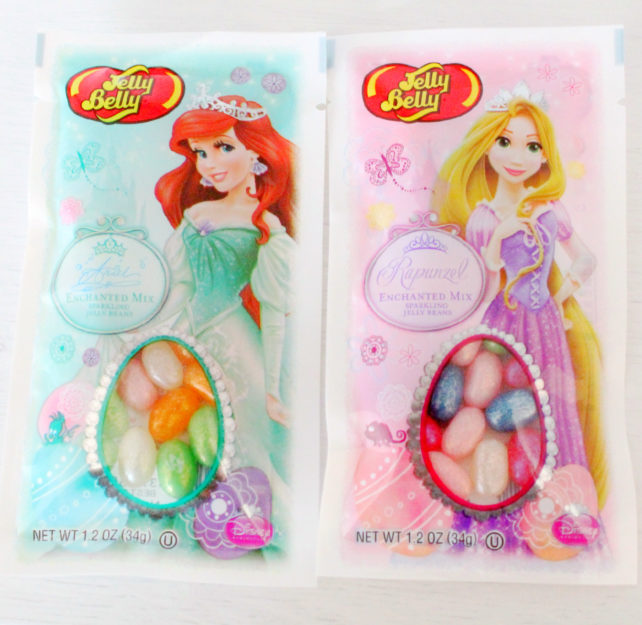 I happen to love all Ghirardelli chocolate, so I was drawn to this little bag of Ghirardelli eggs.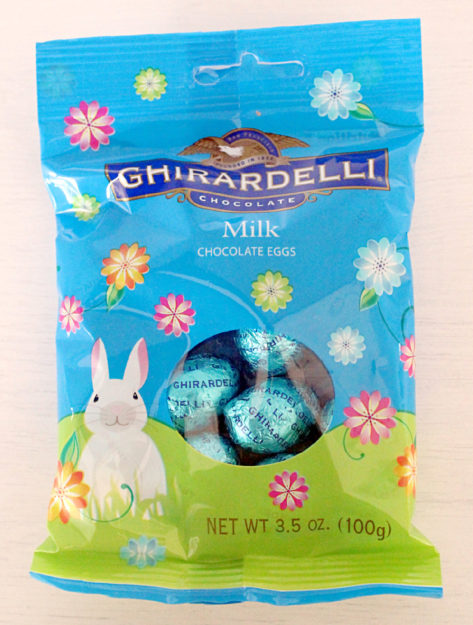 And both our kids love Reese's eggs, so some went in Hannah's basket, some will go in Caleb's and a few will be saved for me and their Dad!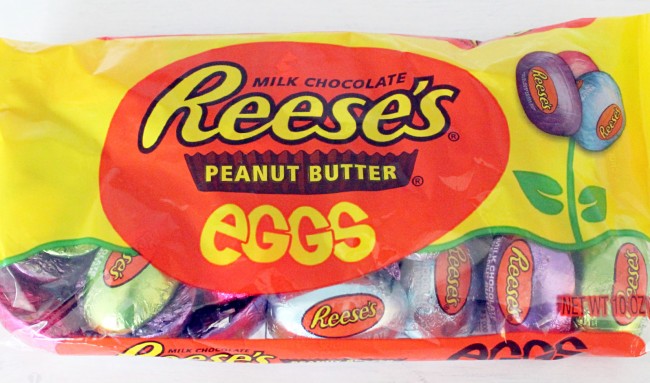 The little basket cost less than $2 and Hannah I'm sure will use it outside as a container for bubbles or sidewalk chalk this summer. The pink grass I found at Kroger also happens to be biodegradable.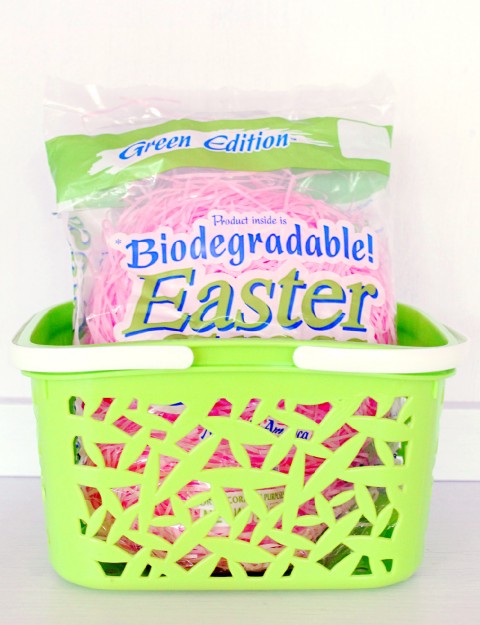 I was very happy with the wide variety of choices I had at my Kroger to put together this Easter basket for my daughter, and I know she is going to be thrilled to find it on Easter morning! Beyond DIY Easter baskets from bloggers like myself in this #EasterBasketHop, Kroger has a whole DIY Easter Pinterest board showcasing Easter ideas for every ability level. Hop on over HERE for more "Easterrific" ideas!