This post has been compensated by Mazola Corn Oil, as part of my affiliation with them as a Brand Ambassador. As with all my sponsored posts, I don't agree to promote a product unless I already was using it in my own kitchen. All opinions are my own.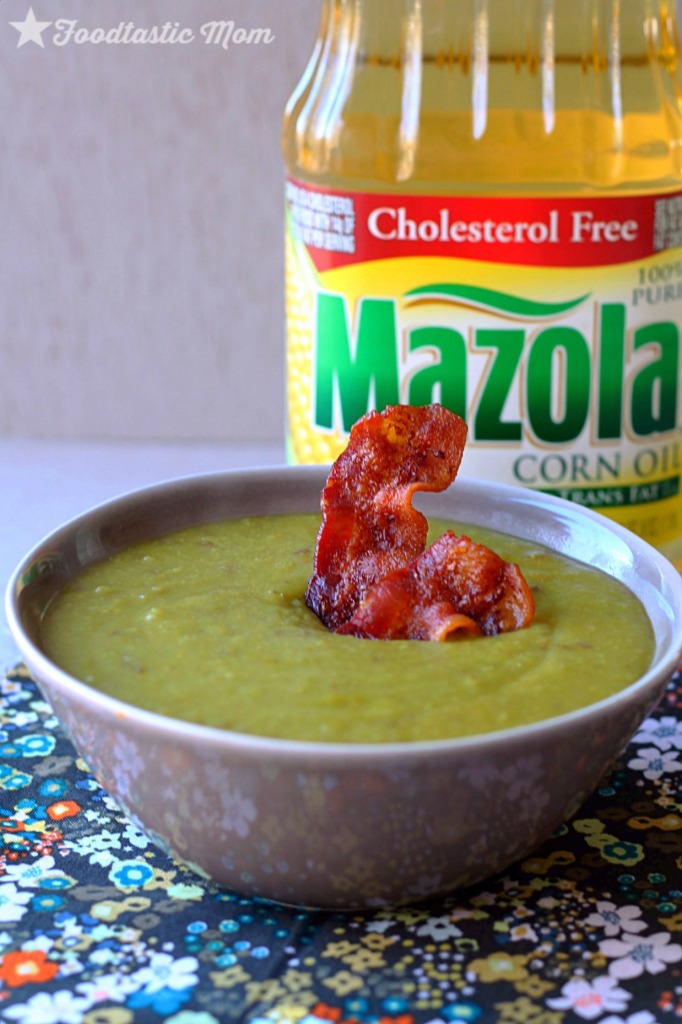 I can tell you that this is a green soup my children absolutely loved. The bacon probably helped. Neither one of them has ever balked much about eating something green in color. That being said, the few times I've stirred kale into a soup, and it's left floating there like little shriveled lily pads, they have both turned up their noses and said "gross, Mom". So they are definitely not on the kale bandwagon and honestly it's not my favorite thing to eat either. There are many other vegetables I'd choose first, like asparagus or even brussels sprouts.
Anyway, my original plan for this soup was a creamy corn chowder, with bacon and chicken. It would have been white in color, not green. But I'd just developed this queso chili recipe, and my brain started churning with other ideas. I have a new Vitamix blender and I've been finding excuses to use it whenever I can. That got me thinking about blending some kale into the broth of my soup, more to boost its nutrient content than for the flavor. February is heart health month after all, and a green soup, despite a sprinkling of cooked bacon at the end, is a heart healthier option.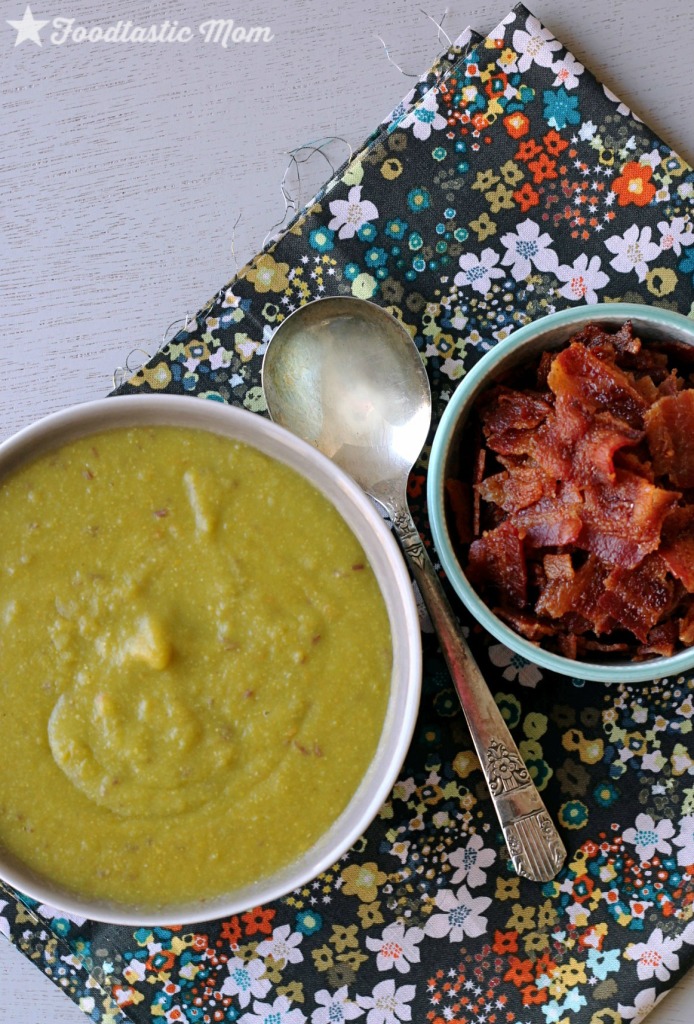 And speaking of bacon, I have one friend in particular who recently had to eliminate both gluten and dairy products from her diet due to health issues. She's eating a completely different diet than she was used to, but bacon is one indulgence she can still enjoy. So I had people like her in mind in developing this recipe too, as it is gluten and dairy free.
So despite the green hue, this soup is really all about sweet corn and hearty potato flavor. It made total sense then to sauté the vegetables in Mazola corn oil. A simple swap of Mazola oil for another type of vegetable oil (like canola or olive) can make it even easier to lower cholesterol. Corn oil contains more cholesterol-blocking plant sterols than other cooking oils and has 4x more plant sterols than olive oil and 40% more than canola oil. You can learn even more about this in the helpful infographic below. If heart health is a priority for you or someone you love, I encourage you to visit Mazola's Heart Healthy Library for a ton of great recipe options!

Even if you are not normally a fan of green soups, I encourage you to try this recipe. It's a little sweet, savory and hearty and tastes like a rich corn chowder. Topped with a little bacon and it is a total winner!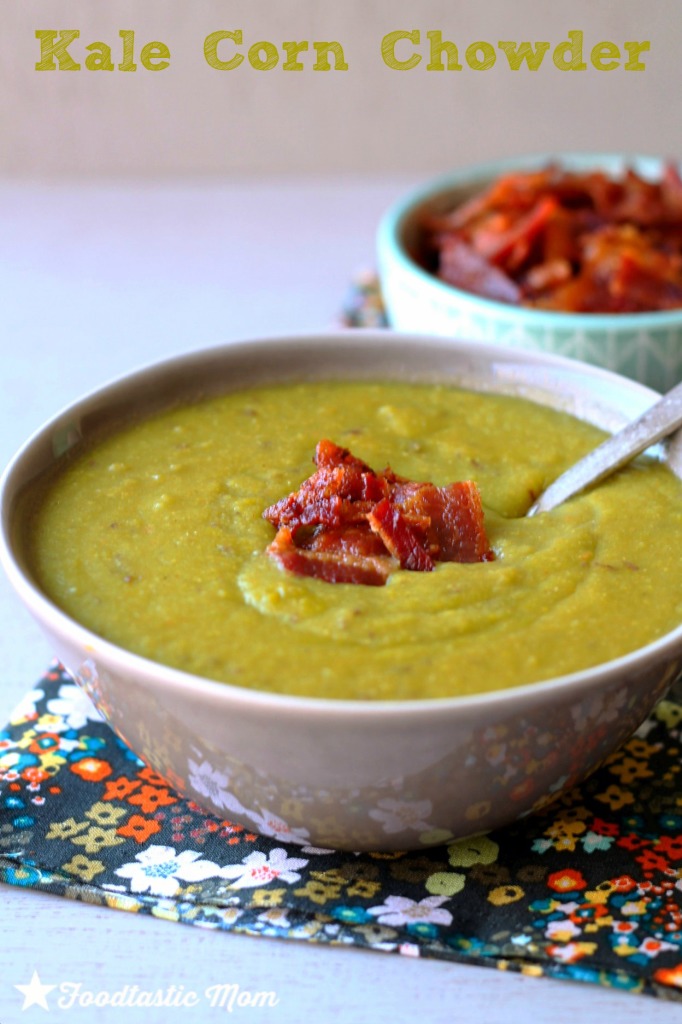 Kale Corn Chowder
Ingredients
2

c.

vegetable stock

2 1/2

oz.

fresh baby kale leaves

half of a 5 oz. clamshell container

2

15 oz. each cans of yellow and white sweet corn, undrained

1/2

c.

unsweeted coconut milk

1

T.

sugar

1/4

c.

Mazola corn oil

1

sweet onion

minced

1

red pepper

chopped

1/4

c.

green onions

chopped (white and light green parts only)

4

c.

red skinned potatoes

cubed

1

t.

salt

1

t.

smoked paprika

2

T.

fresh lemon juice

8

slices

of bacon

cooked and crumbled
Instructions
In a high speed blender, blend together the vegetable stock, kale, corn, coconut milk and sugar.

Over medium high heat in a large soup pot, heat the Mazola corn oil until shimmering. Add the onion, red pepper, green onions and potatoes. Cook, stirring occasionally, for about 10 minutes.

Stir in the salt and smoked paprika.

Pour in the kale, corn, coconut milk and vegetable broth.

Bring the soup to a simmer. Cover and cook until potatoes are fork tender. At least 20 minutes.

Transfer the soup in batches to the high speed blender to blend until smooth. Alternately, use a stick blender and blend the soup until smooth right in the soup pot.

Add the lemon juice. Taste the soup and add more salt if needed. Allow to simmer a few more minutes before serving.

Serve the soup topped with bacon crumbles.