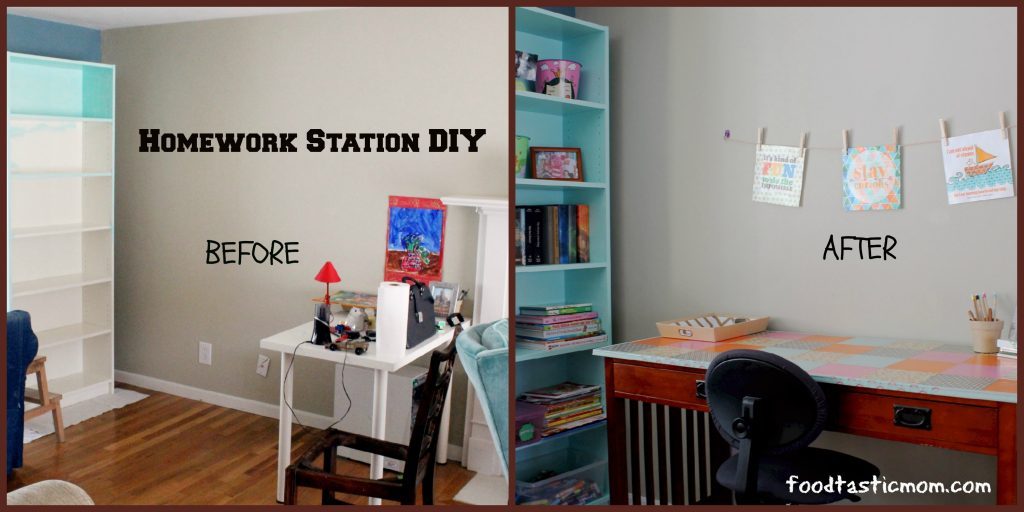 I've got a Homework Station DIY for you today that I am super excited about! It includes painting a simple bookshelf from IKEA, some free printable art work and refurbishing an inherited (free) desk so overall it was an inexpensive project. And now we have more storage and a dedicated space for our kids to complete their homework after school. If you need this in your house, keep reading…
Previously this corner was occupied by a white desk, bookshelf and kid-sized office chair from IKEA. Totally fine, but it became a nesting spot for clutter and not an ideal area for studying. A free sturdy desk was my starting point. It was in good shape except for the top. Pinterest has totally changed my way of looking at things. I used an electric sander for the first time and buffed away the finish and all the scratches. This was actually fun, or at the very least, stress-relieving. Then, I visited my local scrapbooking store and chose paper that was colorful and would coordinate with the free artwork I found.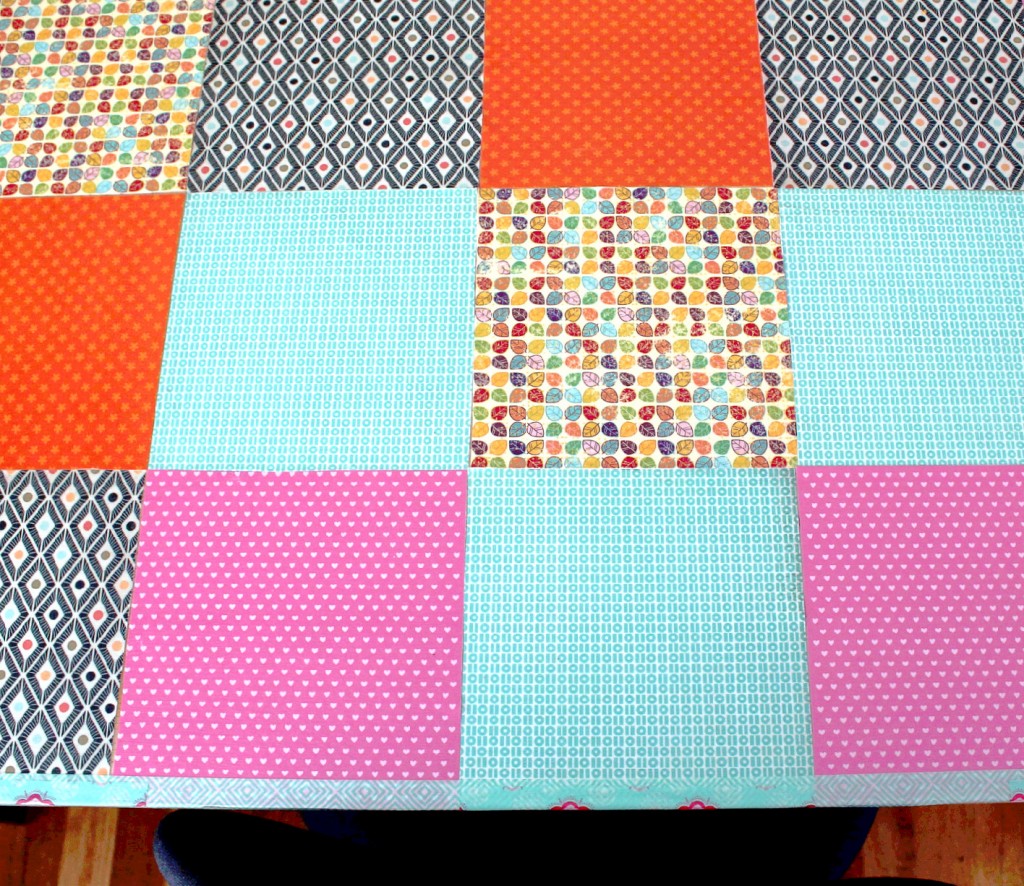 I cut each piece of paper in four squares and laid them out in a random pattern over the desk top. Then I went to town with Mod Podge. I pasted each piece down. Let it dry for a while, then applied two coats over the top. I wasn't happy with the edging, so I used washi tape that I already had to cover the edges, then coated the tape with more Mod Podge. I am really happy with the result. I also had a local glass company cut a piece of thick glass to top the table… which cost under $70. So even with the paper, tape and Mod Podge, it was a DIY project for around $90.
After giving our bookshelf a quick coat of paint and organizing all our stuff on the shelves, I turned to some simple art for the wall above the desk. I found these awesome positive printables from The Handmade Home. Click HERE to visit their blog because there are 18 prints in the whole collection, plus lots of others to choose from, all for free. The three quotes I chose can apply just as much to adults as kids!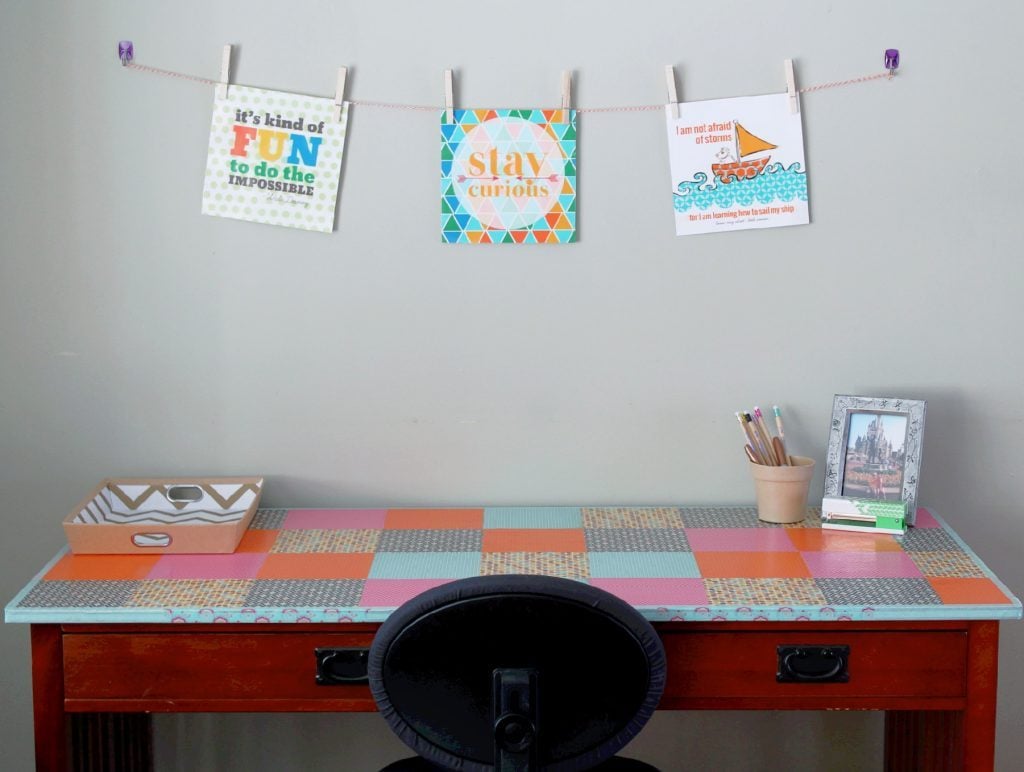 "It's kind of fun to do the impossible." – Walt Disney
"Stay Curious"
"I am not afraid of storms, for I am learning how to sail my ship." – Louisa May Alcott
After printing them on my home printer, I cut them to size, then coated both sides with Mod Podge. This makes them seem "finished", like not just a piece of card-stock. I bought these hooks, string and clothes pins at Target, and hung it all up.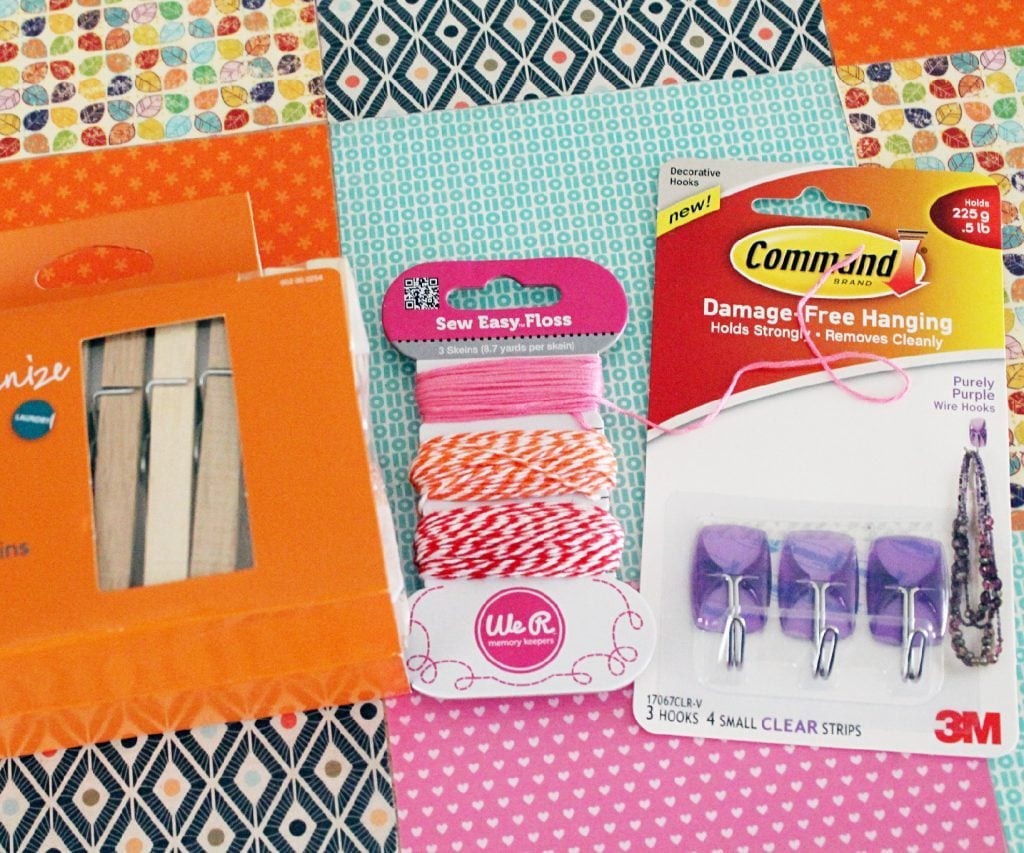 I'm quite proud of the end result. This DIY stuff is fun. Though I think most of the fun comes after it's finished! I hope these ideas can inspire you in your own home.