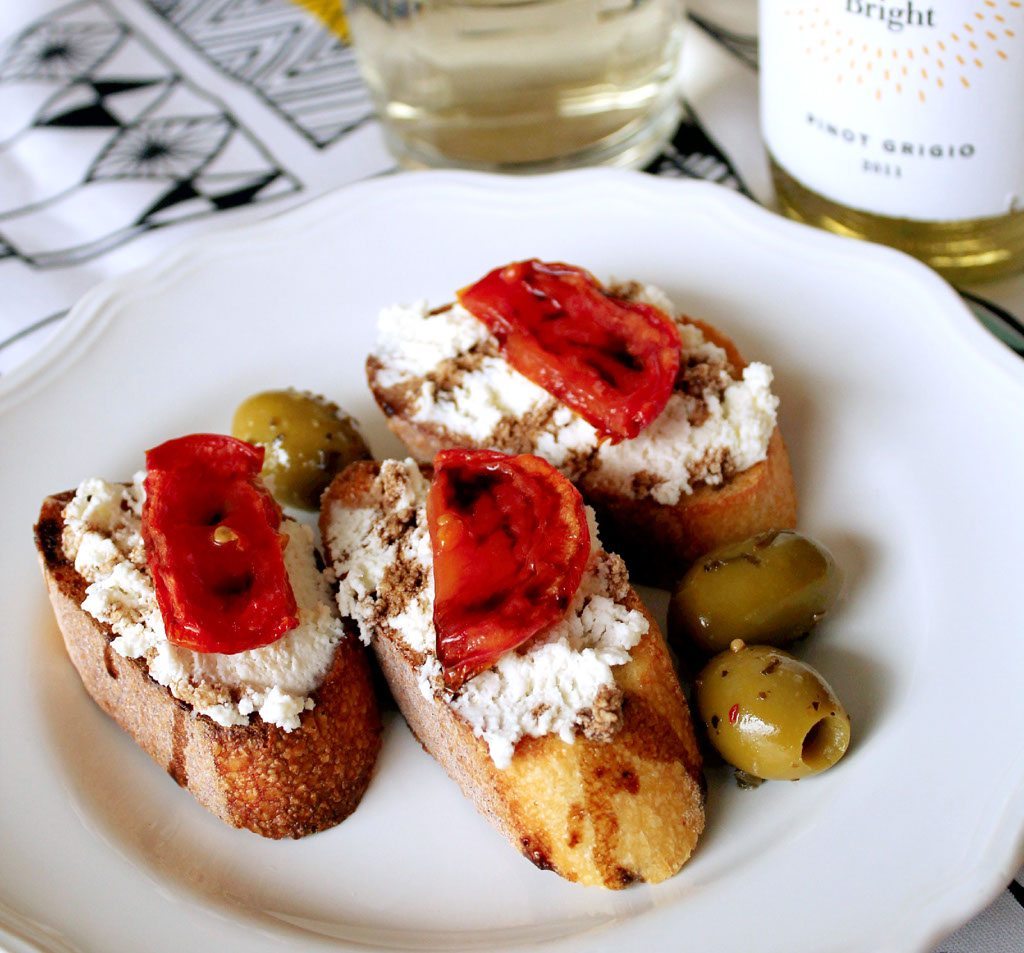 I made cheese today! And it was easier than I thought it would ever be. Last week I posted about a Panera-style Mediterranean Egg White Sandwich using slow-roasted tomatoes. I had quite a few of the tomatoes in my fridge, more than I'd ever use on the sandwiches, so here I've put them to use with homemade ricotta cheese for an easy appetizer/light dinner bruschetta.
I checked-out a copy of America's Test Kitchen DIY Cookbook last week from the library, plus read a very helpful and beautifully photographed post from Annie's Eats on making your own ricotta cheese. So today I tried it and am tickled to report that it is in fact delicious and easy. In addition to topping this bruschetta, you could stir it into scrambled eggs or use it as you would store-bought in your favorite ricotta recipe: lasagna, stuffed shells, canolli, etc.
This is "slow food" made fast. Sure it takes time to prep, but once it's stored in your refrigerator, it comes together in minutes. I paired this bruschetta (which is just baguette slices lightly toasted, topped with a smear of ricotta, slow roasted tomatoes and a drizzle of aged balsamic vinegar) tonight with olives, grilled asparagus and a glass of white wine for my dinner. My kids even ate the ricotta and bread… though decided not to brave the tomatoes… maybe one day!
Homemade Ricotta Cheese
Ingredients
8

c.

whole milk

in white gallon jug, pasteurized NOT ultra-pasteurized

1

t.

salt

2

T.

+ 1 1/2 t. fresh lemon juice

2

T.

distilled white vinegar
Instructions
Line a large metal colander with three layers of cheesecloth and place over the sink. Meanwhile pour milk and salt into large saucepan and heat over medium high heat. Check often with a digital-read thermometer until the milk reaches 185 degrees. Be sure to stir often so it does not burn on the bottom. Remove from heat and gradually stir in the lemon juice and vinegar until curdles form. Allow to rest for 10 minutes.

Carefully pour the curds and whey into the colander and allow to drain for 8-10 minutes. Store ricotta in an air-tight container in the refrigerator for up to five days until ready to use.
TO MAKE THE BRUSCHETTA:
1 Panera French Baguette
1 recipe Slow Roasted Tomatoes
1 recipe Aged Balsamic Vinegar
Slice baguette into 1/2-inch slices. Lightly toast and top each with a smear of homemade ricotta, a slow roasted tomato and a drizzle of aged balsamic vinegar. Enjoy!