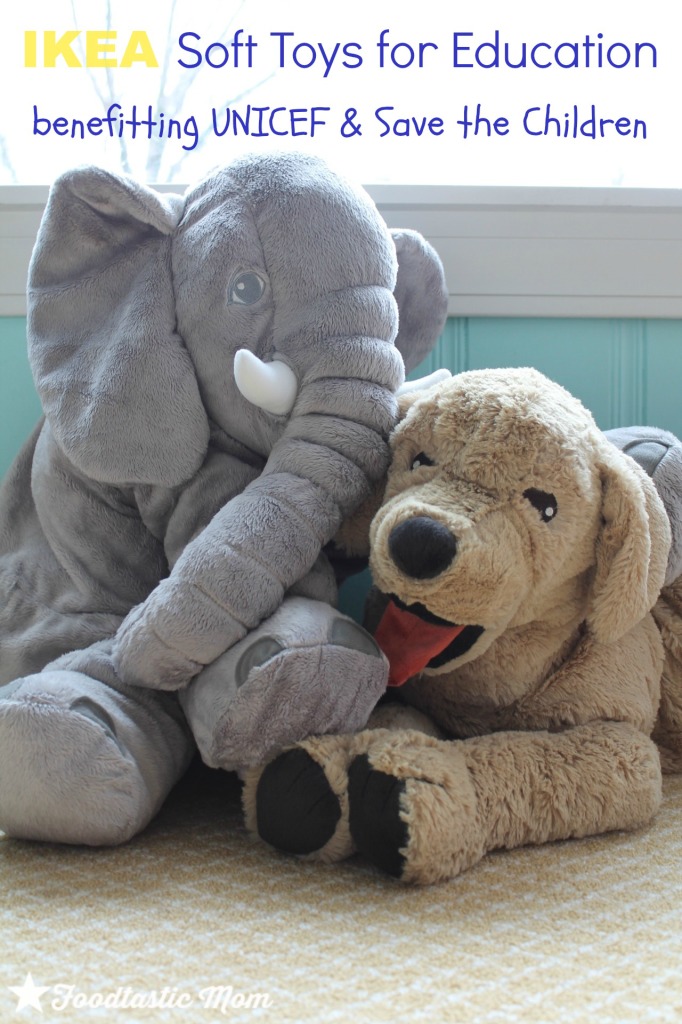 I live in Cincinnati and we got our IKEA just a few short years ago. It's a 45 minutes drive from where my family actually lives, but it's so worth it. Our home now sports a glass-front cabinet where I store all my blogging supplies, a bookshelf and two office chairs for the kids' homework station, a cozy chair for me and several light fixtures – all from IKEA. So given the chance to write about their Soft Toys for Education program, I jumped at it. My kiddos are going to LOVE opening their velvety puppy (for Caleb) and elephant (for Hannah) on Christmas morning. I may still go back and purchase a broccoli and carrot for myself, just because!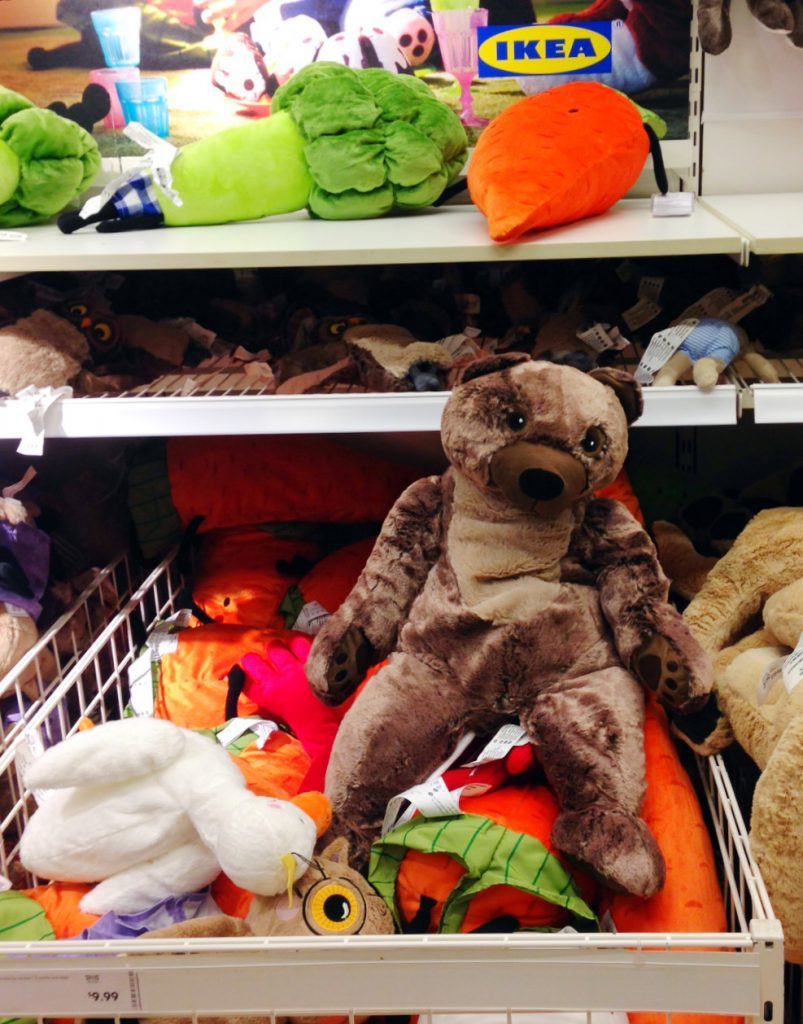 IKEA has so many cute character options this year, each one just as soft and well-constructed as the next. The maximum price for this treasure-trove of gift options is $19.99! And the purchase (between November 9, 2014 and January 3, 2014) of each and every toy (whether on the low or high end of the spectrum) donates $1 to both UNICEF and Save the Children (or .50 to each).
Last year, the IKEA Foundation raised $13.6 million (10.1 million euro) and over $1 million was raised in the US to benefit these programs. The IKEA Foundation is the largest global corporate donor to Save the Children and UNICEF, funding projects that include helping to improve children's education. The donations will help UNICEF and Save the Children train teachers in child-friendly teaching methods, improve child protection systems, supply educational materials in the schools, help rebuild schools, provide better water and toilet facilities, and increase school attendance rates.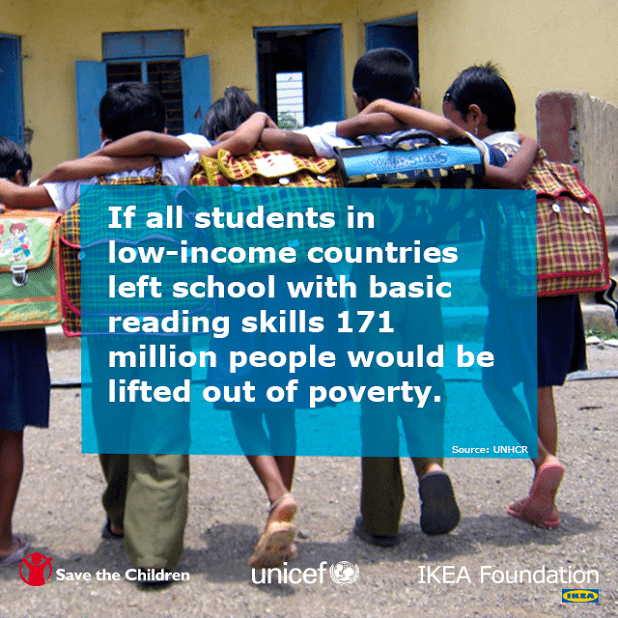 What seems crazy to me is that while low-income countries clamor for just basic needs (and are grateful for the help), our country is in the midst of a war on education and our educators. My husband is a high school teacher and each year as his school district cannot pass basic operating levies, he's taken pay freezes, step cuts, health insurance increases and employee reduction, meaning a higher teacher to student ratio in the classroom. This coupled with the increasing state demands for teaching to tests continues to devalue our country's view on the importance of education. And he's not teaching in what is considered an "impoverished" school district. There are plenty of those in Cincinnati too, and they are in even worse shape… as are their teachers, most of whom are professionals doing their very best.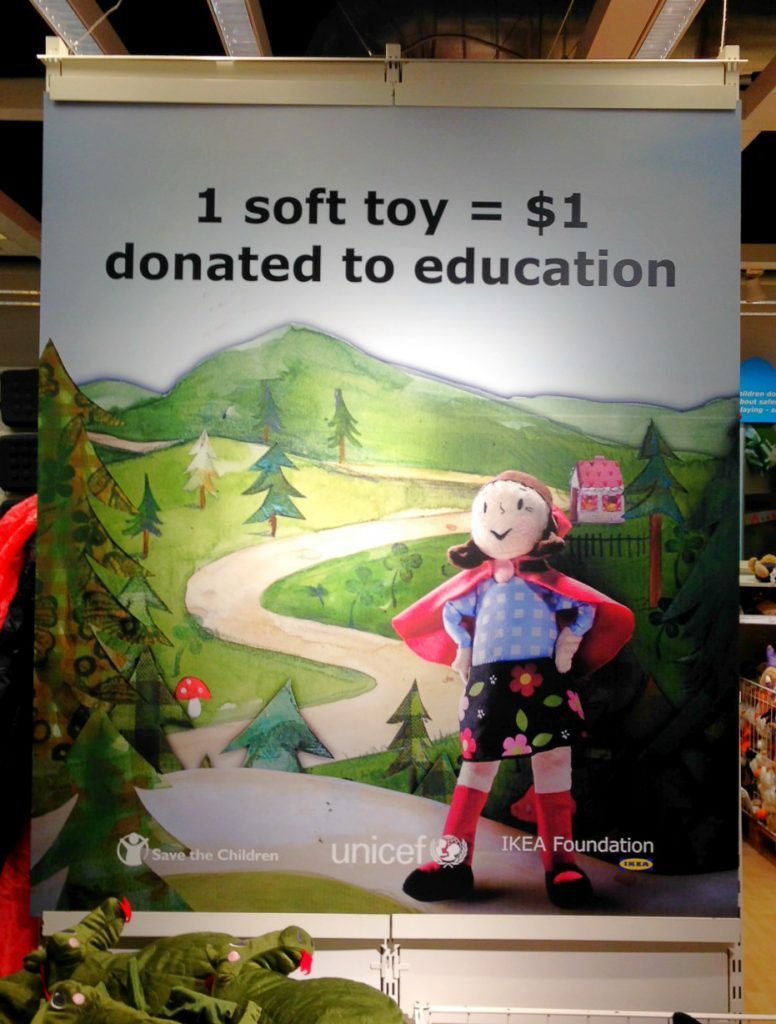 We are lucky to live in one of the best school districts in our city and even we have had to fight for every needed dollar to benefit our kids' future. I was just part of the team that helped pass a bond issue that was desperately needed to address technological and safety updates across each of the nine school buildings in our district and we were up against not one, but TWO different groups telling the community to vote for no funding. Meanwhile, our state Governor continues to funnel money away from public education and into even less effective charter school models. Why? Because there is lots of money in test creation and administration. When it comes to education, one would think a child's best interest would always come first. But really, greed gets in the way of an issue that (to me) has always been black and white.
I have made a concerted effort to never get "political" on my blog, and I do plan to keep it that way after this post. But education is an issue that I feel very passionately about… as both the wife of a professional educator and a mother to two children whose futures depend on their quality of education. I really like John Green's quote about education. This pretty much sums it up for me, and I'm always confused when I encounter the opposition.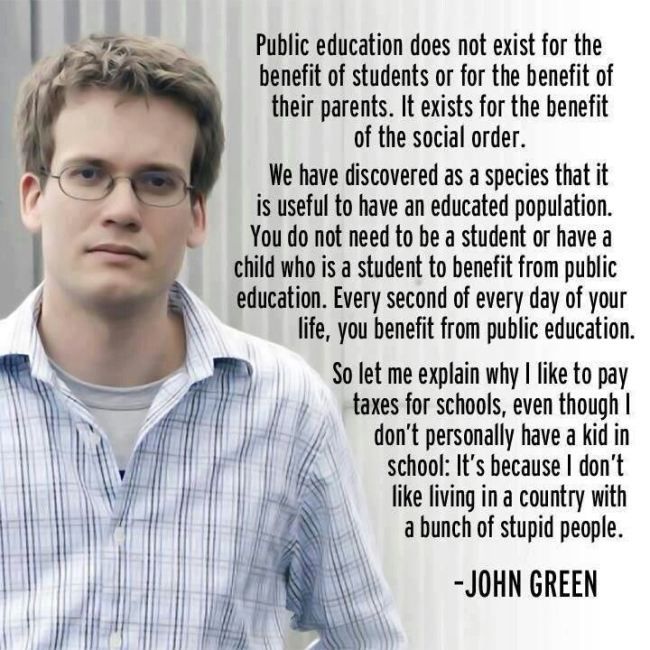 So if you are just as passionate about the importance of education, both here and abroad, as I am… help make a difference this holiday season with IKEA. Your little gift recipients will love cuddling with their cute and fluffy animals as they read a book and continue their own journeys to a strong education — which really is the most important gift they'll ever receive.
I was selected for this opportunity as a member of Clever Girls and the content and opinions expressed here are all my own.