This is not a sponsored post. I am recommending these items 100% because I love them. It is however an affiliate post and purchases directly from these links will earn me a small percentage of the sale from Amazon.com

HO, HO… no she didn't! Yes… I did! I had visions of grandeur this morning. An Oprah moment if you will. These are a few of MY favorite things. So many gift guides do I see and none "get" me. I get me. I'm hoping my "gets" are things you'll want to get too! And shopping Amazon.com (especially if you have a Prime account for free shipping) is about the easiest (last minute, if need be) shopping you can do for the holidays. And let's be honest, I'm earning a living here on my blog and if I can make a few extra dollars this close to Christmas, my January credit card bills (and my husband) will thank me.
I've got 27 recommendations for you today. Cookbooks, Kitchen Tools and Cool Stuff. So here's how this shopping works…. if you wish to BUY one of these 27 items, simply click on the individual pictures to be taken to my "store". Buy from there like you normally would on Amazon. The only difference is a small percentage of the price will be kicked back to me. Happy shopping!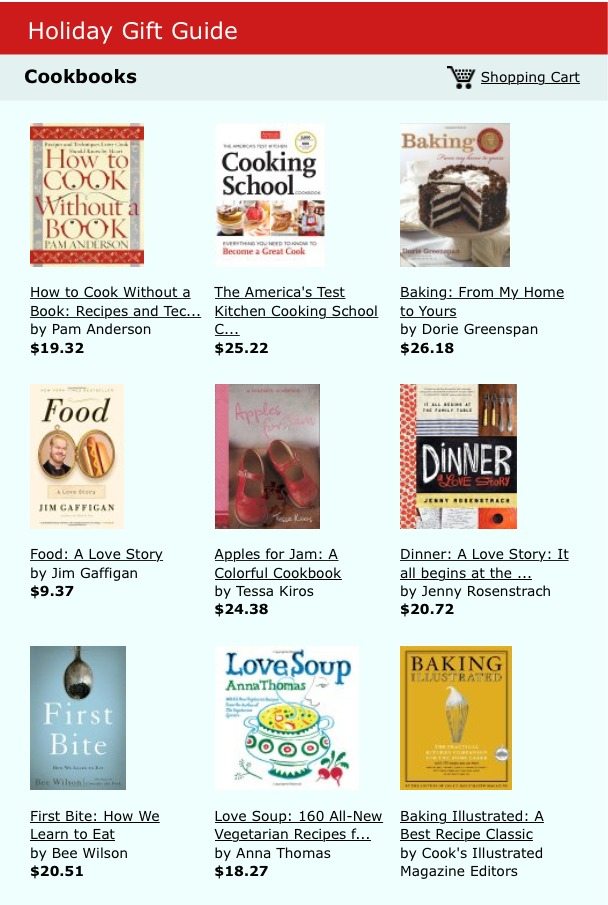 No, not written by THAT Pam Anderson, geez! Amazon says, "There's real rhyme and reason to Pam's method at the beginning of every chapter: To dress greens, "Drizzle salad with oil, salt, and pepper, then toss until just slick. Sprinkle in some vinegar to give it a little kick." Rhymes are fun plus this book teaches valuable cooking techniques.

This is my cooking dictionary in my own kitchen. If I don't know something, I look it up here. I don't trust myself with my phone or tablet around knives, liquids and a hot stove. Says Amazon, "A landmark book from the test kitchen that has been teaching America how to cook for 20 years".
From Publisher's Weekly, "This is baking at its best. Over 100 full-color photos." Lots of pictures plus 300 recipes from a culinary icon. Awesome.
Be still my sardonic foodie heart. It's like Jim Gaffigan was living in my own head when he wrote this little gem.
Just the cover alone gets me. From Amazon, "Apples for Jam is a keepsake cookbook filled with savory recipes woven together by a rainbow of colors, memories, and lavish full-color photography."
"I can't decide which I like more—reading this book or cooking from it. Jenny is that rare writer who can literally make you laugh and cry—and most importantly, she inspires you to stop just talking about dinner and start making it." (Adam Rapoport, Editor in Chief, Bon Appétit)
I can't wait to read this… "First Bite is both a rich social history for those interested in the relationship people have with food and an encouraging word for harried parents hoping to expand their children's culinary horizons." – Shelf Awareness review
This book has lived in my kitchen for years. I've made a lot of these recipes and have incorporated her techniques into my own soup recipe development.
Cooking is my strength. I can bake but I need trusted sources to help me along with the process and I always trust the chef's at Cook's Illustrated.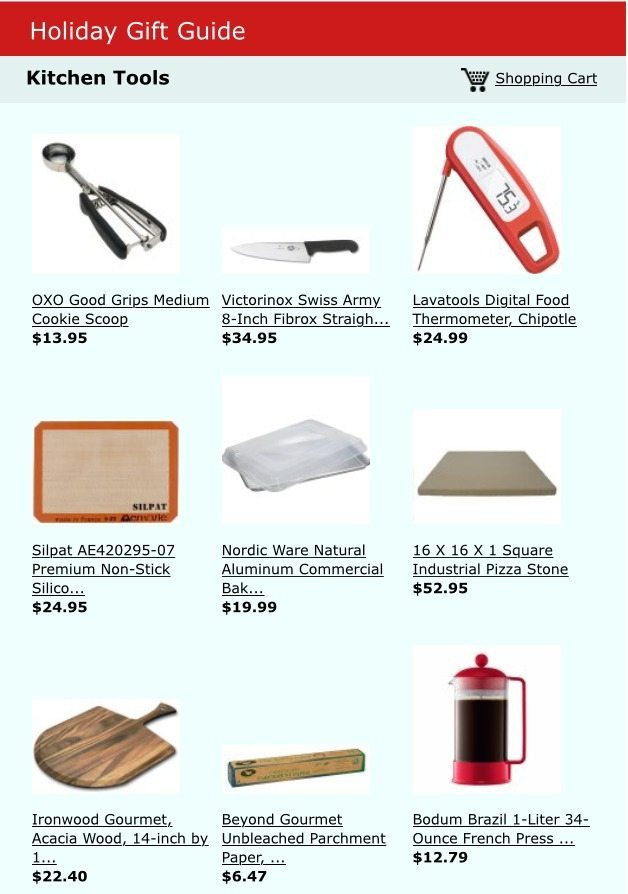 I use all of these items in my kitchen except for the Acacia Wood pizza peel. But we make a lot of homemade pizza so one day I'll put it on my list. So pretty it doesn't need to be stored. Don't forget to click on the pictures to shop.
I use these scoops for everything! The large size is great for pancake and muffin batter. Medium and small for cookies.
Cook's Illustrated recommended this knife as a best buy and I've owned one for years. You can't buy a better knife at this price!
I used to always overcook meat, especially chicken on the grill. Not anymore.
Essential for a non-stick surface to bake cookies on and easy cleanup. These are the best.
These pans are the perfect size for the Silpat mats and for baking 12 cookies at a time. I also use them to bake bacon. The lid is an added bonus for toting sheet cakes or brownies.
I've tried all different pizza baking methods and I swear by a stone. This one is square and big enough to bake a pizza for 4-6 hungry family members.
It's hard to find a place to store a 14×14 kitchen tool but this pizza peel is so pretty you don't have to. It should be displayed!
Essential for make your own pizza night. Everyone gets a square to help slide their dough into the oven.
Perfect for the coffee lover in your life.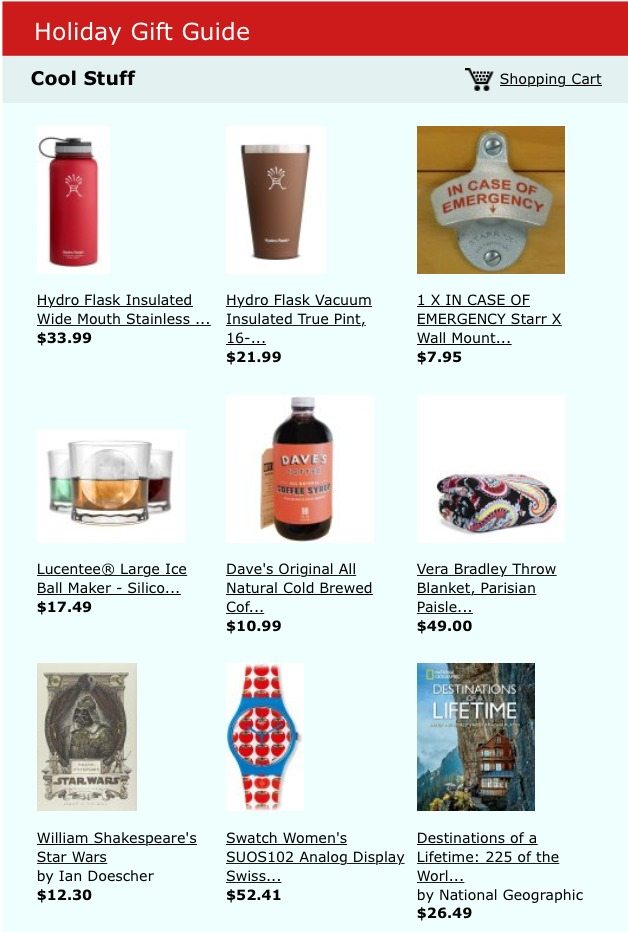 This is the Hydro Flask. It's a 32 oz. wide mouth water bottle that comes in lots of fun colors. Most importantly it will keep your ice and water freezing cold, even after sitting in a minivan for several hours in the middle of the summer. I've tested it. These water bottles are absolutely the best and everyone in our household owns one.

For the (craft) beer lovers in your life. Just like the Hydro Flask water bottle, these pint glasses keep that beer icy cold (much better than a "koozy" ever could).
A wall-mounted bottle opener to go with the above mentioned, stainless steel pint glasses. Plus it's just funny.

For the bourbon drinkers – of which I seem to know many, living just north of the Kentucky border. Ice balls are where it's at.
For your coffee fiends… I mean friends. A delightful treat mixed into a glass of ice cold milk or drizzled over ice cream.

This blanket feels like velvet. Lots of places sell micro fleece but I think Vera Bradley makes some of the prettiest. Perfect for snuggling up with a good book or chilling with Netflix.
For the literary minded Star Wars fan. I mean seriously, of all the merchandising I've seen leading up to the release of "The Force Awakens" this is one of the few items I will actually buy. Lots of five star reviews. And just reading a few pages as a sample, I am HOOKED. Perfect way to introduce pre-teen boys to Shakespeare… just sayin'.
Swatch watch!!! With a foodie theme!!! For your friends who love(d) the 80's 🙂

Take a vacation without leaving your couch. A simply stunning coffee table book from the folks at National Geographic.