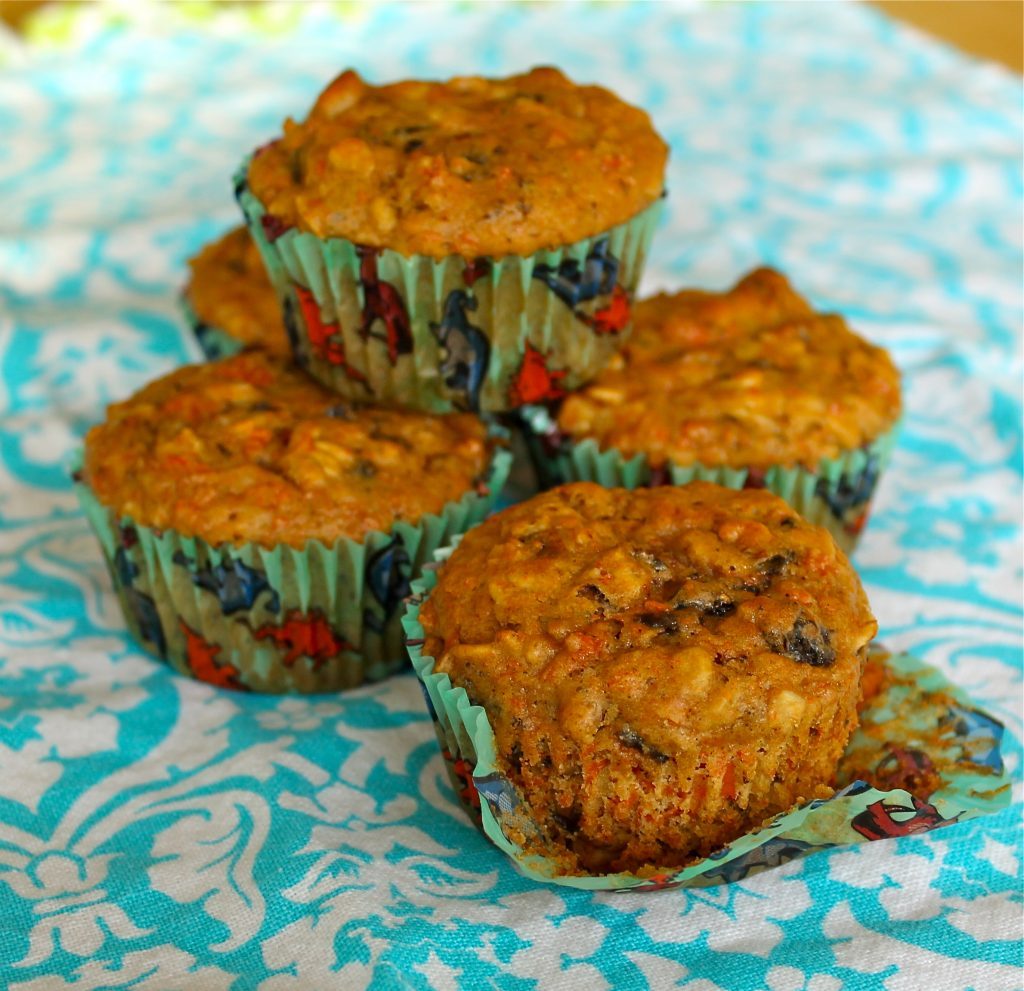 Update on my Roasted Banana Oat Muffins… they freeze beautifully! I put them all in a large plastic container with a lid to freeze and have been taking them out one at a time, either for breakfast or snacks, since last week. I simply put the muffin (in its paper wrapper) on a plate and microwave it for 60-75 seconds on 50% power. It tastes fresh-baked! And since I am on the road to better eating habits, having a healthy, home-baked treat always at the ready to either start my day or stave off hunger (instead of eating junk) has been a big help.
Since the base muffin recipe is healthy, I've been thinking what other flavor combinations I could experiment with. This one happened because I had all the ingredients at home and didn't have to take a trip to the grocery to make them. There's several steps involved to prepare them, but 24 muffins ready in the freezer is totally worth it, and they are so tasty. In fact, my daughter actually prefers these to the roasted banana ones… go figure. Anyway, I tried the first one last night as I sat to finally watch the very first episode of Downton Abbey (I'm always behind the times on these things). I enjoyed it with a mug of (Stash-brand) Decaf Chocolate Hazelnut tea. I really felt like I was being decadent and treating myself… in the same way as a trip to Starbucks or Panera with a calorie-laden latte and bakery treat would be, but I felt WAY better after! Try them and see for yourself.
Heart-Healthy Spiced Carrot Oat Muffins with Figs and Walnuts
1 1/2 c. fresh carrots, peeled and sliced
3/4 c. dried figs, finely chopped
1 T. crystallized ginger, finely chopped
6 T. fresh orange juice, divided
3/4 c. walnuts, toasted and chopped
1/4 t. each of ground cloves, ground nutmeg, cardamom and cinnamon
1 1/4 c. all-purpose flour
1 c. whole wheat flour
1 1/2 c. rolled (old-fashioned) oats
1/2 c. white sugar
1/4 c. light brown sugar
1 T. baking powder
1 1/2 t. baking soda
3/4 t. salt
1 egg
1 egg white
1 1/3 c. skim milk
1/2 c. grape seed oil
1 t. vanilla
Preheat oven to 400 degrees. Toss carrot slices with 1/4 c. fresh orange juice and spices (cloves, nutmeg, cardamom and cinnamon). Place on a cookie sheet sprayed lightly with cooking spray. Cover loosely with foil and roast for 30-40 minutes, stirring once, until carrots are nice and tender. Transfer to a bowl and mash well with a potato masher.
In a small glass bowl, combine the chopped figs, chopped crystallized ginger and remaining 2 T. of fresh orange juice. Mix well to combine.
In a large bowl, combine the flours, oats, sugars, baking powder and soda, salt and toasted walnuts. Whisk to combine.
In another large bowl, combine the egg and egg white, whisk well with fork. Then add the carrots, fig mixture, milk, oil and vanilla. Whisk well. Add the dry ingredients to the wet ingredients and gently fold together with a wooden spoon or spatula until just combined. Let sit for about 5 minutes to rest.
Divide evenly among 24 paper muffin cups. Bake at 400 degrees for 17-20 minutes, rotating pans once during baking time. Allow muffins to cool in pans for about 10 minutes before removing and allowing to finish cooling on the counter.