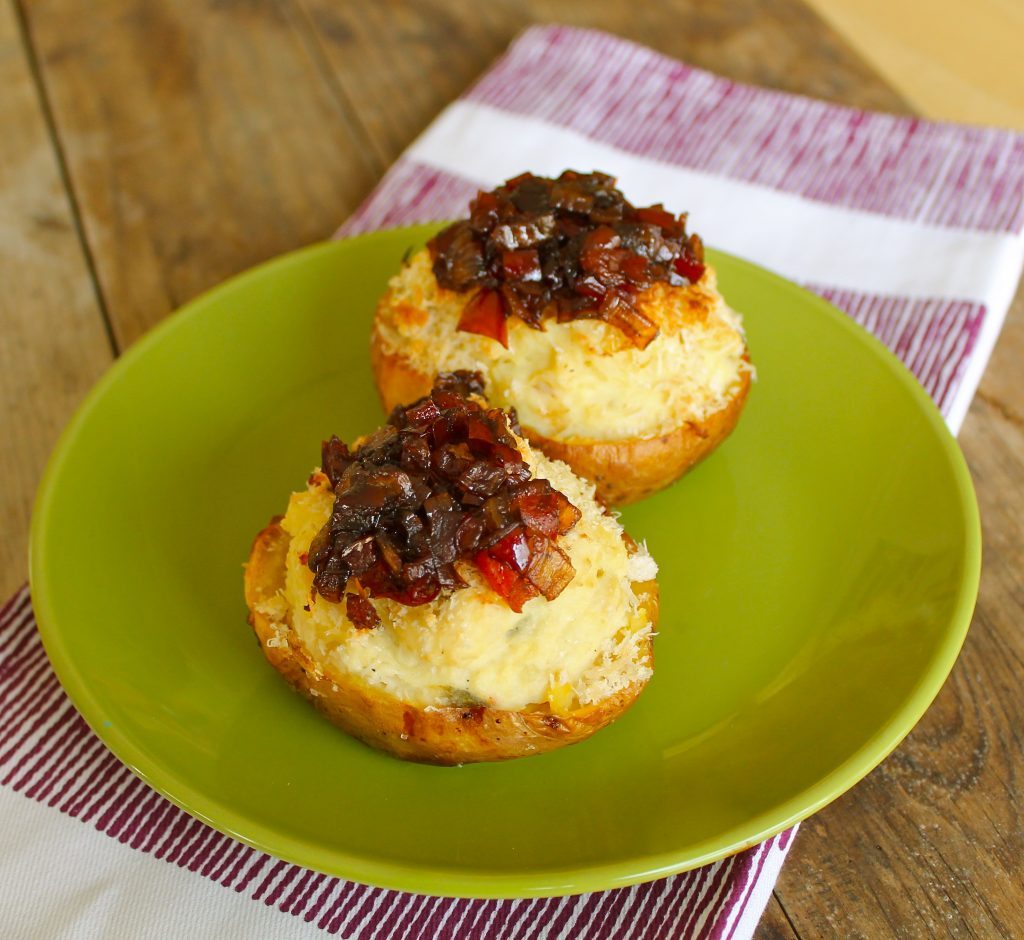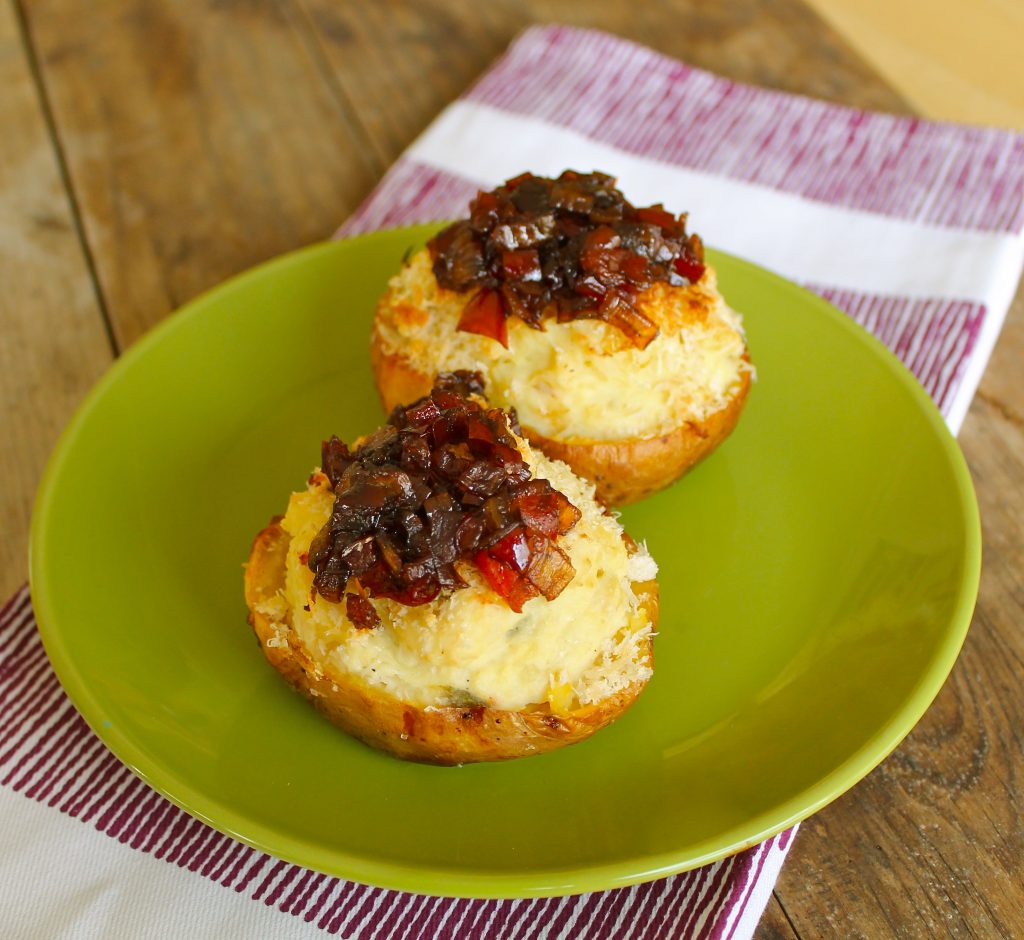 For New Year's Eve, my friend Ali made the most amazing Jalapeno Popper Dip. I could have easily stood at the buffet and shoveled half the dip in my mouth. Some restraint prevailed, though I still had enough of the cream cheesy, mayonnaisy, spicy goodness on white bread to wonder the next day if I could replicate the flavor in a better-for-my-hip-to-waist-ratio way.
This is what I came up with. Twice-baked Yukon gold potato halves, stuffed with the same delicious dip flavors with the addition of roasted cauliflower to cut out the mayo and ease up on the cream cheese. And also, because when I've had jalapeno poppers at restaurants, they are usually served with some sort of pepper jelly, I made red pepper relish as an additional topper.
These take some planning ahead, but any healthy recipe that can replicate the flavor of such a sinfully delicious dish is well worth it in my opinion!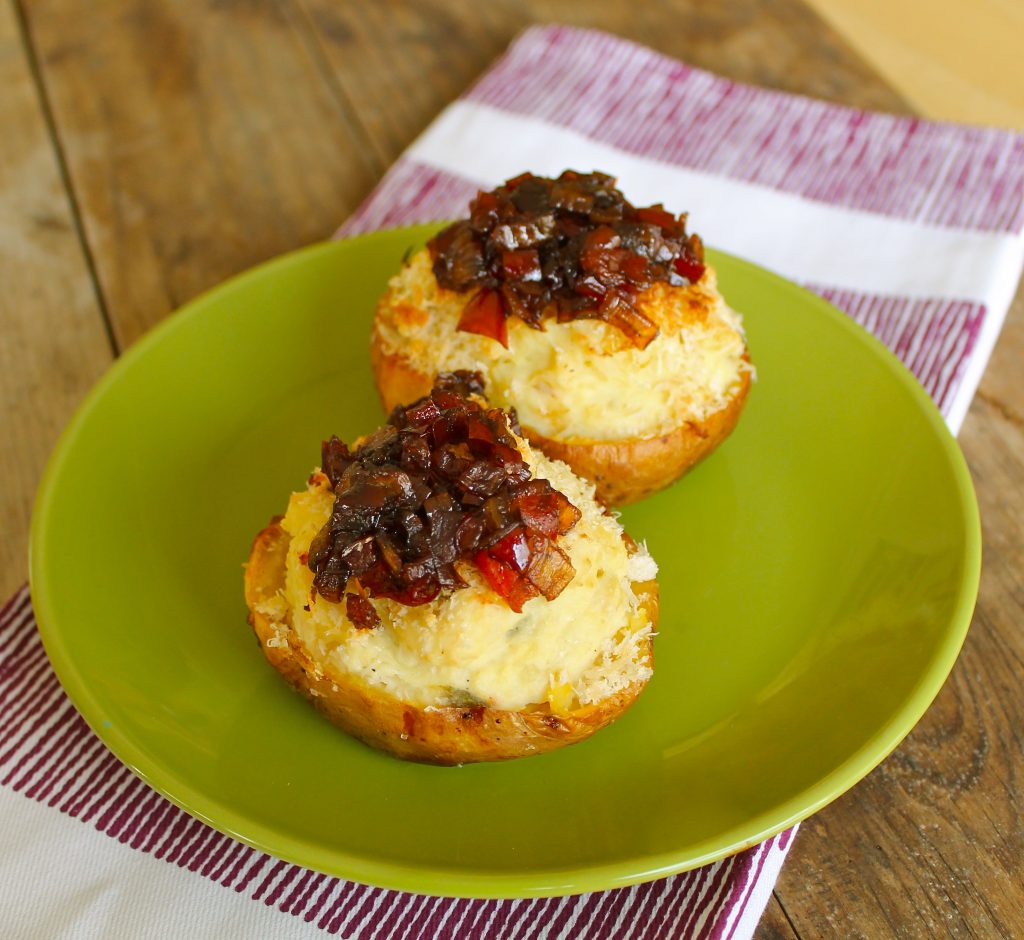 Healthy Jalapeno Popper Potatoes
2013-04-03 12:03:14
Ingredients
8 smallish Yukon Gold potatoes
1 large head of cauliflower
8 oz. pkg. low-fat cream cheese
1/4 c. low-fat sour cream
4 oz. can chopped jalapeno peppers, drained
1/3 c. fresh grated Parmesan cheese
1/3 c. Panko bread crumbs
Instructions
Preheat oven to 400 degrees. Scrub potatoes well, poke each with a fork several times so potatoes can release steam, lightly mist with olive oil and sprinkle with salt. Place them on a baking sheet and bake for 60 minutes, or until center is very tender.
Wash cauliflower and chop florets into bite-sized pieces. Lightly mist with oil, sprinkle with salt, spread evenly on a baking sheet and cover loosely with foil. Roast the cauliflower in oven with potatoes (cauliflower on higher rack) for about 30-35 minutes, stirring halfway through cooking time. Cauliflower should be nicely browned and very tender.
Allow potatoes to cool enough to handle, slice each in half and gently scoop out the inner portion of the potato, leaving about 1/4-inch shell. Place potato flesh in a large bowl with the roasted cauliflower, cream cheese, sour cream and diced jalapenos. Mash well, salt and pepper to taste.
Divide the popper mixture evenly between the potato shells. I used my muffin scoop, which made the job quick and easy. Mix together the Parmesan and Panko bread crumbs, and sprinkle evenly over tops of potatoes.
Potatoes can be made a day ahead to this point and covered tightly with plastic wrap and refrigerated. When ready to bake, preheat oven to 375 degrees. Place potato skins in a single layer on a baking sheet. Bake for 20-30 minutes, until completely heated through. Finish with a couple of minutes under the broiler, to brown the topping. Serve with the red pepper relish.
Foodtastic Mom https://www.foodtasticmom.com/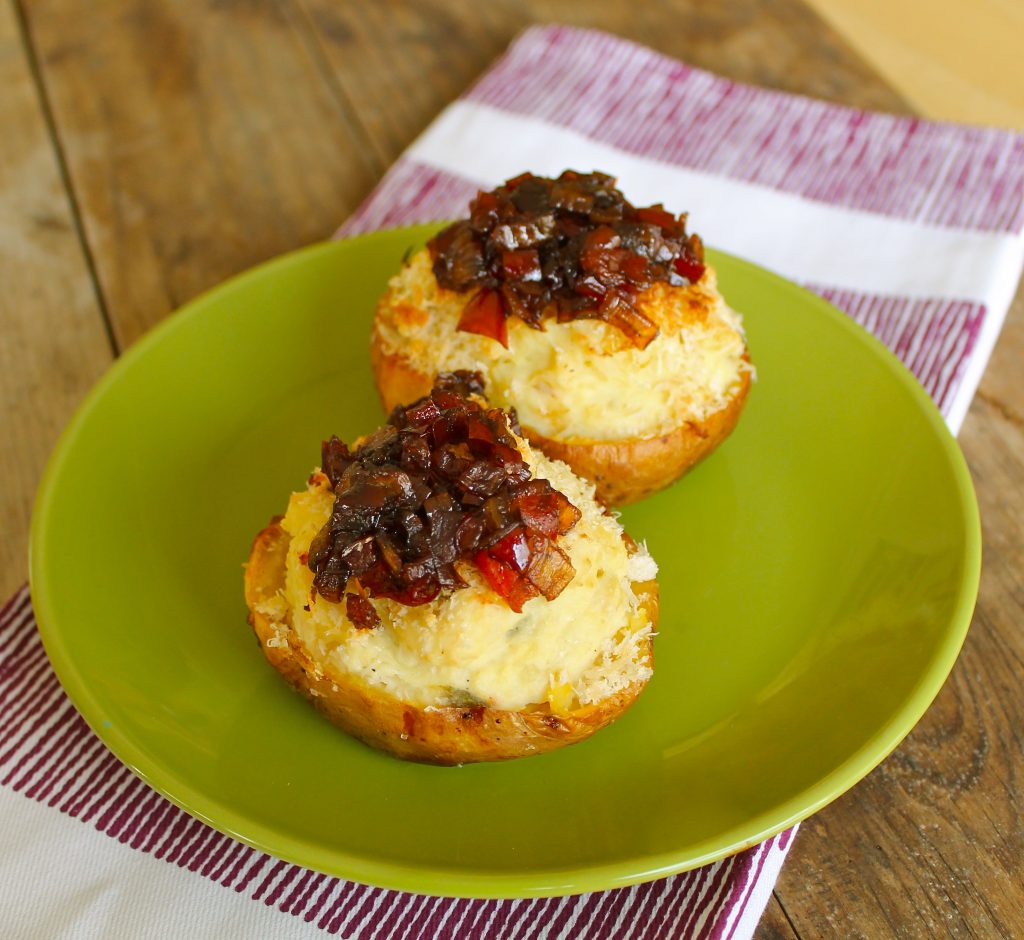 Red Pepper Relish
2013-04-03 12:04:47
Ingredients
2 small red peppers, finely chopped
1 small sweet onion, finely chopped
1/2 c. sugar
1/3 c. white vinegar
pinch of red pepper flakes
pinch of salt
Instructions
Add all ingredients to a non-stick skillet and saute mixture over medium heat until onions begin to soften. Turn heat to medium low and allow to cook for 20-25 more minutes, or until mixture turns thick and syrupy. Check and stir occasionally as the relish cooks. Can be made several days ahead and kept in the fridge until ready to serve.
Foodtastic Mom https://www.foodtasticmom.com/