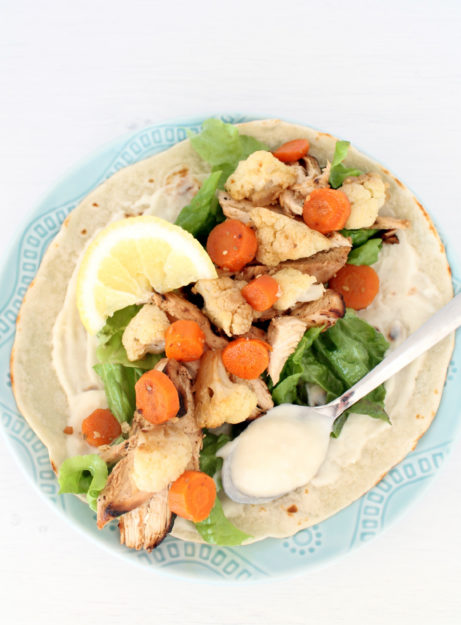 There's so much flavor going on in this wrap and yet it couldn't be simpler to prepare. I wasn't quite sure what to call it as there's a lot of different international flavors combined together here. The chicken is marinated in a combo of kalamata olives, lemon, honey, oregano, garlic and onion powder, red wine vinegar and olive oil. So it's pretty much Greek. It's also based on a Jillian Michael's marinade recipe a friend of mine shared with me a long time ago.
As for the veggies, roasted carrots and cauliflower topped with a drizzle of olive oil, some salt, a dash of cardamom and some Trader Joe's Dukkah seasoning seemed like the right fit, though those flavors are sort of Moroccan and Egyptian combined.
To stick it all together in a healthy way, I roasted two whole heads of garlic to sweet perfection and stirred the paste into Greek yogurt with some fresh lemon juice and salt. And then finally, the whole thing is wrapped in a flour tortilla, so Mexican. Oh, and there's a pile of red leaf lettuce in there for color and a little extra nutrients, so American?
Yes, it may sound like a hot mess when broken down, but put together, these ingredients all work in perfect harmony to create a scrumptious and healthy meal. The roasting is primarily hands-off time and the grilling was quite pleasant in the mid-afternoon sunshine. We LOVE meals like this, especially the leftovers for lunch the next day!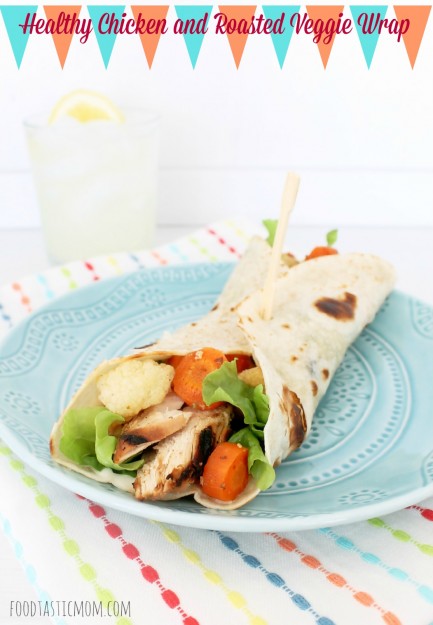 Healthy Chicken and Roasted Veggie Wrap
Ingredients
4

boneless

skinless chicken breasts

2

lemons

juiced

2

T.

red wine vinegar

2

T.

honey

1/4

c.

olive oil

1/2

t.

garlic powder

1/2

t.

onion powder

1/2

t.

oregano

1/2

t.

salt

1/2

c.

kalamata olives

finely chopped

1

lb.

carrots

peeled and sliced

1

head cauliflower

florets cut into bite-sized pieces

2

heads garlic

olive oil

salt

Trader Joe's Dukkah

optional

cardamom

1/2

c.

fat-free Greek yogurt

juice of one lemon

salt

Tortilla wraps and leaf lettuce for serving
Instructions
For the marinade, combine the juice of two lemons, red wine vinegar, honey, spices, salt, olive oil and kalamta olives. Whisk together. Poke each chicken breast all over with the tines of a fork. Place in the marinade for at least 30 minutes, turning occasionally to coat on all sides.

Meanwhile, preheat oven to 400 degrees.

Spread the carrots and cauliflower in an even layer on a sheet pan. Drizzle with olive oil and sprinkle evenly with salt, Dukkah seasoning and a bit of cardamom. Cover with foil.

Tear two separate squares of foil and stack them so you have a double layer. Cut about 1/2-inch off the top of each head of garlic so that all the cloves are exposed. Drizzle with olive oil, sprinkle with salt and close the foil around the two heads.

Place the pan of veggies and the garlic wrapped in foil on the center rack of the oven and roast for about 20 minutes.

Remove the foil from the pan of veggies, stir and roast, uncovered, for 10 minutes more. Remove the veggies from the oven and set aside to cool a bit. Check the garlic. Open the foil and poke the top with a fork. If the cloves are completely tender, it is ready. If not, close the foil again and roast for an additional 10 minutes.

Once the garlic is roasted completely, allow it to cool a bit, then carefully squeeze the cloves into a clean bowl and mash completely with a fork. Stir in the Greek yogurt, juice of one lemon and salt to taste.

Grill your chicken until internal temperature registers 165 degrees. Remove from grill, plate it, tent with foil and allow it to rest for at least 5 minutes before slicing it.

In your favorite tortilla wraps, spread a thin layer of the roasted garlic yogurt sauce, top with a handful of leaf lettuce, a generous amount of chicken and veggies. Wrap and eat.