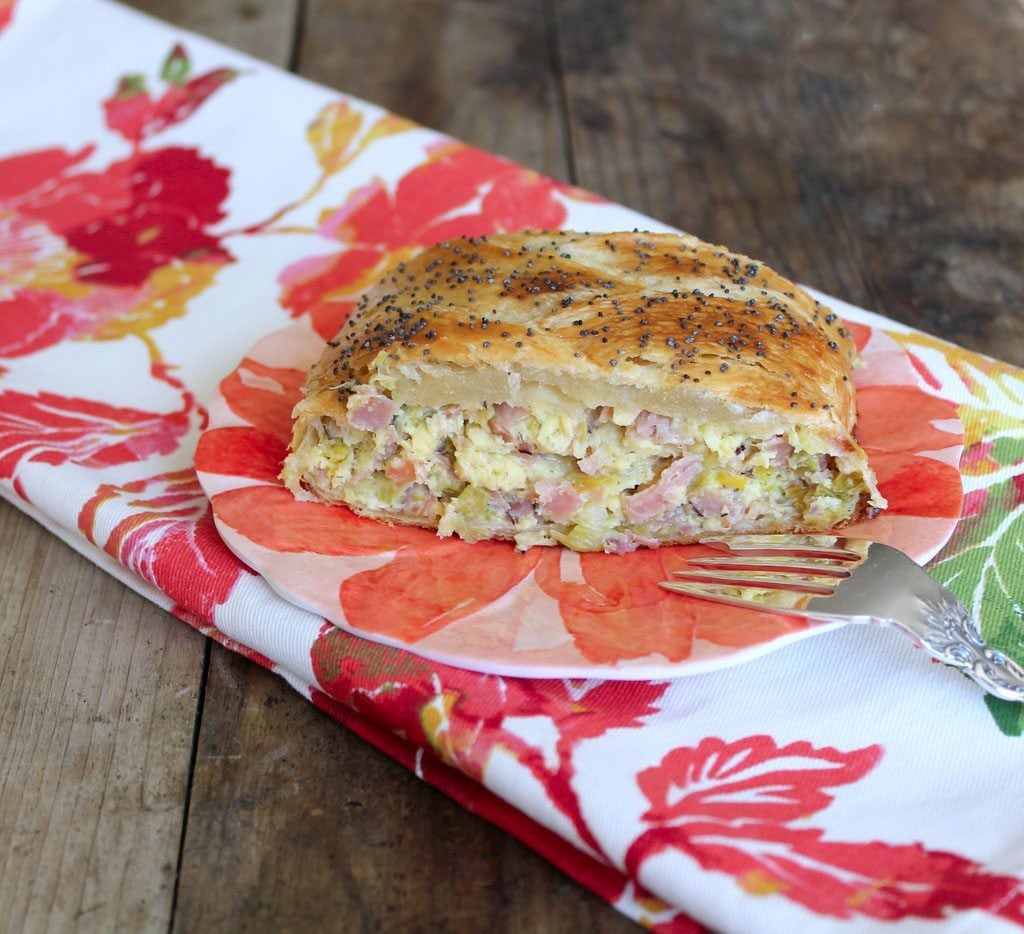 As we head into Easter weekend, I thought I'd leave you with a tasty option for your Easter Brunch. If you take a look on my right sidebar, I've also highlighted three of my previous posts that would make great additions to your holiday table: Hannah Banana Muffins (a Southern Living recipe for Banana Brown Sugar Muffins, made with or without pecans); Lemony Blueberry Streusel Muffins (so springy and yummy and a personal favorite of mine) and Lobster Bacon Quiche with Grapefruit Mimosas (fancy but not too fussy).
I work at our church, so for the past three Easters I've left most of the cooking up to my family and friends. This breakfast braid is great if you need to make something ahead, and it's a more "picturesque" option than a traditional egg casserole (which I've made plenty of) with not a lot of extra effort. The puff pastry is purchased and after thawing for about 30 minutes on the counter it's easy to work with.
Here it is filled and with the dough cut and ends folded in and crossed over to begin the braiding process…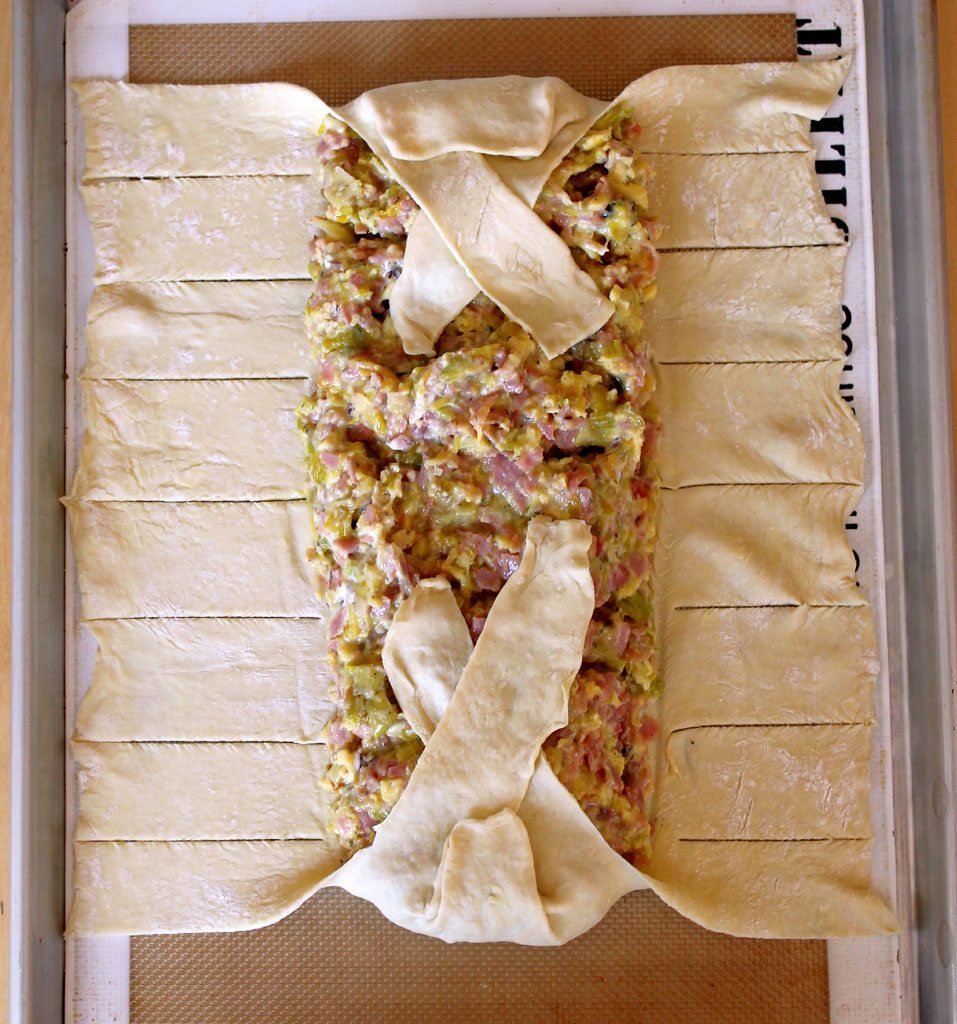 Here it is fresh out the oven… beautiful!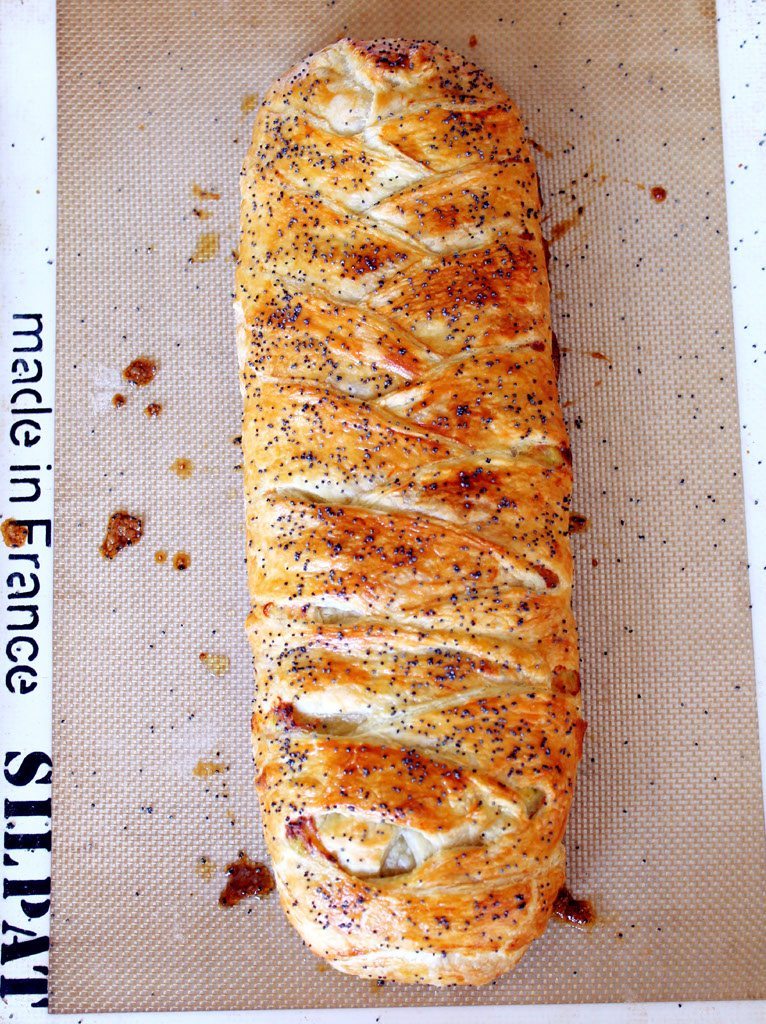 I found this recipe originally on Pinterest and loved the idea, but tailored the filling to suit my own personal tastes. I originally made it for a women's brunch, filled with sauteed mushrooms, spinach and brie cheese… it was good but not great. This time I tried it with fresh leeks, ham and goat cheese… delicious and more suited for an Easter Brunch. Enjoy!
Ham and Leek Breakfast Braid
Ingredients
1

sheet Pepperidge Farm puff pastry

thawed

2

T.

butter

2

large leeks

white and light green parts only

1

c.

deli ham

chopped fine

1/2

t.

salt

divided

6

eggs

divided

2

T.

sour cream

1/2

t.

dried mustard

1/4

t.

dried dill weed

4

oz.

goat cheese

crumbled

1

T.

water

1

t.

poppy seeds

optional
Instructions
Preheat oven to 400 degrees.

Set Pepperidge Farm puff pastry on a plate to thaw on the counter. Meanwhile, chop leeks, then place in a large bowl of cold water. Allow sediment and dirt from leeks to settle to the bottom of the bowl, drain and repeat a few times to be sure leeks are very clean.

Heat butter in large skillet over medium heat. Add leeks and 1/4 teaspoon of salt and saute until beginning to brown and reducing quite a bit, about 8 minutes. Add ham to the leeks and continue to saute about another 6-7 minutes. You want the mixture to be well-cooked and dry.

Beat 5 eggs, sour cream, the remaining 1/4 teaspoon of salt, dried mustard and dill in a bowl. Pour over cooking ham and leeks and cook until barely set... you want the eggs to begin to scramble, but still look a bit wet. Remove from heat to a clean bowl, fold in crumbled goat cheese and refrigerate for 20 minutes.

While waiting for egg mixture to cool, lay your puff pastry flat on a silicone baking mat. Sprinkle very lightly with flour and gently roll to almost the size of your baking mat (about a 12 x 10 inch rectangle). Lay the baking mat and pastry flat on a baking sheet.

Evenly arrange the cooled egg mixture on top of the pastry, down the middle, with about a 1-inch border on the top and bottom and a 3-inch border on each side. With a sharp knife, cut strips down each side of the puff pastry, about 1-inch thick.

Bring two strips at top and two strips at bottom and cross toward the center so as to seal the ends (see picture). Then starting at the top, criss cross strips over top of the other down the middle, as if "braiding".

Beat the remaining egg with one tablespoon of water and gently brush the top of the pastry until all sides are covered with egg wash. Sprinkle with poppy seeds, if desired.

At this point, you can cover your braid tightly with plastic wrap (on the baking sheet) and refrigerate overnight. Bake braid for about 30 minutes (if baking right away) or about 40 minutes (if baking from refrigerator) until puffed and nicely browned. Allow to cool for about 10 minutes, slice and serve.