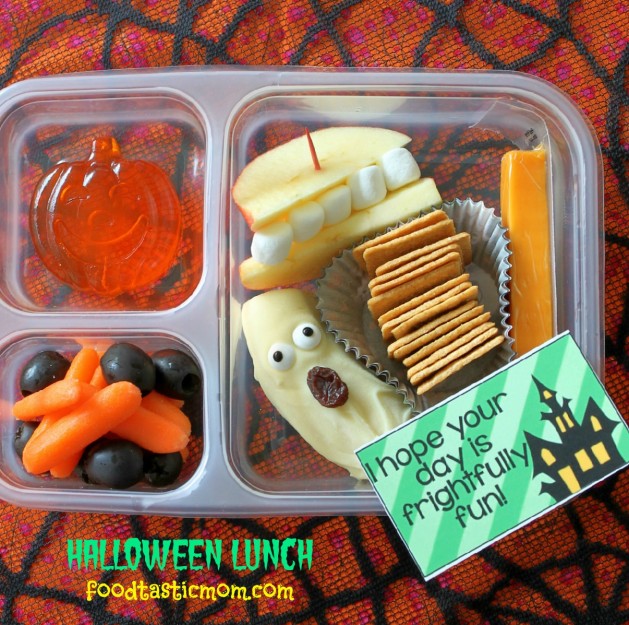 We are just about a week away from Halloween, so it's time for me to add holiday lunch notes to my children's lunches and pack them each at least one Halloween-themed lunch. As always, Pinterest has been overflowing with great ideas this year. Click on over to my "Lunchtastic" Pinterest board for even more lunch time inspiration for your littles. For this year's festive lunch, I pulled inspiration from several sources:
The ghost banana idea came from A Pumpkin and A Princess. The banana is coated in melted white chocolate and finished with candy eyes and a raisin. For an even healthier version, dip the banana in vanilla yogurt and freeze.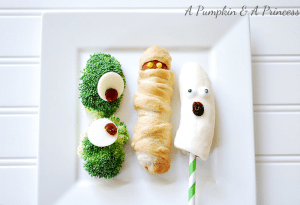 The apple mouth idea came from Hostess with the Mostess. I secured mine with a toothpick, since I know peanut butter is not allowed in many school lunch rooms these days.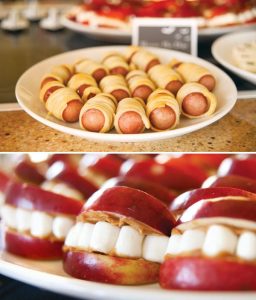 And the lunch note came from My Sun Will Shine. She created a set of 10 super-cute Halloween notes for both a boy and a girl, so a total of 20 free lunch notes! Here is the boy version…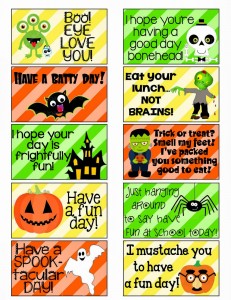 The rest were my own additions. My children both happen to love olives, so orange and black was easy to add with baby carrots and black olives. I purchased a Jello Jigglers set at Target recently because I knew my children would love them. The cheddar string cheese came from Trader Joe's. And the crackers are Wheat Thins I placed in a Halloween-themed cupcake liner.