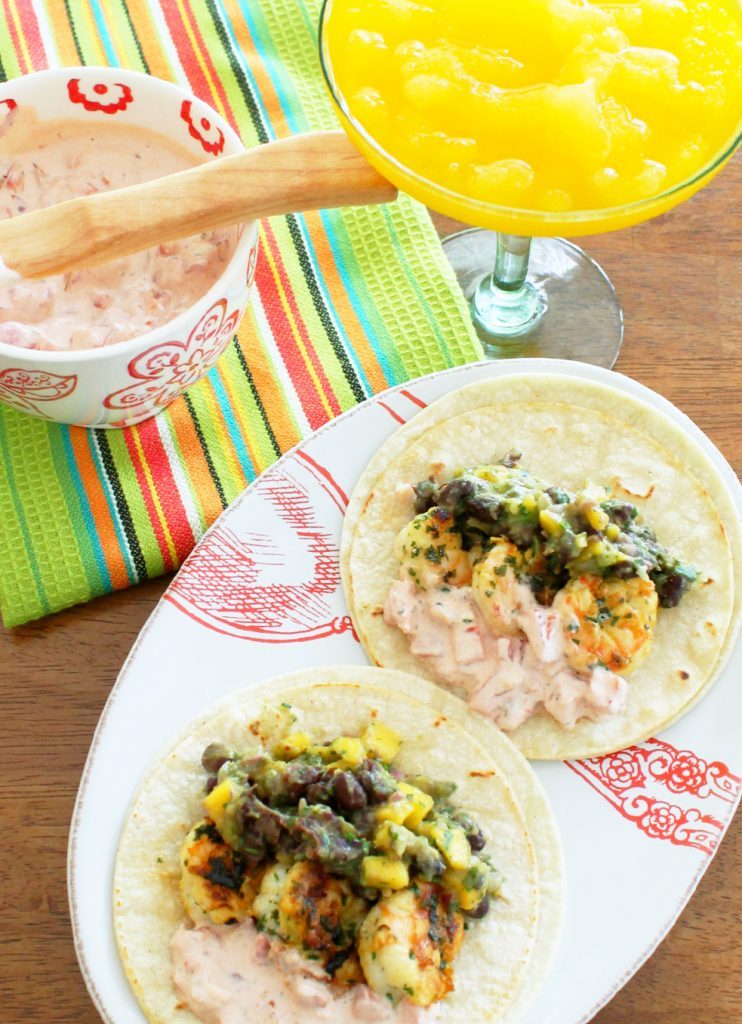 If you need to be, these tacos are gluten and dairy free. Yay! We don't for the most part have to be, but I have several friends who, if not completely free, are on some spectrum of the gluten and/or dairy free diet. I had to stop using cow's milk in my daily smoothies because it became obvious my intestines could no longer tolerate it. Now I use unsweetened coconut milk, and I'm a happy camper. Cow's milk yogurt does not seem to bother me, but I'm also not eating a large serving of it every day. And I've cut back on my cheese consumption in general. Not given it up, but cut back. It's kind of a downer getting older, but once I'm used to switching something in my diet, it's not a big deal anymore and becomes the new "norm". Any of you have some dietary "switcheroos" you've needed to pull recently?
As for these tacos, they are as indulgent as it gets. Chop up some fresh ingredients, turn on the grill and enjoy. Red Gold Tomatoes has now sent me three shipments of free tomatoes, and each time I am super excited to use them. These petite cut diced varieties are my favorite I've received from them thus far. The first variety I chose was the lime juice and cilantro flavored tomatoes because I'm a Mexican food addict and am always happy to create a new recipe with these flavors.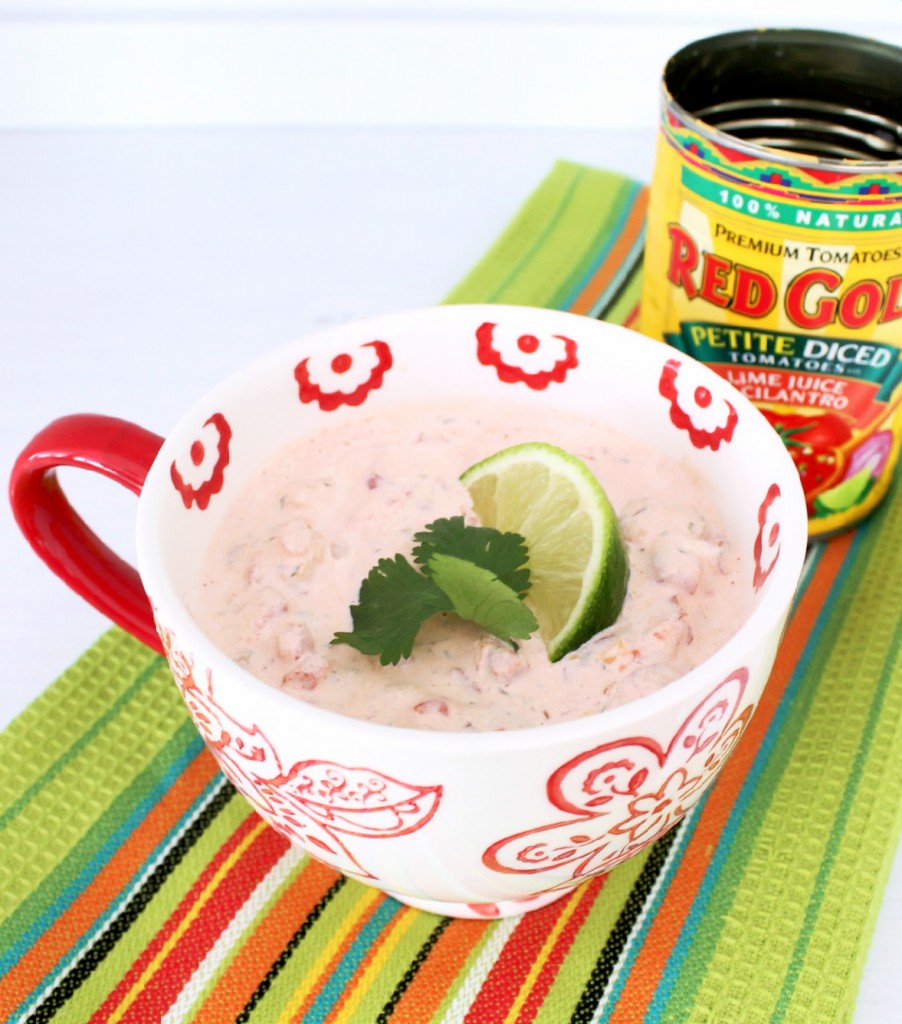 Red Gold is currently getting everyone excited about easy aiolis, which was not at all a hard sell for me. Flavored mayonnaise? Yes, please (in moderation, of course). And yes, mayonnaise does in fact happen to be gluten and dairy free. I imagine it's a nice, creamy addition for those who need to go without cheese and sour cream. I mean obviously, one can get used to just about anything, but giving up cheese entirely would ultimately be a rough adjustment for me.
So, my starting point was the fresh mango and avocado salsa I made for my Mother's Day Brunch. I added a can of black beans to it and done. The shrimp I marinated in a combination of mango and lime juice, honey, fresh garlic and a bunch of fresh cilantro. Yum! I topped it all off with the beyond-simple lime cilantro tomato aioli (thanks to Red Gold) and wrapped them in warm corn tortillas. This is dinner nirvana people. Make it!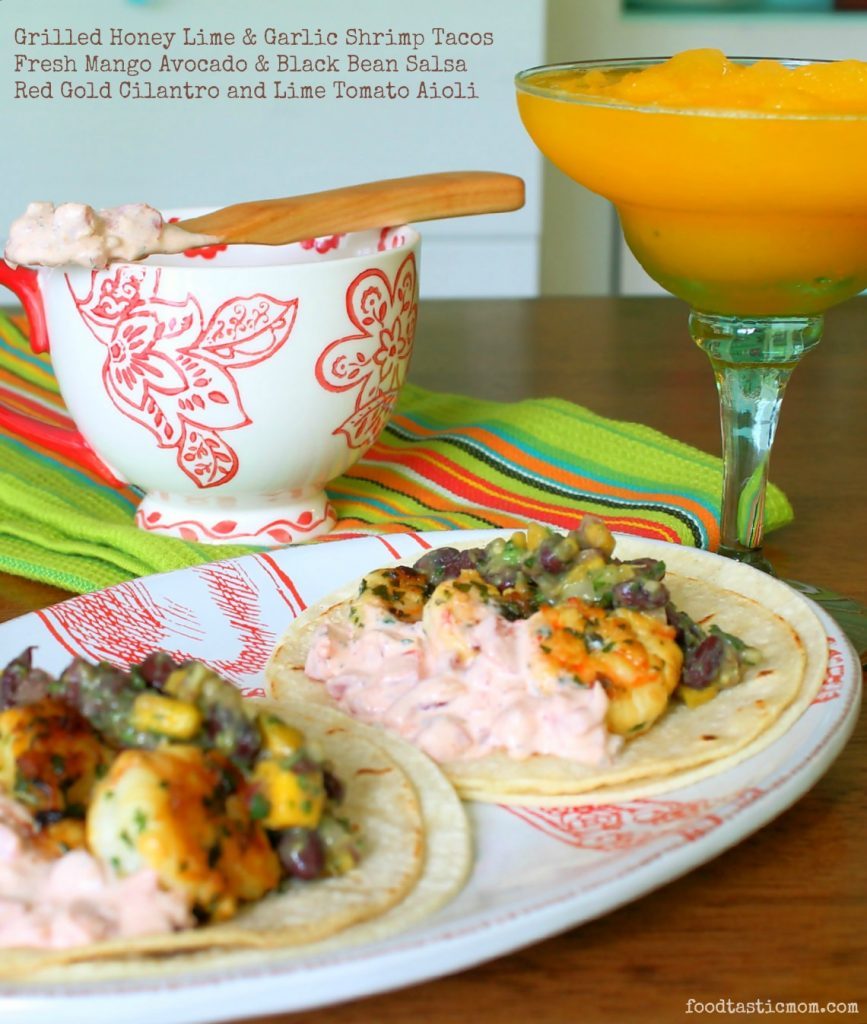 Grilled Honey Lime and Garlic Shrimp Tacos
Ingredients
for the shrimp
24

jumbo

raw, peeled and deveined shrimp

1/4

c.

mango nectar

such as R.W. Knudsen brand

2

limes

juiced

1/4

c.

honey

1/4

c.

canola oil

4

cloves

garlic

minced

1/4

c.

fresh cilantro

minced

1

t.

salt

1/4

t.

chipotle chile powder
for the salsa
2

smallish mangoes

peeled and diced

1

avocado

diced

1

can

15 oz. black beans, drained and rinsed

1/2

red onion

minced

1/2

c.

fresh cilantro

minced

1/2

t.

red pepper flakes

1/2

t.

salt

juice of one fresh lime

2

T.

olive oil
for the aioli
1

can

14.5 oz. Red Gold lime juice and cilantro petite-cut diced tomatoes, drained

1/2

c.

mayonnaise

corn tortillas for serving
Instructions
for the shrimp
Whisk together the mango nectar, lime juice, honey, garlic, oil, garlic, cilantro, salt and chipotle chile powder. Toss in the shrimp and allow to marinate in the refrigerator for at least 30 minutes. Preheat grill to medium low and thread shrimp onto metal skewers. Lightly oil grill grates and grill shrimp, 3 - 5 minutes per side, basting with the marinade frequently. Remove shrimp from skewers to serve.
for the salsa
Gently mix together the diced mango, avocado and black beans with the onion, cilantro, red pepper flakes, salt, lime juice and olive oil. Make the salsa at least an hour in advance, or up to the day before, to allow all the flavors to blend well together. Store in an air-tight container in the refrigerator until ready to use.
for the aioli
Drain the tomatoes well and mix together with the mayonnaise. Refrigerate until ready to use. Aioli can be prepared a day in advance. Leftovers can be used as a topping for wraps and sandwiches.

Serve grilled shrimp warm in corn tortillas, with plenty of mango, avocado and black bean salsa and lime juice and cilantro tomato aioli.