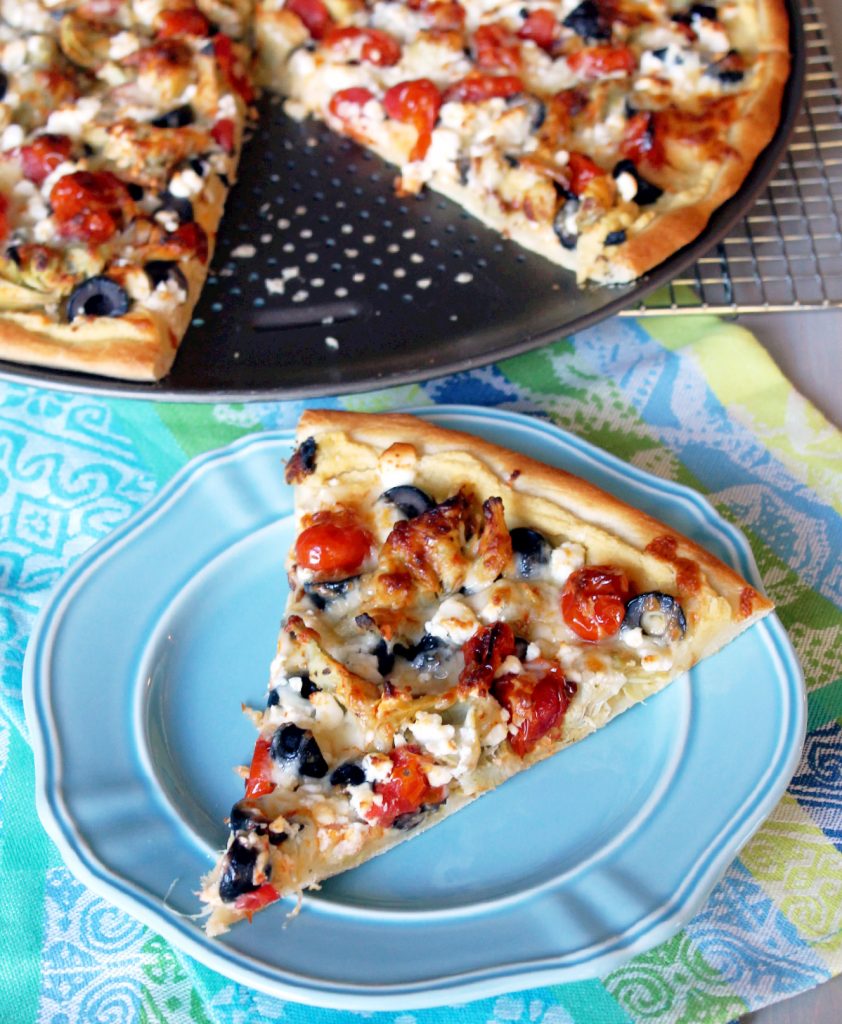 My favorite hummus is from Trader Joe's. There's no tahini in it, just chickpeas, lemon, garlic, oil and salt. I started buying it back when Hannah was little because she'd inexplicably had a mild allergic reaction and the only thing I could pinpoint it to was hummus, with tahini. So for years, I've just kinda assumed she has a food sensitivity to sesame, so I buy hummus without tahini. My kids love it too. It's what I use to make their egg salad. I hard boil eggs, chop them, and mix them with the Trader Joe's hummus. That's it. Couldn't be simpler or healthier and they request it in their lunch on a regular basis. Cheap and easy, I like it.
Another meal that's cheap and easy is homemade pizza. I make it once a week now that I have a crust recipe I am thrilled with and an easy pizza pan and cutter to use and clean up afterwards. Click HERE for my pizza pan and pizza cutter recommendations. I really would not recommend them if I wasn't using them myself over and over and loving the results.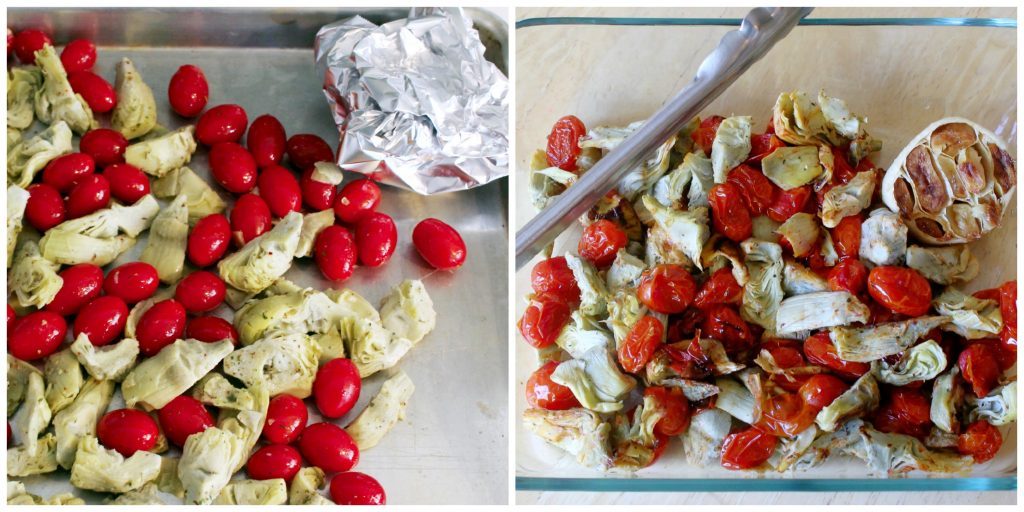 This pizza happened because I had quite a bit of hummus in the fridge to use up. Since I was roasting grape tomatoes and frozen artichoke hearts for the pizza toppings, I decided to roast a head of garlic to mash-up and add to the hummus for my pizza "sauce". Roasting garlic is a snap. Simply slice about 1/3 off the top, place in a double layer of foil, drizzle with olive oil, wrap it up and bake it in the oven. What's left is melt-in-your-mouth garlic cloves which fall right out of their skins and can be mashed into a sweet and earthy spread. So delicious.
My entire family happens to love black olives, so those were a must on this pizza. If it were just me cooking for myself, I would have added more traditional kalamata olives, so feel free to make that substitution when making this at home. I felt like I needed a "melty" cheese in addition to the feta on top, so I shredded some Muenster. Mozzarella or provolone would work just as well.
Greek Pizza
Ingredients
for the crust
1 1/2

t.

instant yeast or 2 t. active dry yeast

1/2

c.

+ 3 T. lukewarm water

3

T.

extra virgin olive oil + extra for greasing bowl

2

c.

all-purpose flour

3/4

t.

kosher salt
for the topping
1 1/2

c.

prepared hummus

I use Trader Joe's brand without tahini

1

head of garlic

1

T.

+ 1 t. olive oil

1

t.

salt

1

t.

dried oregano

1

container grape tomatoes

washed

1

bag

12 oz. frozen artichoke hearts (can also use canned, be sure to drain well)

4

oz.

shredded muenster cheese

or mozzarella or provolone

4

oz.

crumbled feta cheese

1

can

6 oz. black olives (or kalamata olives), sliced
Instructions
for the crust
Place the yeast in a bowl of stand mixer fitted with paddle attachment. Add the lukewarm water and stir on low to dissolve. Add the olive oil and 1/2 c. of flour and beat on medium-low speed for a minute until smooth. Switch to dough hook and add another 1/2 c. flour and salt and mix well. Add the remaining 1 cup of flour and put machine on low speed until the dough forms a mass around the hook. Let the machine knead the dough for 2 minutes. Turn the dough out onto a clean work surface and scrape out the bowl. Knead on counter for a minute for two until the dough is smooth and elastic. Shape the dough into a ball.

Place a teaspoon of oil in the bottom of a large, clean bowl. Place the ball of dough in the bowl and move it around to coat it with oil. Cover the bowl with a clean dish towel and set in a warm place (near your oven) until the dough doubles in bulk, 45 minutes to an hour.
for the toppings
Preheat oven to 375 degrees.

In a large bowl, toss the tomatoes and artichokes with olive oil, season with salt and oregano, and toss to combine. Arrange vegetables in a single layer on a sheet pan.

With a sharp knife, cut about 1/3 the top off a whole head of garlic (so all cloves are exposed). Drizzle with the remaining teaspoon of olive oil and wrap in a double layer of foil.

Place both the veggies and garlic on center rack of the oven. Roast tomatoes and artichokes until all tomatoes have burst, stirring once in the middle of roasting, 20-25 minutes.

Remove pan and allow veggies to cool. Continue roasting garlic for another 10 minutes, then remove from oven and open foil to cool.
for the pizza
Preheat oven to 550 degrees and position your oven rack to the lower third of the oven.

Gently press down on the dough in the bowl to release the air. Stretch it gently to begin forming a flat circle, then place the dough on the pizza pan and evenly press the dough until it reaches the edge of the pan.

Squeeze the roasted garlic into the hummus and mash together so the garlic is evenly distributed throughout the hummus.

Evenly spread the hummus on the crust. Top with the roasted tomatoes and artichokes. Top with sliced olives. Layer evenly with the shredded cheese and crumbled feta.

Bake for 10-12 minutes until pizza crust is nice and brown and cheese is bubbly.

Allow to cool for a few minutes before slicing and serving with salsa and sour cream.