I am honored to be partnering again with the National Pork Board and Kroger to kick-off grilling season and inspire you to "crash" your grill with pork all summer long. As always, all opinions are my own. #GrillPork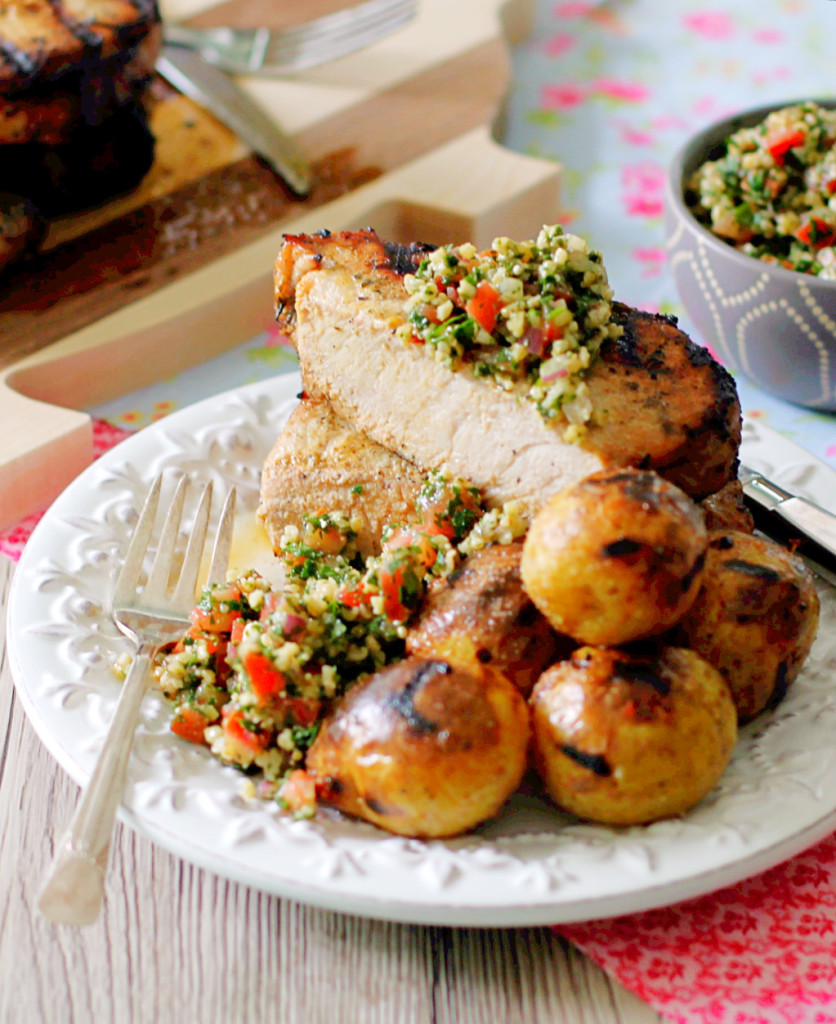 When I shared the recipe with you for Pina Colada Pork Chops a couple of weeks ago, I mentioned that crashing my grill this summer with pork put me in mind of the movie Wedding Crashers. Well THAT reference got me thinking about another favorite movie of mine, My Big Fat Greek Wedding. Remember that one? The mom used Windex as a cure-all and had never heard of a Bundt cake… so funny.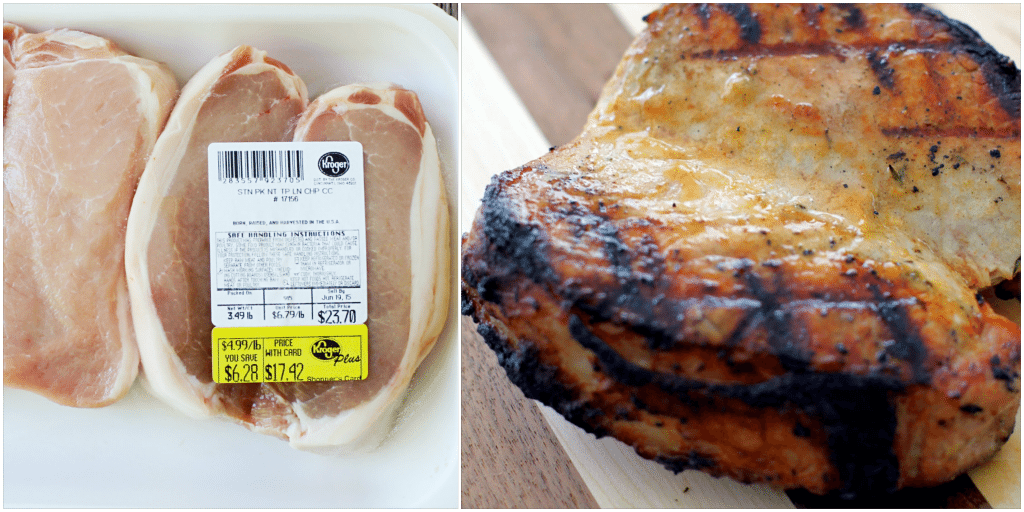 Anyway, I decided this time my pork crash experience should take on a Greek theme. I marinated my boneless pork chops in a Greek-style marinade with plenty of lemon, fresh oregano, olive oil and wine. I chopped a whole bunch of fresh herbs and produce to create a from-scratch Tabbouleh to serve as a super flavorful condiment for both the grilled pork and potatoes. This fresh and vibrant summer meal is a "crasher" you should be moving up to the very top of your guest list!
And speaking of guest lists, this crash experience was attended by our good friends who also happen to be our across the street neighbors. They live where "our pool" is… in other words, they have a beautiful backyard with a pool that my children think is theirs. We are always crashing their yard to swim, so it's only fair they crash our yard to eat! In fact, my neighbor is who first served me grilled potatoes, so really this meal kind of belongs to her too.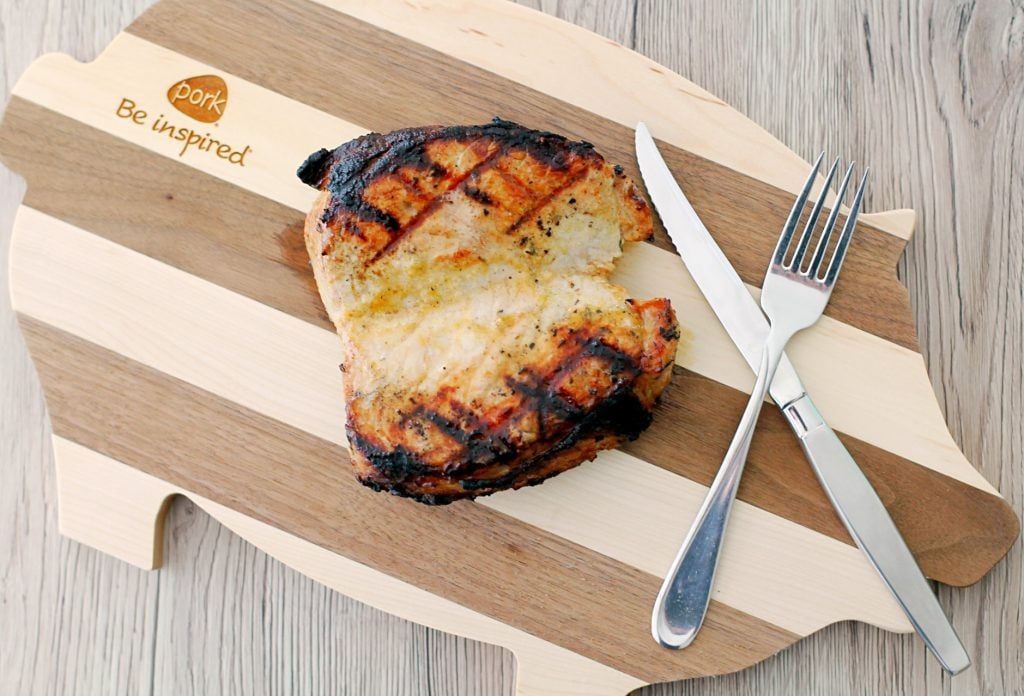 Now before I get to sharing the recipe for this Greek Grilled Pork, I am excited to tell you that Kroger and the National Pork Board have provided a great prize package for one of my Foodtastic Mom readers. I get to pick one lucky winner (at random) to receive this grill kit which includes Sur la Table grill tools, a pig-shaped wooden cutting board, a grill mit and an electric meat thermometer PLUS a $75 KROGER GIFT CARD to get you stocked up on plenty of fresh pork from the meat counter.
These boneless chops were on-sale at my local Kroger and the marinade makes for some seriously flavorful pork. I grilled my chops low and slow according to the National Pork Board's recommendation for an internal temperature of between 145 – 160 degrees Farenheit, followed by a 3-minute rest. These thick pork chops took about 20 minutes to cook and I'm always glad I have an electric thermometer to take the guess-work out of knowing if they are done or not.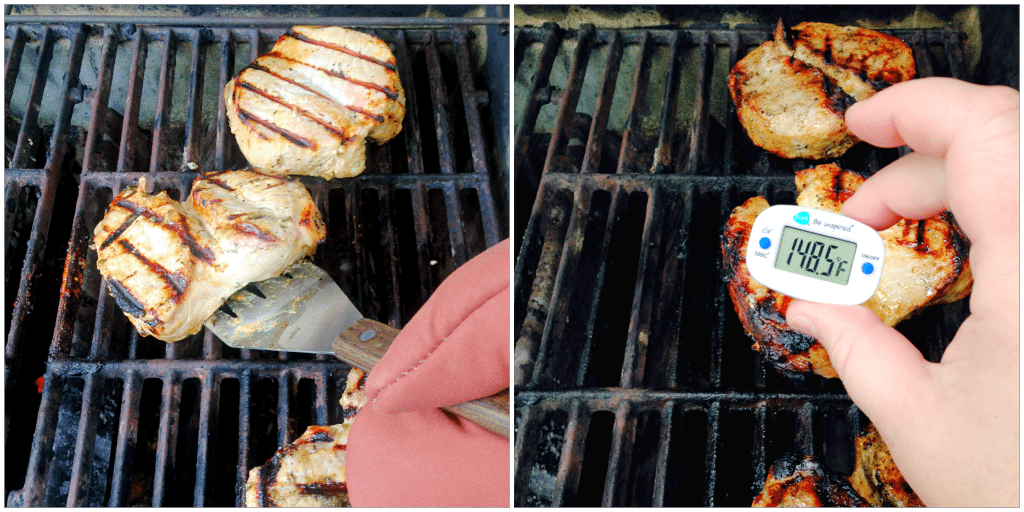 I decided grilled potatoes would go really well with the pork and fresh Tabbouleh. I boiled them until they were almost fork tender and then rinsed them under cold water. After drizzling them with some olive oil, I grilled them on low for about 10 minutes until the skin was nice and crispy and the insides soft and tender. They're kind of like fancied (and healthier) french fries!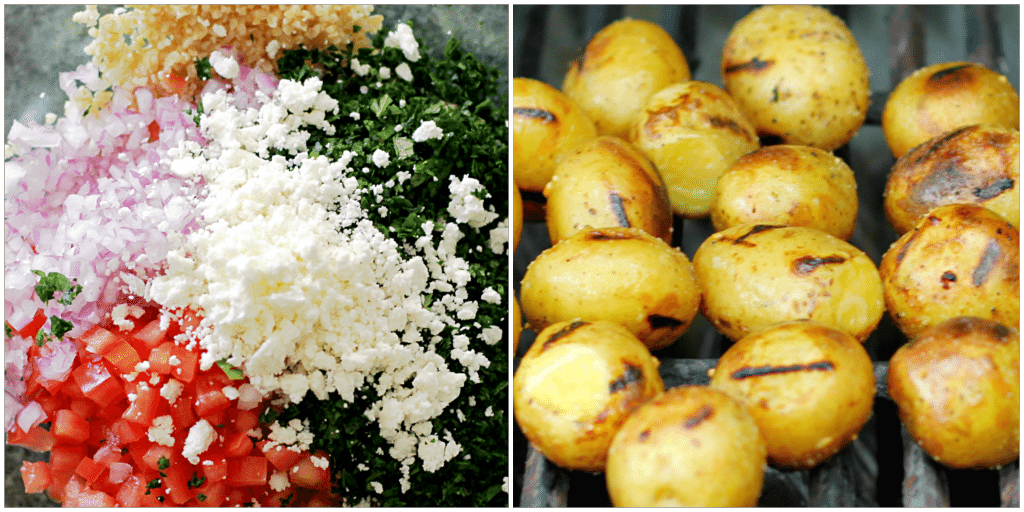 So what do you think? Would you let this Greek Grilled Pork crash your grill this summer? You should! Be sure and enter to win this fabulous prize package and don't forget to Pin or Print the recipe. Enjoy!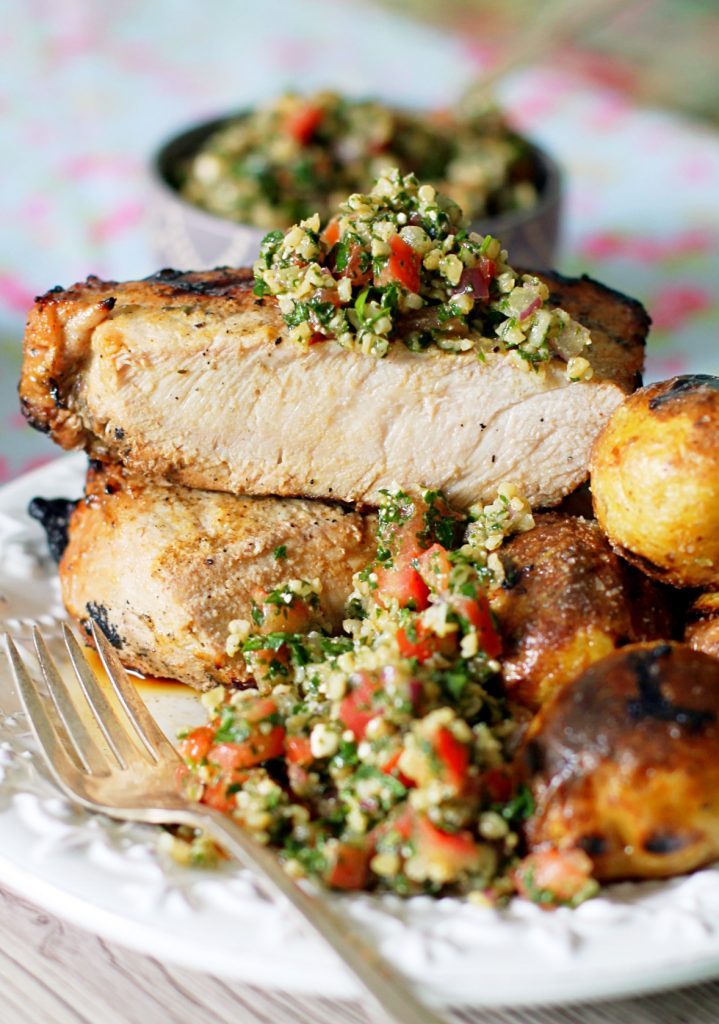 Greek Grilled Pork
Ingredients
for the marinade
1/2

c.

olive oil

1/2

c.

white wine

1/4

c.

sour cream

juice of one lemon

2

T.

fresh oregano leaves

2

T.

sugar

1

t.

garlic powder

1

t.

onion powder

1

t.

smoked paprika

1

t.

salt
for the Tabbouleh
3

T.

fine bulgur

1/2

c.

warm water

1

lb.

Roma tomatoes

seeded and finely diced

1/2

red onion

finely diced

1/2

c.

feta cheese

crumbled

2

c.

flat-leaf parsley

minced

1

c.

mint leaves

minced

2

T.

olive oil

juice of one lemon

1/2

t.

salt

1/4

t.

all spice

1/4

t.

cinnamon

1/8

t.

cayenne pepper
Instructions
Whisk together all the marinade ingredients, olive oil through salt. Place four boneless pork chops in a gallon-sized zipper bag and pour the marinade over the chops. Refrigerate and marinate overnight.

Remove the pork about an hour before grilling to bring up to room temperature.

Preheat grill to high. Scrape grill grates and turn heat to low. Grill pork on one side, for about 8 minutes. Turn over and grill until the internal temperature of the pork reaches between 145 and 160 degrees Fahrenheit. Allow the pork to rest for 3 minutes before serving.
To make the Tabbouleh
Soak the bulgur for 15 minutes in the 1/2 cup of warm water. Drain and rinse the bulgur. In a large bowl, combine the soaked bulgur, chopped tomatoes, onion, parsley, mint, feta cheese, olive oil, lemon juice and seasonings. Mix well.

Serve the room temperature Tabbouleh over the grilled pork chops (and potatoes).
Notes
To make the potatoes:
Cover small potatoes with water and bring to a simmer. Cook until potatoes are just barely fork tender. Rinse the potatoes under cold water.
Drizzle the potatoes with olive oil and grill over low heat for about 10 minutes, turning so all the outer skin gets crisp.
Remove the potatoes from the grill and drizzle with more olive oil and sprinkle with salt.
Adapted from Saveur