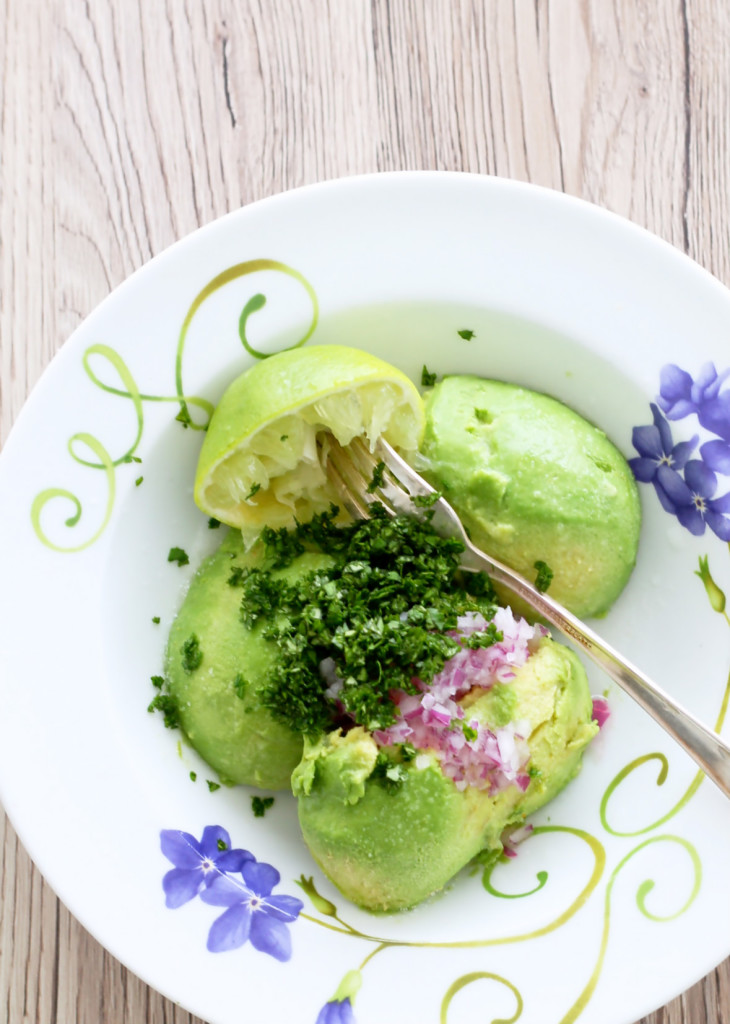 I hadn't ever frozen an avocado until last week (when I was photographing a freezer tutorial for a client) but I can tell you now that I think it might be the best freezer "trick" I've ever discovered. I often marvel at my life before Pinterest… stumbling through not knowing how to fashion apples or mini pumpkins into candle holders, the sarcastic genius of Grumpy Cat or the existence of bearded crocheted hats. It's a wonder I've gotten this far…
But seriously, this is a really great tip. It's not guaranteed avocados will be perfectly ripe when you need to buy some at the store and that "perfect" ripeness stage is pretty short. Do you know how to tell, by the way? When you peek under the stem and it's still green (not brown) but the skin itself is brown and the avocado is beginning to soften under the gentle pressure of a thumb… that's what you want. Finicky little things, but soooo delicious!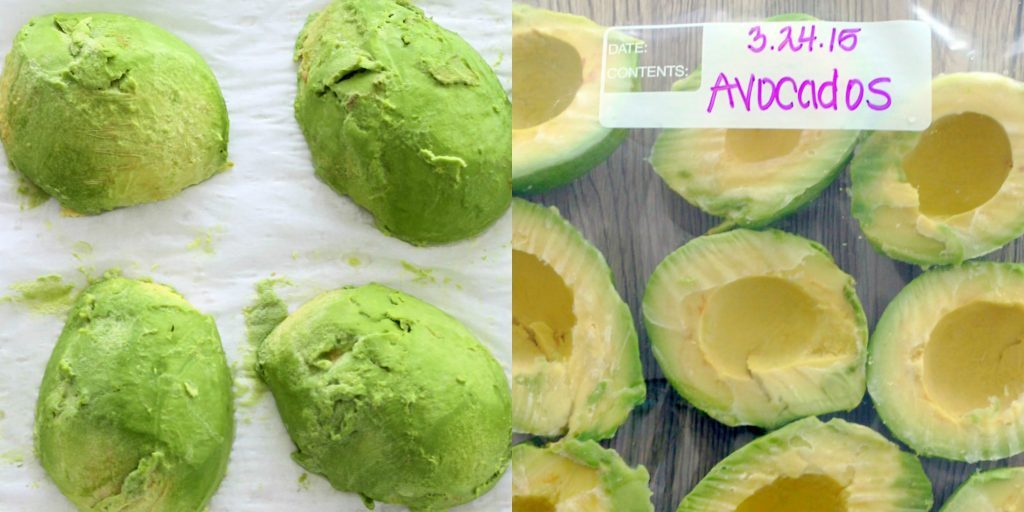 To freeze them properly, they need to be ripe. Halve and pit the avocados and take a spoon and gently scoop them away from the skin. Line a pan with parchment paper. Cut a lime in half and rub it across the paper. Then lay the avocados, cut side down, in a single layer on the paper. Squeeze the rest of the juice from that same half of lime over the avocados and freeze. Once the avocados are solid (takes about 4 hours) transfer them to a freezer-safe plastic bag.
When you are ready to use (and with me that's almost always in guacamole) take the necessary halves of avocados out of the freezer and let them thaw on the counter. Takes about 2 hours. I just put them in a bowl with the rest of my guacamole ingredients and once they are thawed, mash everything up to serve. Easy-peasy!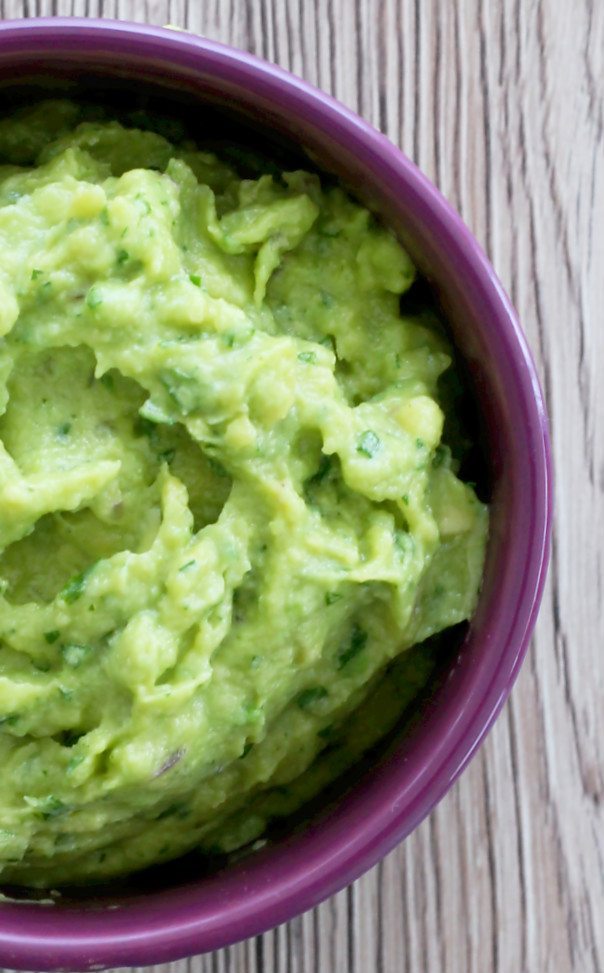 Most of the time, I just add lime juice and salt to avocados and call it guacamole. But recently I decided to get fancy and add a little minced red onion and fresh cilantro and it was pretty amazing. And by all means, if you are one of those people who can't stand the taste of cilantro (and I know a few) then just leave out the cilantro… no harm, no foul.
I'm a big fan of dipping Fritos and pretzels in my guacamole. But it makes an equally tasty sandwich spread on a soft wheat roll with some rotisserie chicken and a slice of cheddar cheese. That happened to be my lunch after this photo shoot. Now go freeze some avocados!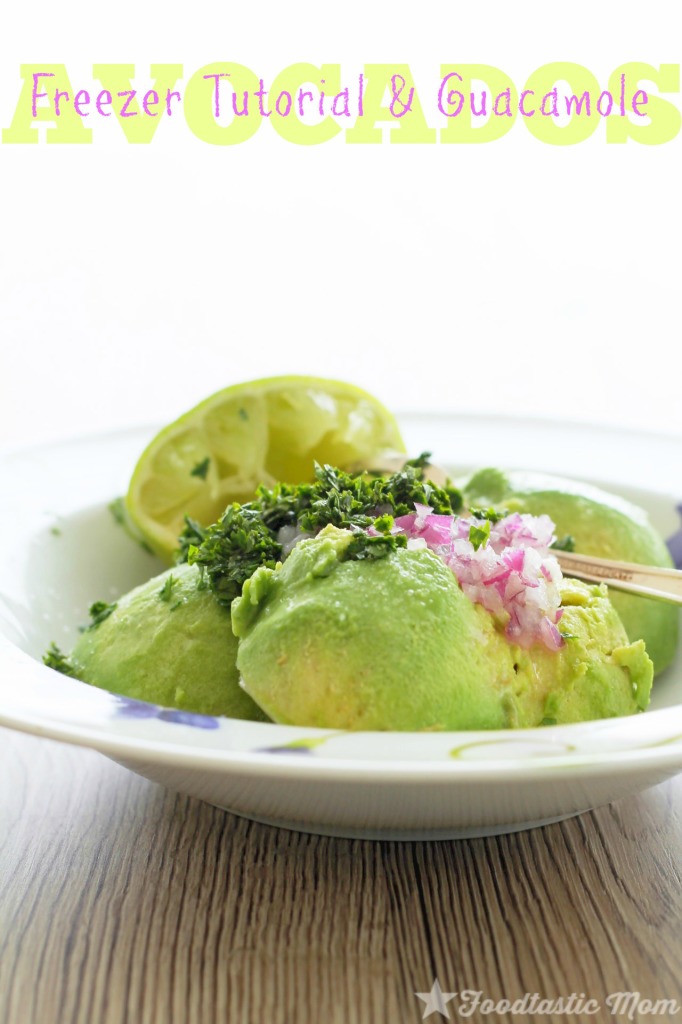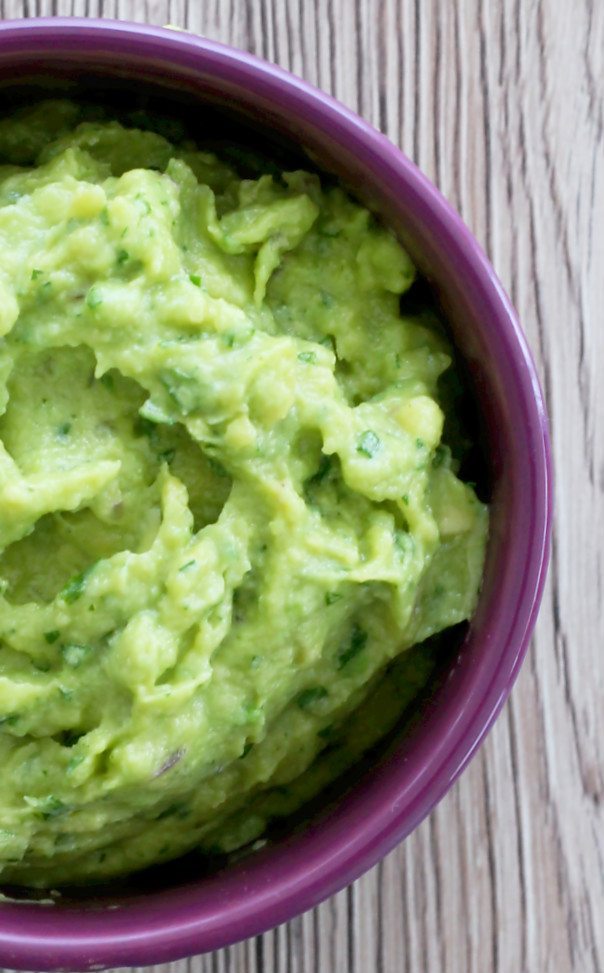 Guacamole
2015-03-24 13:46:51
Ingredients
2 ripe avocados, pit and skin removed
juice of 1/2 - whole lime (depending on taste preference and how juicy your lime is)
1/2 t. salt
1/4 fresh cilantro, minced
2 T. red onion, minced
Instructions
Mash the avocado. Mix in the lime juice, salt, cilantro and red onion. Serve immediately.
Foodtastic Mom https://www.foodtasticmom.com/