A little prep work makes this Farro Roasted Vegetable Salad a lighting fast lunch option. Cooked farro is tossed with curried roasted cauliflower and sweet potatoes, fresh apple, lightly salted cashews and fig balsamic vinaigrette dressing. Fresh and delicious, it's both a vegan and clean eating option!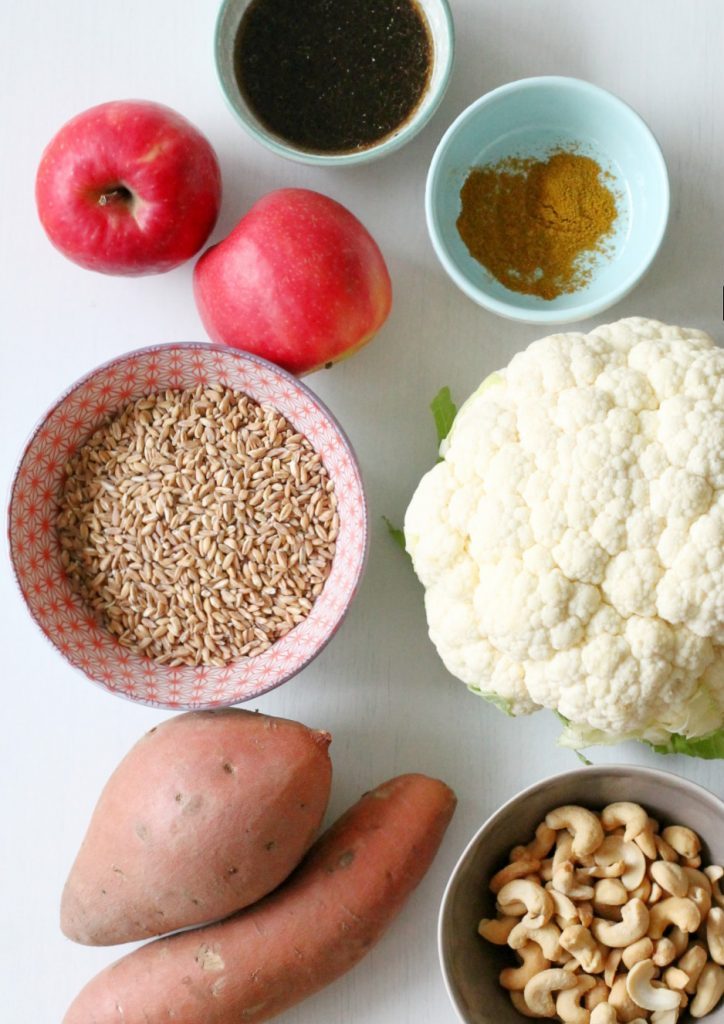 If you are like me and never jumped on the quinoa bandwagon allow me to introduce you to my new friend farro. I am officially obsessed. The look of quinoa with it's tiny spirals always weirded me out… the texture and taste of it always felt "off" to me. Not so with farro. It's hearty, with a pleasant chew and a softly spiced and nutty taste reminiscent of toasted cashews and cinnamon. Seriously, it's delicious. And guess what? Nutritionally farro trumps quinoa. Not in a Donald Trump way… but in a tasty, nutritional way.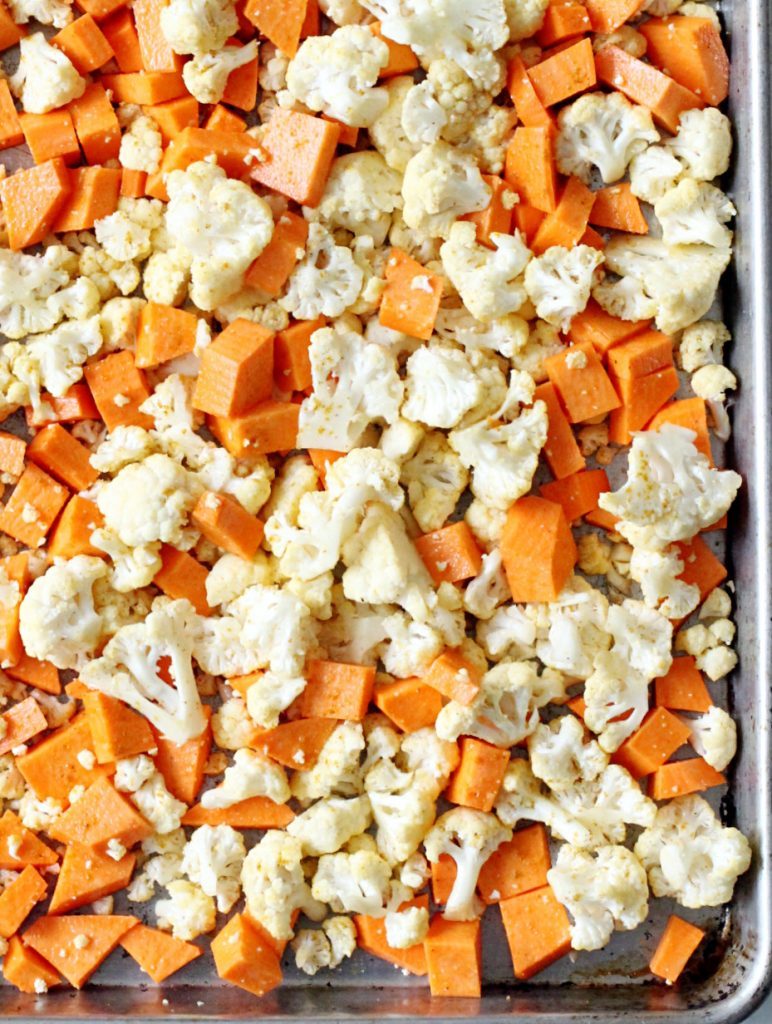 Per serving, quinoa and farro are both high in fiber (3g) and protein (7g) with the same amount of calories (170 per serving). But farro provides twice the amount of calcium and zero fat.
If you still don't believe me then make a batch of this salad to nosh on for the rest of the week and see for yourself. After cooking the farro and roasting the cauliflower and sweet potatoes you have a lunch that is ready in mere minutes each and every day. The components store well in the fridge. And you'll be feeling fit and fab all week long!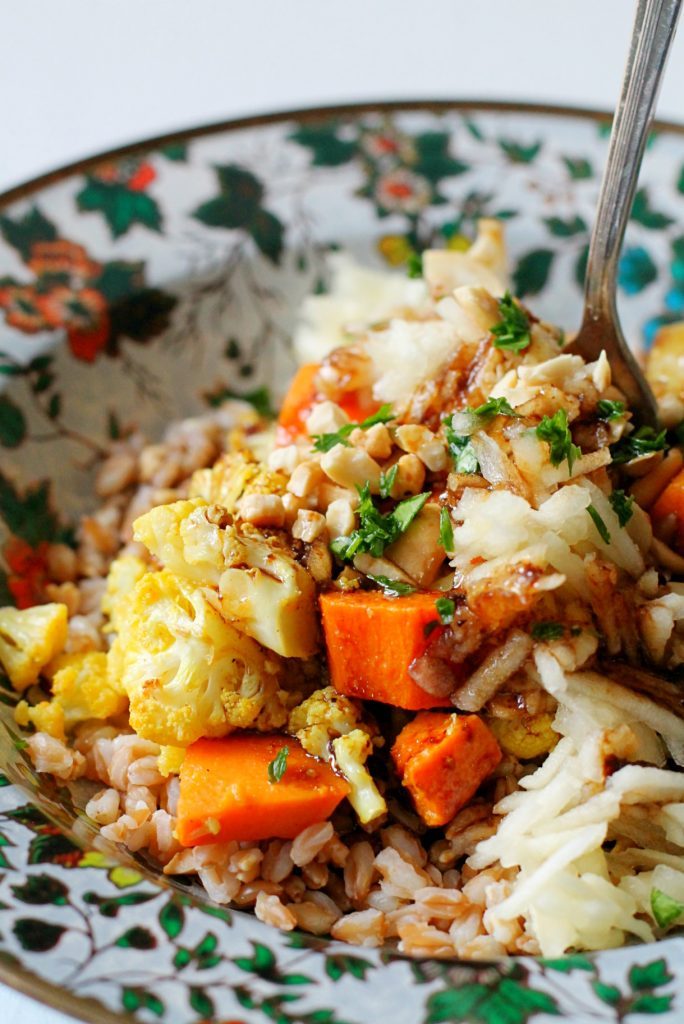 Farro Roasted Vegetable Salad
Ingredients
1

c.

farro

cooked according to package directions

1

small head cauliflower

cut into bite-sized pieces

2

sweet potatoes

peeled and cubed

2

T.

canola or grape seed oil

1

T.

curry powder

1

t.

salt

2

apples

1/2

c.

lightly salted cashews

Bottled good-quality balsamic vinaigrette dressing

I used a fig variety
Instructions
Once farro is drained and cooled, store in an air-tight container in the refrigerator for up to one week. I found farro in the rice section at my Kroger store and cooked it according to package directions.
To roast the cauliflower and sweet potatoes
Preheat oven to 350 degrees. Toss the cauliflower and sweet potatoes with the oil, curry powder and salt. Spread in an even layer over a large, rimmed sheet pan. Roast for 35-40 minutes, stirring a couple of times during cooking.

Allow vegetables to cool and store in the refrigerator, same as the farro.
When ready to serve one salad
Place about 1/2 cup of farro and 1 cup of the roasted vegetables in a bowl. Top with about 1/3 of a fresh apple (grated or sliced thin). Top with about 2 tablespoons of lightly salted cashews (I crushed mine in a plastic bag to make the pieces smaller). Then dress with 1 - 2 tablespoons of your store-bought balsamic vinaigrette. Stir and eat.