At Christmas I made THESE cookies with White Chocolate Peppermint M&M's. The original recipe was thanks to Bakerella. They were so deep, dark and chocolatey. And they are meant to be a bit under-baked, to help even more with the intensity and fabulousness of the chocolate. I loved them so much in fact that why save them just for Christmas?
Now I will admit, most times of the year I can walk into a store (usually Target) and find these Coconut M&M's. This close to Easter, however? M&M still makes Coconut M&M's, but they are packaged and recolored for Easter. Which is fine, except I really wanted the standard green, brown and white colors because they are perfect for St. Patrick's Day. So, for purposes of blogging, I ordered a batch from Amazon, plus I picked through and only used the green ones. I know, the lengths I go to for you people (kidding).
My purpose in disclosing this is so you are not frustrated if you can't find anything but Easter-colored Coconut M&M's at your stores. No biggie. Make these cookies for Easter! Regardless, they are the perfect combo of intense chocolate and coconut flavors, which is never, ever a bad thing. Enjoy!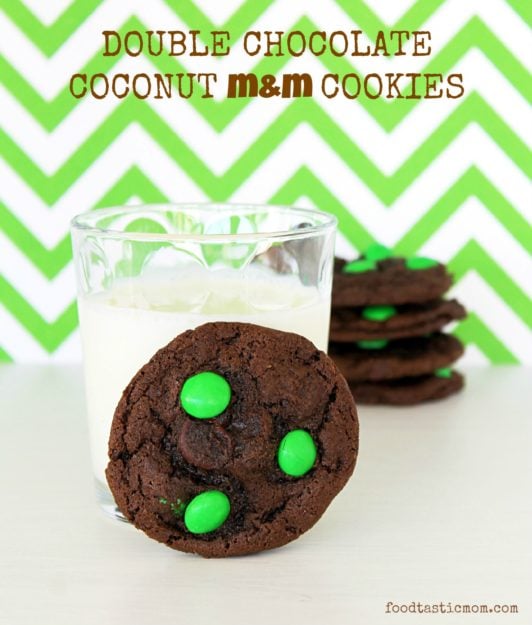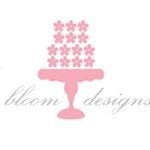 Featured on Bloom Designs Lovely Little Link Party (3/20/14)
Double Chocolate Coconut M&M Cookies
Ingredients
1 1/2

c.

all-purpose flour

1/2

c.

natural unsweetened cocoa powder

3/4

t.

baking soda

1

t.

salt

2

T.

instant coffee crystals

1/2

c.

1 stick unsalted butter, softened

1 1/2

c.

sugar

2

eggs

1

t.

vanilla

1

c.

Coconut M&M's

1

c.

Ghirardelli Bittersweet Chocolate Chips
Instructions
Preheat oven to 350 degrees and line baking sheets with silicone baking mats or parchment paper.

Mix flour, cocoa powder, baking soda, salt and coffee crystals in a bowl with a whisk. Set aside.

In the bowl of a stand mixer fitted with a paddle attachment, cream together the butter and sugar until pale and fluffy, 3 - 4 minutes.

Add eggs and vanilla and mix until well combined.

Add in the flour mixture and mix until dough comes together.

Stir in half the M&M's and chocolate chips by hand.

Scoop dough by rounded tablespoons onto prepared baking sheets. Place 3 reserved M&M's atop each cookie before baking.

Bake for 10 - 11 minutes, rotating pans halfway through baking time.

Allow to cool on baking sheets for 10 minutes before removing to wire cooling racks to finish cooling.