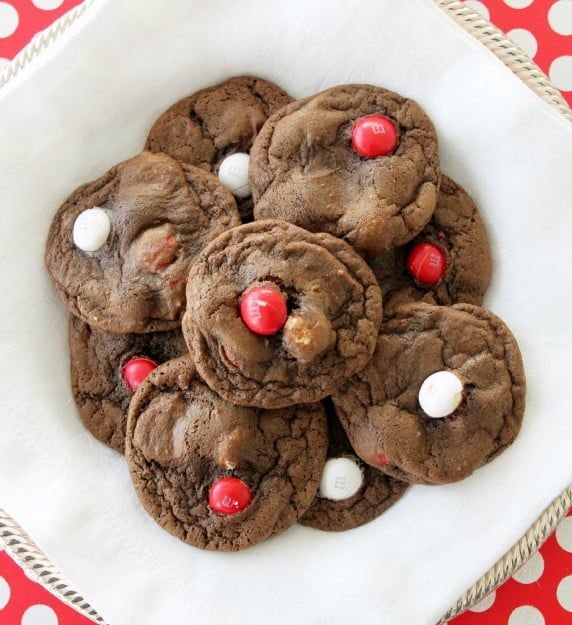 These are most definitely a new favorite Christmas cookie of mine that I know I'll be making for years to come. Thank you Bakerella for the recipe!
Of the many holiday inspired M&M flavors, I think they really knocked it out of the park with the white chocolate peppermint variety. They are my favorite. So when I saw this recipe in my inbox from Bakerella, I actually went out and bought the ingredients to make these cookies that same day.
My only minor tweak was adding 1/2 teaspoon more salt. It's my "secret" to great cookies. Also, the best cookies are always just a wee bit underbaked and oozing with chocolatey goodness. Another bonus is that these freeze beautifully, so they can be made ahead and pulled out of the freezer at the last minute for a holiday gathering or packaging for gifts. You must make these… they are Christmas cheer in a cookie!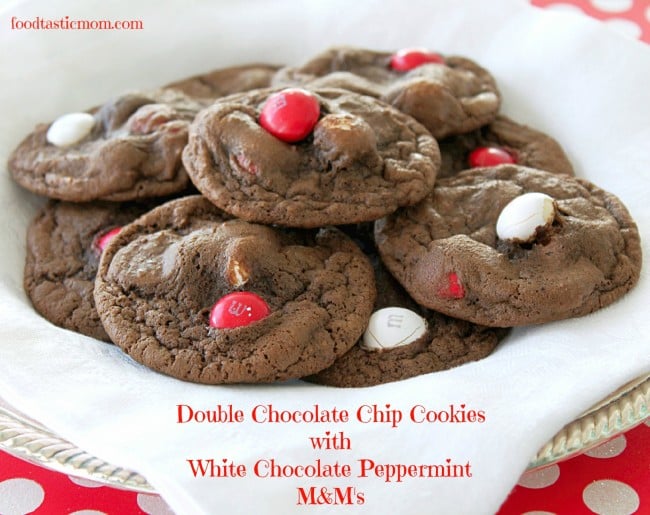 Double Chocolate Chip Cookies with White Chocolate Chip M&M's
Ingredients
1 1/2

c.

all-purpose flour

1/2

c.

natural unsweetened cocoa powder

3/4

t.

baking soda

1

t.

salt

2

T.

instant coffee crystals

1/2

c.

1 stick unsalted butter, softened

1 1/2

c.

sugar

2

eggs

1

t.

vanilla

1

c.

White Chocolate Peppermint M&M's

1

c.

Ghirardelli Bittersweet Chocolate Chips
Instructions
Preheat oven to 350 degrees and line baking sheets with silicone baking mats or parchment paper.

Mix flour, cocoa powder, baking soda, salt and coffee crystals in a bowl with a whisk. Set aside.

In the bowl of a stand mixer fitted with a paddle attachment, cream together the butter and sugar until pale and fluffy, 3 - 4 minutes.

Add eggs and vanilla and mix until well combined.

Add in the flour mixture and mix until dough comes together.

Stir in half the M&M's and chocolate chips by hand.

Scoop dough by rounded tablespoons onto prepared baking sheets. Place 3 reserved M&M's atop each cookie before baking.

Bake for 10 - 11 minutes, rotating pans halfway through baking time.

Allow to cool on baking sheets for 10 minutes before removing to wire cooling racks to finish cooling.