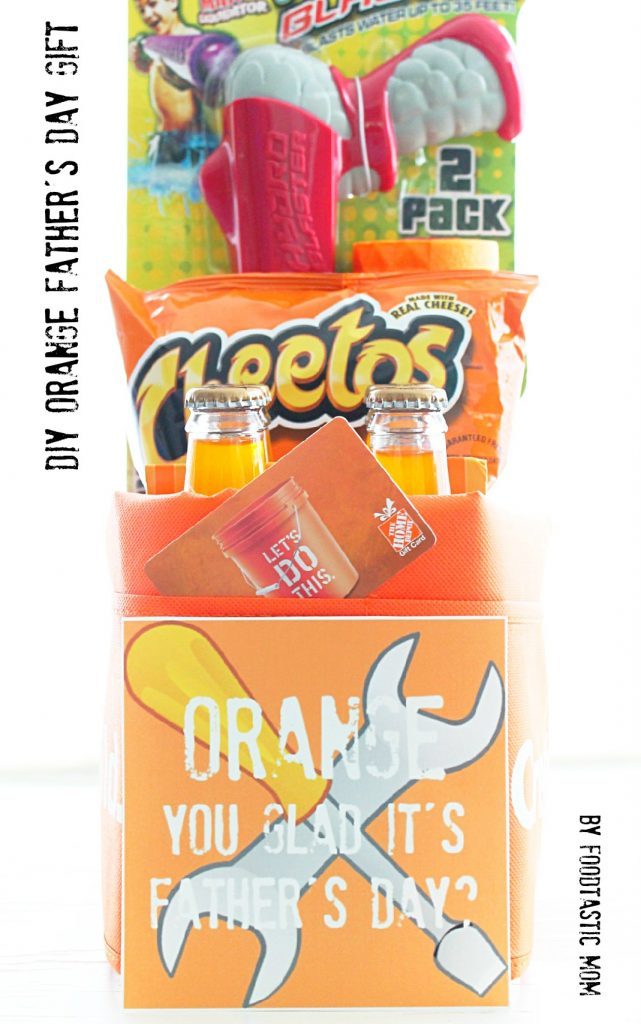 We recycle a lot in our household. Our recycling can that we sit out on our driveway each week is equal in size to our garbage can. But I figure why stop at just recycling trash? Why not recycle a good idea? I seem to do this a lot. Just for example, I recreated my Red Velvet Cheesecake Brownies to be ORANGE cream cheese brownies. And later this week you'll see my Sweet and Salty Chocolate Almond Chip Cookies recycled into a new and fabulous dessert for summer.
And this gift idea? Totally recycled. I gave both my children's teachers (two years in a row, just with a different collection of orange goodies) an Orange you glad it's Summer gift, and they all seemed to love it. Really, for Father's Day this gift idea is even more perfect. Home Depot = Orange… I mean, really, why did I not think of it before this year?!
Tom happens to LOVE Home Depot, so a gift card from there is always appreciated by him. I was able to score this child's apron as "gift wrapping" for free from my local Home Depot (they give them away for kids' workshops and I just went in and asked for one… the employees there are always SO nice and helpful), but you could always package your gift in one of their paint buckets, which they sell for the bargain basement price of $2.85.
I packaged some Cheetos and Stewart's Orange 'n Cream Soda with this gift simply because Tom happens to love those treats. And also, he's a big kid himself, so an orange water gun set makes perfect sense for him. But this gift is totally customizable to whatever your Dad's loves happen to be. Think orange golf balls, or orange sportswear (if his favorite team happens to use orange), or an orange mason jar with lid and straw (spotted those at Target) to hold mini bottles of his favorite bourbon or spirit of choice. The possibilities really are endless.
Just click on the image and save it to your computer. Print at best quality and be creative in your orange gifting. I can pretty much guarantee the dad/grandpa/uncle/godfather/etc. in your life will love it!