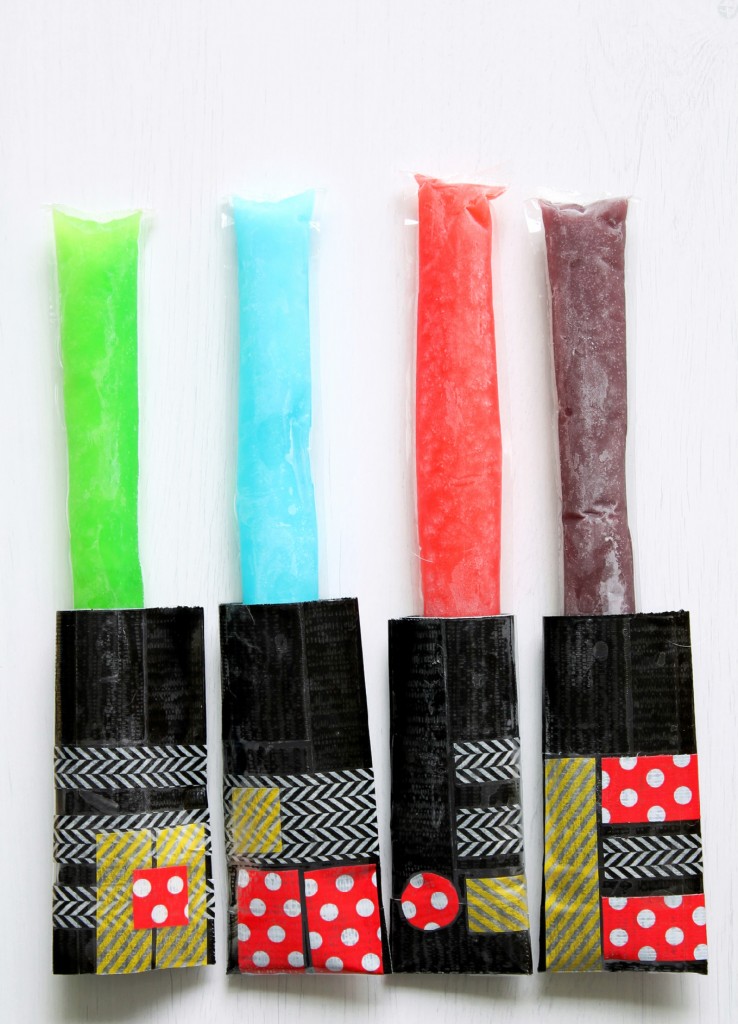 Allow me to indulge my crafty side for a moment. The original idea to make sleeves for freezer pops, turning them into instant, frozen lightsabers is not mine. The idea, for me, came from HERE. But in searching Google, most of these sleeves are sewn with fabric. I don't know how to sew. It should be on my bucket list, but at the moment, it's not a priority for me to learn. So I'm offering the sewing challenged among you an easy alternative… duct and washi tape!
Now looking at my creations, they're not exactly Star Wars authentic, not even close really. But I think that's part of the fun in crafting… to use what you've got, and these happened to be the colors of duct and washi tape I already owned. Actually, the colors and polkadots remind me a bit of Mickey Mouse, which is somewhat fitting considering Disney recently purchased the Star Wars franchise.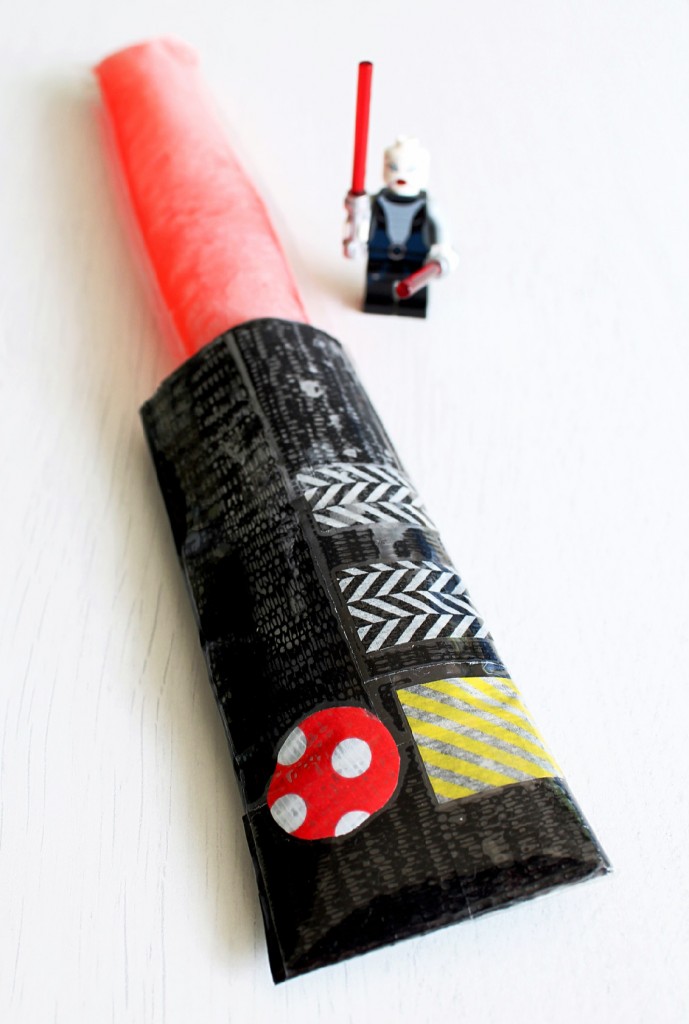 Star Wars fans everywhere have three more blockbuster movies to look forward to, and I don't see my 9-year-old son waning in his extreme Star Wars fandom any time soon, so these sleeves will get a ton of use at our house this summer. Speaking of my son, from his entire Lego Star Wars collection, the only character I could actually find this morning wielding lightsabers was Asajj Ventress. But she's pretty bad-ass, so she'll do just fine.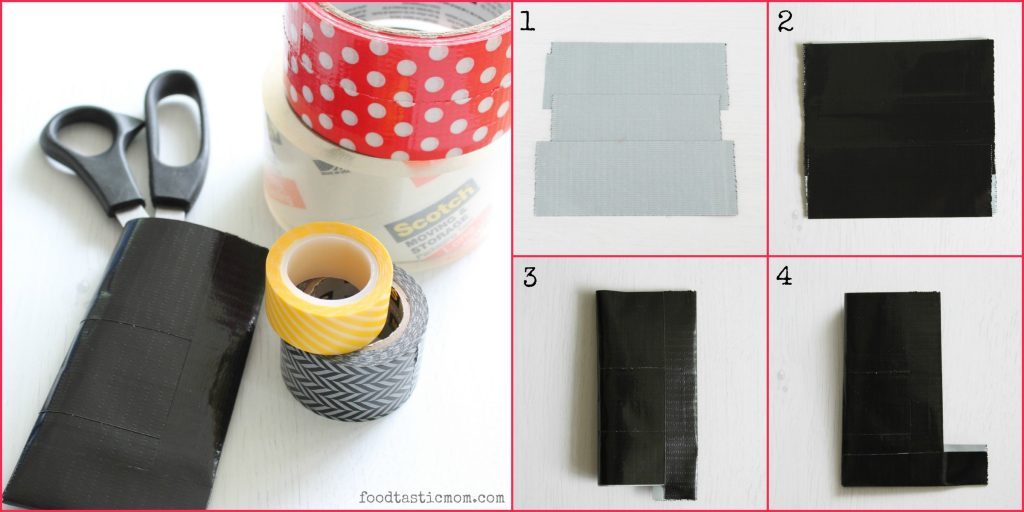 So while my sleeves are a pretty loosey-goosey interpretation of actual lightsaber handles, feel free to indulge your inner-geek and make yours more realistic. They're still fun and easy to assemble no matter what. My written instructions may not be crystal clear, so please reference the photo collage above.
Step 1 is to stick together three strips of duct tape, about 3 inches wide. Step 2 is to tape a second set directly on top of the first three strips of duct tape, so the sticky sides are facing each other. This provides the "fabric" to make your sleeve. Step 3 is to fold the duct tape "fabric" in half lenghwise and use a piece of duct tape to stick it together. Place one half of the tape on the front, turn over, and evenly adhere the other half of the tape on the back. Trim the extra tape with scissors to make it even. Then so the sleeve becomes a sealed pocket, Step 4 is to do the same across the bottom of the sleeve. Seal with duct tape and trim. Then it's up to your imagination as to how to decorate each lightsaber handle. I did decide to seal the outside of mine with clear, mailing-type tape. This seals the decorations and makes the whole sleeve resistant to water and hopefully will help them last longer.
I started by making four of these today, and I plan to surprise our kids with them when they get home from school. Knowing them, they are going to flip for these! And knowing my son, I've got lots of extra tape for him to make his own versions. Have fun with this simple, summery craft.