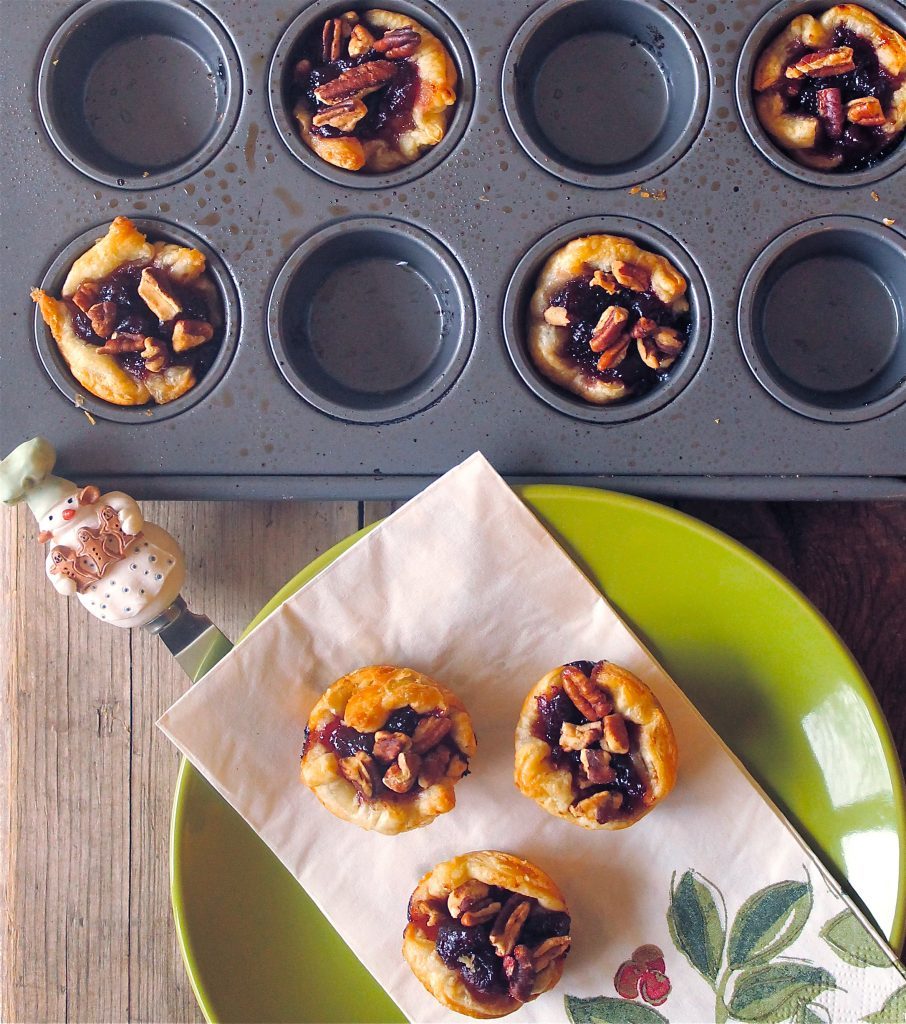 Do these look like leftovers to you? That's the key to actually eating leftovers for me; turn them into something pretty and different from the original, awesome! Nuke the same old thing and call it a meal, not so much. If you remember my post for Cranberry Chutney Yogurt Parfaits, I had a lot of tasty leftover cranberries from Thanksgiving, which I was for once very happy to eat because I used Orangette's recipe to make the chutney. It's so good! I actually had some forethought a few weeks ago and saved about 1 1/2 cups of it in the freezer for later, and I am so glad I did.
Knowing I had this in the freezer, I wandered over to Pinterest for inspiration. What I found were these Cranberry Kisses from the blog Liv Life. To make them my own, I wanted to use brie cheese and pecans to fill the mini puff pastry cups.
When making individual apps, I love these mini brie wedges from President. There's no rind, which I'm not a huge fan of anyway, and the rest of the cheese stays sealed and fresh for spreading the leftovers on crackers for a snack. The Ball freezer jars I use for smoothies in my kids' lunches are also great for storing small portions of leftovers. And I use these dry toasted pecans from Trader Joe's all the time!
Anyway, this made for an easy to put together and fancy appetizer for a holiday party. It makes 48 of these cute little cups, and they are actually better at room temperature, so they can sit on a buffet throughout an evening. I don't say I love leftovers often, but I love these little bites!
Cranberry Chutney Bites
2 sheets Pepperidge Farm Puff Pastry, thawed on counter
1 1/2 c. prepared Cranberry Chutney
6 wedges President Creme Petit Bries
1/2 c. pecan pieces
Preheat oven to 375 degrees.
Cut each sheet of puff pastry along folded lines, so you have six equal rectangles. Gently roll each rectangle with a rolling pin so puff pasty about doubles in width. Take a pizza cutter and cut each of the six rectangles into 8 squares. Spray 2 mini muffin tins (24 cups each) with cooking spray. Gently place each square of puff pasty in muffin tins, pressing down in the middle and folding edges to fit.
Using your fingers, pinch each of the six brie wedges into eight equal pieces and place one piece in each of 48 puff pastry cups. Place a heaping teaspoon of cranberry chutney on top of cheese, and top each with about 1/2 teaspoon pecan pieces.
Bake muffin tins for 17-20 minutes, rotating pans halfway through cooking times. Puff pasty should be nice and browned on edges. Allow bites to cool in pans for about 5 minutes, then with a knife (I used my snowman cheese knife), gently pop each bite out of cups to plate and serve.