I'm showing you some simple coffee station ideas at home with Hamilton Beach FlexBrew Coffee Maker. This post is sponsored by Tidal Labs. All opinions are mine alone.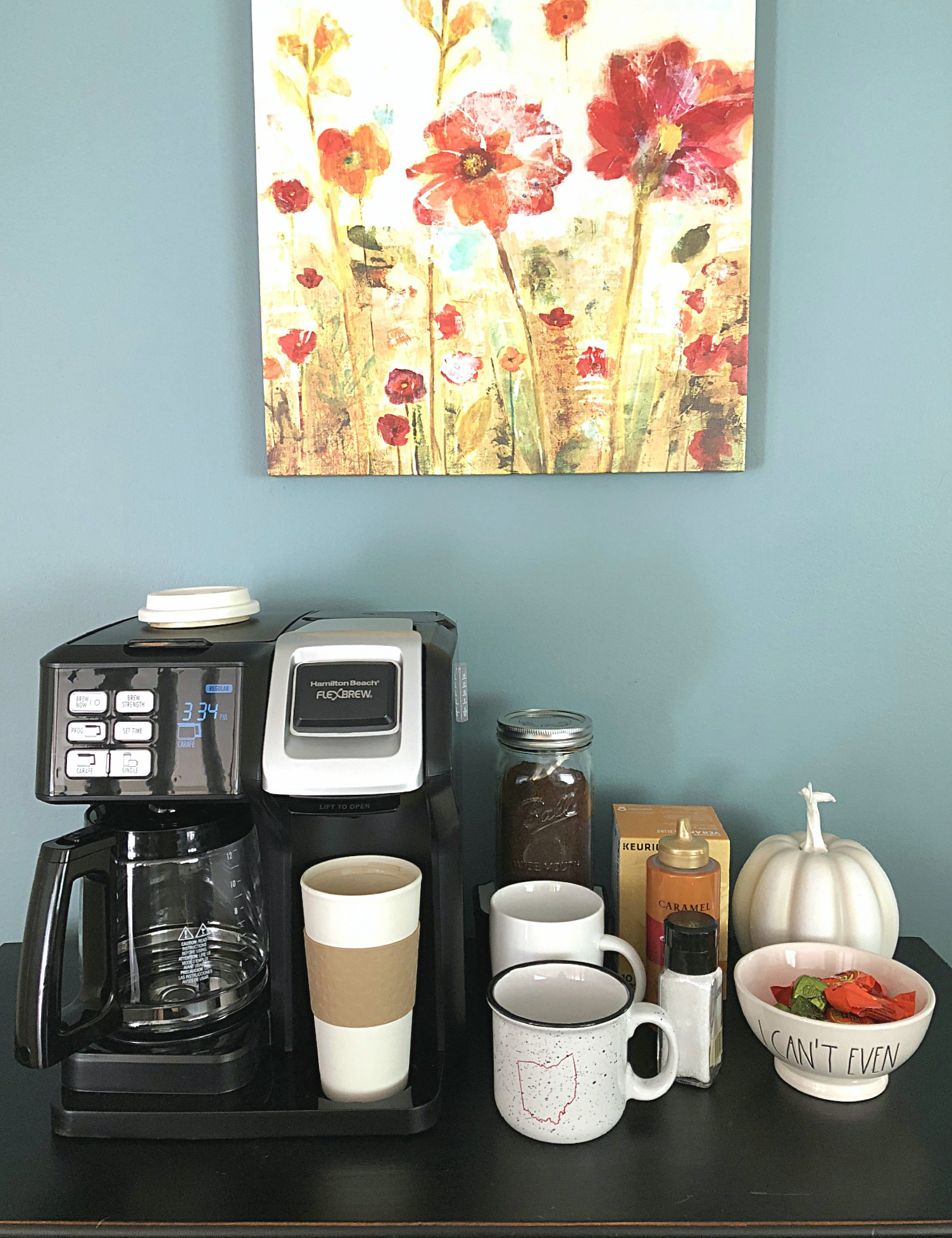 Up until recently I only owned a French Press to brew my coffee at home. I am the lone-wolf coffee drinker in my household (though I have a feeling my daughter will eventually join me). So it really made no sense to own a full coffee pot. But I wasn't ever ready to commit to a single K-cup coffee brewer either. It seemed like a waste of space.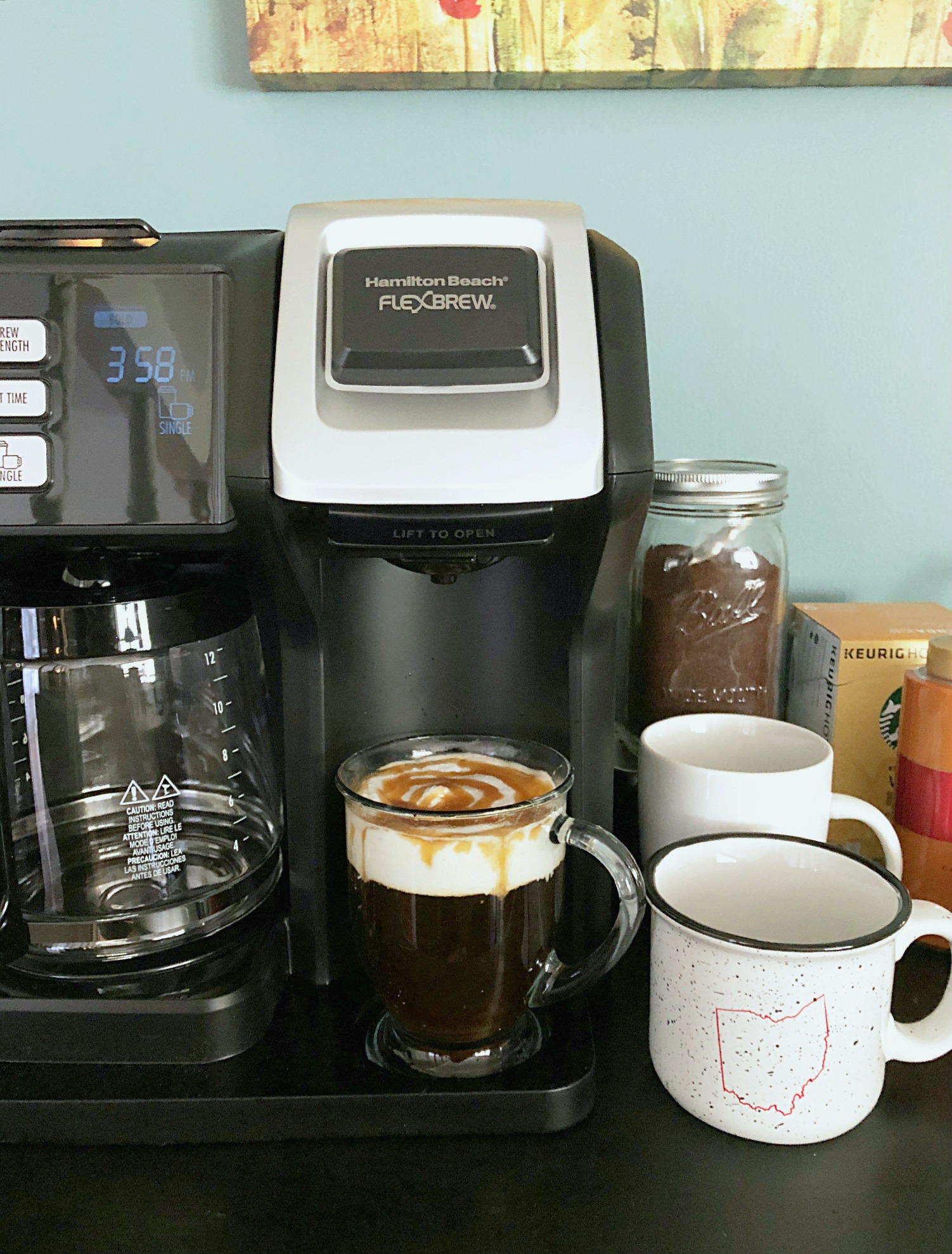 So you better believe I was excited when Hamilton Beach offered to send me their FlexBrew Coffee Maker. It's the best of both worlds. You can brew a whole pot of coffee if needed. Or you can brew a single K-cup. All in one snazzy looking (and so easy to use) machine. I was inspired when I took it out of the box and instead of shoving it onto my kitchen counter, I set it up to be a focal point in my dining room. And I didn't have to buy anything but the coffee and condiments!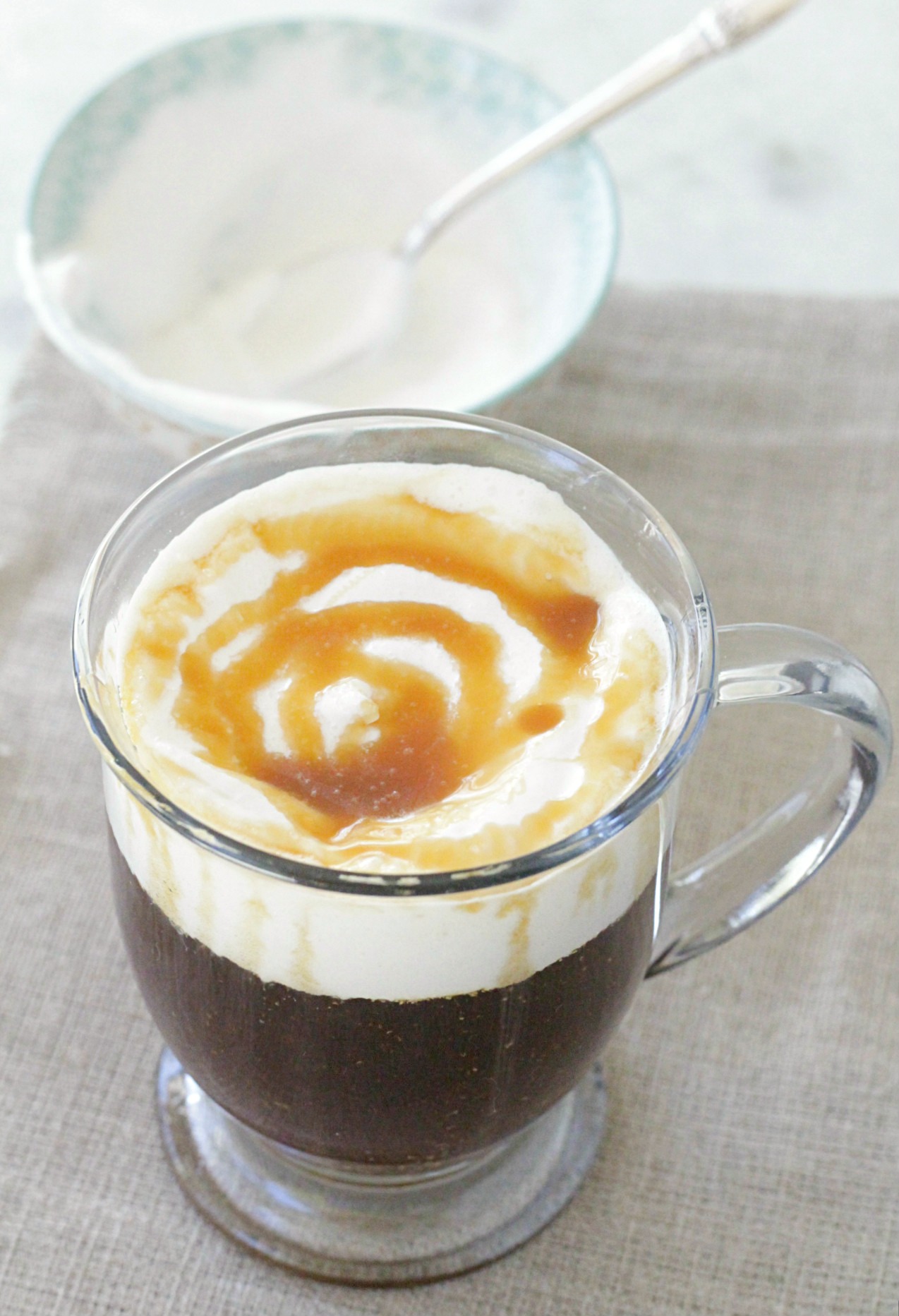 Coffee Station Ideas:
Start with a Hamilton Beach FlexBrew Coffee Maker. Use Promo Code for 10% off 10FLEXBREW
Place the FlexBrew on a sturdy table or chest of drawers in a warm, inviting place in your house.
Set out some pretty coffee mugs and some seasonal decorations (like the pumpkin in the picture).
Purchase a variety of K-cups to choose from – including hot chocolate for the colder months.
Keep your ground coffee for brewing in the pot in a Mason jar.
Find a fun bowl and keep some chocolates in it, for when you just "can't even".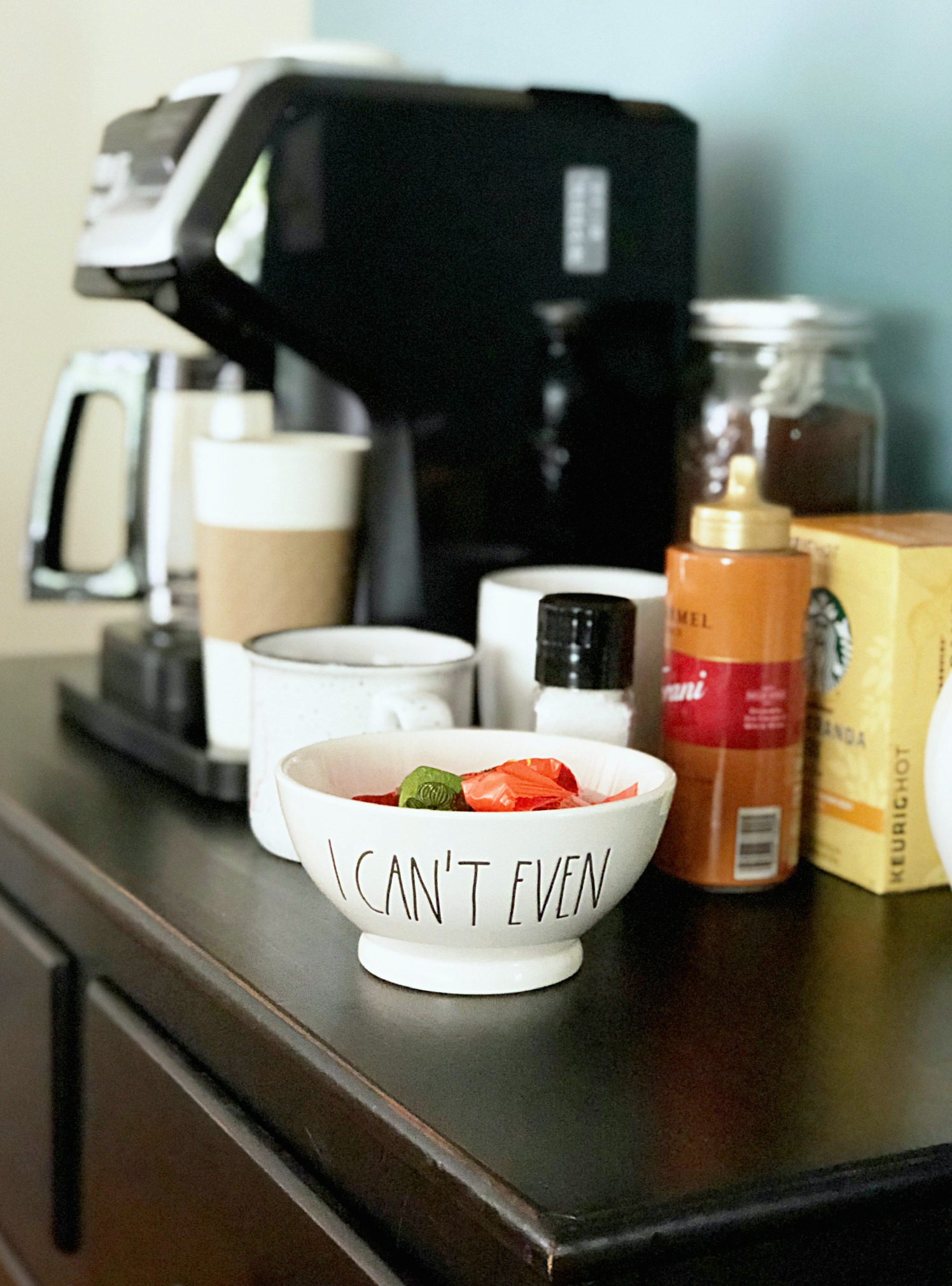 My favorite toppings currently for a cup of blonde roast are whipped topping (I use this brand made with coconut milk), caramel sauce and a little sea salt. When you can be your own barista at home, you can save a lot of money but still feel indulged.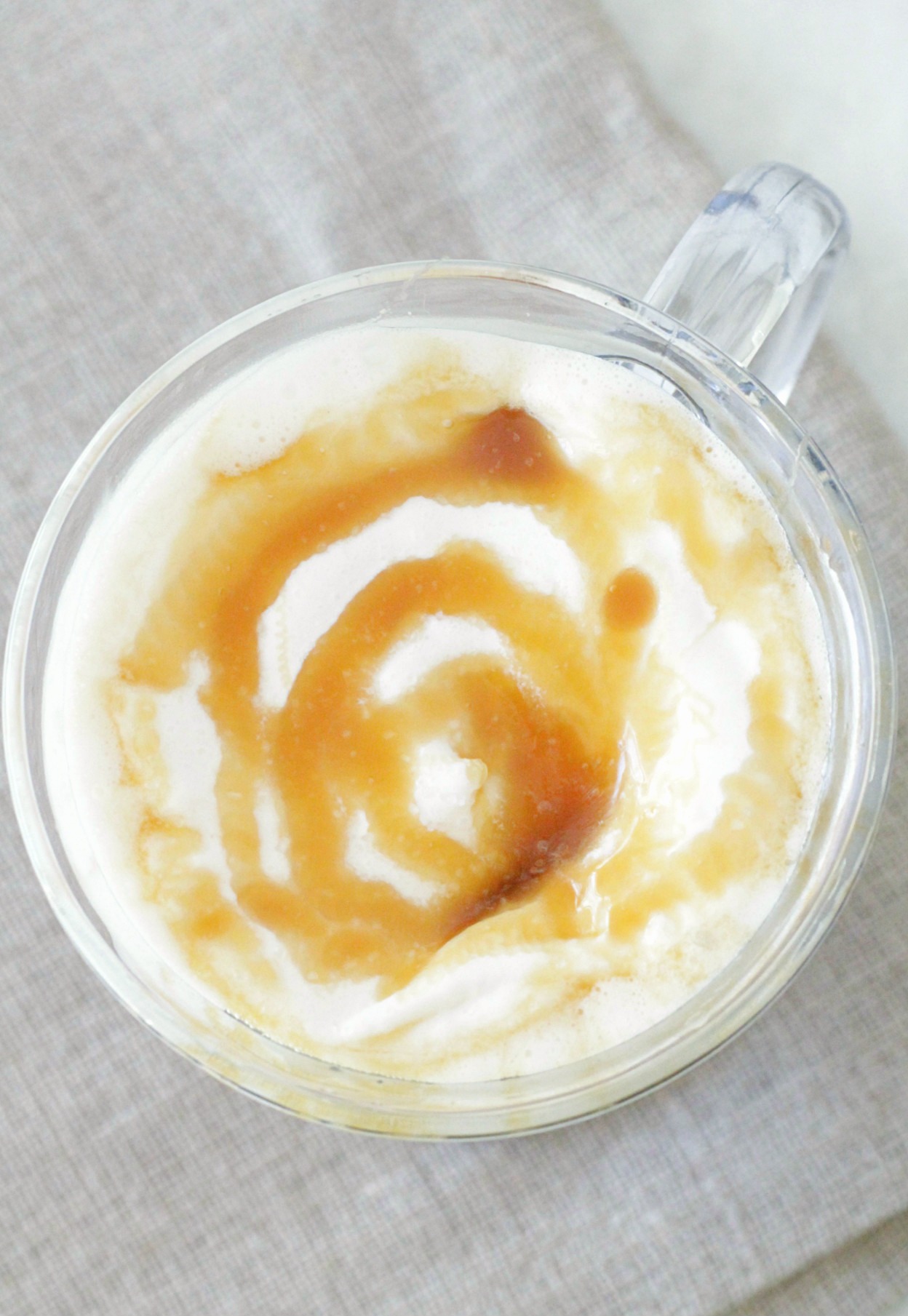 Foodtastic Mom is a participant in the Amazon Services LLC Associates Program, an affiliate advertising program designed to provide a means for sites to earn advertising fees by advertising and linking to Amazon.com. Any highlighted, clickable Amazon link you see is an affiliate link that I may earn advertising fees on.
Thank you so much for being a faithful reader and supporter of Foodtastic Mom. Be sure to PIN these ideas!