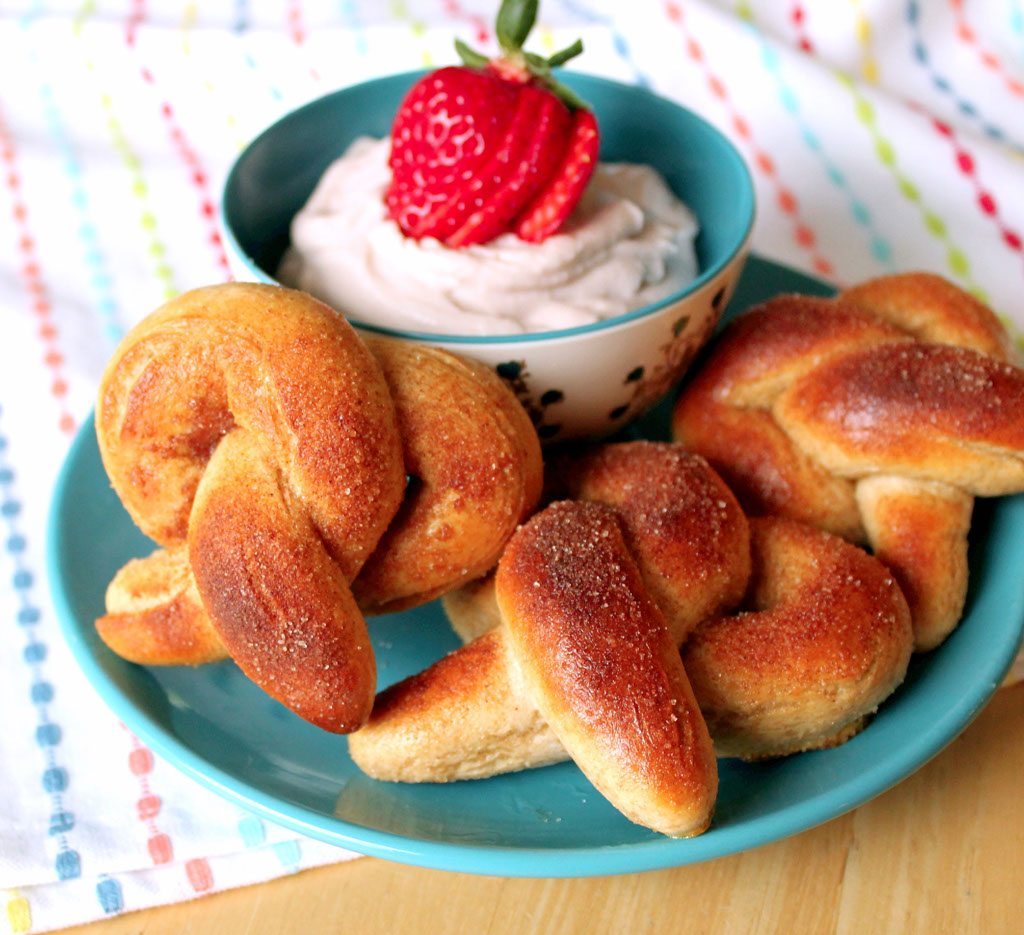 These cute little knots of sweetness are the follow-up to my post last week about Quick Homemade Pretzels with Guinness Cheddar Dip. I am excited to report that not only are these pretzels delicious and a breeze to make, but they freeze and reheat to their original fresh-baked goodness. Say goodbye to those awful store-bought frozen varieties. These are perfect to pull out for an after school snack. Heat a couple in the oven and lightly brush with melted butter, sprinkle with the cinnamon sugar mixture and serve. The dip is a simple and tasty combo of plain cream cheese and Smucker's All-Fruit Strawberry Spread. My kids are loving these as a snack and I think yours will too!
Quick Cinnamon Sugared Pretzels
Ingredients
1 1/2

c.

lukewarm water

1

packet active dry yeast

1

t.

salt

1

T.

sugar

2

c.

whole wheat flour

2

c.

all-purpose flour

1

large egg

1

T.

water

2

T.

melted butter

1/4

c.

sugar

2

t.

cinnamon
Instructions
Preheat oven to 425 degrees and line baking sheets with parchment or silicone baking mats.

In large glass bowl, pour water in and sprinkle yeast on top. Shake bowl back and forth gently to agitate the yeast and get it down into the water. Let rest for about 2 minutes. Add sugar and salt directly to the yeasted water. Add flour, 1 cup at a time, and stir with wooden spoon.

Turn dough onto floured surface and knead for about 5 minutes. I had to lightly sprinkle about an additional 1/4 cup of flour (all-purpose) into the dough as I kneaded it. Form dough into ball and place on a clean surface. Using a sharp knife or bench scraper, divide the dough ball into 16 equal pieces. Each piece will be about 1/3 cup in size.

On a clean, non-floured surface, roll each piece of dough between your hands first, then roll back and forth on the counter to form a rope of dough. Mine were probably 18-inches long... I did not measure. Form into pretzel shapes and place on prepared baking sheets, 8 pretzels per sheet.

Beat together the egg and water in a small bowl. Use a pastry brush to coat the tops of each pretzel with the egg wash before baking.

Bake at 425 degrees for 12 minutes, rotating the pans halfway through baking time. Remove pans from oven and set your oven to broil. Use a spatula to transfer all 16 pretzels onto one of the baking sheets and broil pretzels for 3-5 minutes, watching closely, until tops are golden brown.

To serve, lightly brush each pretzel with melted butter. Combine the sugar and cinnamon in a small bowl and sprinkle over the top of the hot, buttered pretzels.
Notes
To freeze:
Allow pretzels (not buttered) to cool and place in a Ziploc freezer bag. Remove desired amount of pretzels from freezer and place on a baking sheet. Heat oven to 400 degrees and warm pretzels in oven for 7-8 minutes. Brush with melted butter and sprinkle with cinnamon sugar mixture to serve.
For Strawberry Cream Cheese Dip:
With a hand mixer, beat 8 oz. softened cream cheese and 1/4 cup of Smucker's All Fruit Strawberry Spread until well combined. Serve with pretzels.
Adapted from Sally's Baking Addiction