This shop has been compensated by Collective Bias, Inc. and its advertiser. All opinions are mine alone. #PassThePepper #CollectiveBias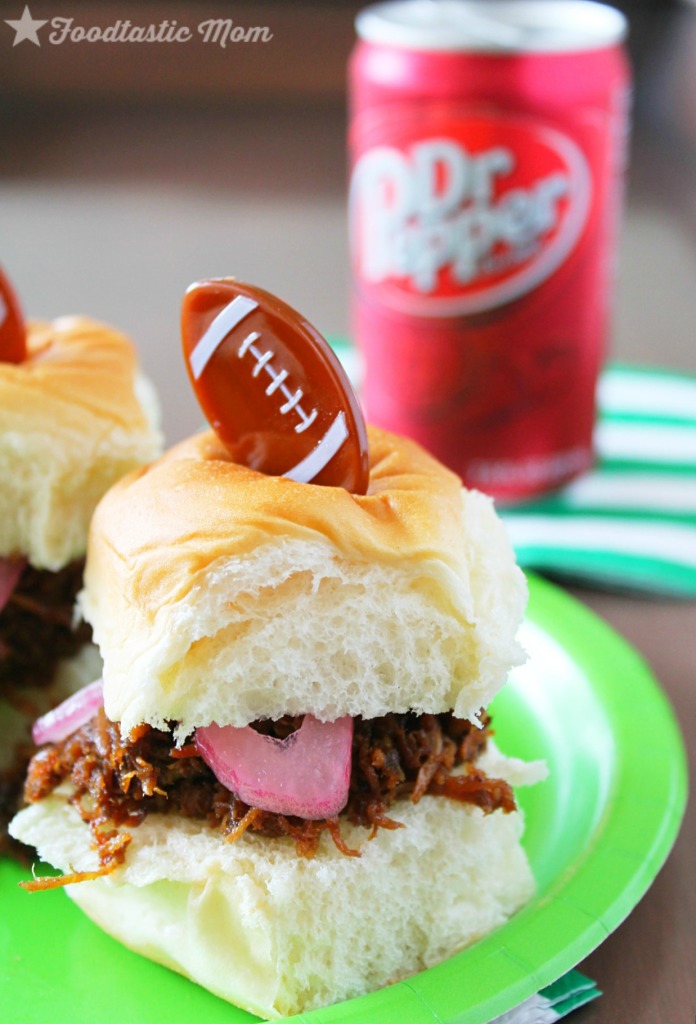 We are one week away from the big College Football Championship Game! My family just returned from a whirlwind train trip across the country and we happened to be in Albuquerque, New Mexico cheering our team onto victory. I'm not allowed to mention specific teams in these types of sponsored posts, but since we live in Ohio, you can probably guess who we are hoping wins the big game next Monday! Will you be watching?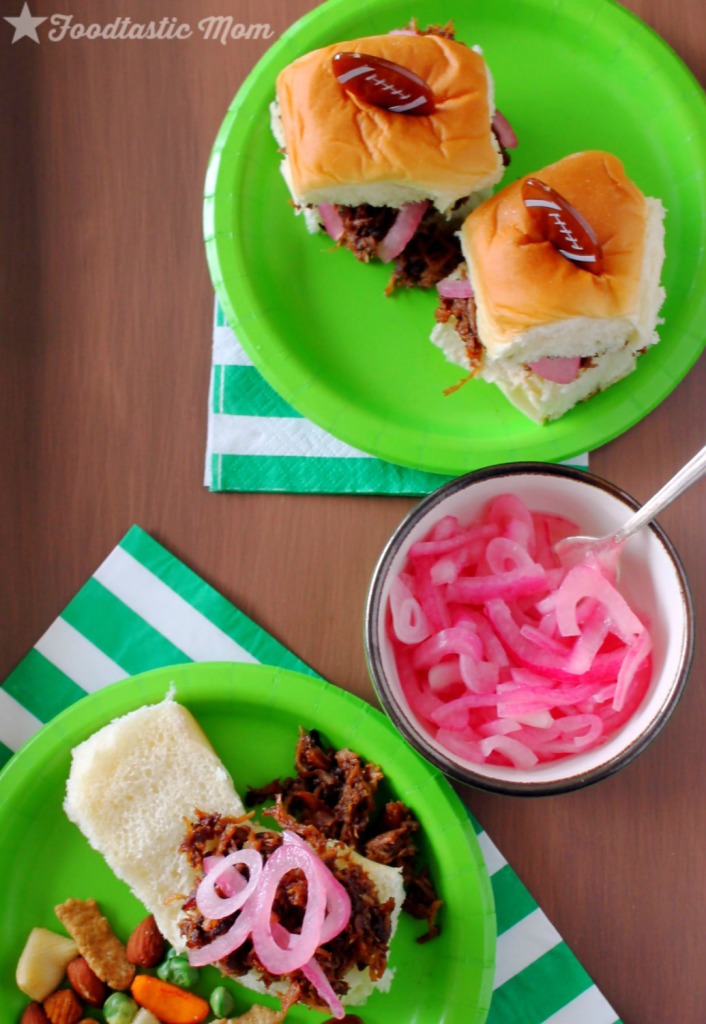 I made these chicken sliders with Dr Pepper glaze before the holidays. We had some friends over for Monday Night Football and they enjoyed these sandwiches, especially the quick pickled onions. They really compliment the sweet and spicy glaze! I found the inspiration for my glaze recipe HERE, but I changed up the spices to my own personal tastes, using seasoned salt, smoked paprika and a little cardamom to compliment the unique flavors in Dr Pepper. And since the chicken is prepared in the slow cooker, the sandwiches are warm and ready to eat throughout the game.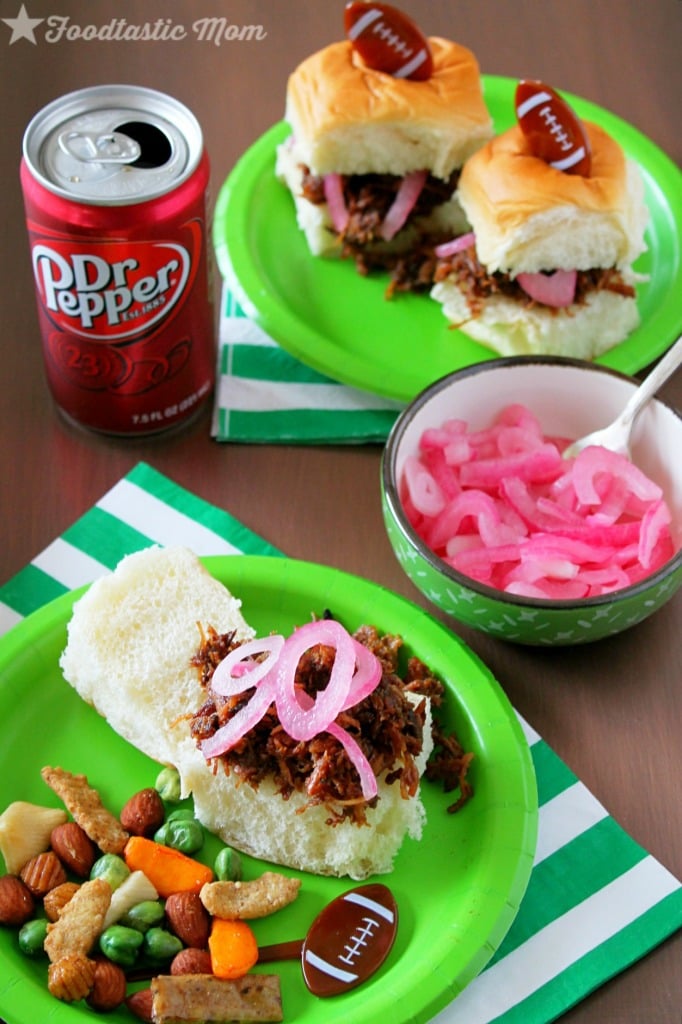 I don't purchase carbonated beverages on a regular basis, so it's a treat for our kids when we entertain for game days. Dr Pepper is a a choice the four of us can always agree on. So it made sense to use it as a flavoring for the chicken. The glaze is sweet, a little spicy and tangy, and a fun change from a bottled bar-b-que sauce.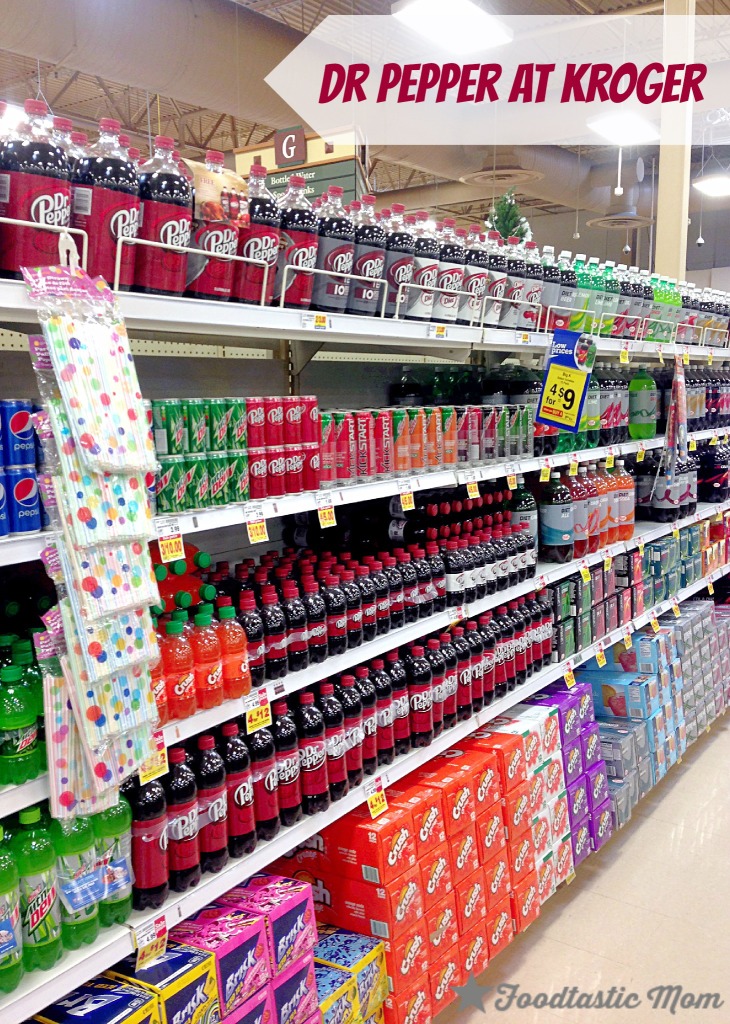 Our Kroger always has fresh chicken breast available at the meat counter for $1.99 per pound. This was a recent and very happy discovery on my part. If you shop at Kroger, does yours stock chicken at the meat counter? It's fresher and so much cheaper than the pre-packaged chicken. And the glaze only takes two, 12-ounce bottles (or cans) of the Dr Pepper, so with the simple additions of the homemade pickled onions and buns, this is a tasty and economical choice to serve at your next football party. Since we're probably all getting back to basics after the holiday season, I always appreciate saving some money in January!
These saucy sliders are sure to please your friends and family, no matter what team they usually cheer for. Be sure and pin the recipe or print it right now for your next grocery list.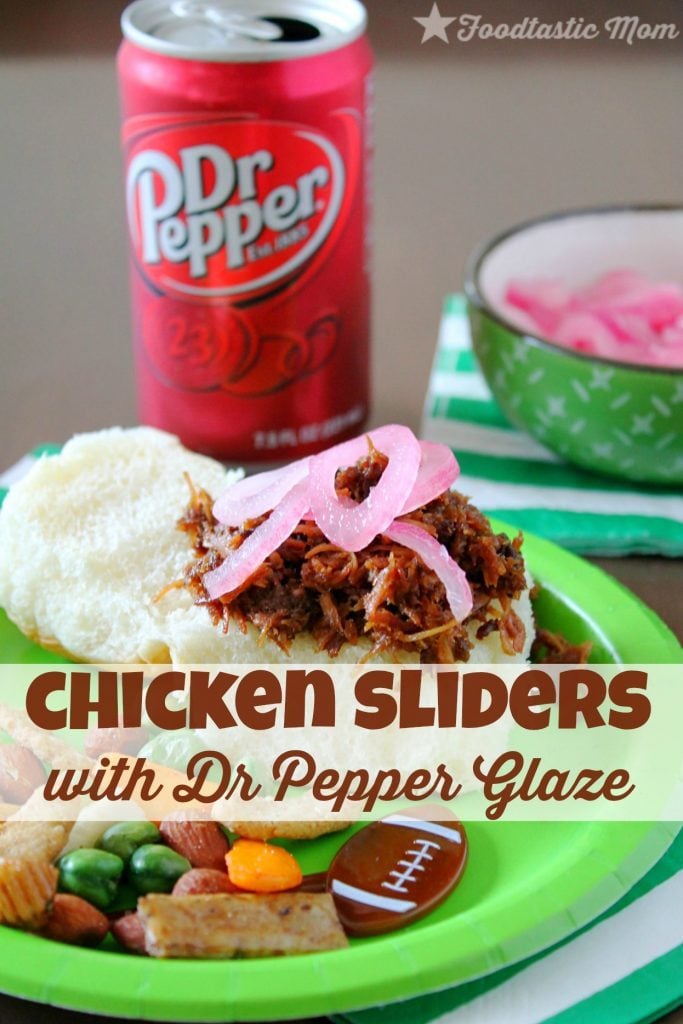 Chicken Sliders with Dr Pepper Glaze
Ingredients
3

pounds

boneless

skinless chicken breast

2

12 oz. bottles or cans of Dr Pepper

2

c.

light brown sugar

1

sweet onion

peeled and minced

3/4

c.

balsamic vinegar

1

T.

seasoned salt

2

t.

smoked paprika

1

t.

cardamom

1

red onion

peeled and thinly sliced

1/2

c.

white wine vinegar

1

T.

sugar

1 1/2

t.

salt

24

slider size sandwich buns
Instructions
Heat a large, shallow skillet over medium high heat. Add the Dr Pepper, brown sugar, onion, balsamic vinegar, seasoned salt, paprika and cardamom. Bring the mixture to a boil and cook until it is reduced by half.

Add the Dr Pepper glaze and the chicken to the slow cooker and cook on low setting for 8 hours. Remove the lid and shred the chicken with about an hour left to cook.

In a mason jar, whisk together the white wine vinegar, sugar and salt and allow to sit for about 5 minutes until the sugar and salt are dissolved. Stir in the onions and allow to sit on the counter, stirring occasionally for one hour. Store, covered, in the refrigerator until ready to use.

Pile the Dr Pepper glazed chicken onto slider buns and top with the pickled onions to serve.