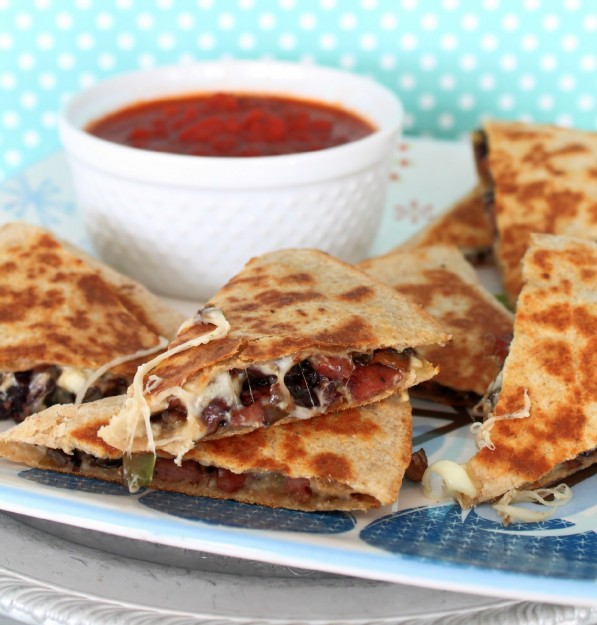 Pizza quesadillas are not exactly groundbreaking news, but this week is the first time I've made them in this house. I'm not sure why, but until recently the quesadilla has been sorely under-utilized for our meal times. But no longer. Last week we had leftover grilled filet mignon, mashed potatoes and homemade gravy hanging out from our son's birthday dinner the night before. The four of us needed lunch the next day, but there weren't enough leftovers to go around as a full meal. I had some havarti cheese slices in the dairy drawer, plus a new package of whole wheat tortillas, and so I decided to make steak and mashed potato quesadillas. They made an awesome lunch. And so now I'm on a quesadilla kick.
For my version of a pizza quesadilla, I started by browning some onions, mushrooms, green peppers, chicken sausage and kalamata olives. I'm a fan of the Aidells brand of chicken sausages, so I used their roasted garlic and Gruyère cheese flavor. The filling for a pizza quesadilla could be as simple as pepperoni if you prefer, though I'd take the small effort to crisp the pepperoni a bit first in a skillet. I just think it would taste better.

Besides the cooked filling, a little cheese, specifically Laughing Cow Light Garlic and Herb, plus some shredded mozzarella, glues it all together in the middle. For my quesadillas, I brush each side with a little olive oil and grill them in a pan over medium heat, just as I would a grilled cheese sandwich.
Serve these with plenty of a high-quality, jarred spaghetti sauce on the side for dipping and you have yourself a very quick and nutritious meal. Both Caleb and my husband in particular loved these!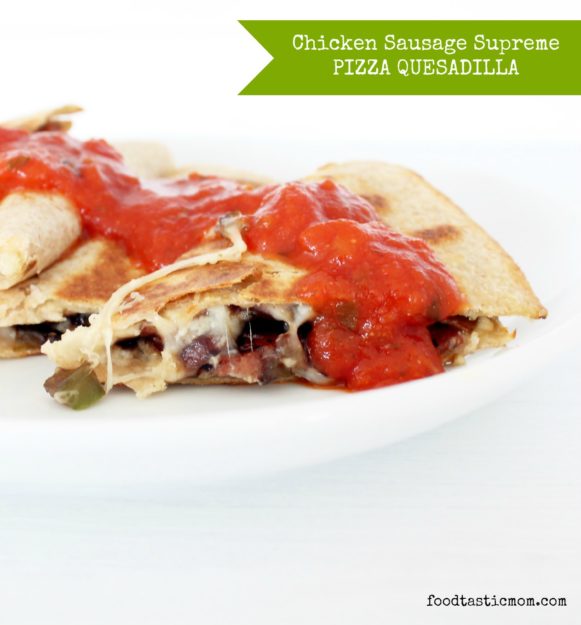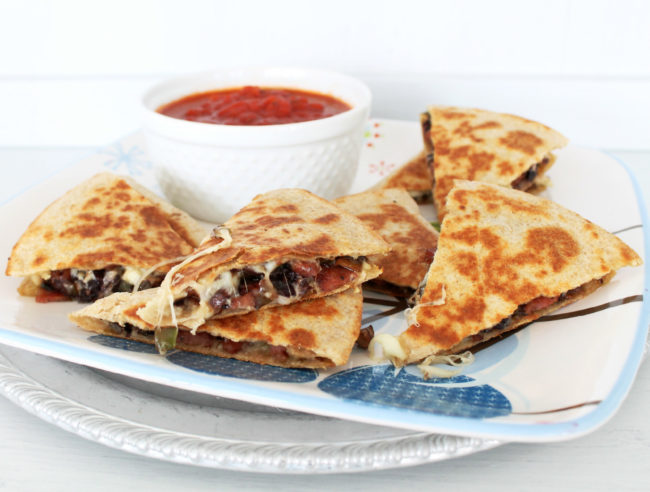 Chicken Sausage Supreme Pizza Quesadilla
2014-01-22 12:46:41
Serves 2
Ingredients
2 whole wheat tortillas
2 T. olive oil, divided
2 wedges Laughing Cow Light Garlic and Herb Cheese
1/2 c. mozzarella cheese, shredded
1/2 onion sweet onion, minced
4 button mushrooms, stems removed and diced
1/2 green pepper, diced small
1/4 c. kalamata olives, minced
1 Aidells Roasted Garlic and Gruyere Cheese sausage, diced
1/2 c. jarred pasta sauce, heated through
Instructions
In a non-stick skillet, heat one tablespoon of oil over medium heat. Add onions and mushrooms and cook for 5 - 7 minutes, until mushrooms are browning. Add green pepper, sausage and olives. Continue cooking, stirring occasionally, for an additional 5 minutes, or until sausage is beginning to brown.
Meanwhile, lay the tortillas flat. Spread each with one wedge of the Laughing Cow Cheese. Sprinkle 1/4 cup of shredded mozzarella cheese on top of each.
Once filling is finished cooking, divide evenly between two quesadillas, piling the filling on one half of each tortilla.
Fold each tortilla in half and drizzle the remaining tablespoon of olive oil over both sides of each quesadilla, using your fingers or a pastry brush to spread the oil evenly.
Heat a large non-stick skillet over medium heat and grill each quesadilla until they are well-browned on each side and cheese is melted.
Slice and serve with your favorite pasta sauce.
Foodtastic Mom https://www.foodtasticmom.com/