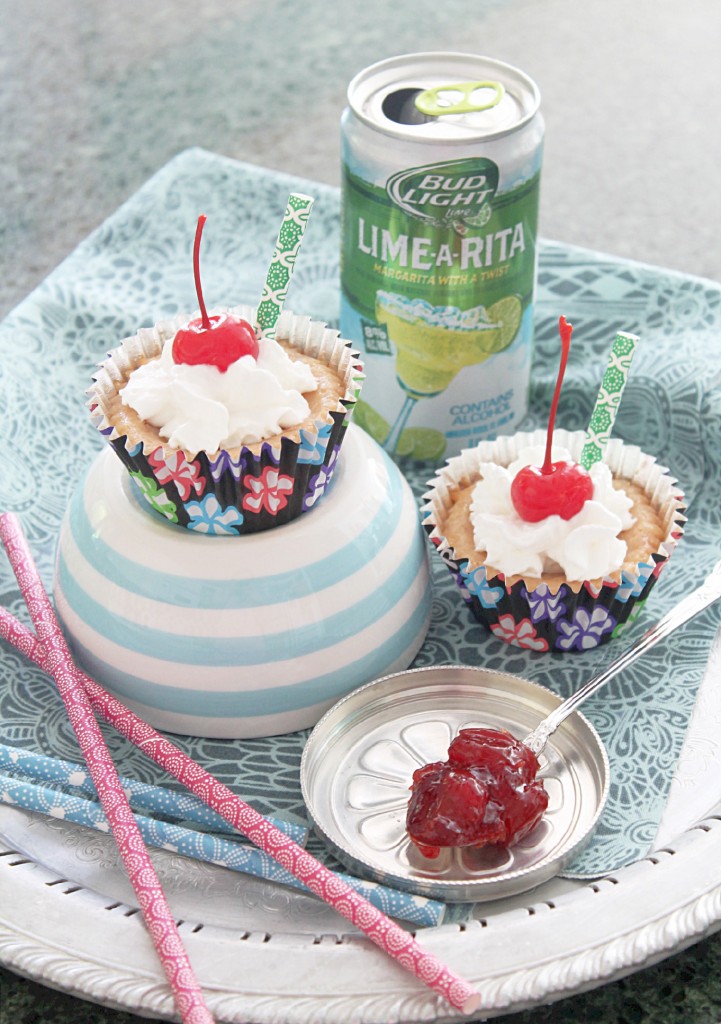 I made you a dessert drink. It's perfect for this weekend. Kind of like a cherry bomb. These little mini cheesecakes are one of my favorite desserts to make for a crowd because they are deceptively easy, plus they HAVE to be made ahead so they can chill in the fridge overnight. They are a win-win.
I didn't have a bottle of tequila on-hand and wasn't about to buy an entire bottle for one little recipe of cheesecakes. That's expensive ya'll! I'm not sure why I just typed ya'll other than tequila and margaritas put me in mind of the Southwest. Anywho, these little Lime-A-Ritas can be bought individually for just .99 a can. It's like they are just begging to be used in a recipe. A quarter cup of this malt margarita per 12 cheesecakes is all that is required. And after time in a hot oven, really just the margarita flavor is left behind… not enough alcohol to get anyone's panties in a twist. I allowed my 9 year old son to eat one and he LOVED it. I just told him it was a mini cherry lime cheesecake, which it is. But selling it as a CHERRY MARGARITA mini cheesecake is much more fun for the adults, amiright?
Anymore, we have way more fun hanging in one spot for holidays and this year is no exception as we'll be relaxing in good old "Hotlanta" with our friends the Bakers. Having a few drinks in one spot is a little safer than bopping around between bars or multiple house parties. Or maybe I'm just old. But really, I'm completely content in my oldness and perfectly happy to create pretty little margarita desserts, rather than do body shots in some seedy bar in Cancun, Mexico… boy am I glad things like Facebook and Instagram didn't exist when I was in my 20's! Whatever your 4th of July weekend has in store for you, stay safe and have a blast!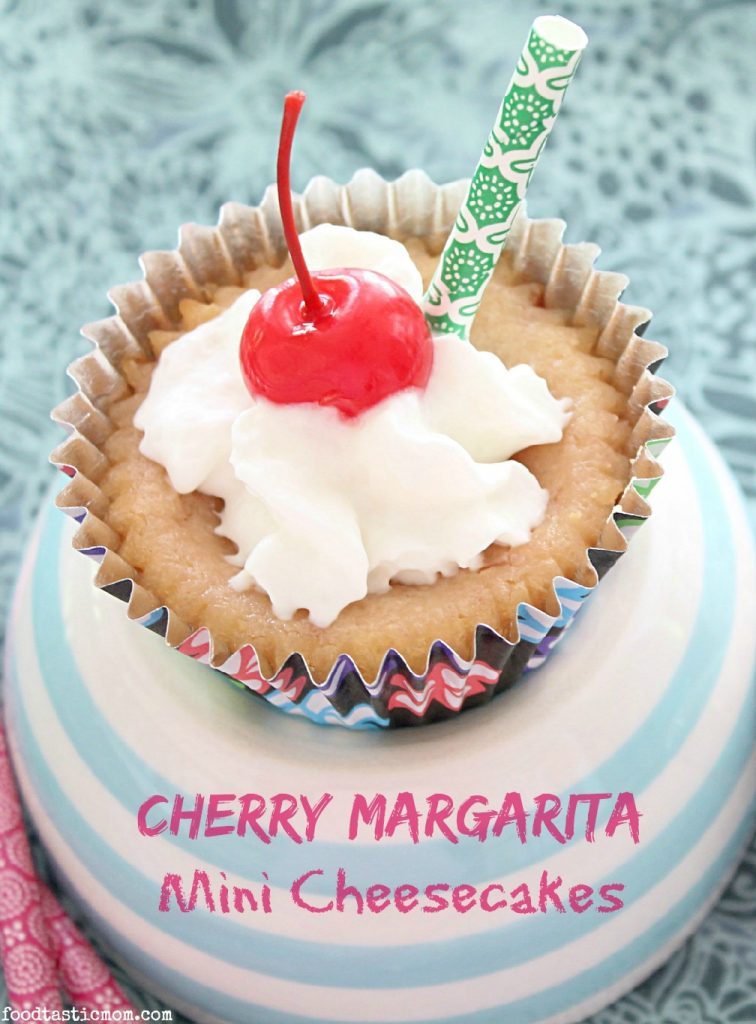 Cherry Margarita Mini Cheesecakes
Ingredients
24

Golden Oreo cookies

6

T.

unsalted butter

1/2

t.

salt

2

pkg.

16 oz. cream cheese, softened

2/3

c.

sugar

2/3

c.

best quality cherry preserves

2

large eggs

2

t.

vanilla extract

1/2

c.

Bud Light Lime-A-Rita

1/2

t.

corn starch

whipped cream

maraschino cherries
Instructions
Preheat oven to 350 degrees and line two 12-cup capacity cupcake pans with 24 foil liners.

Finely crush the Golden Oreos with food processor. Melt the butter. In a bowl, stir together the Oreo crumbs, salt and melted butter. Place about 1 tablespoon of the Oreo crust mixture in the bottom of each foil cupcake liner and tamp down lightly with the back of a spoon.

With a hand or stand mixer, beat together the cream cheese, cherry preserves and sugar on high for about 1 minute until smooth. Beat in the eggs and vanilla until smooth. Beat in the Lime-A-Rita and corn starch until smooth.

Place a scant 1/4 cup of cheesecake filling in each cupcake liner.

Bake cheesecakes until just barely jiggly in the center, about 20 - 24 minutes.

Remove from oven and allow to cool on counter for about 20 minutes. Refrigerate overnight. Serve mini cheesecakes topped with whipped cream and maraschino cherries.
Nutrition
Calories:
4392
kcal
|
Carbohydrates:
502
g
|
Protein:
56
g
|
Fat:
244
g
|
Saturated Fat:
124
g
|
Polyunsaturated Fat:
92
g
|
Trans Fat:
1
g
|
Cholesterol:
937
mg
|
Sodium:
4243
mg
|
Fiber:
10
g
|
Sugar:
368
g