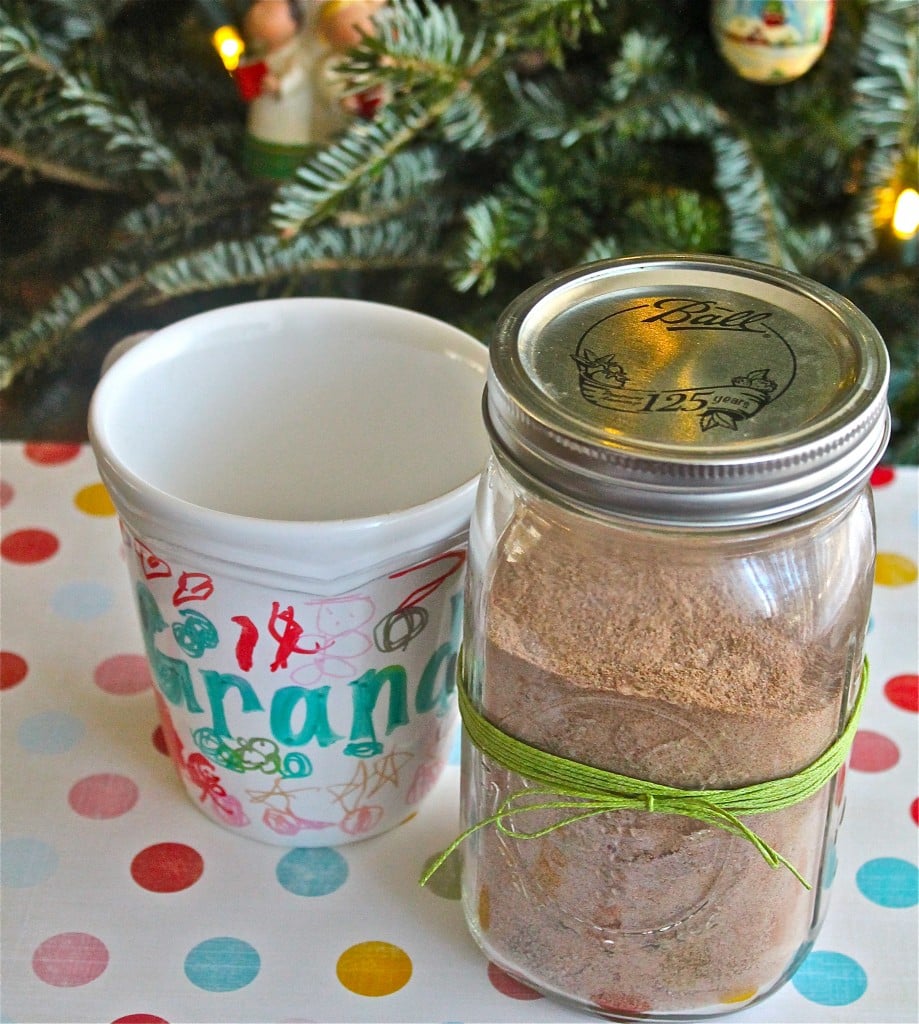 Two things on Pinterest there are countless pins for: chai tea mix and bake-a-dish with Sharpie markers. I've combined the two as a gift for my mom this year, and I'm guessing she'll be happy with the results. The mug was made by my sweet five-year-old, hence the "abstract" art. The chai tea mix made by me is, as far as I can tell, an original (or at the very least in the minority).
When searching for how to make it, I discovered countless blogs and popular websites promoted the same basic version, containing powdered coffee creamer (plain, french vanilla or both) and sometimes General Foods instant coffee. So, armed with one of these recipes, I trip-trapped through my local grocery and as I picked up the creamers and instant coffees, I turned the labels over to read the ingredients… and just couldn't do it.
I'm not a purist or here to give you a guilt trip. But for a beverage that I myself would like to enjoy on a semi-regular basis, I just can't justify putting a whole slew of corn syrup, partially hydrogenated oil and other ingredients I can't pronounce into it. Not to mention the copious amounts of sugar these recipes call for. Believe me, what I came up with is sweet enough. And for my own personal taste, I'm going to try it with only 1/2 cup of sugar next time.
So here is my version of a popular drink mix. It's deeply satisfying with the combination of warm spices, including real vanilla bean, and a little instant espresso to give it an extra kick. I think you, and my mom, will love it!
Chai Tea Mix
3/4 c. unsweetened instant tea
3/4 c. nonfat dry milk (I used Sanalac brand)
3/4 c. sugar
1/2 whole vanilla bean, split
2 T. instant espresso coffee
1 T. cinnamon
2 t. ground ginger
1 t. allspice
1 t. cardamom
1/2 t. cloves
1/2 t. ground nutmeg
1/4 t. white pepper
In the large bowl of a food processor, combine all ingredients. For the vanilla bean, I split it with a pair of kitchen shears. Then, I took a small pairing knife to scrape all the seeds into the food processor. Pulse all ingredients until a homogenous powder is formed.
To serve, warm eight ounces of milk (I used 1%) in the microwave or on the stovetop. For every eight ounces of milk, use two tablespoons of chai mix. Stir until mix is dissolved in the warm milk and enjoy.