Thanks to Barber Foods for sponsoring the creation of this original recipe post and video. #BarberNight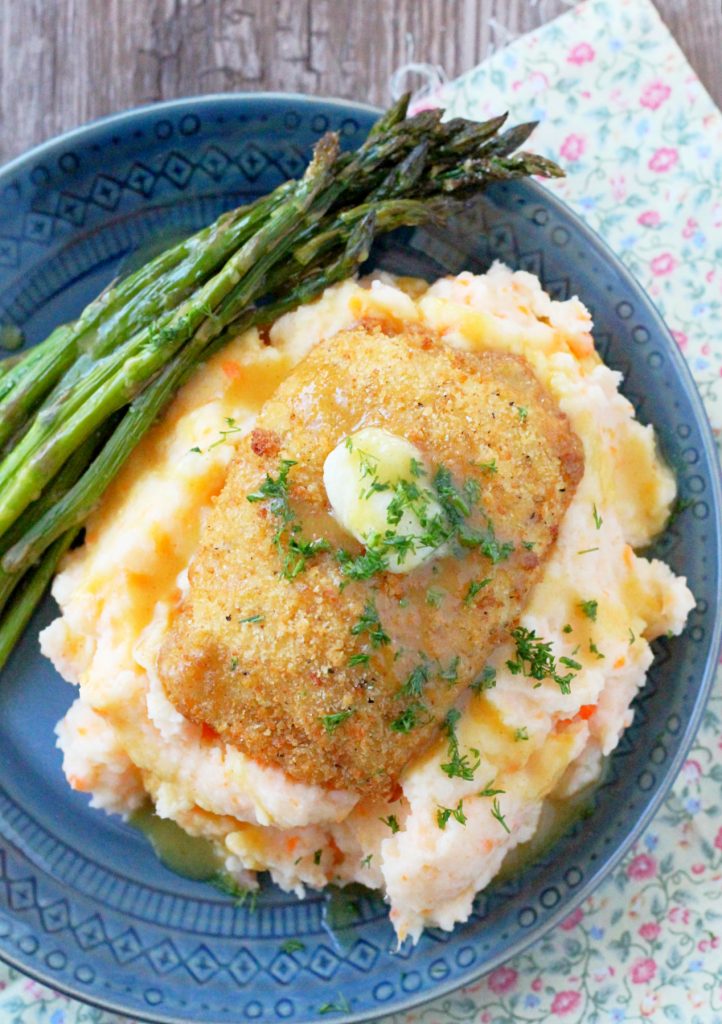 Where to start with this mouthful of a title, right? This dinner is off the charts flavorful. But it's wicked fast to make and contains only a few fresh ingredients to go alongside the Barber Foods Chicken Cordon Bleu. Carrots, potatoes, dill, asparagus, Dijon mustard, maple syrup, butter, oil and salt. It's a perfect springtime, Frenchy fancy meal with help from the frozen foods section.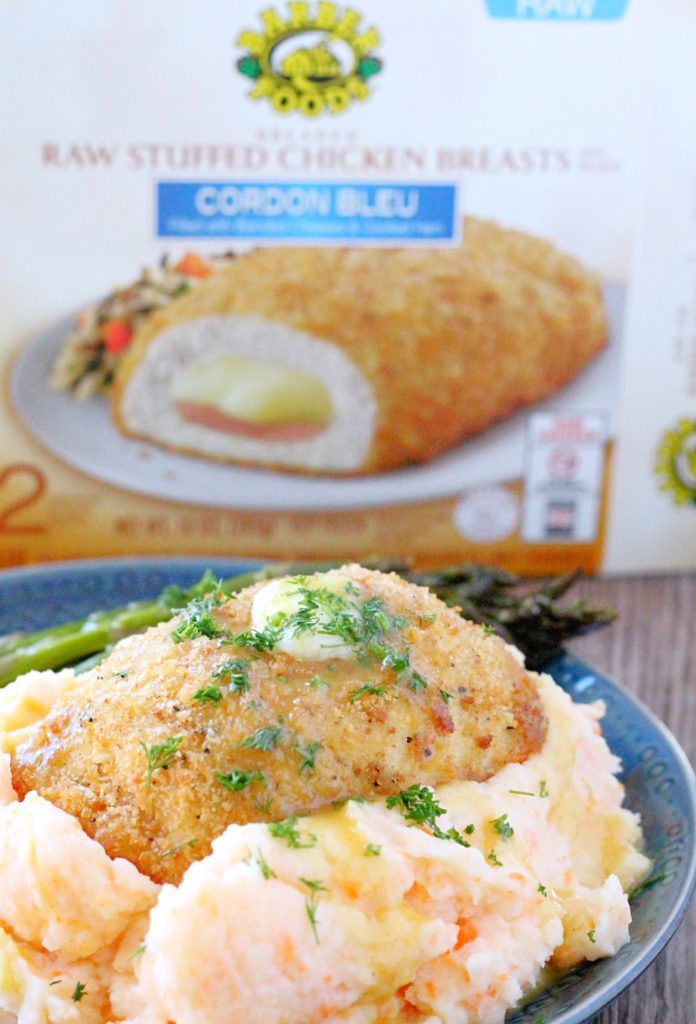 Chicken Cordon Bleu evokes thoughts of traditional French cooking, which relies heavily on decadent, flavorful yet simple sauces. So let me start by telling you about this sauce. I want to drench all. the. foods. with it! Dijon mustard, salt and pure maple syrup. That's it. How can something so simple taste so incredibly delicious? It's a mystery but it's a sauce you need in your recipe collection.
When thinking about what would pair well with the Barber Foods Chicken Cordon Bleu mashed potatoes came to mind because I make them all the time. My son could eat his weight in them. Which is saying something because at 12 years old he's 5'6″ and well over 100 pounds. I'm bracing myself for his teenage years. I've gotta keep blogging so I can afford our future grocery bills!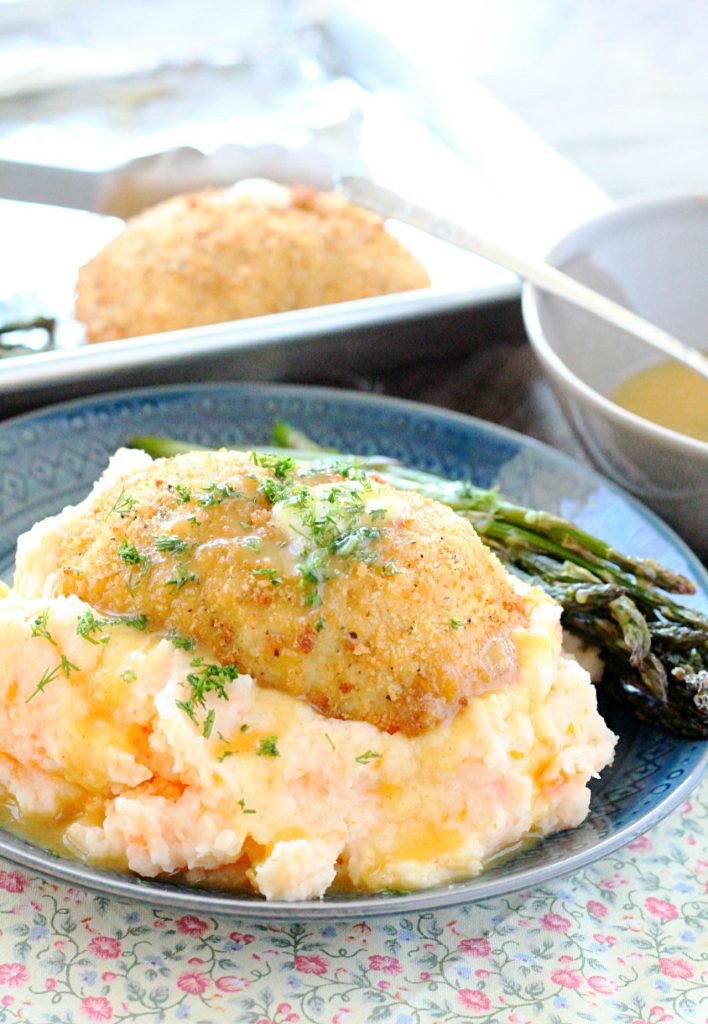 Carrots and dill seemed like a fresh, Spring-like addition to traditional mashed potatoes. On their own they are pretty to look at but they become something else entirely when drizzled with the Dijon maple sauce. Trust me, don't skip the sauce.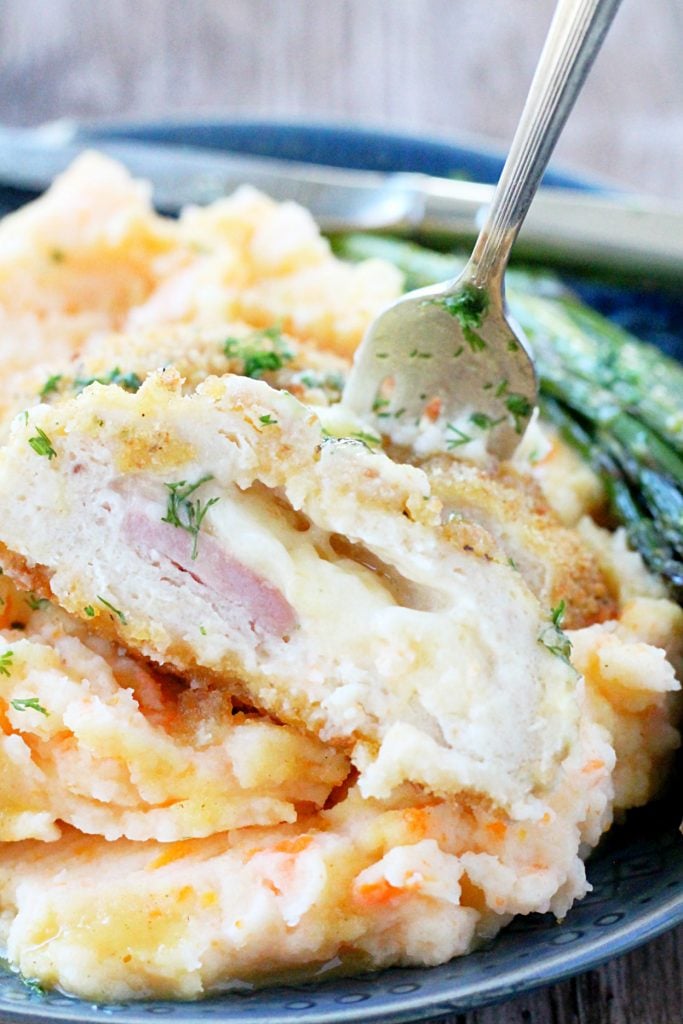 The fresh asparagus roasted alongside the Barber Foods Chicken Cordon Bleu at exactly the same temperature and amount of time (375 degrees for 35 minutes). I'm a huge fan of roasted asparagus anyway but even its flavor was elevated by the tangy and sweet sauce.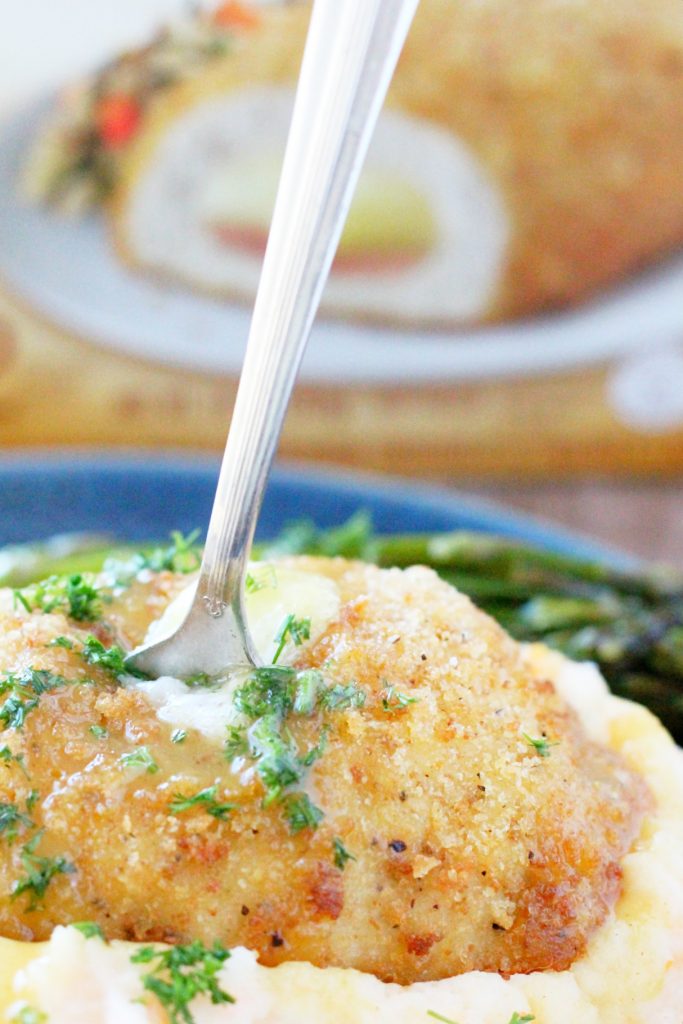 My local Kroger (get your $1.00 off coupon HERE) stocks two varieties of the Barber Foods Stuffed Chicken Breasts. Chicken Cordon Bleu and Broccoli and Cheese.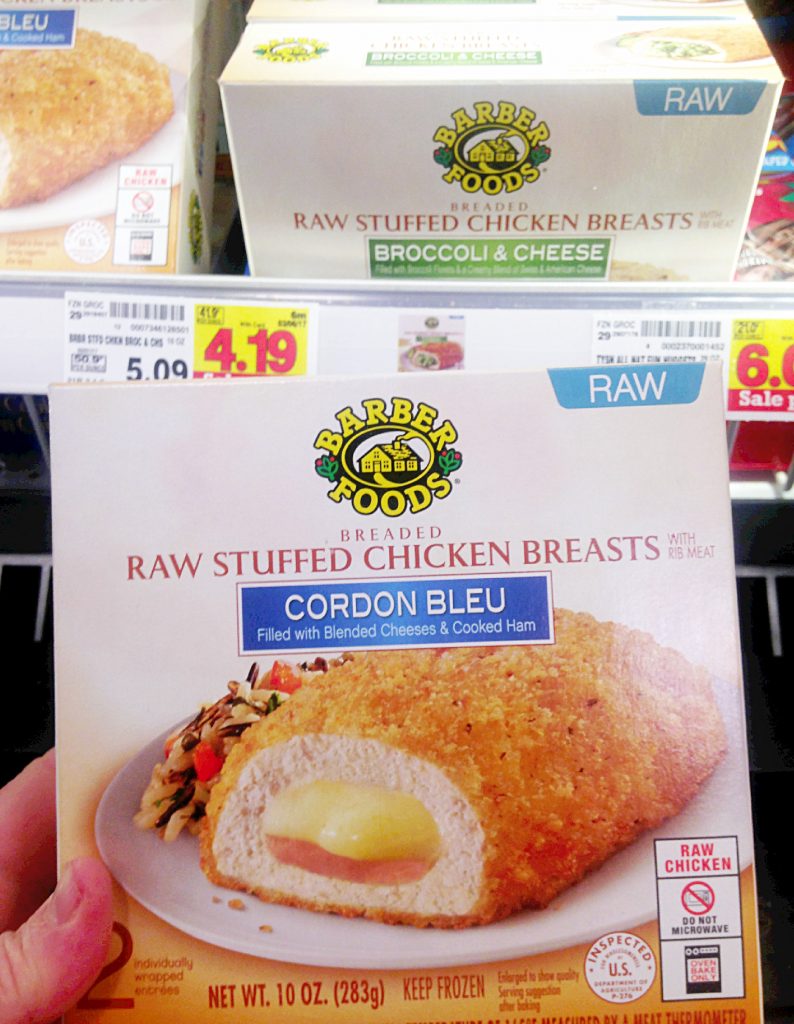 I stock up on both for the numerous weeknights I need a tasty protein source for dinner but as usual am feeling rushed. Eating this meal does not feel rushed at all. It tastes like a lot of time and effort went into the preparing. And aren't we all worth that no matter how busy our schedules?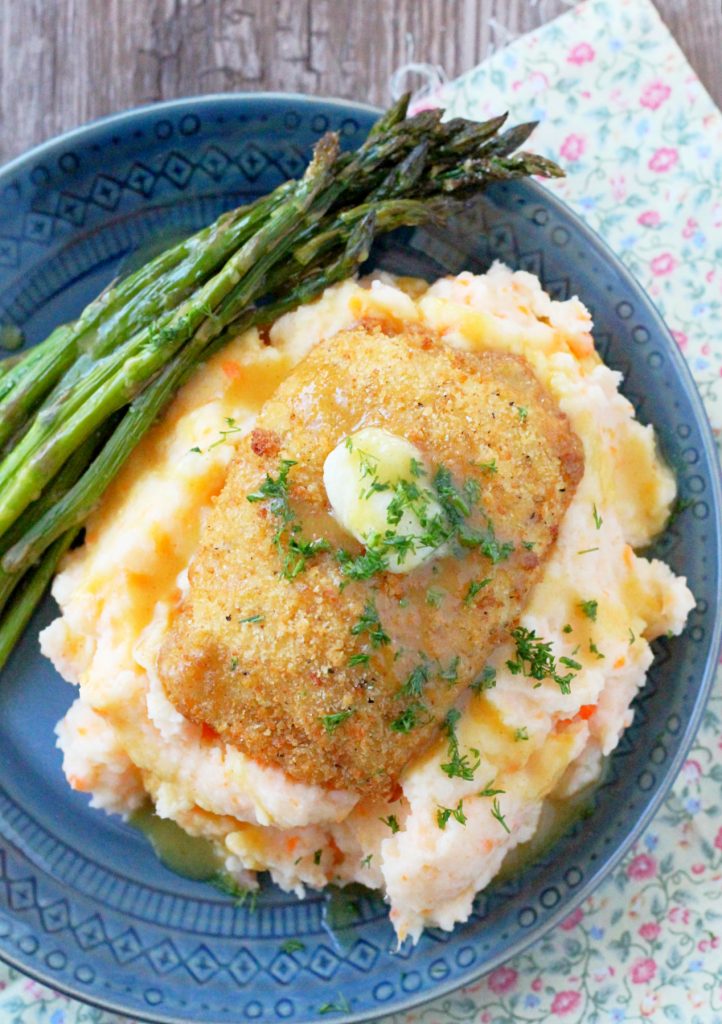 Carrot Mashed Potatoes with Dijon Maple Sauce
2017-02-14 19:35:40
Serves 2
Ingredients
3 medium russet potatoes
3 whole carrots
1 sprig fresh dill
4 tablespoons butter
1 teaspoon salt
for the sauce
2 tablespoons Dijon mustard
1/4 teaspoon salt
3 tablespoons pure maple syrup
for the potatoes
Peel and cut the potatoes into large pieces (at least an inch thick). Peel and slice the carrots.
Add the potatoes, carrots and dill to a sauce pan and cover with cold water.
Bring to a boil and reduce heat to simmer the potatoes and carrots until the are both easily pierced with a fork - should take about 20 minutes.
Remove the dill and drain the water from the potatoes and carrots.
Add the butter and one teaspoon of salt and mash.
for the sauce
In a small bowl whisk together the Dijon mustard, remaining 1/4 teaspoon of salt and maple syrup.
Serve the carrot mashed potatoes alongside Barber Foods Chicken Cordon Bleu and roasted asparagus. Drizzle everything with the Dijon mustard sauce to serve.
Foodtastic Mom https://www.foodtasticmom.com/
Hungry for more? Check out my Simple Sheet Pan Meal using Barber Foods Broccoli & Cheese Stuffed Chicken with roasted fresh tomatoes, broccoli and potatoes all drizzled with a lemon dill sauce.