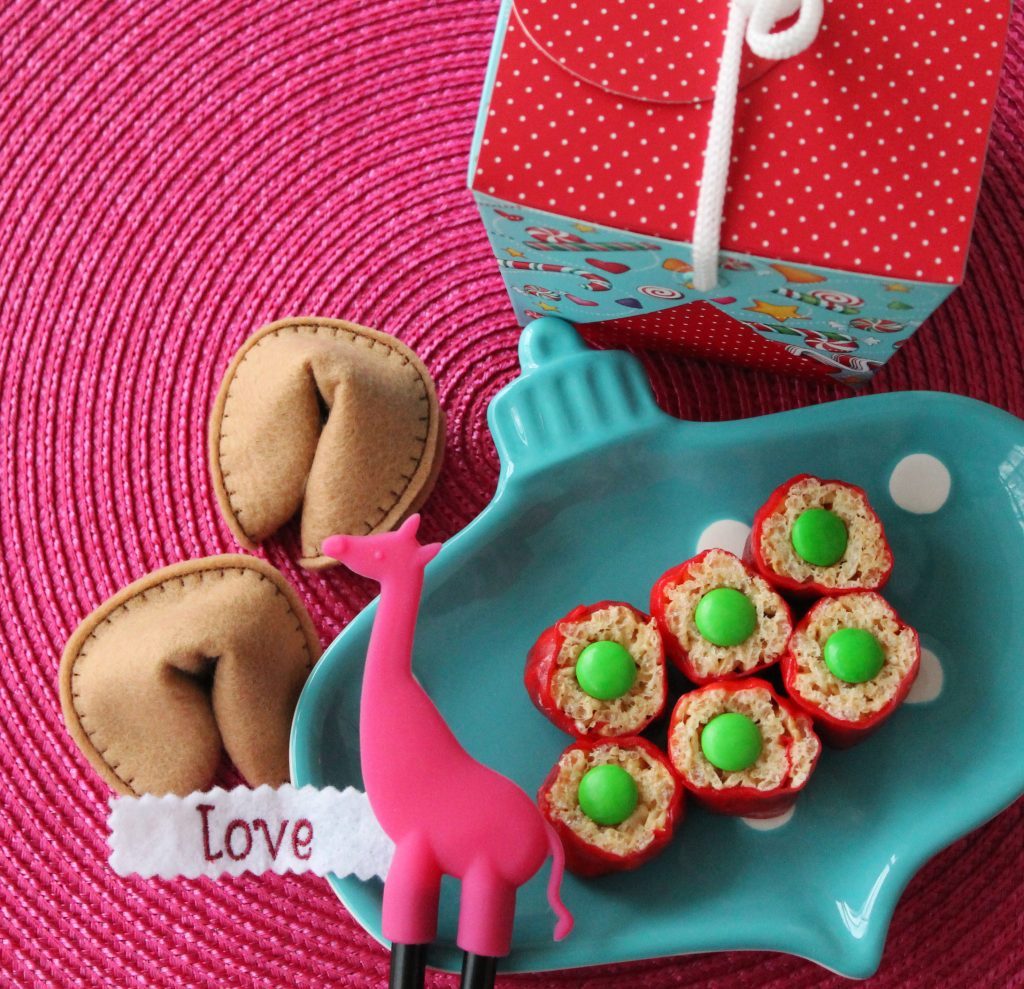 I'm playing Santa today and want to show you a stocking stuffer I am putting together for my two children. This gift began with these super-cute felt embroidered fortune cookies I purchased last month at our local high school's annual craft fair. I was smitten with this vendor's creations because they were so cute and because she had several play food sets. In addition to this fortune cookie set, which includes the messages: ENJOY, FRIENDS,GOOD LUCK, HAPPINESS, HAVE FUN and LOVE and comes packaged in a Chinese take-out box, I also purchased a felt embroidered tea and cookie set. Click on MM Embroidered Gifts to be taken to her Etsy store, where she sells S'more sets, campfire sets, play food sets and hair accessories!
At Target's "stocking stuffer" area, which is the same as their usual dollar gift area, I found these awesome animal chopsticks. They come in orange and green as well, each only $3, so I purchased a blue one for Caleb and a pink one for Hannah.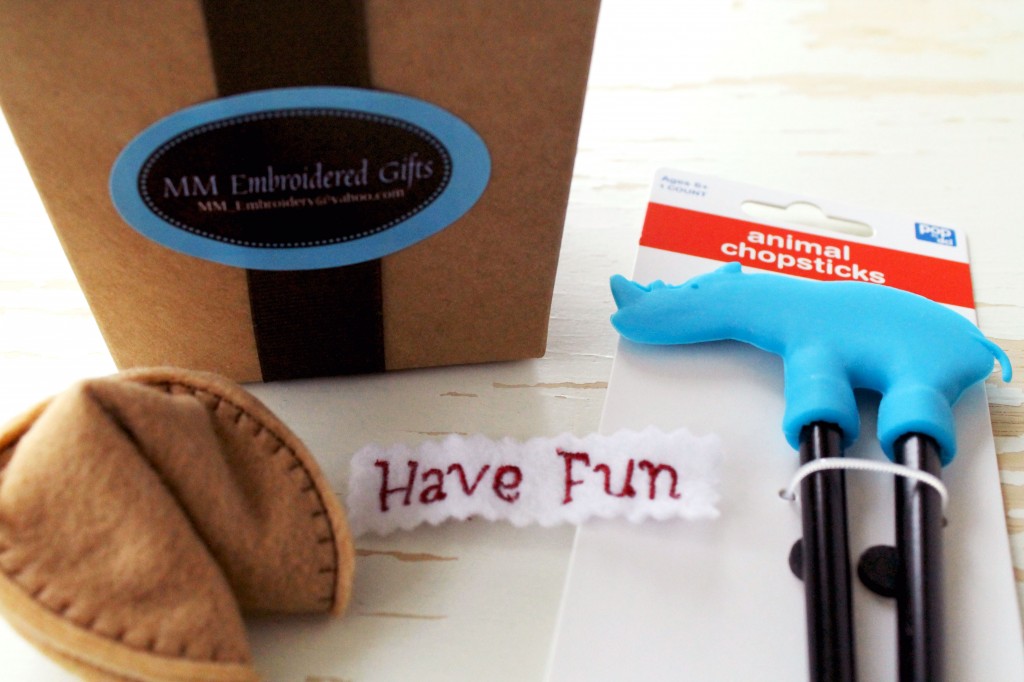 The candy-themed Chinese take-out boxes I'm packaging the candy sushi and felt fortune cookies in were only .99 each at Michael's craft store. I found a recipe for candy sushi on Food Network and used green M&M's for the middles instead of licorice. A quick, cute and inexpensive gift that my kiddos are sure to get a kick out of!
Candy Sushi
1 T. butter
12 large marshmallows
2 c. Rice Krispies
6 sheets Fruit Roll-Ups
36 M&M's
In a small saucepan over medium heat, melt the butter, then add the marshmallows. Stir until just combined and melted together. Remove from heat, add Rice Krispies and stir to evenly coat. Unroll Fruit Roll-Up sheets on a clean, flat surface and divide Rice Krispie mixture evenly among the sheets. Flatten the mixture evenly on top of the Fruit Roll-Ups, concentrating the mixture on the bottom half of the side closest to you. Roll each, as you would a sushi roll, beginning with the Rice Krispie side and ending with the empty side being rolled around the outside. Roll each underneath your palm on the flat surface, like a log of Play-doh, to ensure the rolls are even. Cut each roll into six equal pieces, giving you 36 total. Place an M&M in the center of each, pressing down to adhere.
Recipe adapted from
Food Network