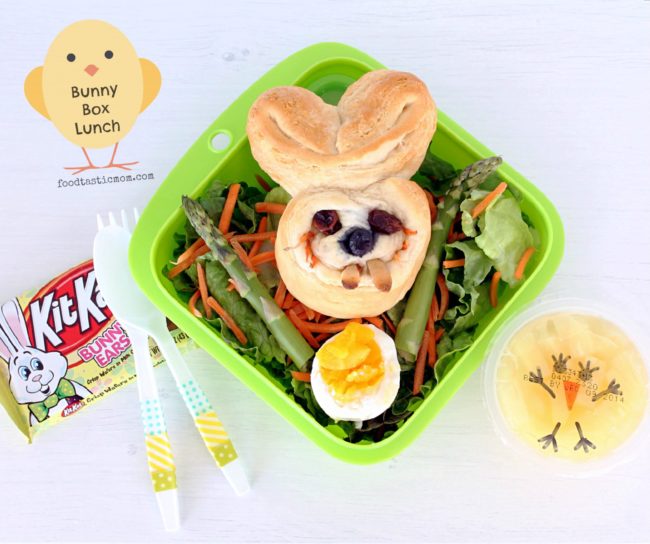 This lunch for my kiddos might be one of my favorites ever. I try and strike a balance in our real life and on the blog between whole foods and processed, always erring on the side of real, whole food as the majority. This lunch, I think is a pretty good representation of that, plus it's cute!
The bunny bun idea comes from a blog I regular like on Facebook, Kitchen Fun with My 3 Sons. Her boys really help her create the food and they come up with super-creative ideas. This bunny is simply two crescent rounds shaped and pushed together to resemble a bunny face. Click HERE to visit her blog and see her before pics of assembling these bunnies.
I used what I had to make the face… raisins for eyes, frozen blueberries for noses, honey roasted almonds for the teeth and shredded carrots for whiskers. In hindsite, the blueberries probably weren't the best idea for the nose as the blue bled into the faces a bit, but it still works.
The bunny is resting atop his bunny food. Leaf lettuce, carrots, asparagus and an egg. There's a little salad dressing container nestled under his ears. And that egg was a bit of a hard-boiled job gone not quite right, by the way. It came out more soft-boiled. But still, my kids love eggs in any form, which I am very glad for!
The pineapple chick idea came from HERE at No Biggie. I just love the simplicity and cute factor of it… even though each of my cups had a black "eat by" date stamped right across the middle. Oh well, still fun. I borrowed her idea for dressing up spoons and forks with washi tape too. I have a ton of this tape because it's so versatile. I also have a ton of plasticware hanging out in my pantry leftover from previous parties. It's a super-easy way to brighten up a lunch.
And finally, Kit Kats. I am not a mom who packs a dessert with every lunch. But it's Easter, and both my kids go crazy for Kit Kats, so I'm good with rounding out this mostly healthy lunch with some chocolate. Have fun with your Easter lunches next week!