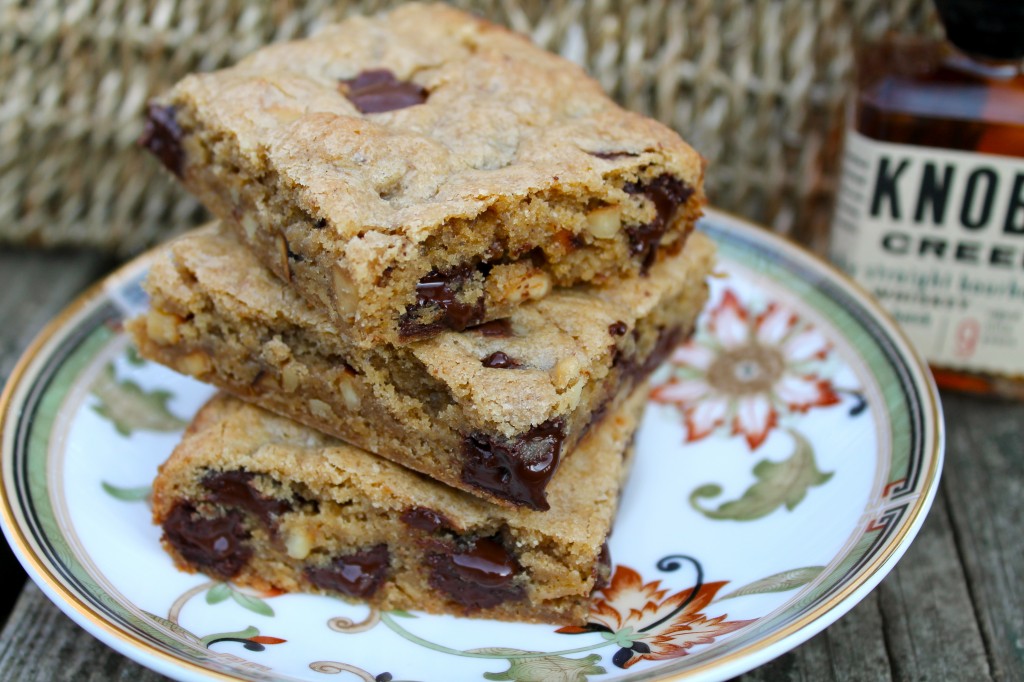 I just love living in Ohio this time of year. I LOVE living in a battleground state during a Presidential election year… said no one, ever. I always vote, but am definitely looking for an escape today, at least in my head. With that in mind, I bring you these Browned Butter Bourbon Blondies. They are very much a grown-up version of a chocolate chip bar cookie.
It's an escape of sorts because it reminds me of the awesome long weekend my husband and I enjoyed (leaving the kiddos behind) in Louisville, Kentucky this past summer. Tom had purchased tickets through Groupon for Louisville Mega Cavern, so we planned our vacation around that. The tour was in an enormous cavern, 17-miles large under the city of Louisville, and consisted of two adventure-filled hours of high-speed ziplining and climbing over what they call "challenge bridges". Picture that rickety bridge in Indiana Jones and you have the idea. It was a blast and I highly recommend it!
Some other highlights of our trip included stops on the famed "bourbon trail". My husband has been a Jim Beam loyalist since college thanks to his fraternity buddies, so this was like his own personal mecca trip. We stopped at three of the distilleries; Jim Beam of course, Three Roses and Heaven Hill. Here's Tom enjoying the sweet aroma of bourbon in one of Jim Beam's barrel storage houses.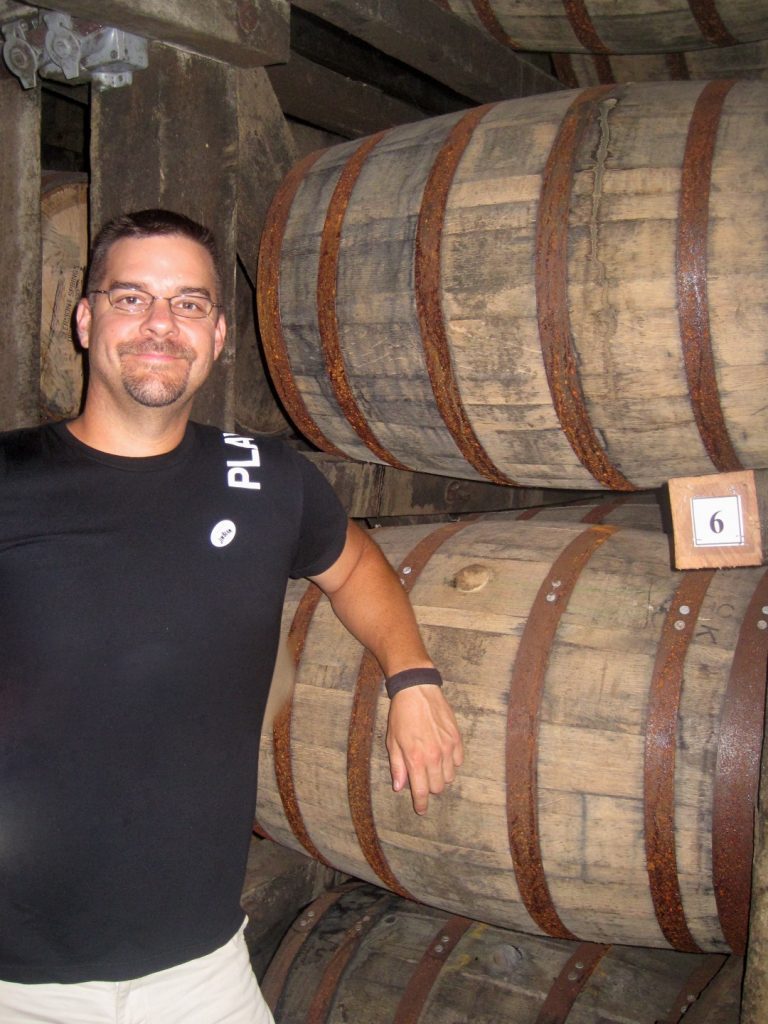 One food stop we made that was most memorable was for brunch at Lynn's Paradise Cafe. It is a foodies paradise, as the menu is filled with famous names such as Bobby Flay and Adam Richman of Man vs. Food. The whole restaurant is tacky and awful to look at (on purpose) and the gift shop is filled with knick-knacks to buy for your favorite bacon/zombie/kitsch loving relatives.
The other stop was completely on a whim after a dinner of pizza and beer. So we hardly needed pie and ice cream, but that is what vacations are for, right? The Homemade Ice Cream and Pie Kitchen is apparently a chain down in Louisville, and let's just say I'm glad it hasn't made its way up to Ohio! I had a slice of rhubarb pie topped with coconut ice cream. My husband had the chocolate chess pie, topped with homemade Reese's ice cream, that was absolutely nothing like you buy at a grocery store. The Reese's cups were pulverized into tiny bits, making them melt into the luscious peanut buttery/chocolaty ice cream. Add that to the molten dark chocolate and flaky buttery pie crust and Wow! Escape achieved…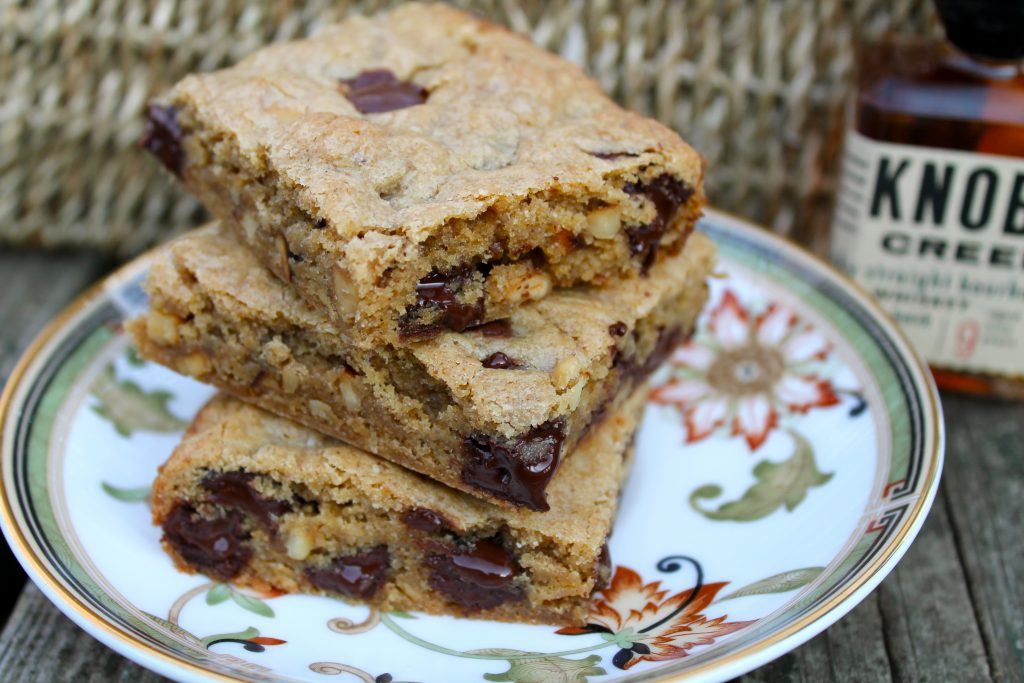 Browned Butter Bourbon Blondies
2013-03-23 09:43:43
Ingredients
1/2 c. walnuts
3/4 c. all-purpose flour
1/2 t. baking powder
1/4 t. salt
1/8 t. ground cloves
6 T. unsalted butter
3/4 c. light brown sugar
1 egg
2 T. bourbon
1 t. vanilla
generous 1/2 c. Ghirardelli bittersweet chocolate chips
Instructions
Preheat oven to 350 degrees.
In a small pan on medium heat, melt the butter stirring occasionally. Cook the butter until it begins to have a nutty smell and turns an amber color. Do not overcook or it will burn easily. Remove the browned butter to a glass bowl or cup and set aside to cool.
Spread the walnuts in a single layer on a parchment or silpat lined baking sheet. Bake at 350 degrees for about 15 minutes or until they are golden brown. Transfer the nuts to a cutting board and chop lightly. Set aside.
Cut a length of parchment paper to fit a 8 x 8 baking dish allowing the paper to come up to the top of the pan on both sides. Cut another sheet to fit in the opposite direction also trimming at the top of the pan. Spray the parchment paper lightly with cooking spray. Set aside.
Whisk 3/4 cup flour, baking powder, salt and cloves together in a small mixing bowl. Set aside.
In another medium mixing bowl combine the browned butter and brown sugar until blended. Add the egg and mix well. Blend in the bourbon and vanilla and mix just until incorporated. Fold the dry ingredients into the butter mixture just until combined. Do not over-mix.
Add the chocolate chips and the toasted walnuts to the batter. Fold in gently. Spread the batter evenly in the prepared pan.
Bake until the top is shiny, cracked and light golden brown, 20-22 minutes. Do not over-bake. Blondies should be chewy, not crunchy.
Cool the Blondies in the pan and then lift out using the parchment paper. Transfer to a cutting board and slice into nine dessert-size squares.
Notes
I served the Blondies topped with vanilla ice cream and salted caramel sauce from Trader Joe's.
Adapted from Saving Room for Dessert
Foodtastic Mom https://www.foodtasticmom.com/