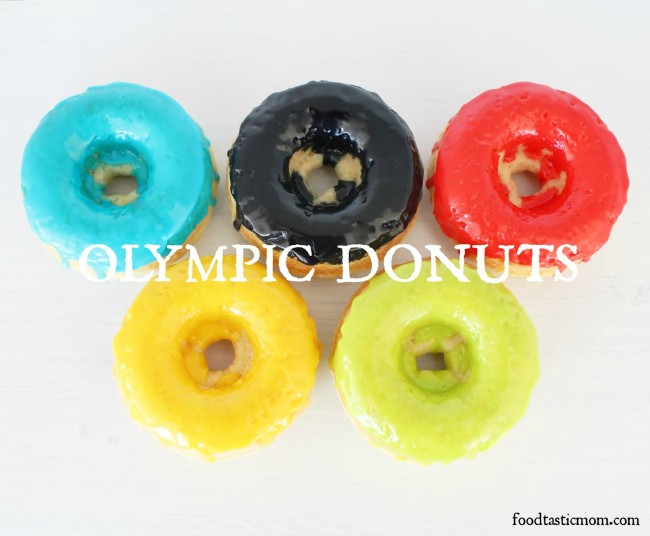 I am a total sucker for the Olympics. As in, I get sucked into my TiVo recordings of it for the entire 2+ weeks they are shown on TV. If I had to choose, I probably prefer the summer Olympics (and the men's swim team). But there is plenty to love in winter with all the downhill skiing, snowboarding, and hockey. When they run highlights from years' past, like Kerry Strug's vault, or the U.S.A. hockey team winning gold, not to mention all the personal story vignettes… I tear up every time.
I know I'm not alone in my love for the Olympics, so I decided to celebrate with donuts. This is a really fantastic basic baked donut recipe, made with plain yogurt and just a smidge of melted butter. So even athletes wouldn't feel too guilty about snacking on one. I found the recipe over at Wonky Wonderful and made them first last night with my daughter's Daisy Scout troop. Puffy donuts glazed in pink and topped with some crushed candy hearts… needless to say, they loved it. And all eight of them helped me make them. If I can survive eight first graders with their hands in the donut dough, trust me, these are easy-peasy to make! Check out the original recipe over HERE in all their Valentine's Day finery.
With my first batch, I learned that plopping three tablespoons of dough in each donut well with my OXO medium cookie scoop (1.5 tablespoon capacity), then gently "smooshing" the dough around the circles with my finger, was the easiest way to fill the pan. The dough is thick and the pan is non-stick, so it's a forgiving process.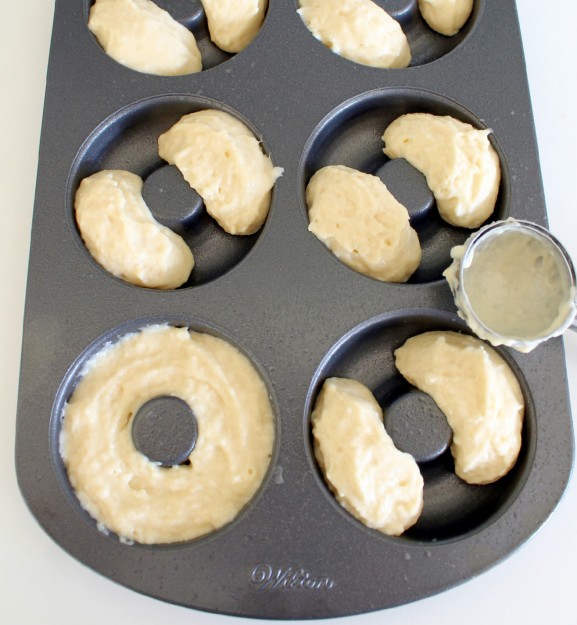 For the Olympic version of these, if you've colored Easter eggs ever in your life, it's no more difficult or time-consuming than that. This donut recipe makes 6 total donuts. I made 2 1/2 recipes of the glaze so I could put about 1/4 cup of white glaze in each IKEA bowl. I scaled it correctly in the bottom, printable recipe for you… no need to do the math yourself! A few drops of the corresponding food color, whisk with a fork (be sure to rinse it off between colors) and it's ready for dipping.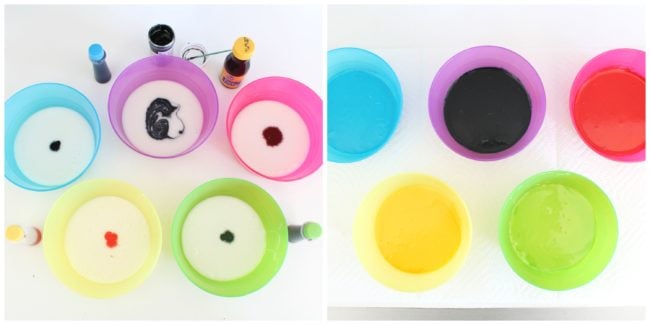 So, we'll be glued to the TV for the opening ceremonies and my kids will be enjoying a baked donut to celebrate. Be sure to pin this recipe. The Olympics happen every two years, you know!
*linked at Time to Sparkle and Two Cup Tuesday
Basic Baked Donuts
Ingredients
for the donuts
1

c.

all-purpose flour

1

t.

baking powder

1/4

t.

salt

1/4

c.

sugar

1 1/2

T.

unsalted butter

melted and cooled a bit

1/4

c.

plain yogurt

3

T.

milk

1

large egg

1

t.

vanilla extract
for the glaze
3

T.

milk

1 1/2

c.

powdered sugar

blue

black, red, yellow and green food coloring
Instructions
for the donuts
Preheat oven to 325 degrees.

Spray non-stick donut pan (6 donut size) with cooking spray and set aside.

In a large bowl, whisk together the flour, baking powder, salt and sugar.

In a smaller bowl, whisk together the yogurt, milk, egg, vanilla and melted butter.

Make a well in the dry ingredient bowl and pour the wet ingredients into the center.

Using a spatula, stir gently until no flour streaks remain. It is a thick batter.

Scoop two tablespoons of batter into each donut well and spread evenly.

Bake on center rack of oven for 12 - 13 minutes, until donuts feel springy when touched.

Allow to cool in pans for 10 minutes, then remove to cooling rack.
for the glaze
In a glass bowl, microwave the milk for about 15 - 20 second. Remove, add powdered sugar and whisk until completely smooth. Divide glaze evenly among five bowls (about 1/4 cup glaze in each).

Color the glaze: one blue, one black, one red, one yellow and one green.

Dip cooled donuts in glaze. Return to wire rack to dry.

Serve and celebrate!