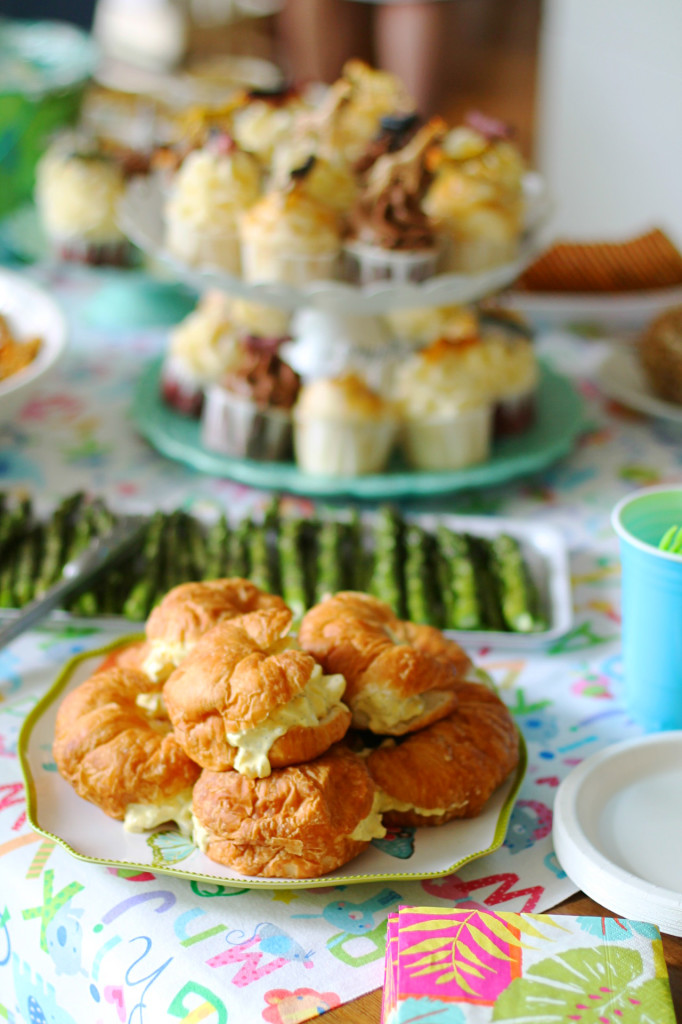 It takes a village to throw a baby shower. At least for me it does. Working from home + summer + son recovering from mono + husband gone all week for a work trip = me not being able to do it all. But the end result I think was a success!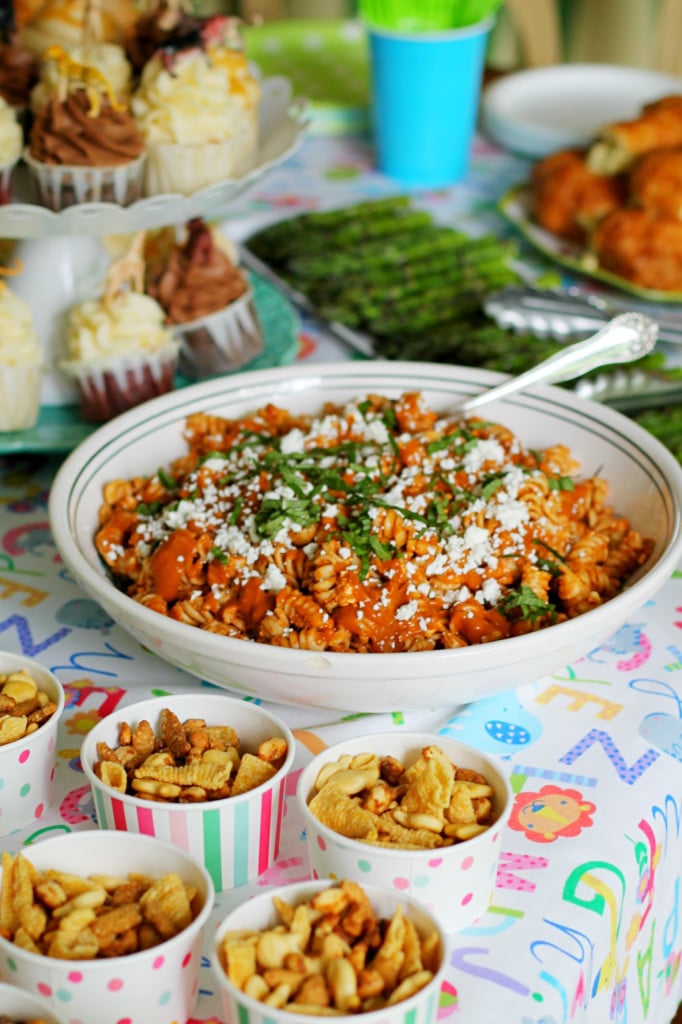 I often look at these "perfect" seeming, curated parties on various blogs and Pinterest and wonder how they all get put together. What is the REAL behind the scenes like? For me it's frantic moments, feeling disheveled and impossibly disorganized. It's lots of running errands. It's sitting the kids in front of a TV more than I'd like. It's less time this week spent at the pool or the park with them. It's less posting on my blog than I should have. It's getting a days-worth of help from my parents. It's my husband doing all the last minute cleaning the day of the party. It's my daughter running to our downstairs refrigerator at least 10 times to bring up food and drink, plus taking out the trash, arranging snack cups, wiping messes and complaining by the end.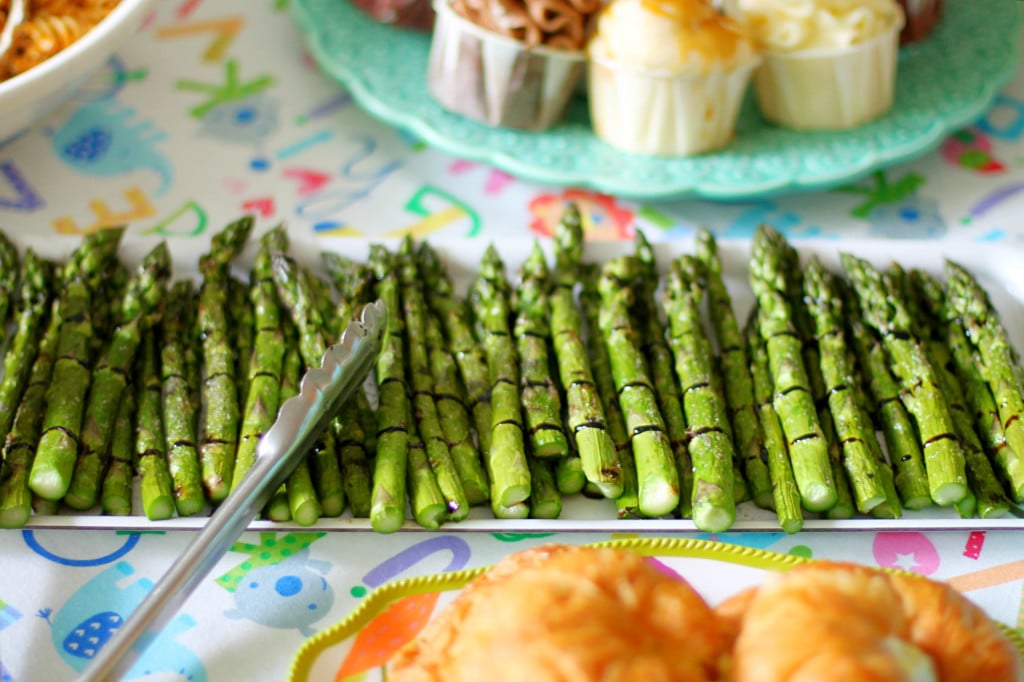 And I'm not complaining at all. The aftermath is a lovely, uncluttered house and a glowing sense of accomplishment for pulling off this party for my first and dearest friend in Cincinnati – she and I have known each other for 15 years now! She's expecting her first child, a boy, and I couldn't be happier for her and her husband. But in case you were wondering if I was an effortless entertainer? I am not. I bought these cupcakes and just added the toppers!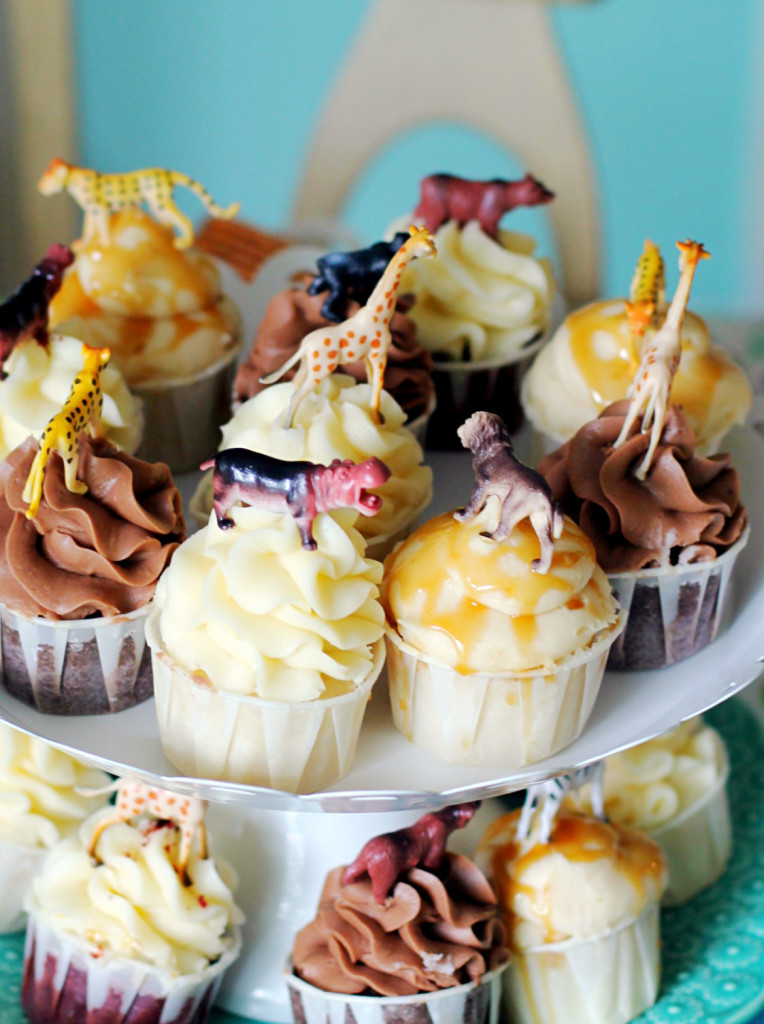 I thought you might appreciate these recipes to mix and match for your own future parties. Here is what I served:
Ham salad on croissants (see recipe below)
EGG SALAD on croissants
Basil, Feta and Tomato Pasta Salad (see recipe below)
BLUEBERRY CHEESEBALL with crackers
Grilled Asparagus
Snack Mix (BEER NUTS, Goldfish crackers, sesame sticks, Bugles)
White chocolate coated grapes (see recipe below)
Assorted Cupcakes (from my local baker, INSPIRING KIND)
I was particularly happy with my Beverage Station. I served "Spa Water" (just fresh cucumber slices and fresh mint leaves floating in water with ice), plus an assortment of IZZE fruit sodas and white wine.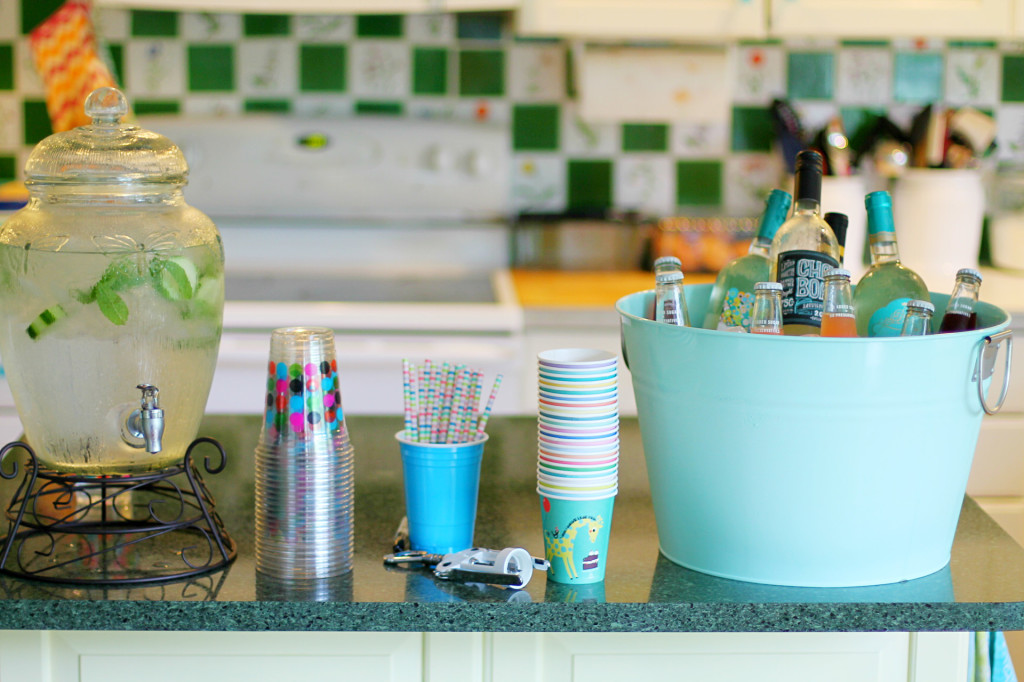 As for my accessories, most everything came from Target, including my aqua beverage bucket and the animal cupcake toppers (the theme was Safari because that is how my friend is decorating the nursery). Plus I ordered the animal cups and snack cups from Shop Sweet Lulu. They were just too cute for me to resist!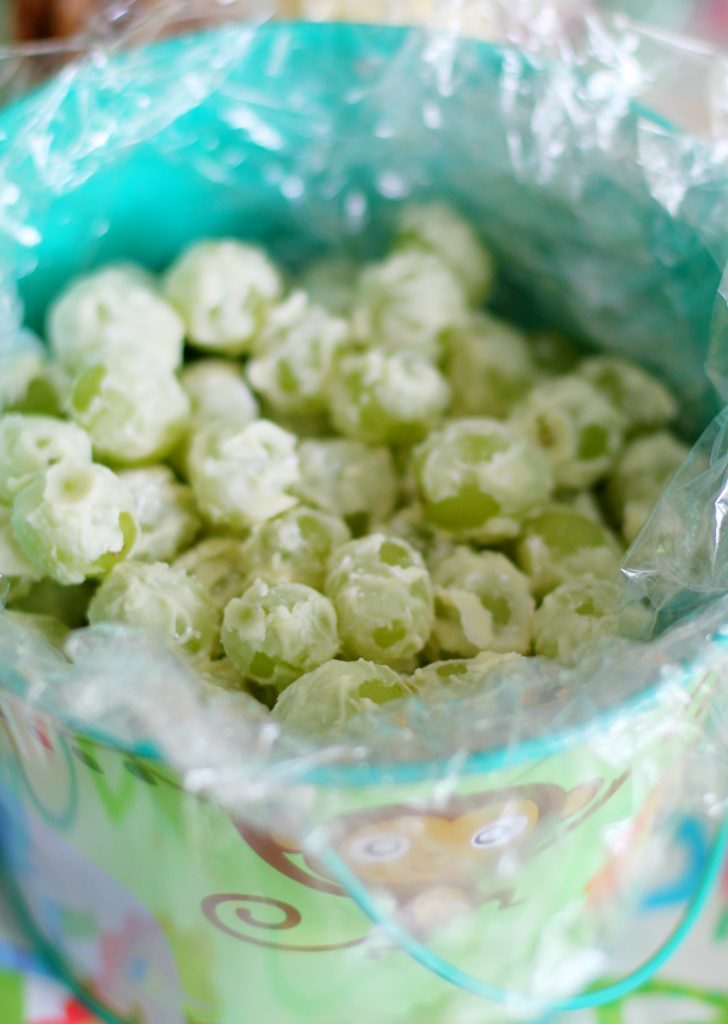 This bucket I served the grapes in was an Easter Basket for my daughter several years ago (also from Target). I'm a big fan of using a combination of what is already in the house + a few new things for parties. And in case you couldn't tell by my hastily snapped pictures, I didn't save time to take "perfect" pictures before my guests arrived. Oh well!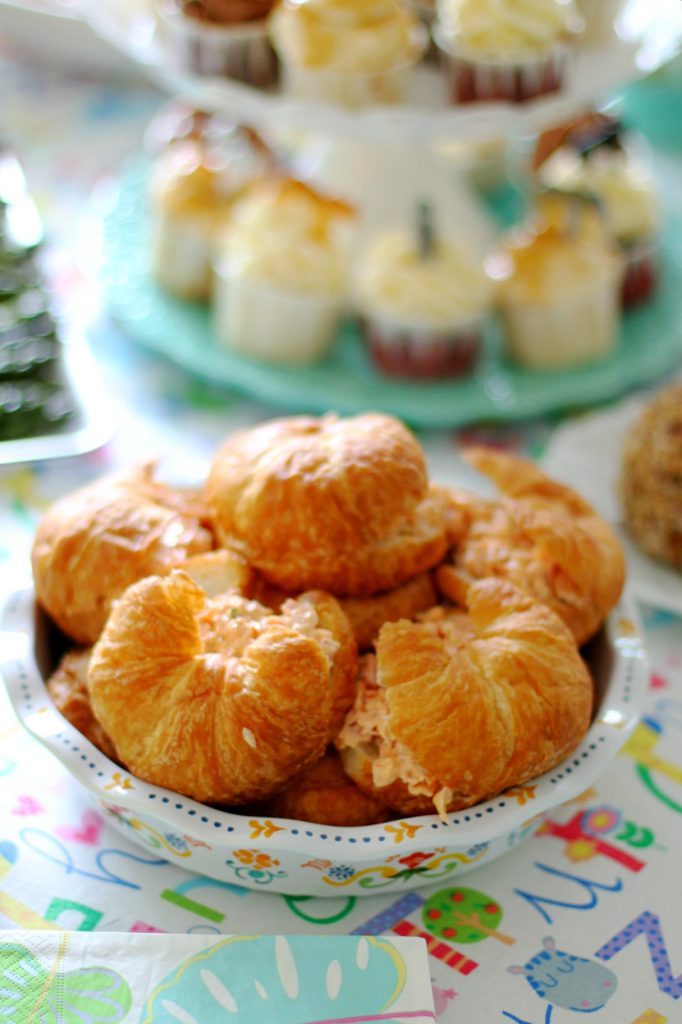 Basil, Feta and Tomato Pasta Salad
Ingredients
1

lb.

rotini pasta

1/2

c.

basil

1

T.

mint

4

cloves

garlic

minced

1

28 oz. can whole peeled tomatoes, undrained

1

c.

olive oil

1

t.

salt

1

t.

pepper

1/4

t.

Tabasco

1/2

lb.

feta crumbles

1/2

c.

fresh Parmesan cheese

grated
Instructions
In a blender or food processor, blend until smooth the tomatoes, basil, mint, garlic, oil, salt and pepper and Tabasco.

Cook the pasta according to package directions.

Drain and add to a large bowl. Add the feta and Parmesan cheese and stir together... the cheeses will melt into the pasta a bit.

Pour about 3/4 of the tomato dressing over the pasta and stir well.

Can be made a day ahead... store covered in the refrigerator.

Bring to room temperature to serve, adding the rest of the dressing right before serving.
White Chocolate Coated Grapes
Ingredients
4

oz.

white chocolate

chopped

1

T.

vegetable oil

1

lb.

green grapes

washed and dried

2

T.

confectioners' sugar
Instructions
In large microwave-safe bowl, melt together the chocolate and oil. Stir until smooth. Add the grapes and stir until coated. Sift the powdered sugar over the grapes and stir until grapes begin to separate.

Pour the coated grapes onto a baking sheet that has been lined with a silicone baking mat or parchment paper.

Refrigerate for about 10 minutes. Remove the grapes from the sheet and store in an air-tight container in the refrigerator until ready to serve.