Fresh butternut and acorn squash turn into velvety Slow Cooker Squash Soup perfection with just a few simple ingredients.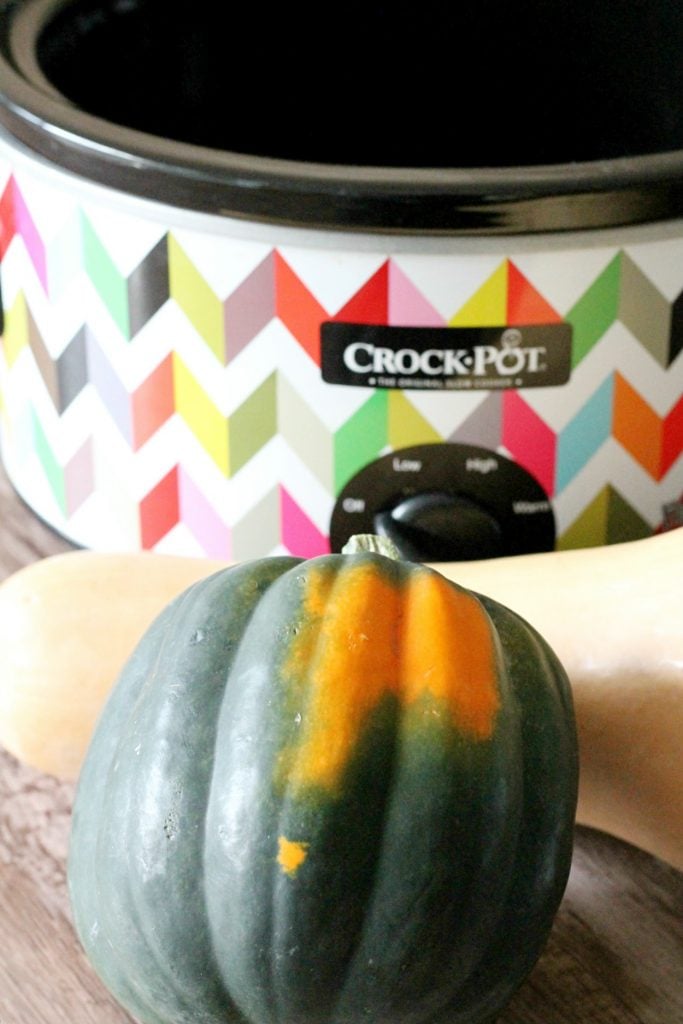 I published a squash soup recipe a long time ago on the blog but it required the squash to be roasted separately in the oven before adding it to the soup on the stove top. So I decided to streamline the process and make this a soup that could be served on any fall evening with the help of a slow cooker.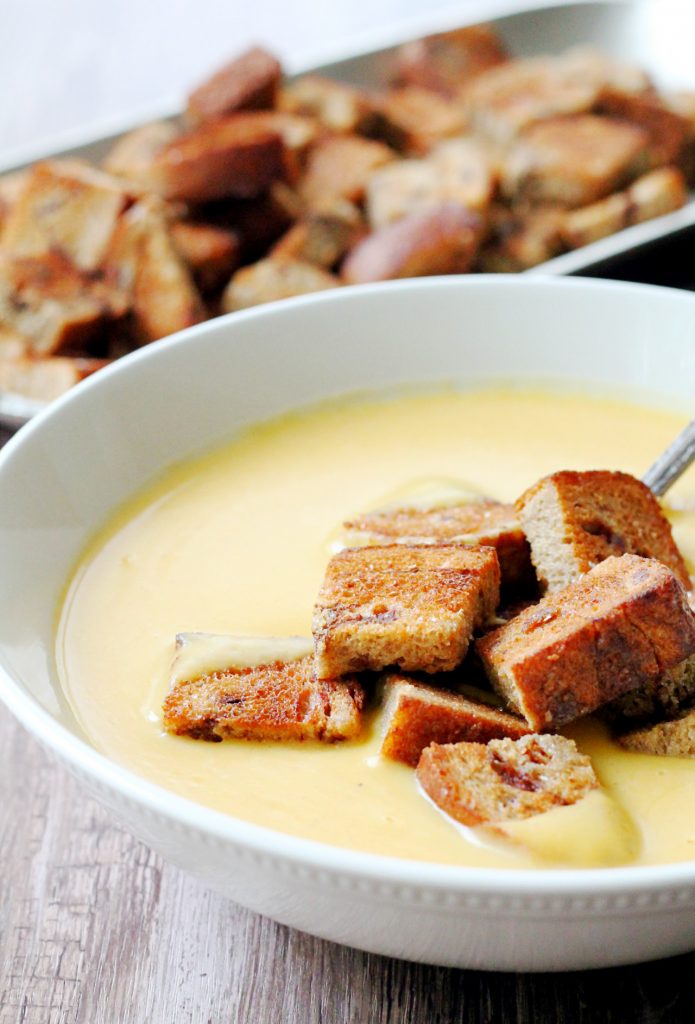 Peeled and diced butternut and acorn squash are added with an onion, chicken stock, apple cider, salt, pepper, cinnamon and nutmeg. After cooking down to sweet, tender perfection some whipped cream cheese is added for that "creamy" effect and then it's all blended into a golden, velvety soup.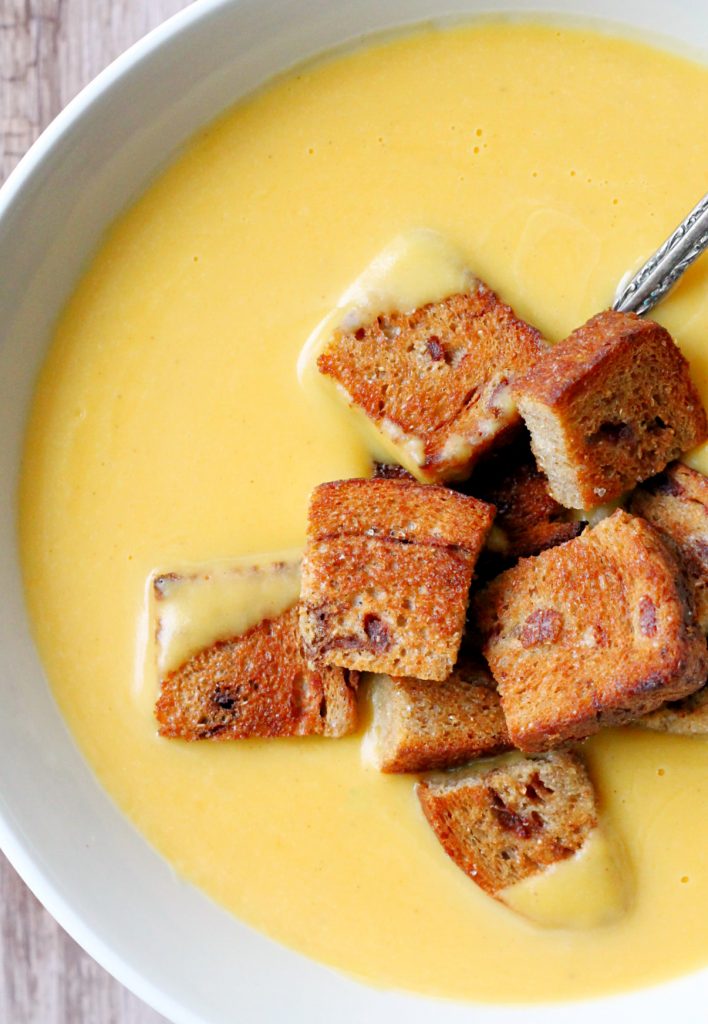 I made some quick cinnamon bread croutons for topping. If you're feeling really indulgent (and aren't vegetarian) you could add some crumbled bacon as well. This by far is my favorite way to enjoy fall squash. One of my favorite comfort foods for sure!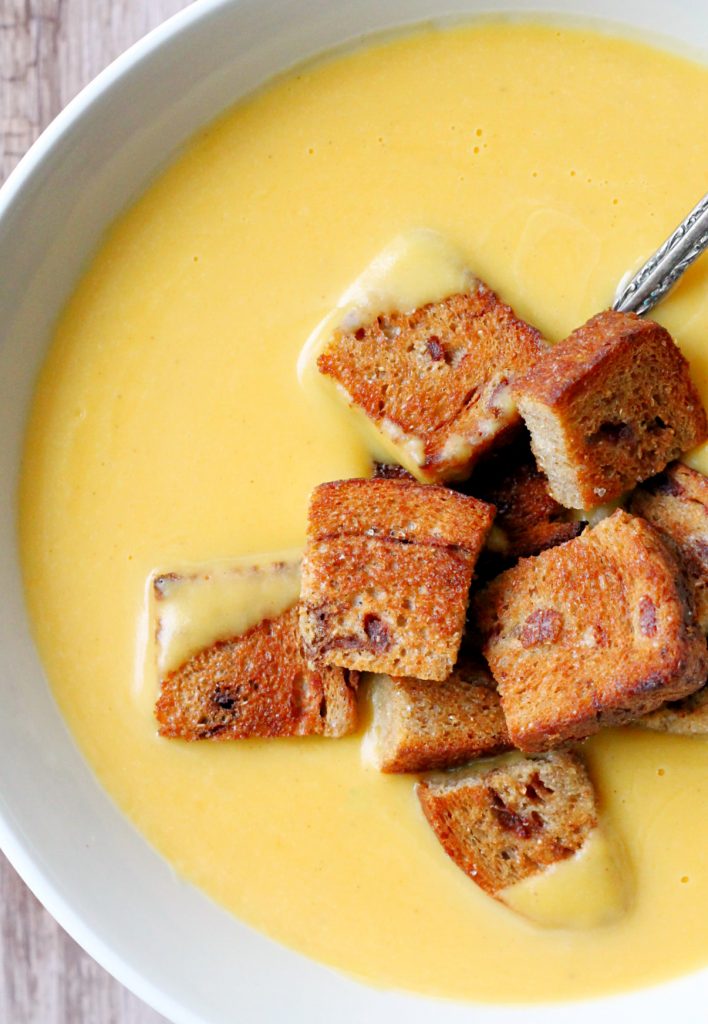 Slow Cooker Squash Soup
2016-09-14 12:11:34
Ingredients
8 c. fresh squash, peeled, seeded and cubed (I used one large butternut and one large acorn)
1 sweet onion, sliced
1 1/2 c. chicken stock
1/2 c. apple cider
1 T. light brown sugar
1 t. salt
1/2 t. cinnamon
1/2 t. black pepper
1/4 t. nutmeg
8 oz. whipped cream cheese
6 slices good cinnamon swirl bread
2 T. unsalted butter, melted
1/4 t. salt
Instructions
In a slow cooker combine the fresh squash, onion, chicken stock, apple cider and seasonings. Cook on low for 8 hours.
Remove lid and add the cream cheese. Blend the soup with an immersion blender until smooth.
While the soup is cooking, cube the bread and toss with the melted butter and remaining 1/4 teaspoon of salt.
Spread in an even layer on a sheet pan lined with a silicone baking mat or parchment paper.
Broil on high until both sides of the bread cubes are nicely browned. Remove from the oven to cool.
Serve the soup topped with the cinnamon bread croutons.
Foodtastic Mom http://www.foodtasticmom.com/
Love this squash soup? Don't miss Butternut Squash Bruschetta! Click on the picture to be taken to the recipe…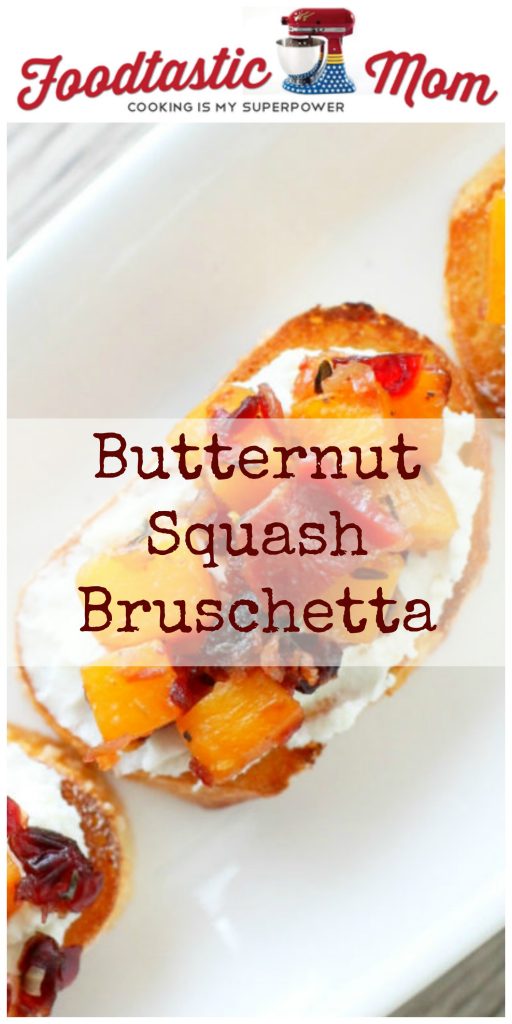 This recipe is part of Food Networks' Fall Fest SOUP recipe roundup. For other tasty soup recipes check out the links below:
The Lemon Bowl: Slow Cooker Chicken Pho
A Mind "Full" Mom: Healing Chicken Soup
In Jennie's Kitchen: Roasted Butternut Squash Soup with Coconut & Lime
Foodtastic Mom: Slow-Cooker Squash Soup
Hey Grill Hey: Smoke Roasted Tomato Soup with Basil Cream
Devour: 4 One-Pot Soups, Because Who Has Time to Do the Dishes?
Elephants and the Coconut Trees: Sweet Corn Soup
Creative Culinary: Roasted Poblano Pepper and Corn Soup
Healthy Eats: How to Transform Summer Tomatoes into Comforting Fall Soups
The Mom 100: Thai Chicken Noodle Soup
The Fed Up Foodie: Mom's Chicken Gumbo Soup
The Wimpy Vegetarian: Italian Chickpea Stew with Swiss Chard
Taste with the Eyes: Michel Richard's Asian Bistro Soup with Shrimp
FN Dish: The Very First Soup Recipes You Should Be Making This Fall