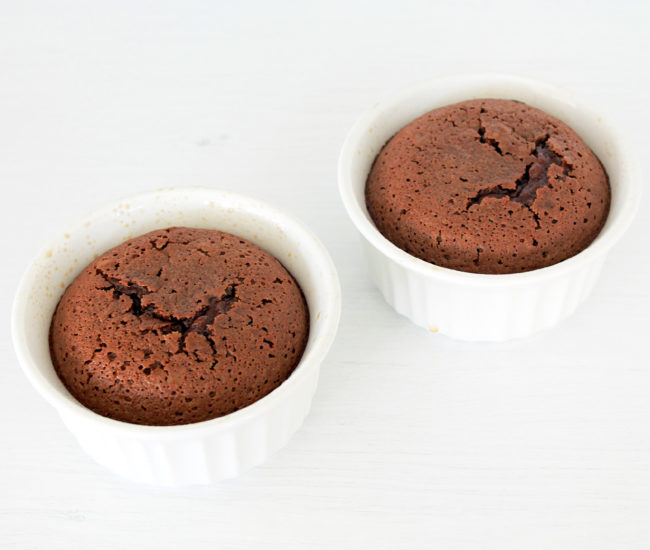 If I know you for long and decide I like you, at some point I will make you a lava cake. This has been my signature dessert now for I think 10 years? I honestly don't remember what year it was the first time I made them but I was not yet a mom and our oldest is now 9.
The story is my mother-in-law loved the lava cakes a local restaurant made and that restaurant closed. So for her birthday one year, I searched for a version I could make at home and Williams-Sonoma had the answer. They call their's Chocolate Fondant and you can find that original recipe HERE.
These little cakes are kind of the ultimate deception. They seem so high-falutin', a high-class dessert you could order in a fine, maybe French, restaurant. But they are so darn easy, my 9 year old can make them (with supervision, of course). And so with that said, I've provided a photo tutorial to show how easy these really are. It was kind of funny only making two for this post. In the past, I've made as many as 16 at one time. I just multiply the recipe ingredients and use bigger bowls.
Before we get to the process, as far as Baileys ice cream, there is a story there too. Haagan-Dazs used to make a Baileys ice cream, which they've sadly discontinued. When my husband and I were dating, he had fond memories of a Baileys milk shake he used to get when he worked up in Ann Arbor, Michigan. And so, like the good girlfriend I was, I searched out Haagan-Dazs Baileys ice cream and would make him milk shakes at home. I'm not sure why it didn't occur to me immediately after they discontinued the flavor that simply mixing some Baileys with vanilla ice cream would be a fine substitute. In the years since, I've figured it out and let me tell you, Baileys-flavored ice cream atop these little cakes is like, well, those other cakes you've probably seen that claim they're better than sex. I don't know about all that, but these are pretty darn awesome!
So here we go…
The original recipe recommends buttering and then dusting with cocoa powder your 6 oz. ramekins. I've found that spraying the dishes with a high-quality cooking spray works just as well and is a quicker process…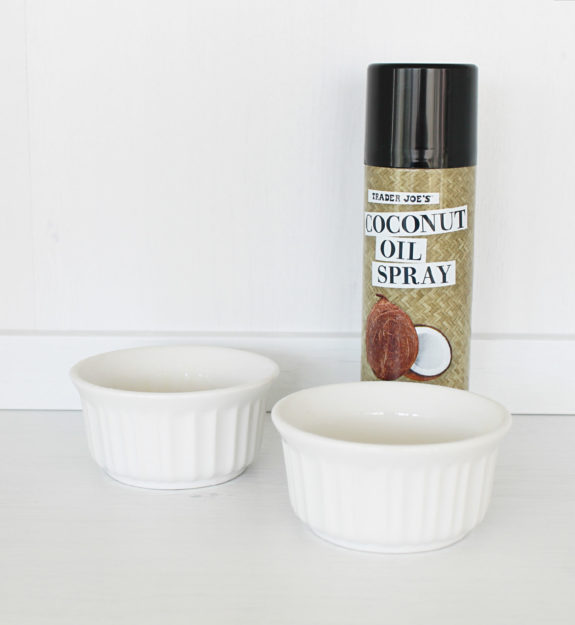 In a small bowl, melt the chocolate and butter in the microwave for about 1 minute 15 seconds. If using chocolate chips, they must be bittersweet chocolate. Ghirardelli chocolate is always what I've used for these cakes. 1/4 cup is about 2 ounces. I also use the bar-style Ghirardelli bittersweet chocolate. After you've melted the butter and chocolate, stir together with a spatula until the mixture is completely uniform and smooth.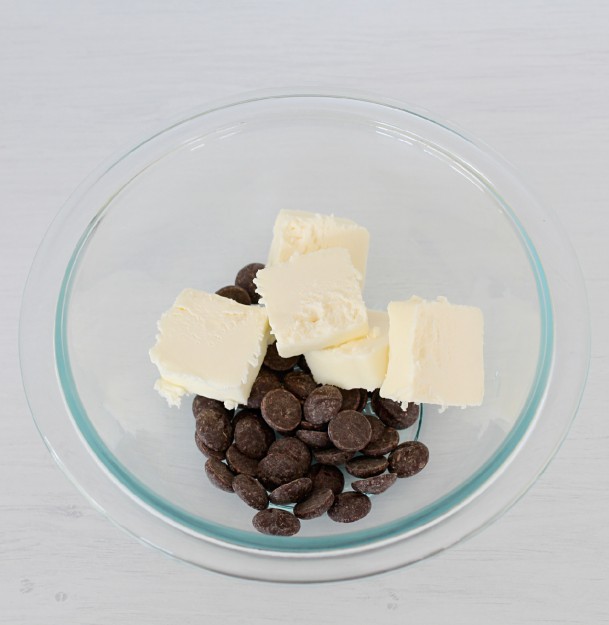 In a little larger bowl, whisk together the eggs and sugar until frothy.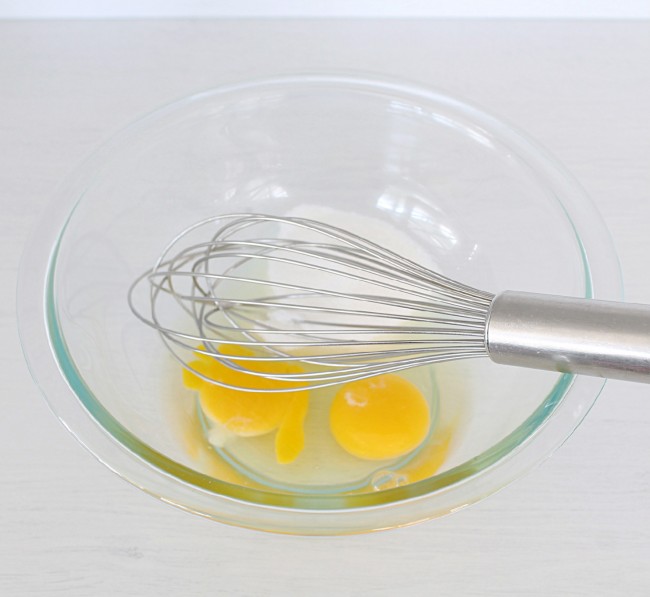 Once you have these two mixtures, pour the chocolate mixture into the egg mixture, stirring with a spatula as you add it. Mix until completely uniform and smooth.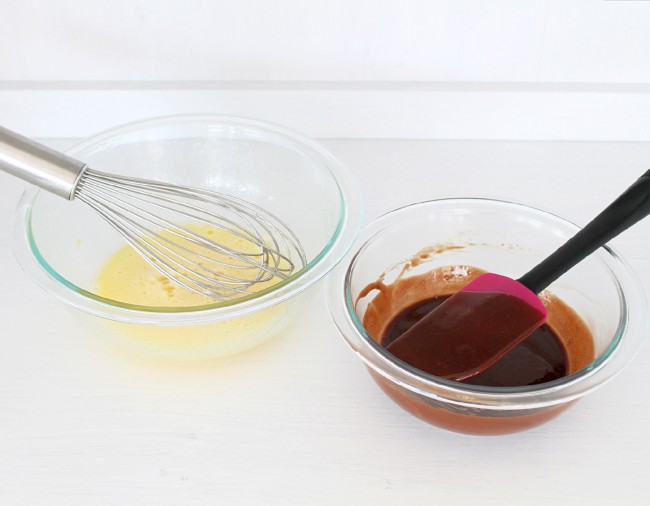 Pour the 1/4 cup of flour into a mesh strainer and sift it over the bowl. Then using that same spatula, stir gently until the flour is completely incorporated into the batter for the cakes.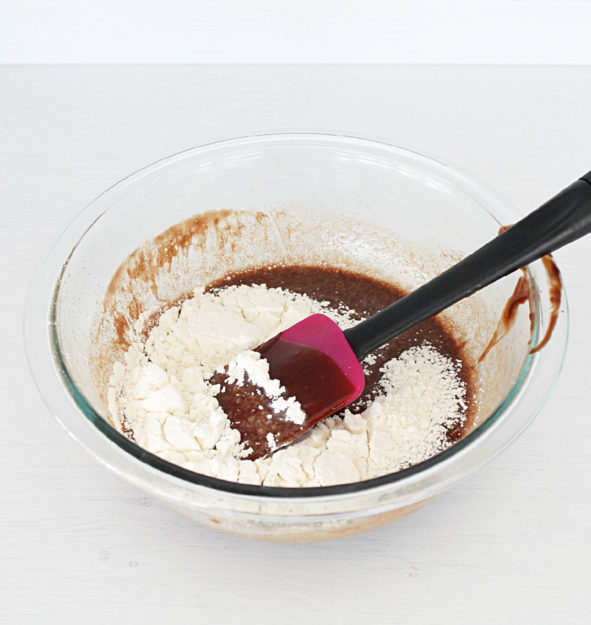 Over the years, I have found it's easiest to use a muffin scoop, like mine from OXO, to transfer the batter evenly to the prepared ramekin dishes. Each dish will hold approximately 3/4 cup of batter.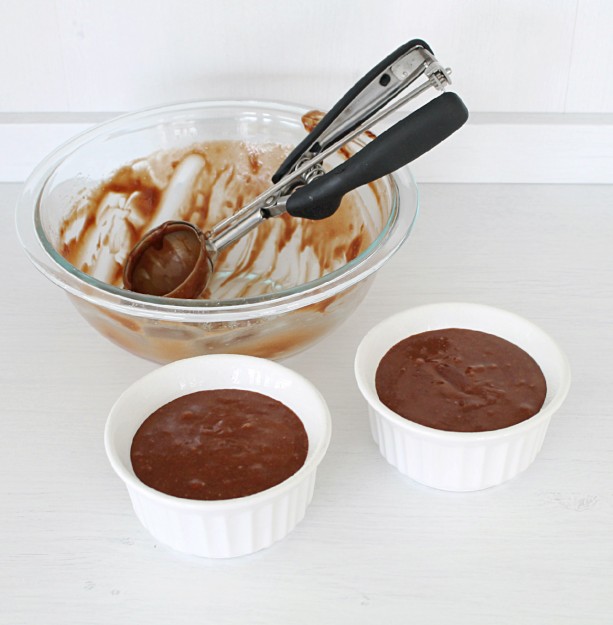 Once the dishes are filled, simply bake at 450 degrees for 10 – 12 minutes. I usually bake them for 10 minutes. For picture purposes, I baked them for 12 minutes, knowing I was going to invert one out of the ramekin and onto a dish. 12 minutes makes less molten chocolate center however, so if you like a really gooey center, go with 10 minutes.
To note, these are just as easily served in their baking dishes, which I usually do. That way, there's no mess or broken cake to worry yourself with. As for the ice cream, for every cup of vanilla ice cream I mix in about 1/4 cup of Baileys. It's best to make this the day before you plan to serve so it can fully set up in the freezer again. As you can seem in my picture, my ice cream is still on the runny side… though still delicious. Enjoy!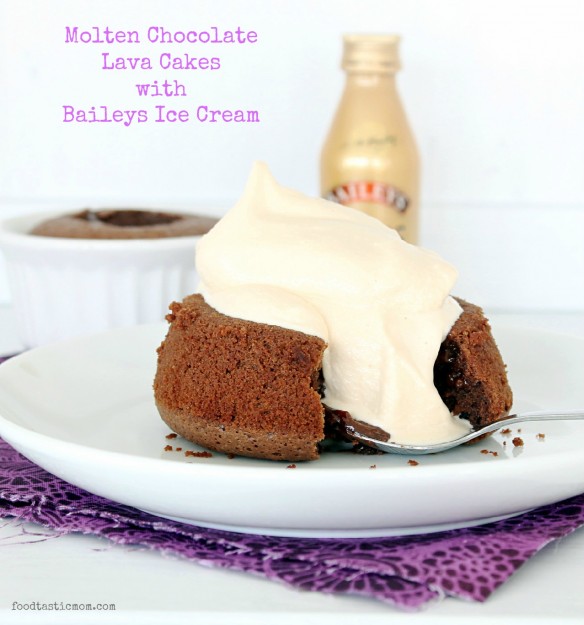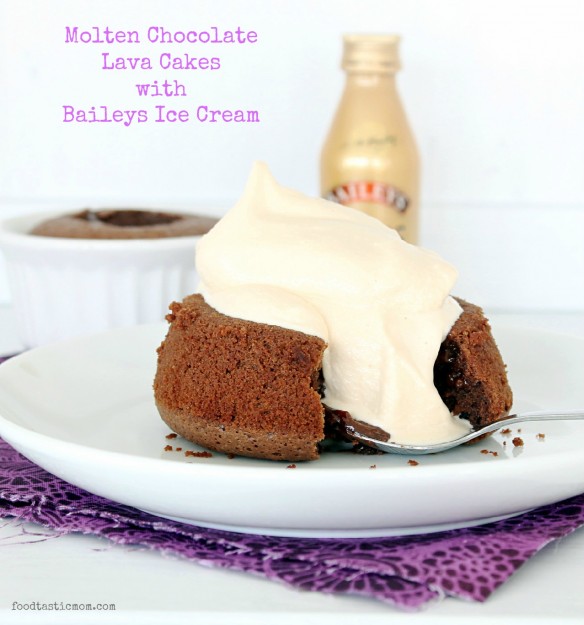 Molten Chocolate Lava Cakes with Baileys Ice Cream
2014-03-15 06:46:22
for the cakes
2 oz. bittersweet chocolate, chopped (or 1/4 c. bittersweet chocolate chips)
4 1/2 T. unsalted butter, cut into cubes
2 eggs
1/3 c. sugar
1/4 c. all-purpose flour, sifted
for the ice cream
1 c. vanilla ice cream
1/4 c. Baileys
for the cakes
Spray two, 6 oz. ramekins with high-quality cooking spray. Adjust oven rack to lower-third and preheat oven to 450 degrees.
In a small bowl, melt the chocolate and butter together on high in the microwave (1 minute and 15 seconds). Stir together with a spatula until smooth.
In a larger bowl, whisk together the eggs and sugar until frothy.
Stir the butter and chocolate into the egg mixture. Mix until completely smooth.
Sift the flour over the chocolate mixture. Stir again with a spatula until no streaks of flour remain.
Divide the batter evenly between the two ramekins. Each dish will hold approximately 3/4 cup of batter.
Bake cakes directly on the oven rack for 10 - 12 minutes. (I recommend 10 minutes). Allow cakes to cool for about 10 minutes and serve topped with ice cream
for the ice cream
Allow the vanilla ice cream to soften on the counter for about 10 minutes. Stir in the Baileys until well-incorporated. Place the ice cream back in the freezer until ready to serve. Best prepared the day before.
Adapted from Williams-Sonoma
Foodtastic Mom http://www.foodtasticmom.com/