I am most entertained by people who sing and people who make me laugh. Visit my Kitchen Music page for my current music mix to cook and bake to. As for laughter Jimmy Fallon nearly always does the trick. And speaking of Fallon, I was looking for a Crock Pot Chili recipe and ran across his chili recipe, originally posted over at Martha Stewart, published back in 2009. And his chili really is delicious! My husband loved it because it was heavy on the beef. My kids loved it because it was mildly spiced. I did help with that by leaving out the habanero and cayenne called for in the original recipe. And I loved it because it was quick and easy. Win. Win. Win.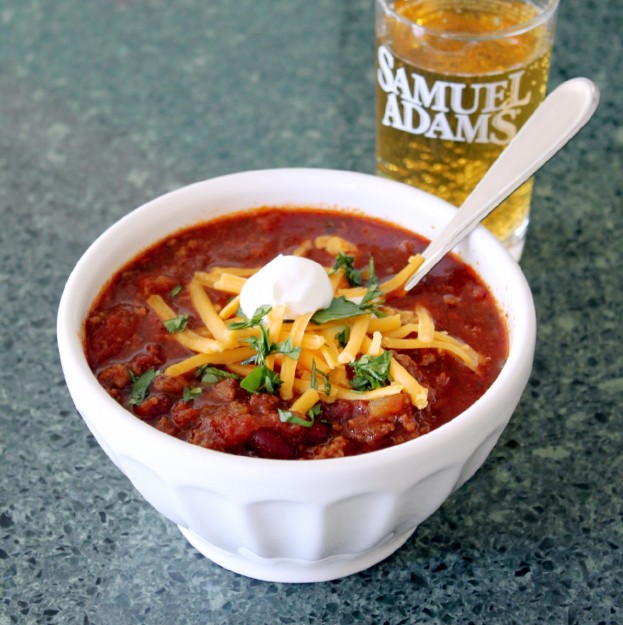 Jimmy Fallon's Crock Pot Chili Recipe
2013-11-08 09:21:11
Ingredients
2 T. olive oil
3 lbs. ground beef
course salt and fresh ground pepper
1 lg. white onion
3 garlic cloves
1/4 c. chili powder
1 T. dried oregano
1 1/2 t. ground cumin
2 (28 oz.) cans whole tomatoes, coarsely chopped with their juices
1/3 c. chopped fresh cilantro, plus more for serving
1 (12 oz.) bottle amber beer
2 (15 oz.) cans dark red kidney beans, rinsed and drained
Instructions
Heat olive oil in a large stock pot over medium heat. Brown ground beef (seasoned with salt and pepper), drain and add to Crock Pot set on low heat. Return pot to heat, add onions and garlic, saute for about 5 minutes and add to Crock Pot.
Add the cilantro, tomatoes, seasonings and beer. Cook on low for 6 - 8 hours. During the remaining 30 minutes, add the kidney beans, stirring well to combine. Season to taste with salt.
Serve with sour cream, shredded cheddar and more fresh cilantro.
Adapted from Jimmy Fallon via Martha Stewart
Foodtastic Mom http://www.foodtasticmom.com/
Like chili? Don't miss these other favorites! Click on the pictures for the recipes…