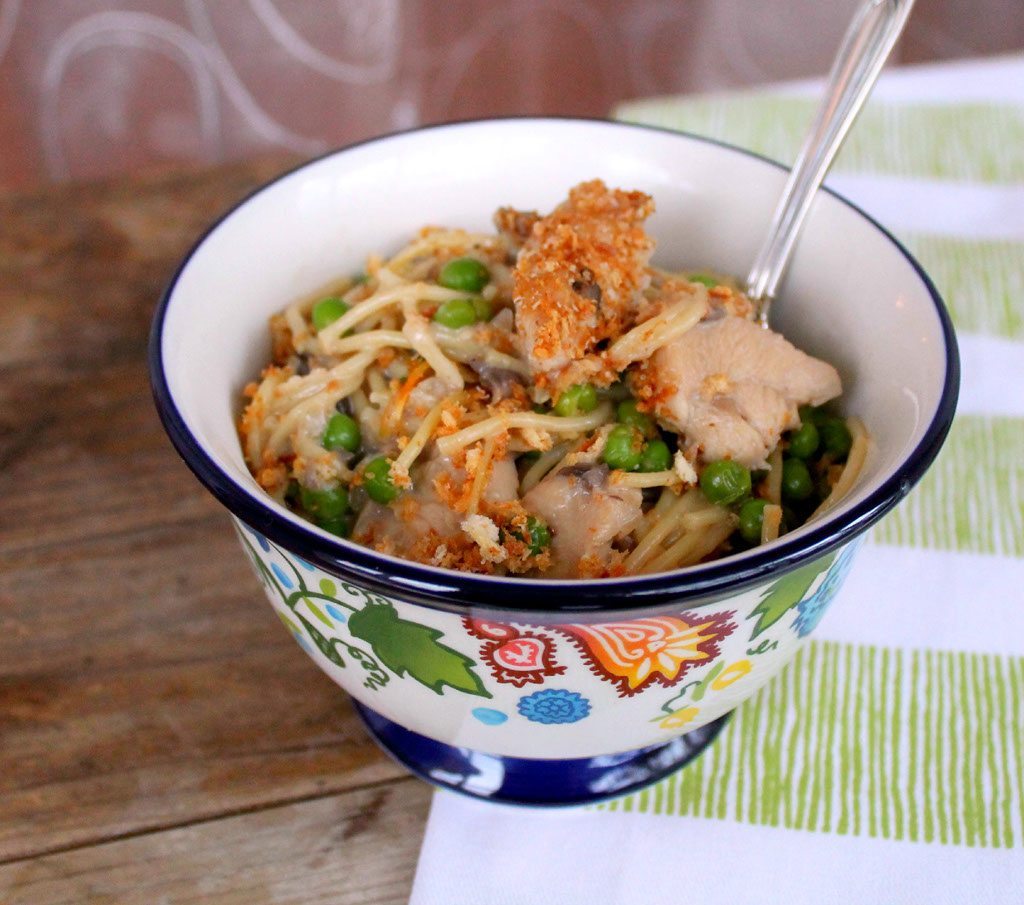 This recipe is straight from America's Test Kitchen new cookbook, Comfort Food Makeovers, and it is fantastic. I love a familiar casserole that is lighter yet more flavorful than the original, with no "cream of yuck" soup in sight! I made this tonight for dinner with my in-laws to rave reviews. The only change I made to the original recipe was to double it, to serve 12 instead of 6, so that we'd have plenty of leftovers for lunches. I like being thrifty like that.
One of the great things about this cookbook is at the bottom of each recipe, it gives the "before and after" totals for calories, fat and saturated fat. For this recipe, the before version came in at a hefty 500 calories per serving. The after version is lightened to 290 calories and I can promise it was very filling.
I also made ATK's lightened up Chocolate Bundt Cake for dessert, which I'll post about tomorrow. It was a delicious and satisfying meal for about half the calories of a "traditional" take on the same dinner. Score!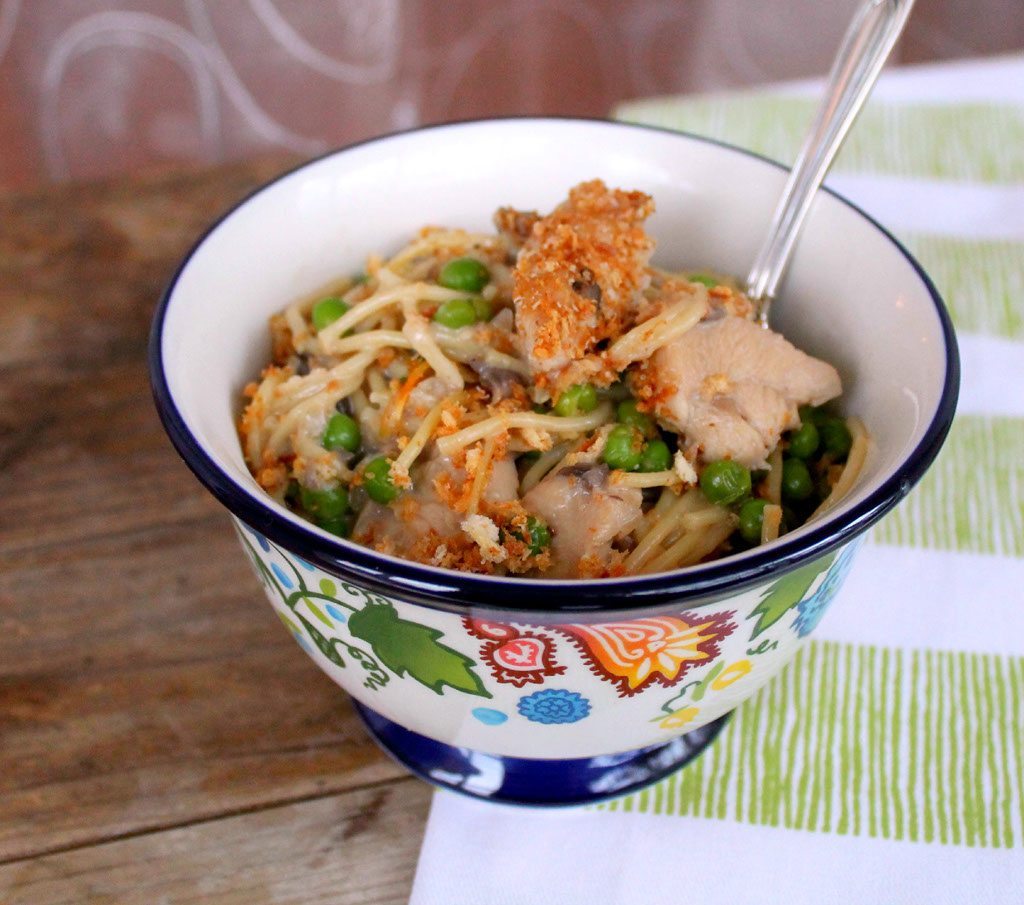 Chicken Tetrazzini - Lightened Up
2013-03-18 17:24:36
Serves 6
Ingredients
12 oz. boneless, skinless chicken breasts, cut into 3/4-inch pieces
2 T. low-sodium soy sauce
5 oz. spaghetti, broken in half
salt and pepper
1 T. unsalted butter
8 oz. white mushrooms, trimmed and sliced thin
1 onion, chopped fine
2 T. all-purpose flour
1 c. low-sodium chicken broth
2 T. white wine
3 oz. 1/3 less fat cream cheese, softened
1 oz. (1/2 c.) Parmesan cheese, grated
1 c. frozen peas
1/2 c. panko bread crumbs, toasted
Instructions
Adjust oven rack to upper-middle position and heat to 400 degrees. Combine chicken and soy sauce in bowl, cover and refrigerate for 30 minutes to 1 hour. Bring 2 quarts water to boil in large pot. Add pasta and 1 1/2 t. salt and cook, stirring often, until just al dente. Reserve 1 c. cooking water, drain pasta and return it to pot.
Meanwhile, melt butter in 12-inch skillet over medium-high heat. Add mushrooms, onion, 1/2 teaspoon salt and 1/2 teaspoon pepper and cook until browned 8-10 minutes. Stir in flour and cook until golden, about 2 minutes.
Whisk in broth, wine and reserved pasta water, scraping up any browned bits, and bring to a simmer. Whisk in cream cheese and 6 tablespoons of the Parmesan and simmer until slightly thickened, about 1 minute. Stir in marinated chicken and peas and simmer gently for 1 minute (chicken will not be fully cooked). Add mixture to cooked pasta and toss to combine.
Transfer mixture to 8-inch square baking dish. Toss toasted panko with remaining 2 tablespoons Parmesan in bowl, season with salt and pepper to taste and sprinkle over top. Bake until hot throughout and chicken is cooked through, 14-16 minutes. Let cool slightly before serving.
Notes
To toast the panko bread crumbs, place them in a large, nonstick skillet over medium-high heat, stirring often, until well-browned 5-10 minutes.
Adapted from Comfort Food Makeovers
Foodtastic Mom http://www.foodtasticmom.com/