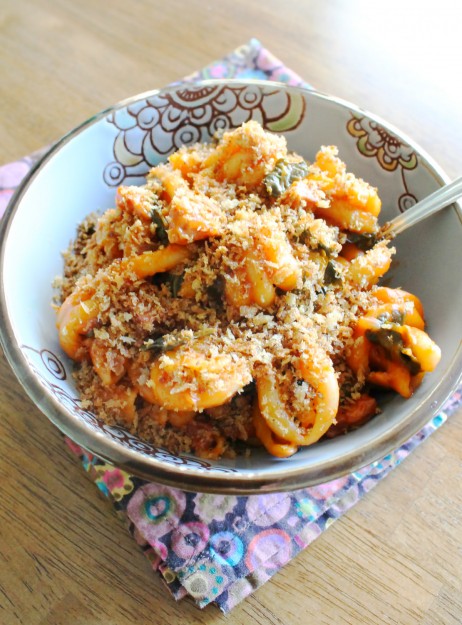 All of my posts are real life. Whether I'm cooking for just me, my family, a party or occasionally a catering client, I post things that I personally eat, and enjoy, always. However, most times, I plan ahead and know that I'm fixing this and this and they will be posts, not just "home food". Home food is like "home pants"… a term coined eons ago from one of our greatest friends (and former roommate, pre-kids). Home pants are what you put on when you come home from work. Comfortable for lounging but not what you'd go out in public in. Well, these days, I guess you could go to Walmart in them. Anyway….
This meal is a home pants meal. Though with the addition of these freaking awesome homemade breadcrumbs as a topper, this pasta could possibly be served to company. Just nice company though. Friends and family who don't mind seeing you in your home pants.
Tonight, I. was. tired. Good tired. But tired none the less. My little family of four took a surprise (for the kids) trip to the Great Wolf Lodge mid-week. The kids only missed one day of school. We all love the water and water parks. And we are well past the exhausting days of constant vigilance in the pool with tiny children. However, we are now in the days of holy crap, I want to somehow keep up with my balls of energy running up flights and flights of stairs, yelling 10x, "This is awesome!" during ONE water roller coaster ride, and never wanting to get out of the water. This trip, that meant that after 30-minutes of a very energetic game of family water basketball, followed by 3x in a row of no-line riding down the family raft slide (the tallest stair climb), I needed about 10 circles around the lazy river to recover. So, after playing both Wednesday night and Thursday morning and afternoon, Tom and I dropped the kids at my in-laws to have dinner by ourselves at the Cheesecake Factory, followed by a trip to our local Benchmark outfitters for the Cincinnati stop of the national "Get Out More" Backpacker magazine tour. Our version of a date night!
We finally returned home after 9 pm Thursday night and after unpacking and getting the kids to bed, I prepared lunches and laid out clothes for my daughter's first grade field trip to the Zoo. I helped chaperone and returned home Friday about 2:00 pm. Dinner was the last thing on my mind, especially because to make it happen, I needed a trip to the grocery.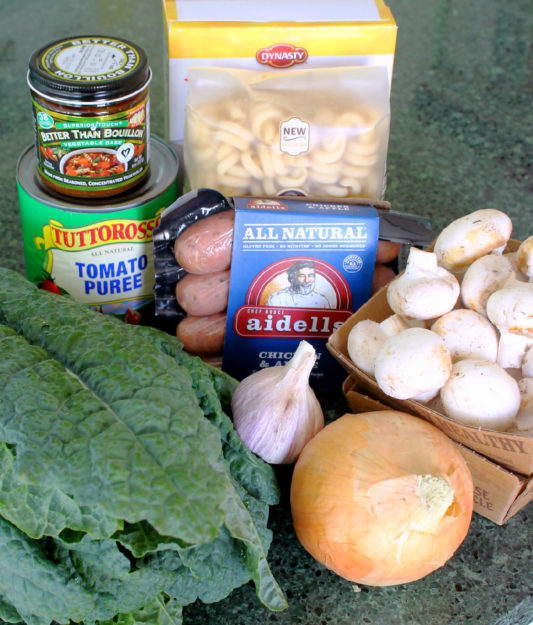 The first thing that popped into my mind? A one-pot pasta dinner. But not THIS one that I've literally seen all over the interwebs. I wanted something a bit more complicated, or interesting, if you will. Because I am at least as complicated as a hipster ordering at Starbucks… even when I am dog tired.
So, THIS is what I found on a quick Pinterest search. Foodie with Family always has awesome recipes, though I'm not sure I've ever posted one on my blog. Am I sounding completely crazy now? I know my own "foodie" issues make me a special kind of weird most days. But, these are my honest thought processes and actions as I'm coming up with dinner night after night. It works for me, at least. Somewhere in my whirlwind, maybe you'll find something that works for you too.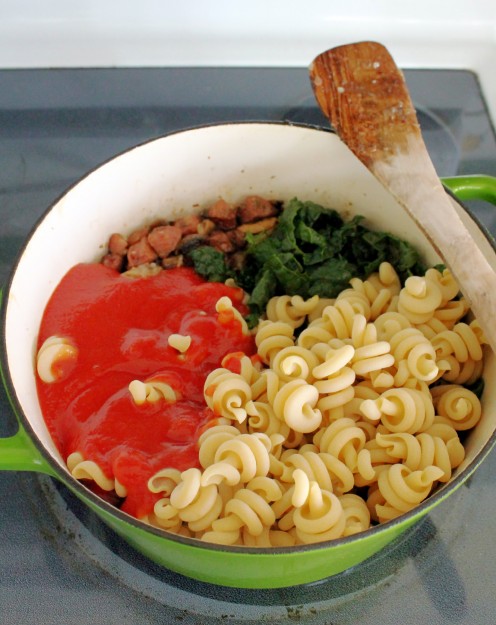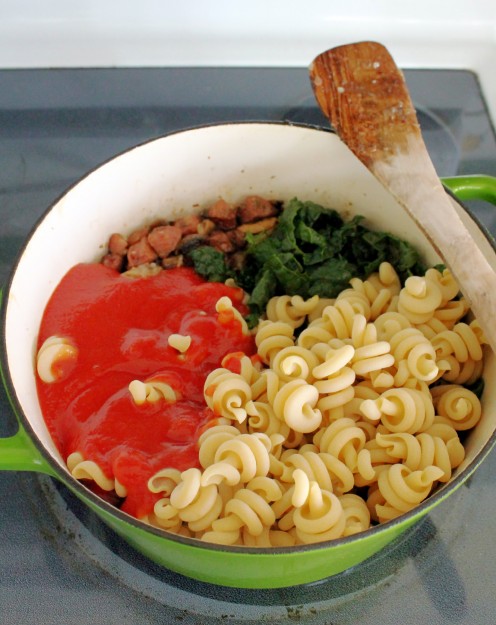 Chicken Apple Sausage and Kale One Pot Pasta
2014-04-25 18:17:07
for the bread crumbs
2 1/2 T. unsalted butter
1 c. panko bread crumbs
1/2 t. poultry seasoning
1/2 t. onion powder
1/2 t. salt
for the pasta
2 T. canola oil
12 oz. chicken apple sausage, diced (I used Aidells brand)
12 oz. shiitake mushrooms, diced
1 sweet onion, diced
4 cloves garlic, minced
4 c. vegetable stock
1 (28 oz.) can tomato puree
1 pound pasta (a shape that takes at least 10 minutes to cook in water)
4 c. kale, stems removed and chopped
1 1/2 t. salt
Instructions
In a very large stock pot, melt the butter over medium heat. Stir in the panko and seasonings and stir frequently until the bread crumbs are fragrant and very toasted. Transfer bread crumbs to a bowl and set aside.
Return the same pot to the heat and add the canola oil. Once it's shimmering, add the sausage and let it sit for about 2 minutes. Give it a good stir and add the onions and mushrooms. Sprinkle with about a teaspoon of salt. Cook over medium heat until almost all the liquid is gone and everything in the skillet is browning. This will take about 20 minutes. Stir occasionally.
Once the sausage, mushroom and onion mixture has cooked down and is browned, add the garlic and cook for 1 minute more. Then add the vegetable stock, the tomato puree, the uncooked pasta and the kale. Sprinkle with an additional 1/2 teaspoon of salt. Stir well and cover. Check often and stir until the pasta is cooked through and the sauce is nice and thick. Serve each bowl topped with the toasted bread crumbs.
Adapted from Foodie with Family
Foodtastic Mom http://www.foodtasticmom.com/