Roasted butternut squash bruschetta starts with toasted baguette slices spread with goat cheese and topped with a delicious mixture of fresh butternut squash, bacon and dried cranberries.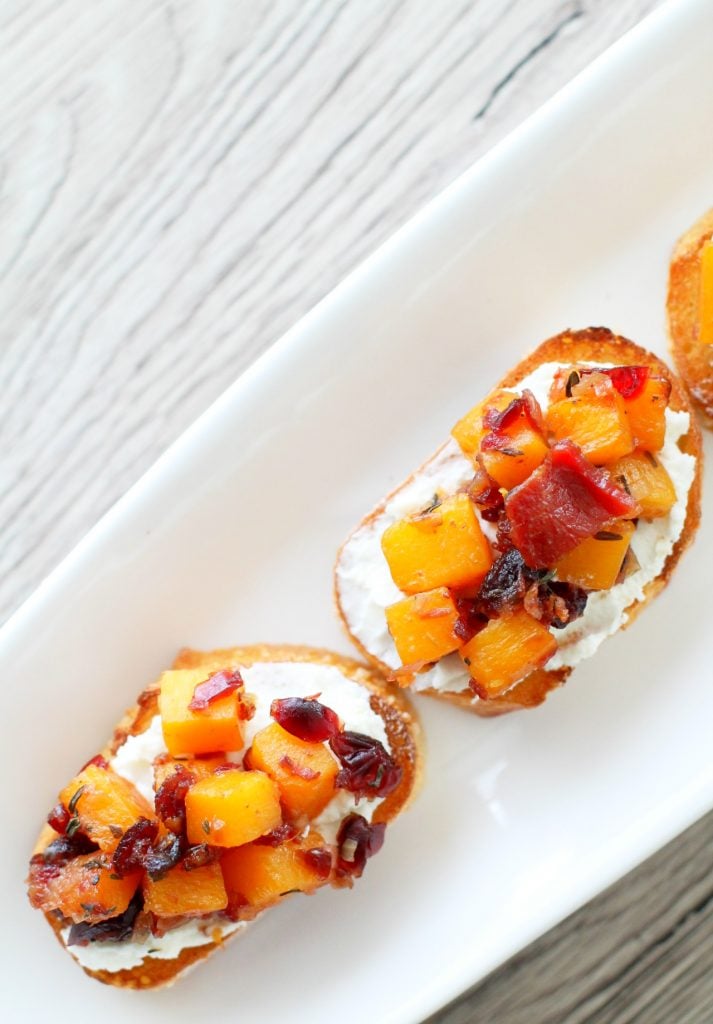 As I was roasting squash for my salad the other day, I was also keeping in mind a fall bash I was going to that night, so I saved out a cup and a half of squash cubes for this festive little appetizer. I ran across the original recipe HERE and thought it looked lovely. To make it a little more my own, I added bacon and I also used apple cider to help steam-cook the squash in the pan.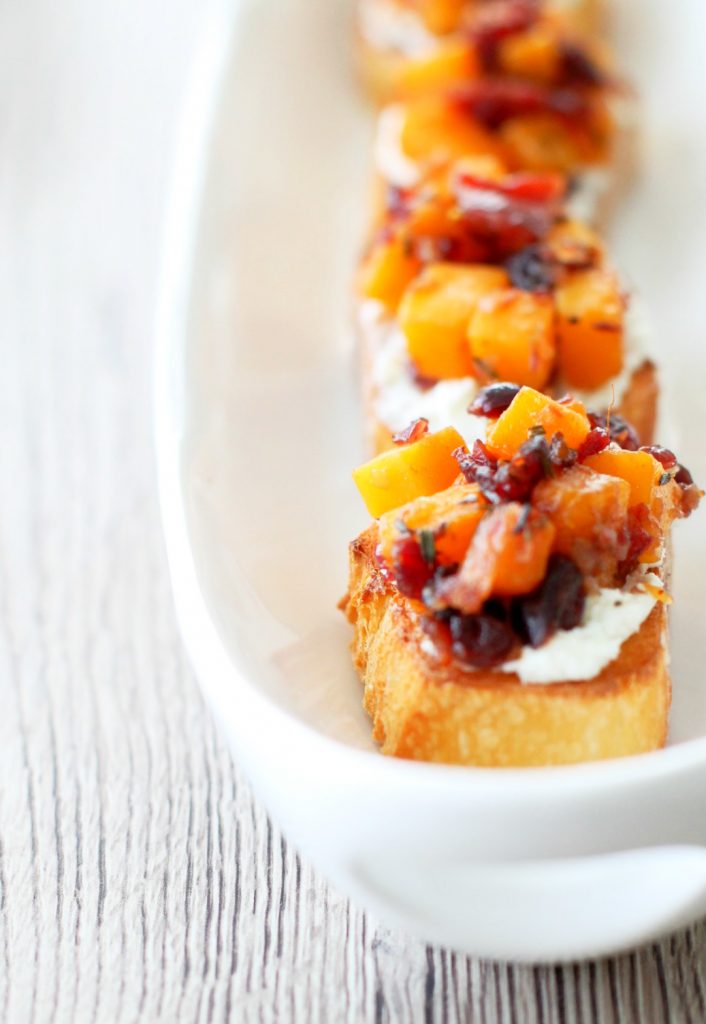 Everyone at the party raved about it. The goat cheese provides a tangy background to the sweetness from the squash and cranberries, and the bacon provides just enough saltiness to make this sweet and savory appetizer pure fall perfection. I'll be making it again soon!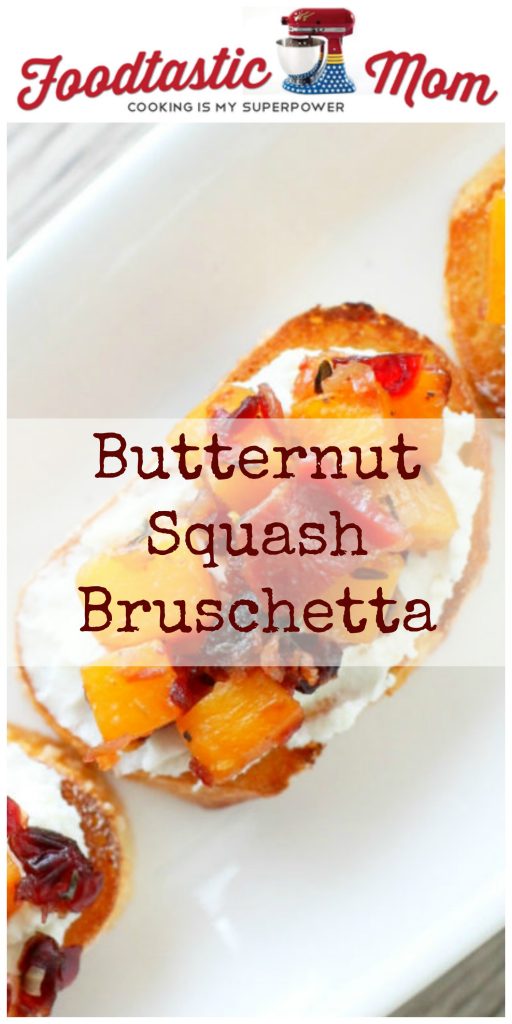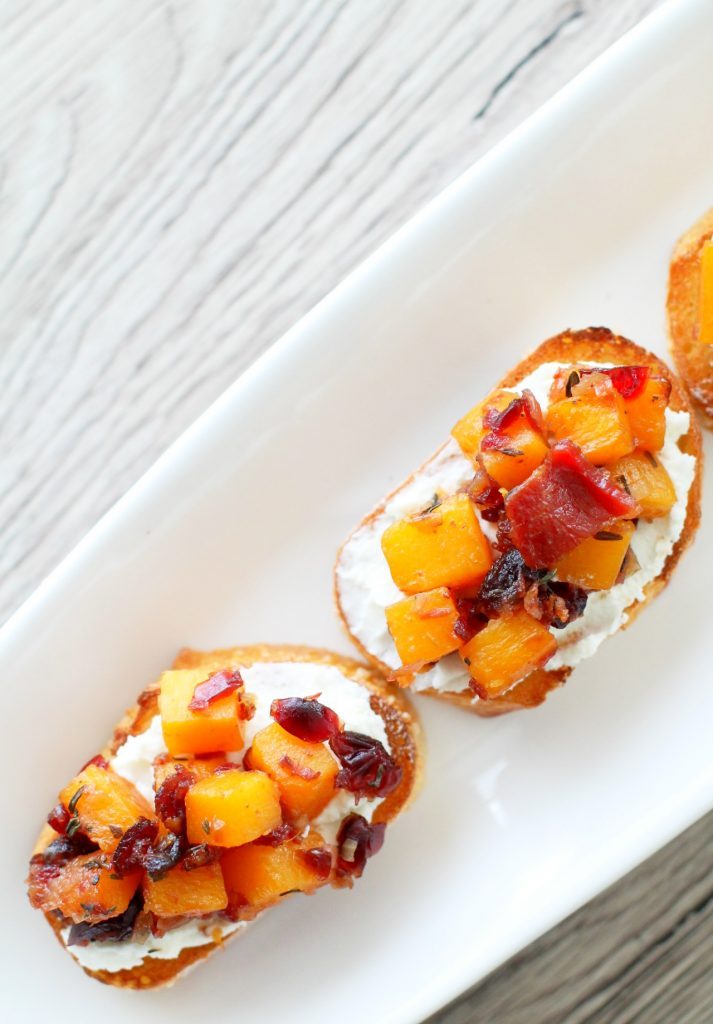 Butternut Squash Bruschetta
2013-10-16 05:14:03
Ingredients
One French Baguette, sliced and toasted
6 oz. goat cheese, softened
4 oz. cream cheese, softened
1/4 t. salt
3 slices bacon, chopped
1 T. olive oil
1 shallot, minced
1 1/2 c. butternut squash, peeled and diced
1/2 c. dried cranberries, roughly chopped
1/3 c. apple cider
1/2 t. dried thyme
salt to taste
Instructions
In a large, non-stick skillet over medium heat, cook the bacon, stirring often until crisp. Remove bacon pieces to drain on a paper-towel lined plate.
Add olive oil to the bacon drippings in the pan, add the shallot and cook for about 1 minute. Add the squash and cook, stirring occasionally, for 15 minutes.
Add cranberries and apple cider, allow to simmer for another 5-8 minutes, until squash is fork tender.
Stir in thyme and season with salt. Remove mixture from heat and stir in bacon crumbles.
Allow the cooked squash and cranberry topping to cool to room temperature.
Using a hand mixer, whip together the goat cheese, cream cheese and salt.
Serve toasted baguette slices topped with a smear of the goat cheese spread and about a tablespoon of the squash, cranberry and bacon topping.
Adapted from Spoon, Fork, Bacon
Foodtastic Mom http://www.foodtasticmom.com/