These bourbon bacon pumpkin seeds are the best roasted pumpkin seeds I have ever tasted. They are sweet, salty, smokey and incredibly addicting!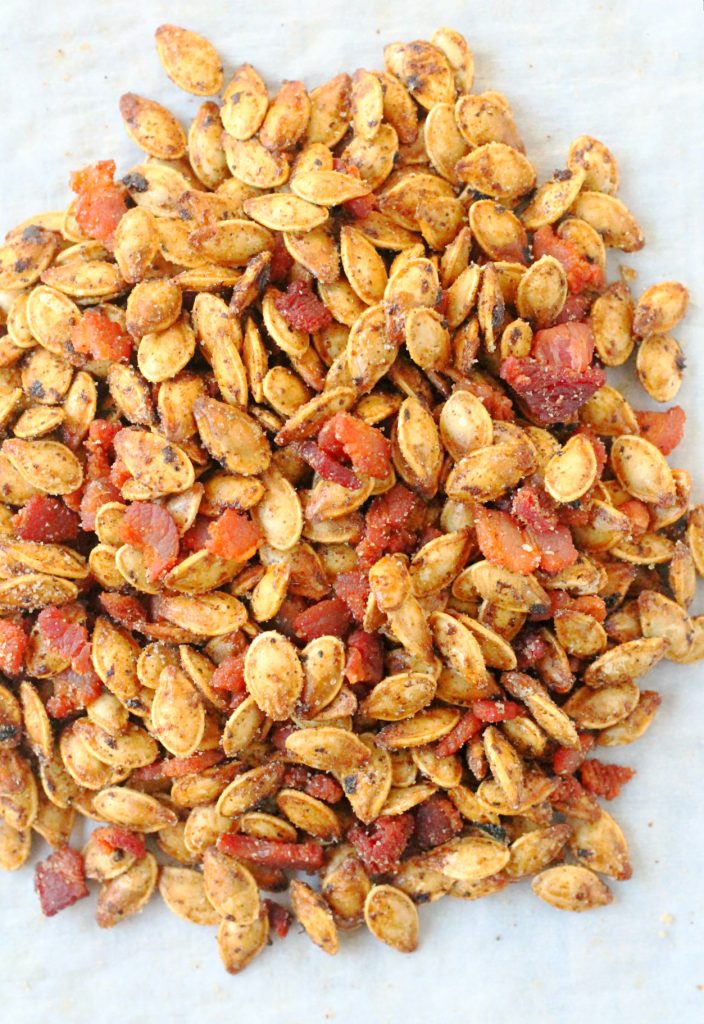 Each year we carve pumpkins. Some years I go so far as to roast pumpkins to make fresh pumpkin puree. So every year I have bowls full of pumpkin seeds staring back at me, daring me to throw them away. I have a confession… sometimes I throw them away. Sometimes they sit too long and the pumpkin "guts" get permanently stuck to them and/or the newspaper print we use to protect our kitchen table while carving has rubbed off on them and they just don't look appetizing to me. But not this year.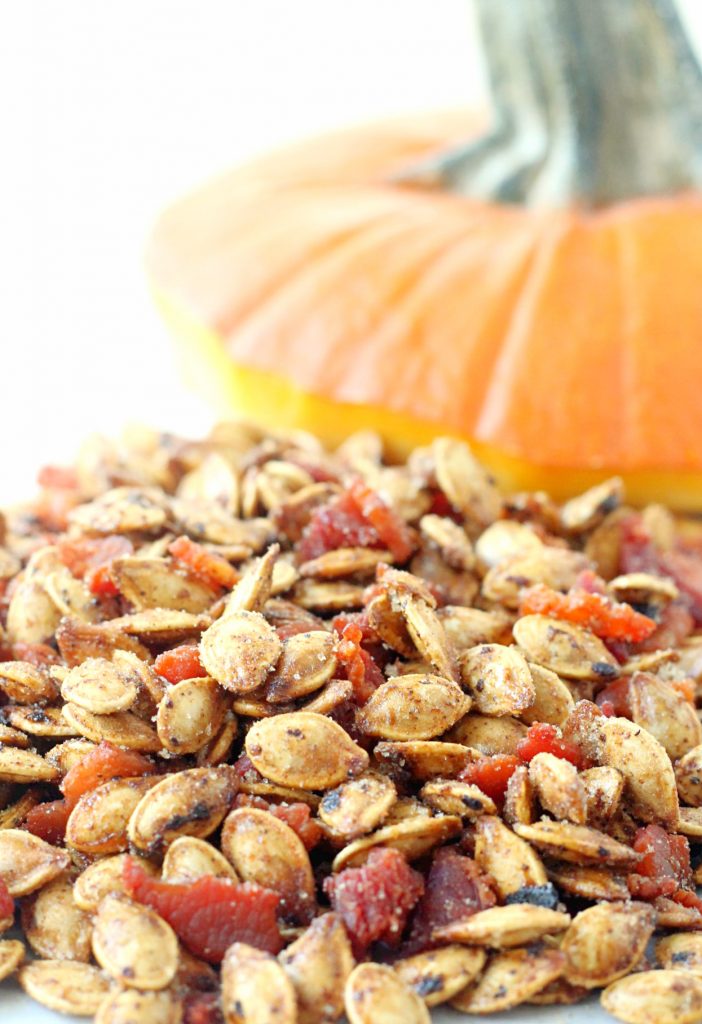 For pumpkin seeds I think it's best to scoop them, rinse them and get started roasting them right away. Since our kids are older and can handle carving pumpkins safely with me in the kitchen but not sitting right next to them this is now possible. One recipe of these seeds did not last long. So now we have to carve another pumpkin! I found the original recipe HERE. I changed it a bit, including adding the cooked bacon at the end because who is going to complain about bacon bits in their pumpkin seeds?!
As for the video, the alcohol cooks out leaving just the bourbon flavor behind. I hadn't planned on my daughter reaching in for some seeds while filming but I thought it looked cute. And she says these seeds are fantastic (she has more sophisticated tastes than most nine year olds, see HERE).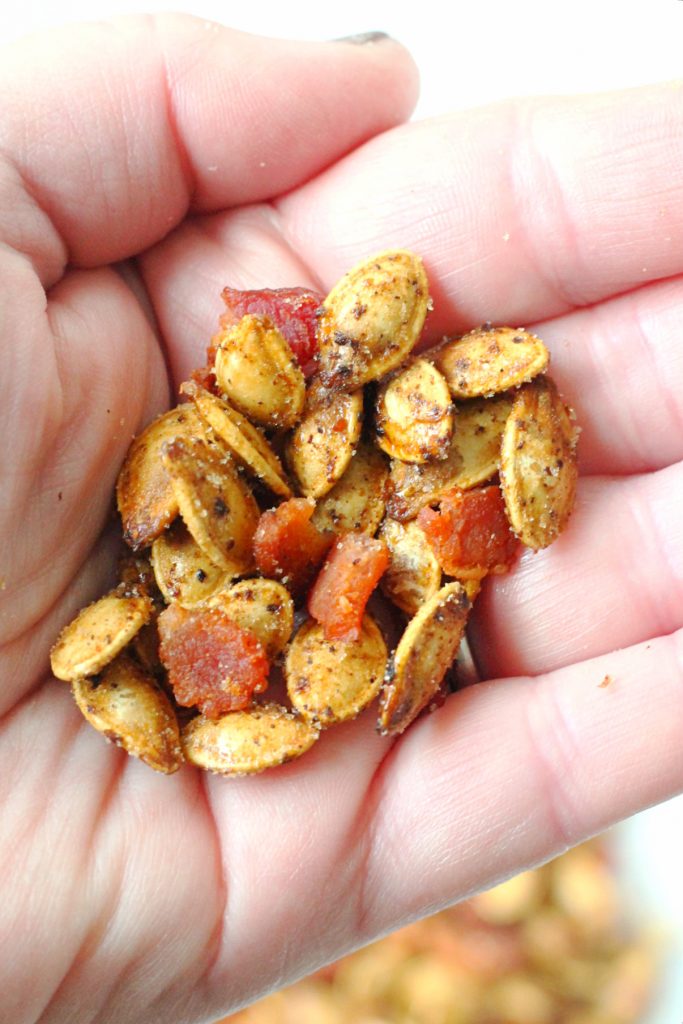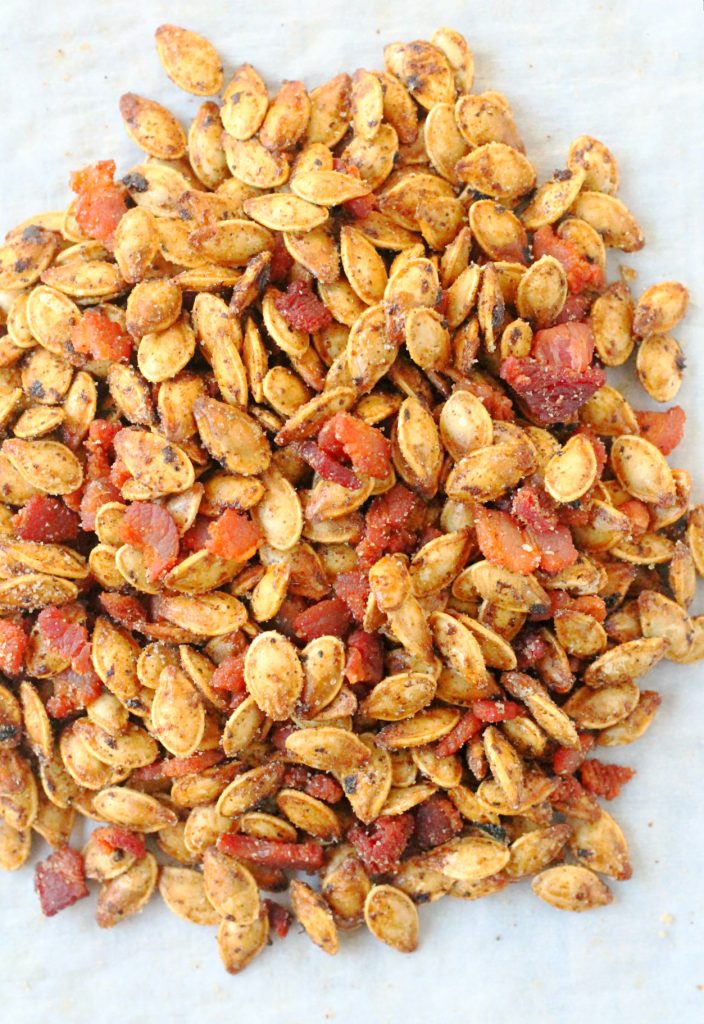 Bourbon Bacon Pumpkin Seeds
2016-10-27 07:24:52
Ingredients
1 1/2 c. pumpkin seeds
4 slices applewood smoked bacon, chopped
1/2 c. bourbon
1 1/2 T. light brown sugar (divided)
1 1/4 t. salt (divided)
Instructions
Rinse your pumpkin seeds well and set aside.
In a small sauce pan over medium high heat, cook the bacon until crisp. Remove the cooked bacon with a slotted spoon and drain on a paper towel lined plate, leaving the bacon grease in the pan.
Lower the heat to medium-low and add the bourbon, pumpkin seeds, 1 tablespoon of the brown sugar and 1 teaspoon of the salt.
Simmer, stirring occasionally, until the alcohol has cooked off. This should take 10 - 15 minutes.
Preheat oven to 275 degrees.
Spread the seeds onto a sheet pan lined with parchment paper.
Bake the seeds for 60 minutes, stirring once in the middle of cooking time.
Remove the seeds and sprinkle with the remaining 1/4 teaspoon of salt and 1/2 tablespoon of brown sugar. Allow to cool. Sprinkle with the cooked bacon and toss to combine. Can store in an air-tight container once completely cooled for up to 3 days (if they last that long).
Foodtastic Mom http://www.foodtasticmom.com/
I'm linking up at Food Network's weekly Fall Fest roundup with some other bloggers who are ready to help you celebrate Halloween too. Be sure and check out all these fabulously festive recipes!
A Mind "Full" Mom: Mini Pumpkin Pie Cookies
Creative Culinary: Halloween Mummy Cupcakes with Espresso Chocolate Cake and Vanilla Buttercream
In Jennie's Kitchen: Twix Bar Brownies
Devour: 5 Horror and Sci-Fi TV Show-Themed Halloween Bites
The Mom 100: Mummy Cupcakes
Foodtastic Mom: Bourbon Bacon Pumpkin Seeds
Elephants and the Coconut Trees: Mini White Pumpkin Milk Fudge with Dry fruit Filling
Healthy Eats: 6 Lightened-Up Sweets for a Healthier Halloween
Taste with the Eyes: Three Truly Gruesome But Tasty Halloween Recipes
Mom Loves Baking: Pumpkin Cupcakes
Swing Eats: Spooky Halloween Buckeyes
Pinch My Salt: Double Chocolate Pumpkin Cupcakes
FN Dish: When Food Gets in Costume: Edible Takes on Creepy Halloween Things