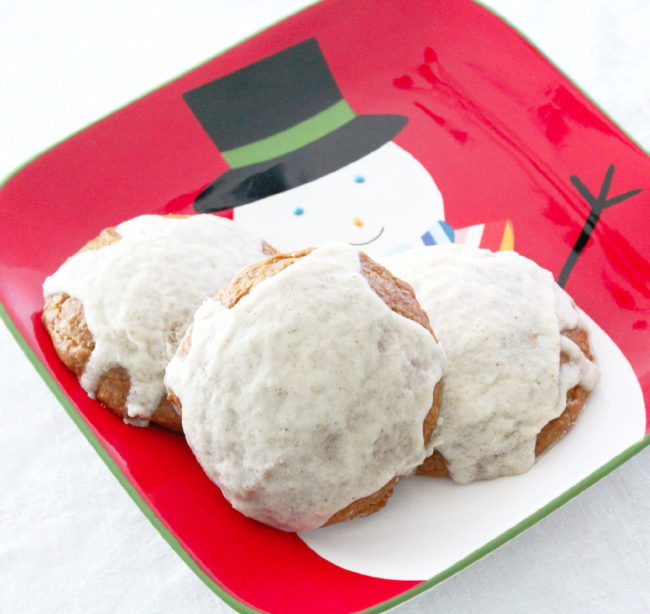 This was an experiment. Back when I made THESE Pumpkin Scones with Brown Butter Glaze, I was quite smitten with them and knew I'd want to try them in other flavor combinations. I even tried to coin a new term "sconuts" because they really are a cross between a scone and a donut. They are truly moist, unlike many scones I've eaten, and the brown butter glaze just takes them over the top and makes them taste reminiscent of a glazed donut. Anyway, maybe one day when I have a bigger blog following I can manage to coin a new culinary phrase. Until then, I'll stick with being a legend in my own mind, and staring at the center of this moist, delicious, donut-like scone.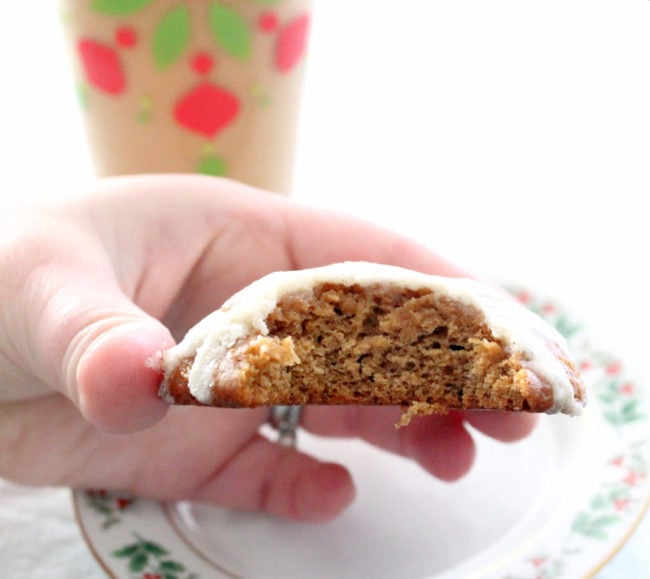 Anyway, the original recipe thanks to Joy the Baker is most definitely a keeper and it worked very well as a gingerbread scone. I added a little fresh lemon zest and juice to the brown butter glaze simply because ginger and lemon work so well together. And I can tell you, pairing these scones with my eggnog iced coffee made for a lovely breakfast to get me in the Christmas spirit. Make them as a holiday treat for someone you love this season.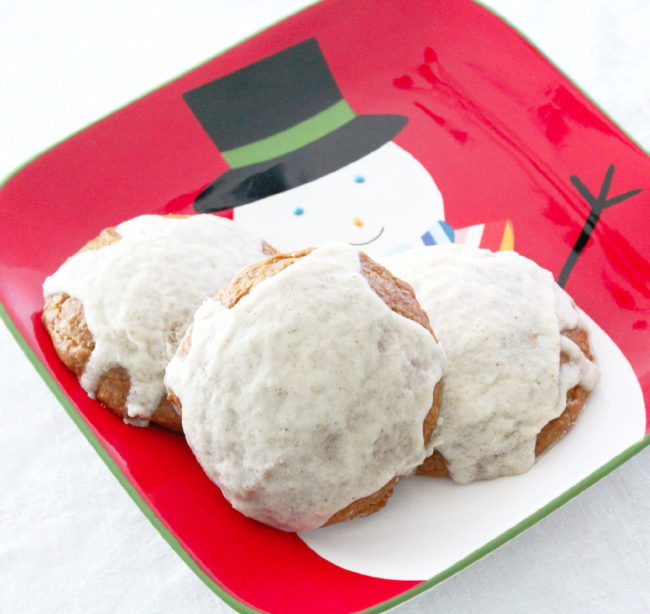 Gingerbread Scones with Lemony Brown Butter Glaze
2013-12-10 10:16:02
for the scones
3 c. all-purpose flour
1/3 c. light brown sugar
2 1/2 t. baking powder
1/2 t. baking soda
1/2 t. salt
1 1/2 t. ginger
1 t. cinnamon
1/2 t. nutmeg
1/4 t. allspice
1/4 t. cloves
12 T. (1 1/2 sticks) unsalted butter, cold and cut into small cubes
1 c. buttermilk, cold
1/2 c. unsulphured molasses
1 T. vanilla
for the glaze
4 T. unsalted butter
1 1/2 c. powdered sugar
pinch of salt
1 t. vanilla
1 t. fresh lemon zest
1 T. fresh lemon juice
4 T. skim milk
Instructions
Place racks in upper third and lower third of oven and preheat to 400 degrees. Line two baking sheets with parchment or silicone baking mats.
In the bowl of your stand mixer, whisk together the flour, brown sugar, baking powder and soda, salt and all seasonings. Attach the bowl to your mixer fitted with the paddle attachment. Turn speed to low and slowly add the butter cubes, one at a time, allowing the mixer to work for about 30 seconds in between each addition. After all the butter has been added, continue mixing on low speed until butter is completely incorporated. Most of the butter will be about the size of small peas or oat flakes.
In a separate bowl, whisk together the molasses, buttermilk and vanilla.
Remove the bowl from your stand mixer, add the wet ingredients to dry and mix, by hand, until the batter has no remaining flour streaks. Allow the batter to rest for at least 10 minutes before scooping to let it set-up better.
Using a 1/4 cup cookie scoop, heap batter onto prepared baking sheets. You'll fit eight scones on each baking sheet.
Bake scones for 14 minutes, rotating pans once halfway through baking time. The scones might seem a bit underdone, but they will be fine once cooled.
Remove from oven and allow to cool for about 20 minutes on baking sheet before glazing.
While scones are baking, place butter in a small skillet over medium heat. Once the butter has completely melted, watch closely. As butter starts to brown, begin swirling the pan on the burner. Allow the butter to brown for about 2 minutes, swirling constantly. Remove from heat.
In a clean bowl, combine the powdered sugar, lemon zest, salt and vanilla. Add the browned butter and whisk until smooth. Add the lemon juice and milk and whisk again until smooth. If a looser consistency is desired, keep adding splashes of milk until it looks good to you.
Drizzle each scone generously with the lemony browned butter glaze.
Adapted from Joy the Baker
Foodtastic Mom http://www.foodtasticmom.com/